How to Use An Instant Pot For the First Time- A Step By Step Video Tutorial
Excited about owning an Instant Pot and have no idea how to use it? Afraid of pressure cooking? This how to use your Instant Pot for the first time step by step video tutorial is for you!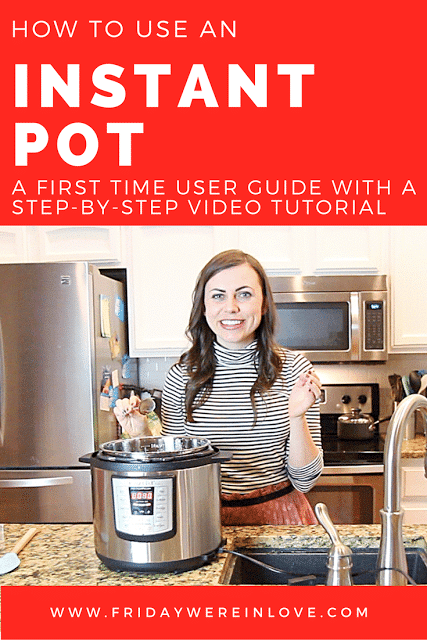 Using an Electric Pressure Cooker
The Instant Pot electric pressure cooker is the hot new product taking the cooking world by storm! I love that I can make dinner from frozen to cooked in 20 minutes or less, but I found the first few times I used my Instant Pot was a little intimidating and removing the lid was downright terrifying.
I searched for resources online, and maybe it was what I was searching, but I couldn't find any good tutorials on how to use it for the first time. My sister-in-law is the best and always up on the latest cooking crazes, and of course had already used and loved hers before I bought mine. I'd wanted one for a while, but she convinced me my whole dinner game was about to change and the Instant Pot was a must have, making me seal the deal and buy one! I contacted her in a panic the first time I wanted to use it.
That may sound funny to those comfortable with pressure cooking, but when you're a newbie it really can be that intimidating. Particularly when you have stories from your in-laws about the brother who took off the lid incorrectly and it shot up like a firework. I love you Whiting brother #6 for the record, and I would have done the same! Anyway, she had the same fears of creating a hole in the ceiling and talked me off the ledge. She sent a series of Snapchats just to show me how to use an electric pressure cooker, and I'm forever grateful!
How to Use Instant Pot
Now that I use it all the time and I'm developing recipes and converting recipes (can't wait to share several of those in the near future!) I laugh at how lost I felt that first time. I seriously opened it up, read the directions, and still wondering how to use Instant Pot pressure cookers correctly. I'm so glad I figured it out and got over my fear I'd blow up the house.
Last week I decided it was time to create the step-by-step movie tutorial of how to use your Instant Pot for the first time that I wish I could have found when I opened mine for the first time.
If you're a newbie to your Instant Pot, this movie will help you learn how to use it, and I'll walk you through the process from start to finish so you can feel confident using your Instant Pot for the first time!
If you're in a reader that doesn't support video, you can view the link here.
Instant Pot: How to Use
Hopefully, this helps answer the question and helps you feel confident turning it on and getting started! Learning how to seal the Instant Pot, and how to release the pressure is really all it takes! And once you figure out how to use an Instant Pot I promise you're cooking will never be the same!
Like this Instant Pot tutorial? You may like these posts too:
Crock Pot Freezer Meals: 15 Freezer Crock Pot Recipes that Don't Taste Like Freezer!
One Meal Now One Meal Later: Crockpot Beef Stroganoff
Get 365 Date Ideas!
We want to help you have the best date nights ever! Grab this FREE printable with 365 date ideas, a date for every day of the year so you never run out of ideas!