The 12 Dates of Christmas
The 12 Dates of Christmas: 12 Holiday Dates to countdown to Christmas and add a little more quality time and romance to your holiday season! Plus a free printable set to the 12 Days of Christmas!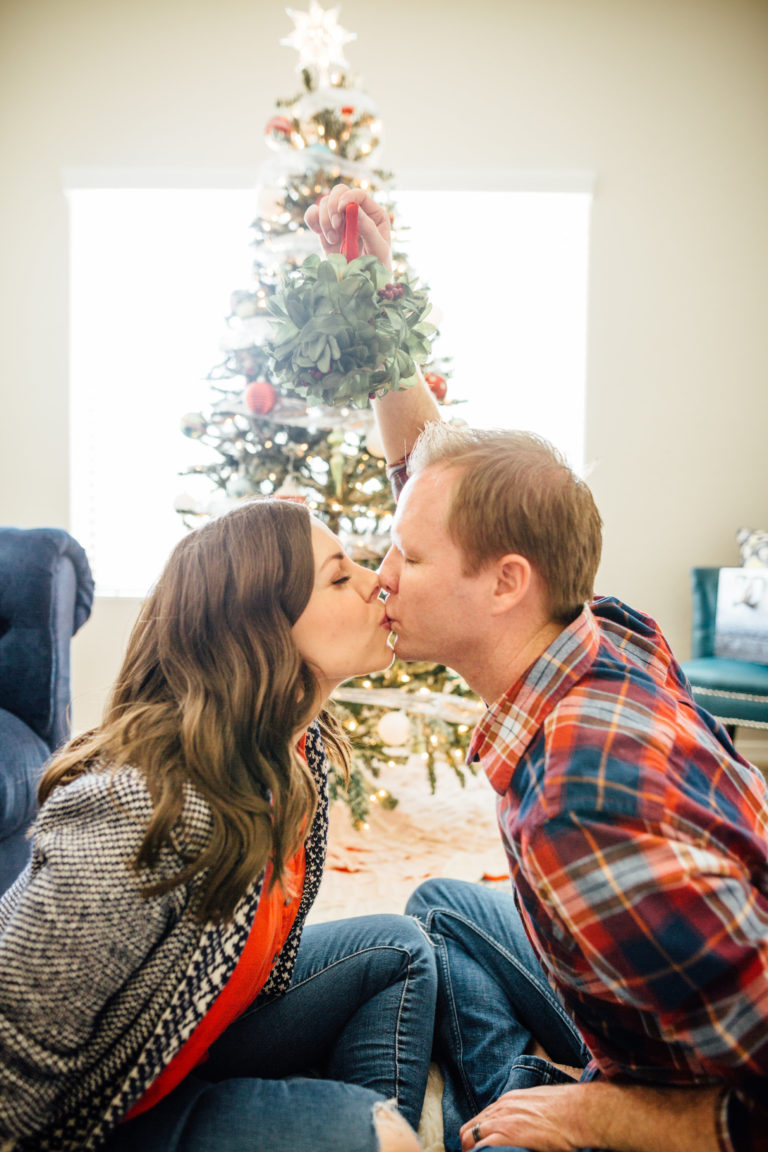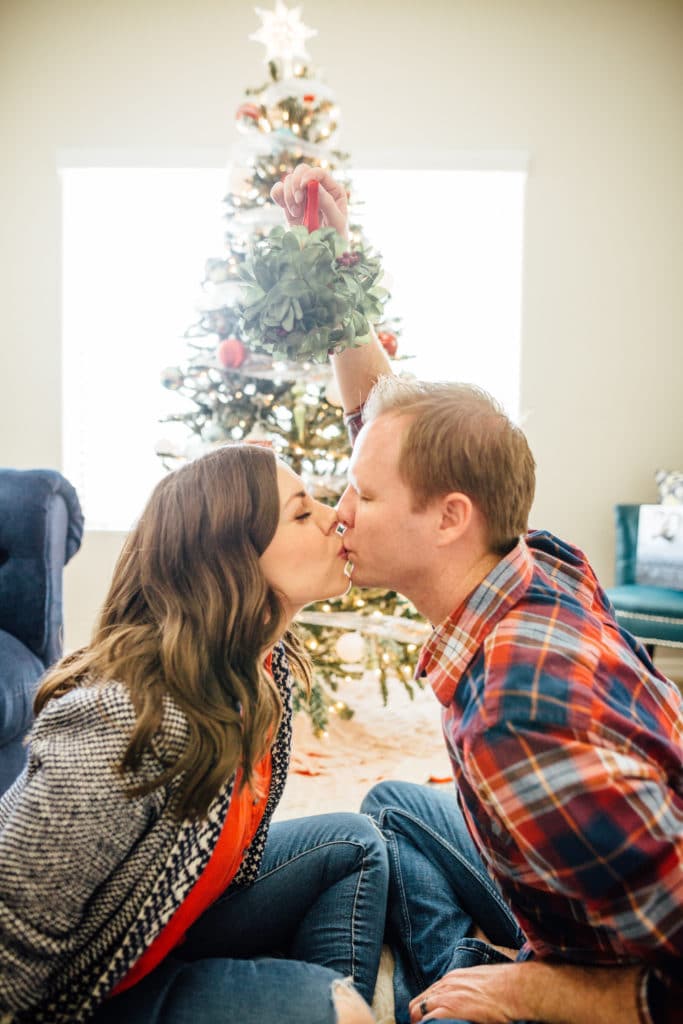 Let me start by saying I wrote this post long before the movie The Twelve Dates of Christmas played by acrtress Amy Smart and Mark-Paul Gosselaar came about! For the record, the movie is a great Christmas romcom, and I'd gladly add it to the list of movies to watch for your own 12 Date of Christmas date night experience! But let's talk about focusing on your own Christmas date ideas, and how to recreate your own romcom experience!
Date Night for Christmas
I can hardly believe it's almost Christmas, and I'm in full-blown preparation mode over here! A trip to any store will remind you Christmas themed items are everywhere! I was looking at Christmas chocolate gift sets and one even inspired me to give a special side gift to my husband Jacob before the big day!
We're seeing all party invites, and planned activities, and our schedules fill up fast. I love that I get to spend time with those I love, but I always have the reminder that even during the holiday season and month of December, the person I love most and want to spend the most time with is my best friend and husband!
Planning Some Christmas Romance
I've given him A Year of Dates (one preplanned pre-paid date for each month) several times to enjoy throughout the year, but this year I thought I'd do something a little different to shake it up and surprise him. I wanted to make even more memories with him this holiday season by making Christmas feel a little more romantic and special, and to give it a little more focus with time for the two of us.
That's when it hit me! What if we play off the 12 Days of Christmas and give him the 12 DATES OF CHRISTMAS, one Christmas-focused date idea to enjoy each day for 12 days.
The 12 Dates of Christmas
I'm going to kick off 12 days before Christmas with a letter and an extra special box of chocolates. I used the Kisses Deluxe to help me give this gift. I chose them for a good reason too! The kisses for romantic reasons, and the hazelnut center and deluxe size to let any recipient know they are getting something extra special!
12 Dates of Christmas Sample Letter
Here's what my letter says:
"Jacob,
Merry Christmas! I wanted to surprise you a little early and make sure you know that even during a busy season you are worth all my time and effort and we still can create a lot of fun dates together, even if we'll be bringing the baby with us on a few!
I wanted to say more this holiday season than just Merry Christmas, I wanted you to know that each day you are my greatest gift, so I'm gifting you something a little early.
As the classic Christmas song has the true love give 12 Days of Christmas, I wanted to give you 12 DATES OF CHRISTMAS. That's right, for the next 12 days we'll be having at least a mini-date every night together to celebrate the season and let you know just how special you are.
Look for a new activity each day, you'll know them when you see them- they'll each be attached to a Kiss!
I love you more than anything and can't wait to have some fun this Christmas season!
Love,
Camille"
How to Gift Your 12 Days of Christmas Dates
Originally, I gifted this item years ago with a simple printer paper and a kiss attached. But this year, I decided it needed an upgrade with a FREE PRINTABLE to hook up others planning their own 12 Dates of Christmas!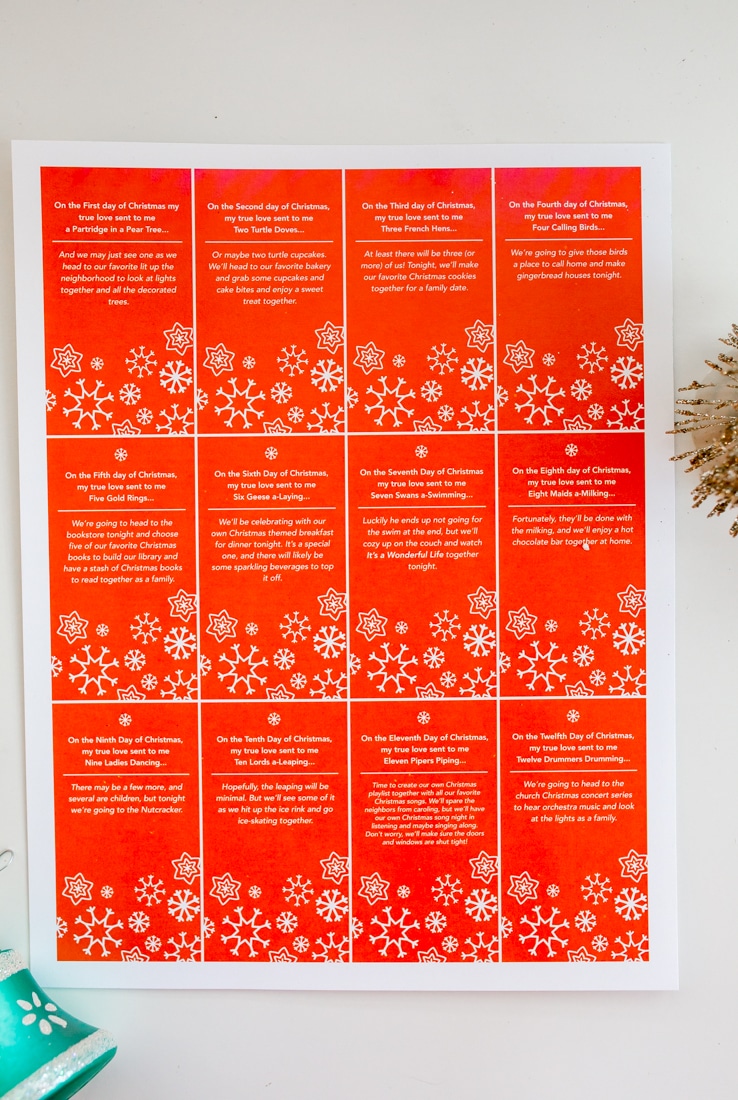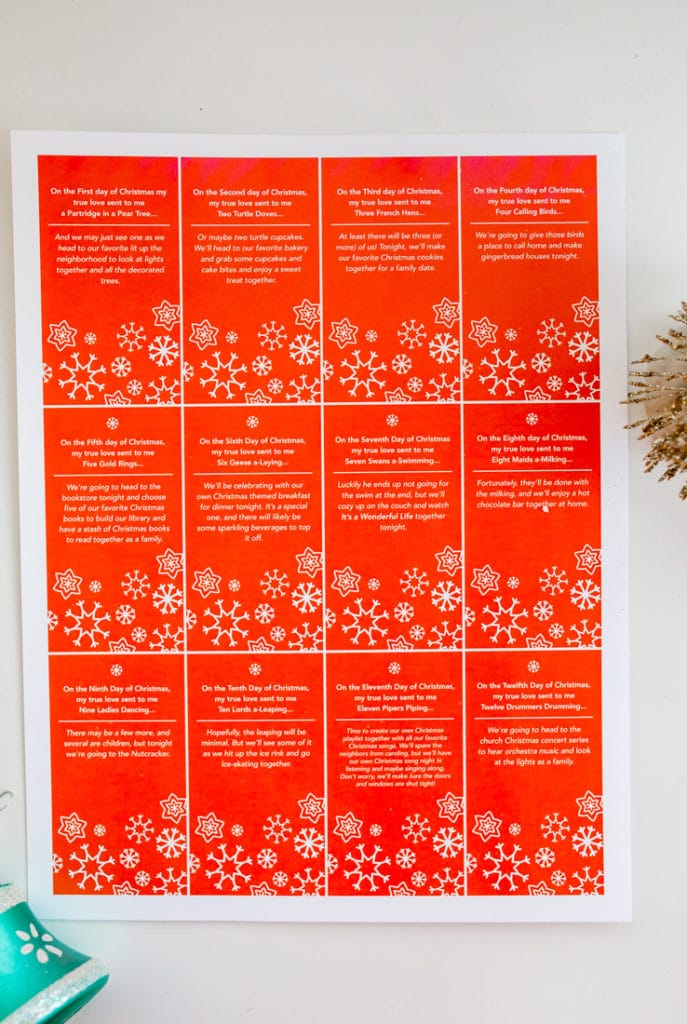 I used the song as a guide and tried to make a theme for each day. Some worked perfectly, some were a bit of a stretch. However, all were fun to put together and are activities I know we'll both love doing!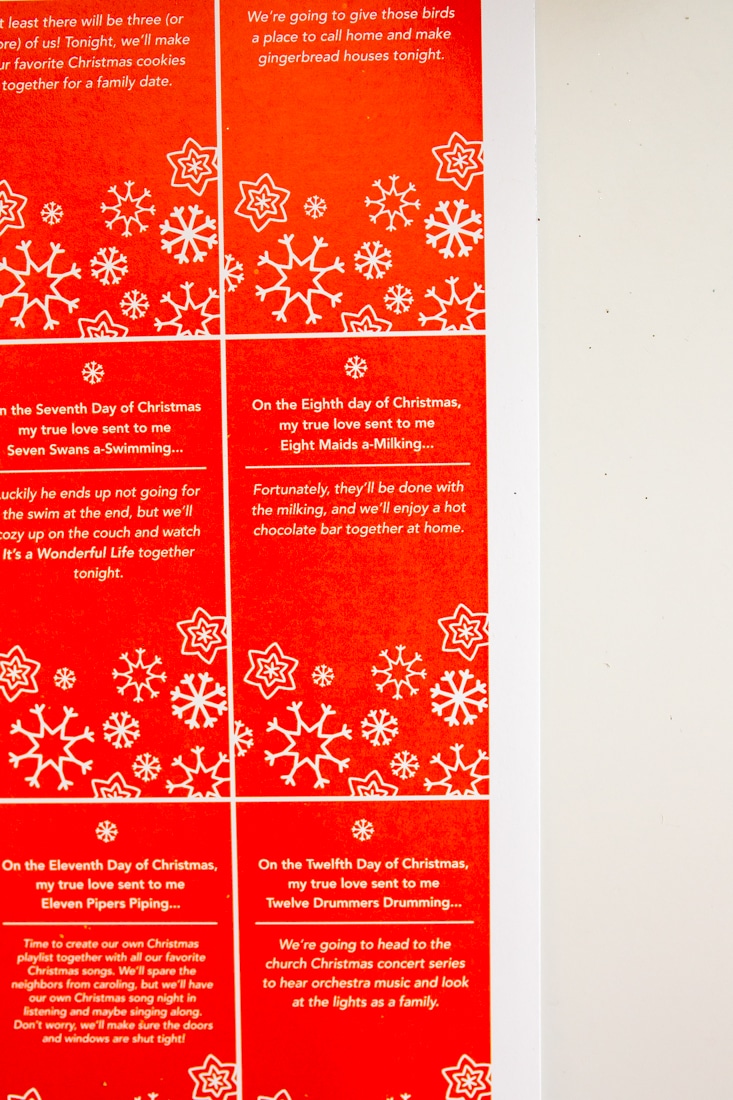 There are two easy ways to do this:
First, leave a simple piece of paper with a treat ready to be found. You can copy and paste the text below and edit it for yourselves. It's fun to leave with a treat.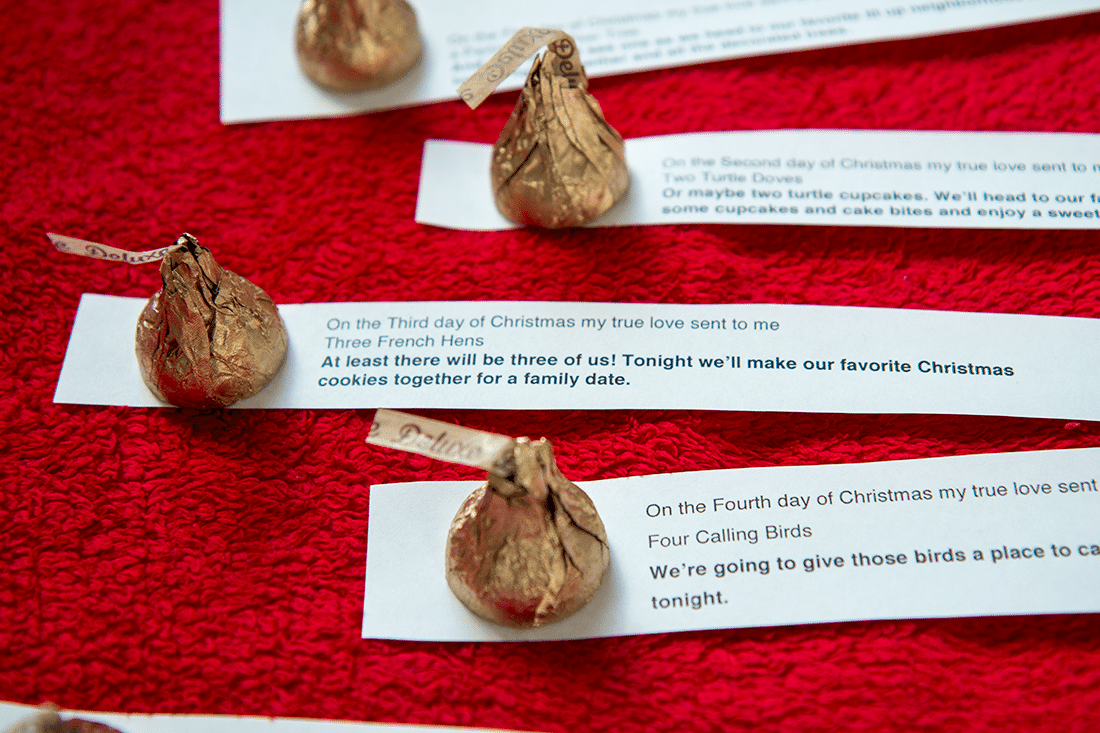 Secondly, you can get the free printable above, and make it even easier to invite for date night! Leave the invite somewhere for your date to find, and get ready to get your Christmas date on!
Here's a list of our 12 dates of Christmas for those who can't read the microscopic writing in the picture. But for those who can- kudos!
THE 12 DATES OF CHRISTMAS ideas plus text
On the First day of Christmas, my true love sent to me
A Partridge in a Pear Tree.
And we may just see one as we head to our favorite lit up the neighborhood to look at lights together and all the decorated trees.

On the Second day of Christmas, my true love sent to me
Two Turtle Doves
Or maybe two turtle cupcakes. We'll head to our favorite bakery and grab some cupcakes and cake bites and enjoy a sweet treat together.
On the Third day of Christmas, my true love sent to me
Three French Hens
At least there will be three of us! Tonight we'll make our favorite Christmas cookies together for a family date.
*Get a cookie making kit of bake your favorite holiday cookies with your crew.
Also, here's the free printable if you want to snag your set now!
12 Dates of Christmas Gift Idea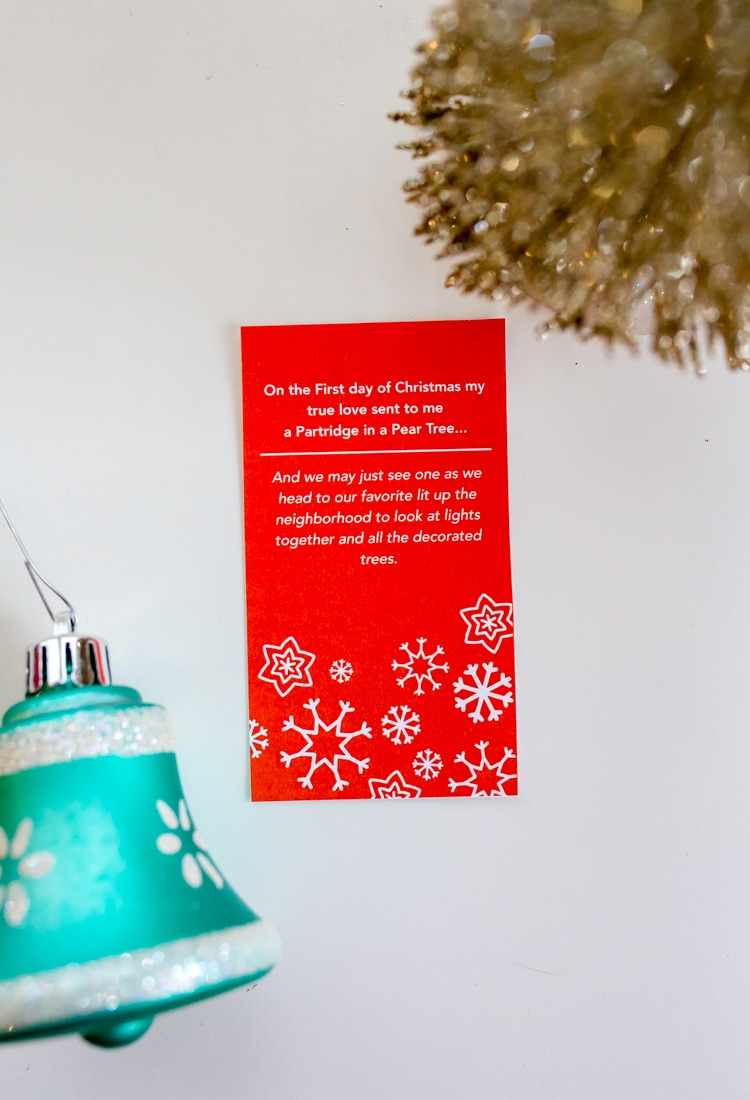 On the Fourth day of Christmas, my true love sent to me
We're going to give those birds a place to call and make gingerbread houses tonight.
On the Fifth day of Christmas, my true love sent to me
We're going to head to the bookstore tonight and choose five of our favorite Christmas books to build our baby's library and have a stash of Christmas books to read together as a family.
On the Sixth Day of Christmas, my true love sent to me
We'll be celebrating with our own Christmas-themed breakfast for dinner tonight. It's a special one, and there will likely be some sparkling cider to top it off.
On the Seventh Day of Christmas, my true love sent to me
Luckily he ends up not going for the swim at the end, but we'll cozy up on the couch and watch It's a Wonderful Life together tonight.
But you could also slip in a 12 Date of Christmas movie viewing! It kind of works perfectly for this Christmas date night activity, doesn't it?
Here's the movie synopsis: Kate (Amy Smart) is a young woman hung up on her ex-boyfriend and determined to get him back! She has a blind date on Christmas Eve with Miles, (Gosselaar) who is a widower looking for love. After she blows off the blind date with Miles, she is stuck in a time-loop giving her 12 chances to mature, learn to improve how she treats others, and work on finding romance and discovering her new love interest in Miles. Kate's found fullfillment in her life and new kind nature leads to much love in all her relationships, and open eyes to see the handsome guy in front of her!
The strange twist of fate and Groundhog day style movie is full of charm, humor, and always on our Christmas date night movie watchlist! The cast is actually fantastic! The story is a fun twist on the classic Christmas tales in a romantic comedy.
12 Days of Christmas Dates
On the Eighth day of Christmas, my true love sent to me
Eight
Maids-a-Milking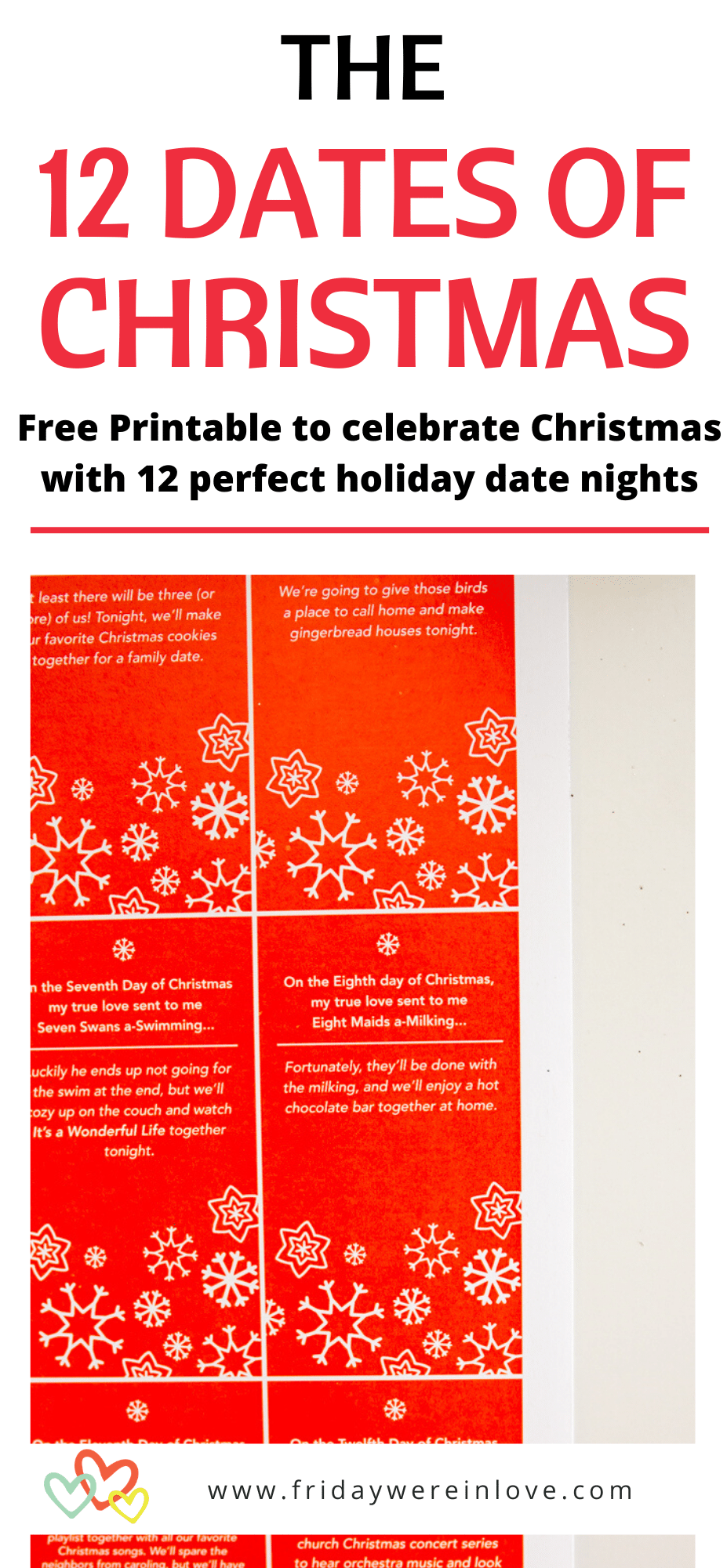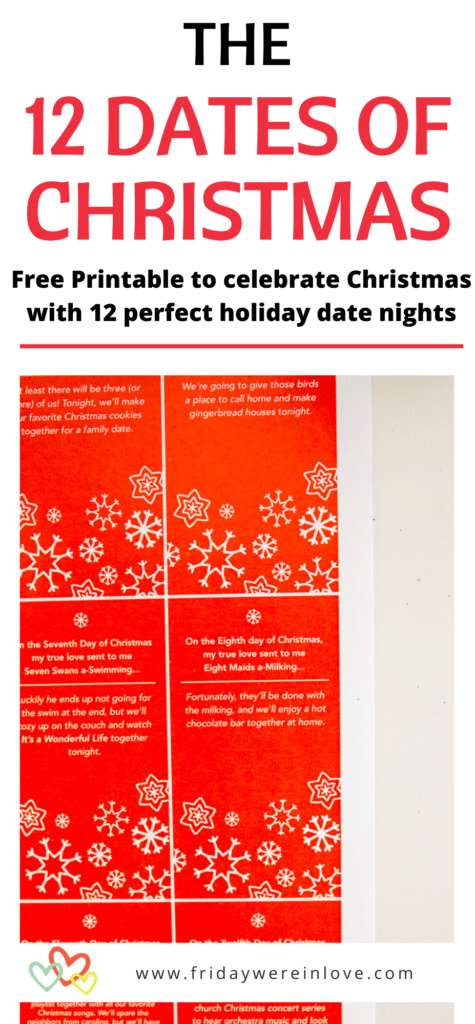 Luckily they'll be done, and we'll enjoy a hot chocolate bar together at home.
On the Ninth Day of Christmas, my true love sent to me
There may be a few more, and several are children, but tonight we're going to the Nutcracker.
On the Tenth Day of Christmas, my true love sent to me
Ten Lords-a-Leaping
Hopefully, the leaping is minimal. But we'll see some of it as we hit up the ice rink and go ice-skating together.
*This date works even better if you have the ticket to gift or present! And even if it's digital, print the email from your inbox and share the ticket for a fun surprise!
On the Eleventh Day of Christmas, my true love sent to me
Time to own up that we both play the piano and play a few songs together. We can even pretend we can sing. We'll spare the neighbors from caroling, but we'll have our own Christmas song night in. Don't worry, we'll make sure the doors and windows are shut tight!
*Feel free to turn this into a Spotify listening session if you're less musical!
On the Twelfth Day of Christmas, my true love sent to me
We're going to head to the Christmas concert series at the temple tonight to hear orchestra music and look at the lights as a family.
*Find a new date to experience together, and go enjoy different Christmas shows at different locations together.
I can hardly wait to see the look on his face! And it's going to be amazing to celebrate the most wonderful time of the year with the most wonderful man in my life!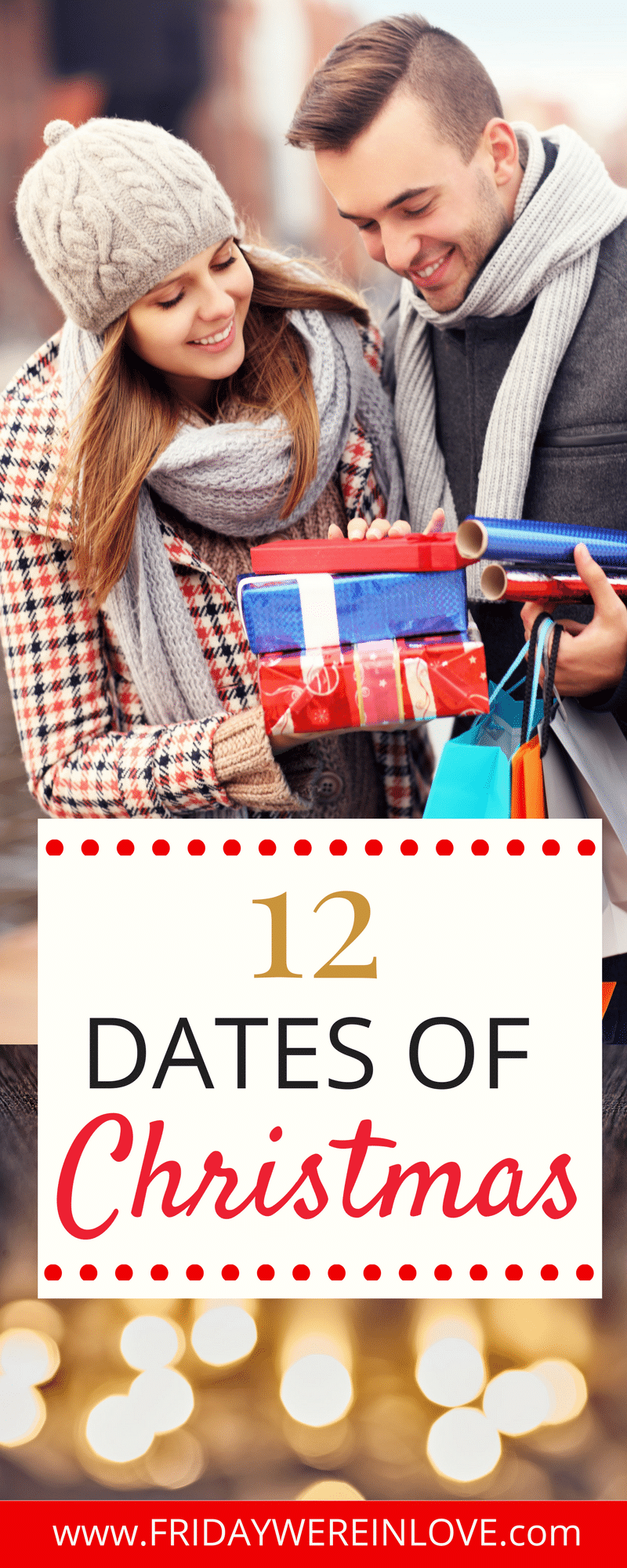 Like these Christmas date ideas? You may like these posts too: