Couples Christmas Pajamas
Make the season bright with some couples Christmas pajamas! Whether you want matching Christmas pajamas for couples or just something festive and fun, check out this roundup of fun holiday pajamas for couples!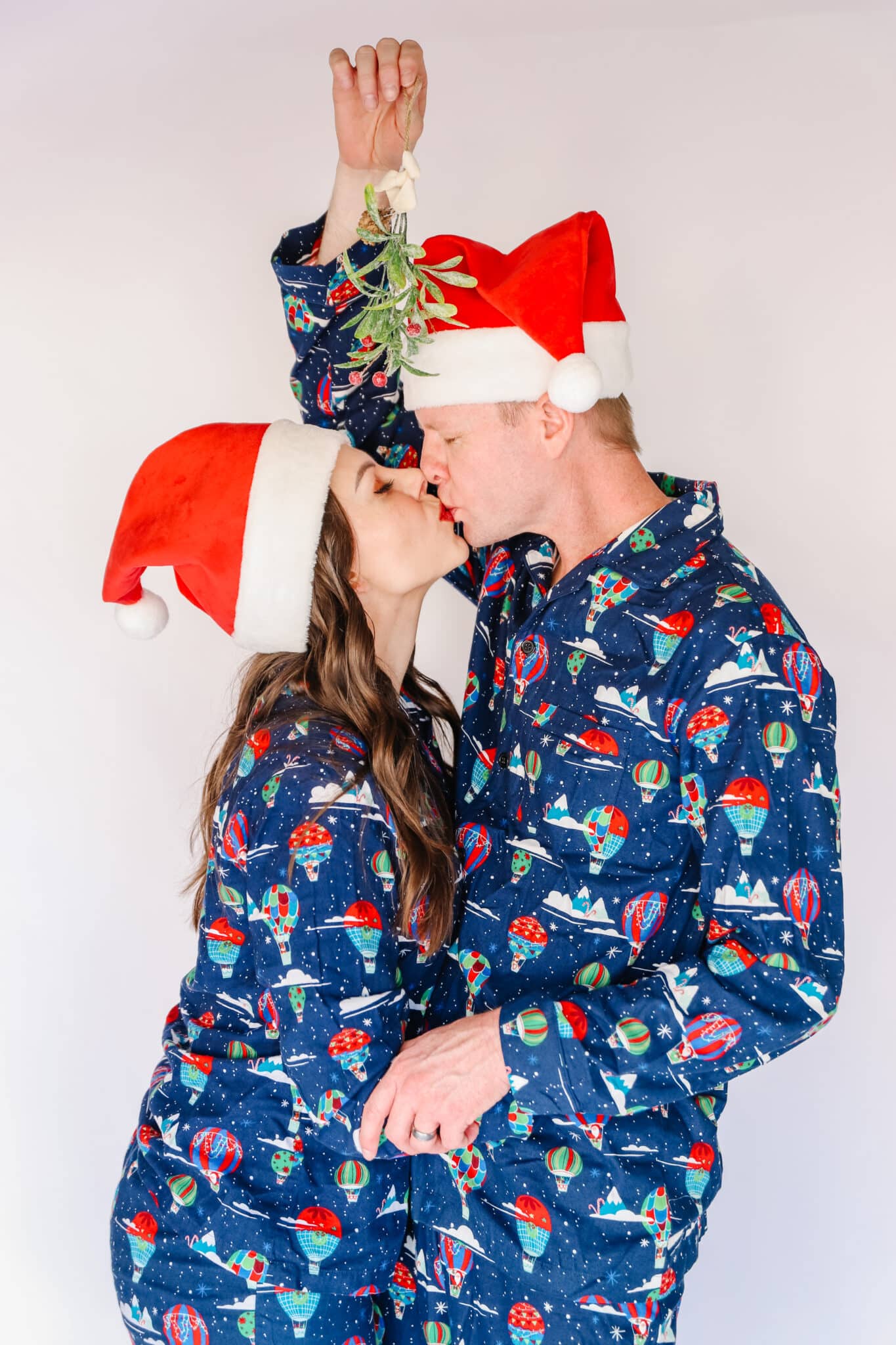 We've learned there's something magical about Christmas pajamas. They just add some extra magic and extra fun to the holiday season! In our second year of marriage, my husband found some hilarious fleece onesie pajamas to wear on Christmas morning. We thought they were so funny, we made sure to wear these oversized kid's pajamas for our whole family at an extended family brunch.
We've become parents and often choose PJs that may be a bit more classic, but a sleepwear tradition is still in the cards! Plus, it's such a fun way to celebrate the most wonderful time of the year!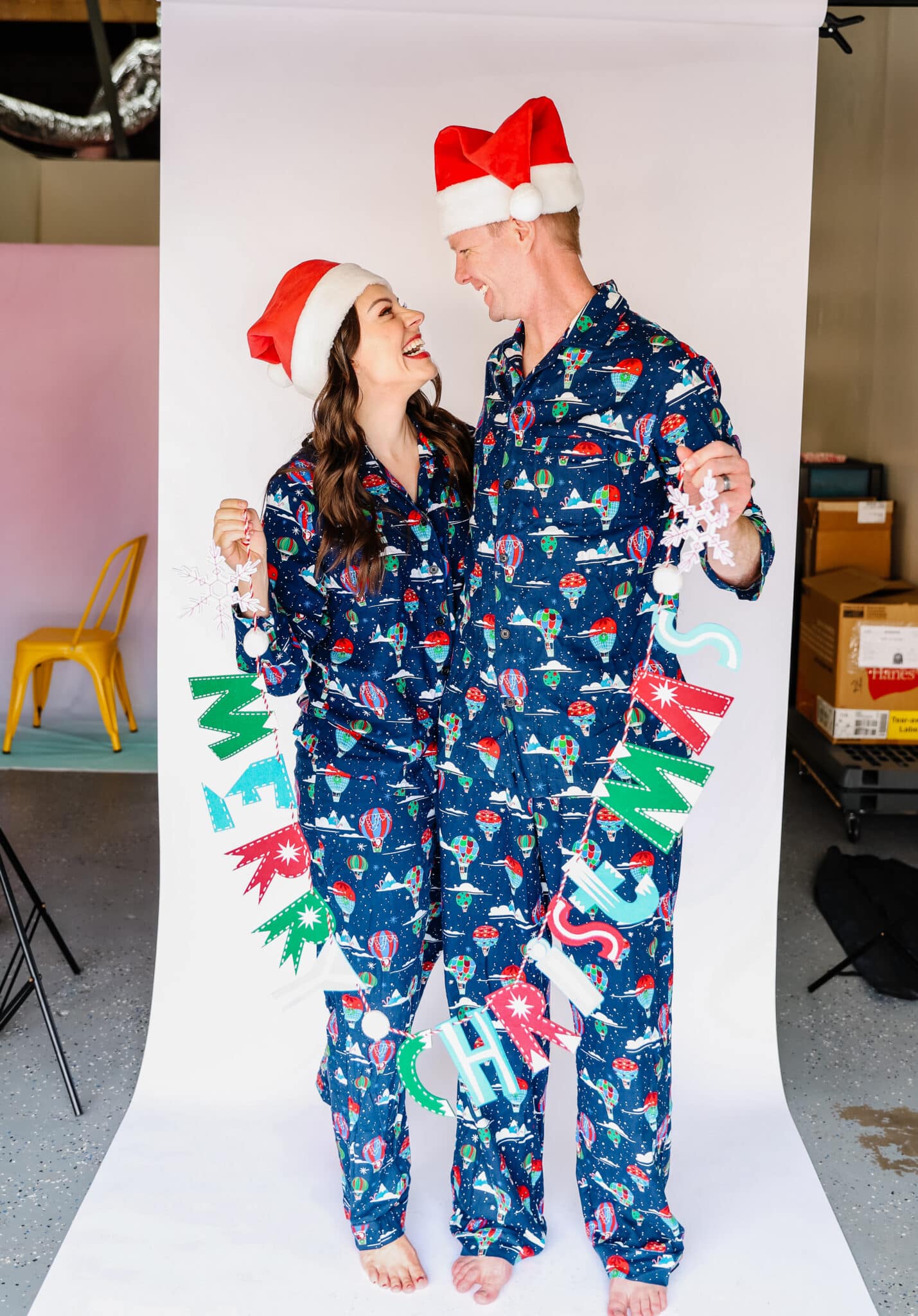 Matching Christmas Pajamas for Couples
We often opt for family pajamas with pajama sets the entire family can wear. Matching Christmas pajamas became a thing when we had our first toddler. As our kids have grown, we've learned sometimes we don't necessarily want the same pajamas our kids would choose. And thus, the focus to always make sure we have some couple's Christmas pajamas always seems like a great idea!

Between some fun Christmas date ideas, Christmas pajama parties with friends or our church congregation, and other festivities (like The Polar Express), we've learned to keep a pair of matching couples' Christmas pajamas around!
If you're in the market for a great set of matching Christmas jammies for couples, here are some of our favorite places to look!
Where to Buy Christmas Pajamas for Couples
First of all, you can always bank on awesome coupons and deals at Old Navy! We love the affordability, and that they do a Match the Fam line with inclusive size and style options for all the members of your family- even pets! Yep, you can dress your fur baby to match your couple pajamas.

My tall husband loves that there are tall sizes in men's pajamas. And we love that you can get pajama bottoms only. It's easy to buy a coordinating short-sleeved shirt or shirts with long sleeves. Like slap on a reindeer, a Christmas message, or a solid tee shirt, and you're set! We also love to just wear hoodies we already own on a cold Christmas morning.

But Old Navy Christmas pajamas are particularly great for couples! They offer fun, funny, and maybe sometimes cheesy options. Their plaid pajamas are a couple of holiday pajama favorites for a good reason! You'll look festive and can still enjoy your pajamas after the holiday season.

I first learned about Hannah Andersson's striped pajamas from a friend who raved and raved about them for her kids. I thought the price was a bit steep, but I did end up buying my oldest son a pair on sale. We were HOOKED! They are the best quality I have ever experienced!

One holiday, I splurged and bought our entire crew a matching pajama set. I was not expecting my husband and me to fall in love with our Hanna Andersson couple pajamas and wear them every holiday time of year for years to come!

We can wear them several times a week, and years later, they still look brand new! As our kids grow, our couple Christmas pajamas are holding up so well!
Extra Bonus: They do a lot more than just stripes! Hello, cutesy, character-based, classic, Mickey Mouse, Grinch pajamas, and even Star Wars Christmas pajamas for the whole family!


Last year we bought these flannel-matching pajamas at Target! They are some of the most affordable options with tons of different styles! If you are on a budget or have a large family this a great option to get matching holiday jammies for the whole clan at a great price point!
Target also keeps the prints fun with options from classic to quirky. You may not have realized you needed Santa heads or festive dinosaurs in your life! Also, they often run excellent promos on their pajamas that are already one of the best prices out there!



You can find literally every option available on Amazon. From classic plaid to fancy silk pajamas, from solid colors to fun holiday prints: they have you covered!
Plus, it's pretty amazing to have one or two-day shipping for last-minute orders should you find yourself in need before a party, date, or even Christmas Eve!



Lest you think these are just for babies, let me tell you why Burts Bees make excellent jammies for couples! They are incredibly soft and are so affordable for their quality.
I love that they make cuts for men and women that aren't just long-john style. Sometimes getting the husband on board means pajamas he'll feel comfortable in too. These are the type of pajama sets you'll love wearing as sleepwear due to the soft, breathable organic cotton fabric. We've had Burts Bees matching Christmas pajamas in the past, and they are still at the top of our love list!
And be sure to check out their Hanukkah, Valentine's Day, and other holiday lines too!



We love Carter's pajamas for our kids! They are soft, affordable, and have tons of cute styles! In the last few years, they seriously upped their game expanding to big kid sizes, and also adding family holiday pajamas with sizes for teens and also adult size options to match kids! But you don't need to have children to buy and love Carter's pajamas on cozy nights! And they do really great deals!



I have loved watching all the design changes and range of styles Walmart has added to its fashion lines! Even their Christmas pajamas have huge upgrades!
Hello, affordable, cute, and I have to say they are rocking the onesie and union suits if you want some silly holiday pajamas! But you'll find plenty of classic plaids and fun prints too. Plus you can get free shipping when you buy more than $35 is a great perk!



Kohls has their own lines of family Christmas pajamas. They are so fun and come in so many prints and options! You'll find excellent options for every family member, including his and her Christmas pajamas! Plus, it's hard to beat Kohl's cash holiday earnings while you pick up gifts and pajamas.



I ordered my first pair of Gap Pajamas three years ago, and I am still IN LOVE with the quality and the soft fabric! There are a lot of classic styles, but I love that it's easy to coordinate looks with all their choices. Plus, you can easily find pajama pants only if that's your jam.



There's something special about supporting small businesses and finding unique options! If you want customized outfits, pajamas, prints, and cuts- check out the family holiday pajamas from small sellers on Etsy!
I love that you can get monogram options from so many sellers.
I'd also encourage you to buy some sooner than later! Sizes can sell out, and there are a lot of early bird sales that can save so much money!
But even more than that, matching Couple's Christmas pajamas are fun to wear throughout the holiday season! They are my favorite for a cozy date night making cookies, sipping hot cocoa, or snuggling up to enjoy a Christmas movie date night together!
I promise you won't regret them, and they're such a fun way to share some holiday magic together as a couple!
Like this Christmas post? You may like these posts too:
Christmas Couple Pictures: Fun Christmas Picture Ideas for Couples
Christmas Love Songs: 85+ Romantic Christmas Songs
Get 365 Date Ideas!
We want to help you have the best date nights ever! Grab this FREE printable with 365 date ideas, a date for every day of the year so you never run out of ideas!