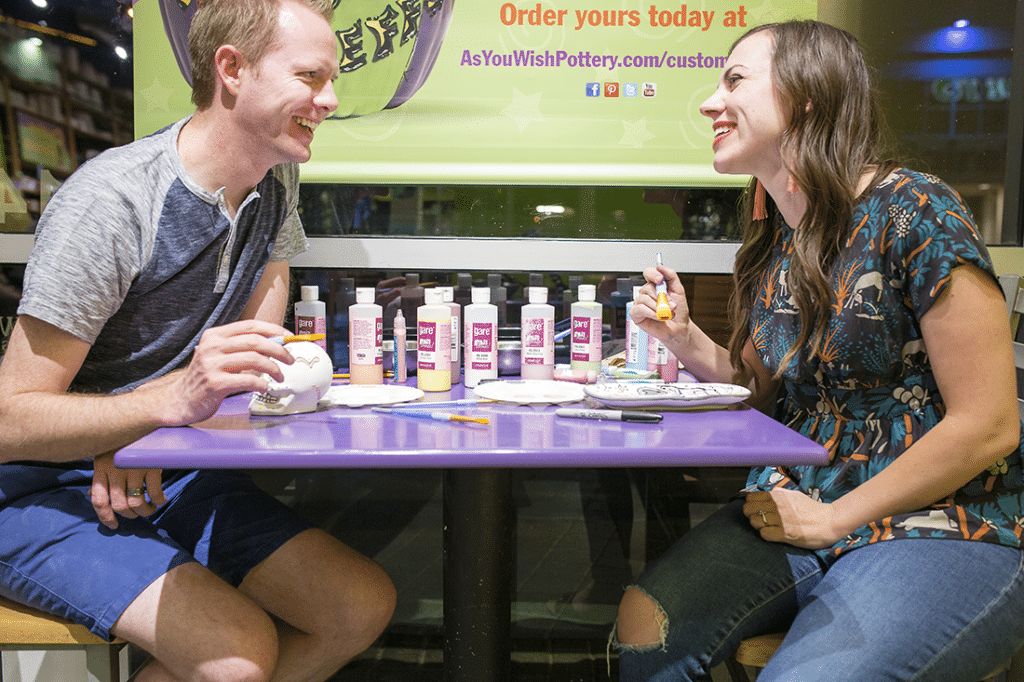 Date Info: 
Pottery Painting Date Night
Price: $7.50 studio fee + price of pottery. I'd plan $25-$40 per person to be safe.
Time: 2-3 hours
There's just something about a date that can skyrocket you back to first grade making a holiday ornament or Mother's Day craft to gift your mother under the instruction of a teacher who knows what they are doing! I think that nostalgia is exactly what we tap into when we head to a paint your own pottery studio for a pottery painting date night.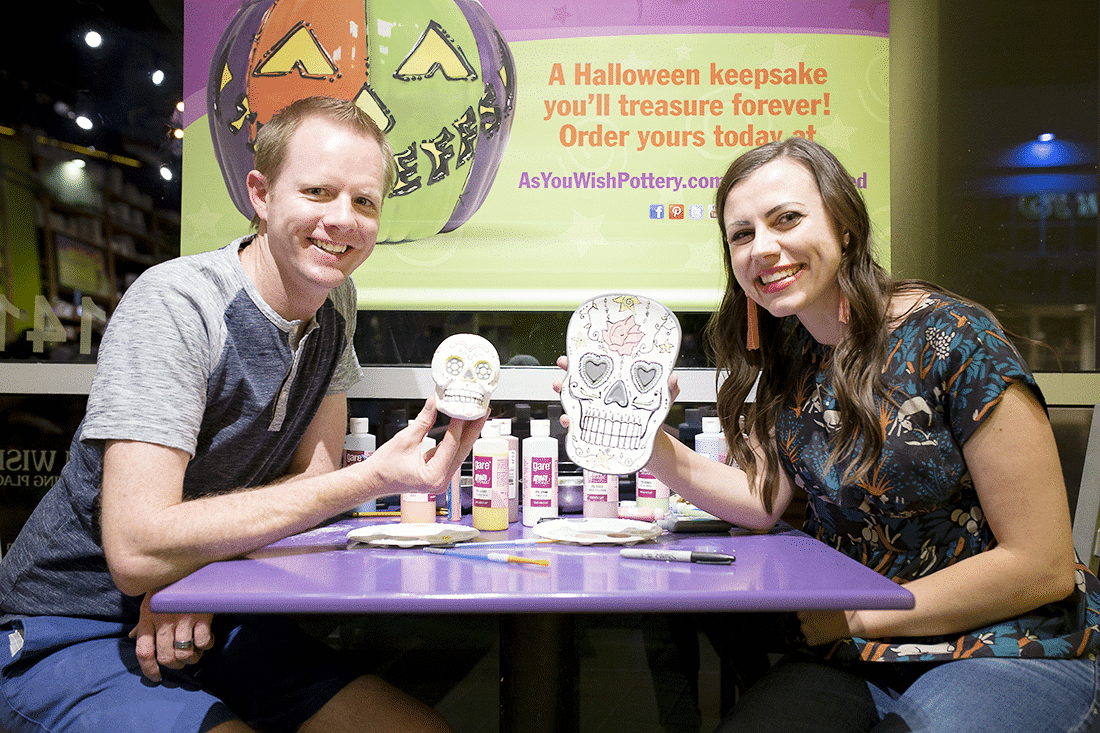 Let me first preface that we really aren't artists, and I totally get that this may feel like a date not every guy (or girl) would be completely stocked about up front. But once again, reminding them it's a holiday project like Mrs. Johnson's classroom dates, and offering cookies may swing the pendulum in the right direction. Not to mention it's a pottery studio, so you can always remind them of the scene from Ghost and hope that is also enticing. But in all honesty, this is a date we both really enjoyed, and even my incredibly stereotypical engineer husband got into! And Halloween is a great time to go because things aren't supposed to look pretty and you can even paint zombies and blood and it's completely acceptable. Once again, appealing to inner first-grade boys (and did I mention girls too- equal opportunity employer here).
So here's how it works, you pay your fee an choose your piece to paint. You can do one together, or you each go at it alone. Being the control freaks we both are, we know separate projects would likely be best. I'd recommend trying to get something you may actually use; we knew a candy plate and sugar skull head would work with our Halloween decor, and we also knew it would be an exceptionally fun challenge to bring out some creativity.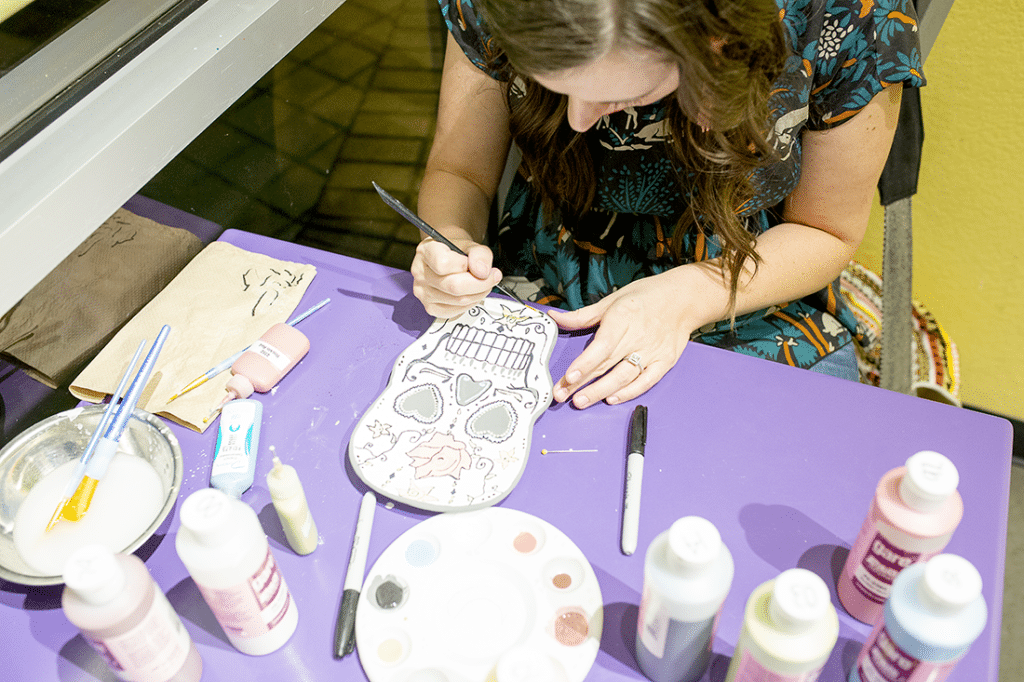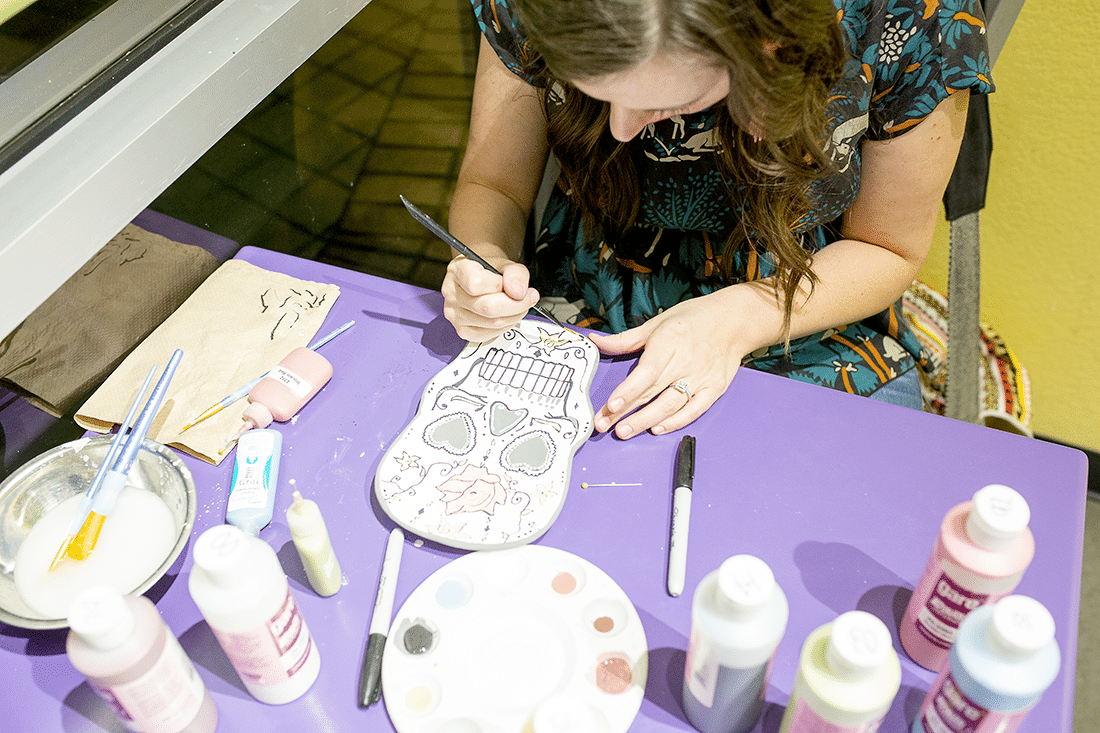 We made sure to google some pictures, choose our favorites, and get to work quickly painting in the few hours we had. Time goes fast with this date, and I promise you look up and are in shock they are closing and you have to end. But I also love that it provides a table for two or four to sit and enjoy a fun activity with plenty of time for conversation. This date came right in the middle of a time Jacob had traveled a lot for work, and we'd spent a lot of time traveling as a family without much one-on-one time. If nothing else, it's a date you just know you're going to get quality time together, be creative doing, have a new experience at even if you've done it before, and likely will either impress each other with artistic skills or have a serious laugh at the lack thereof.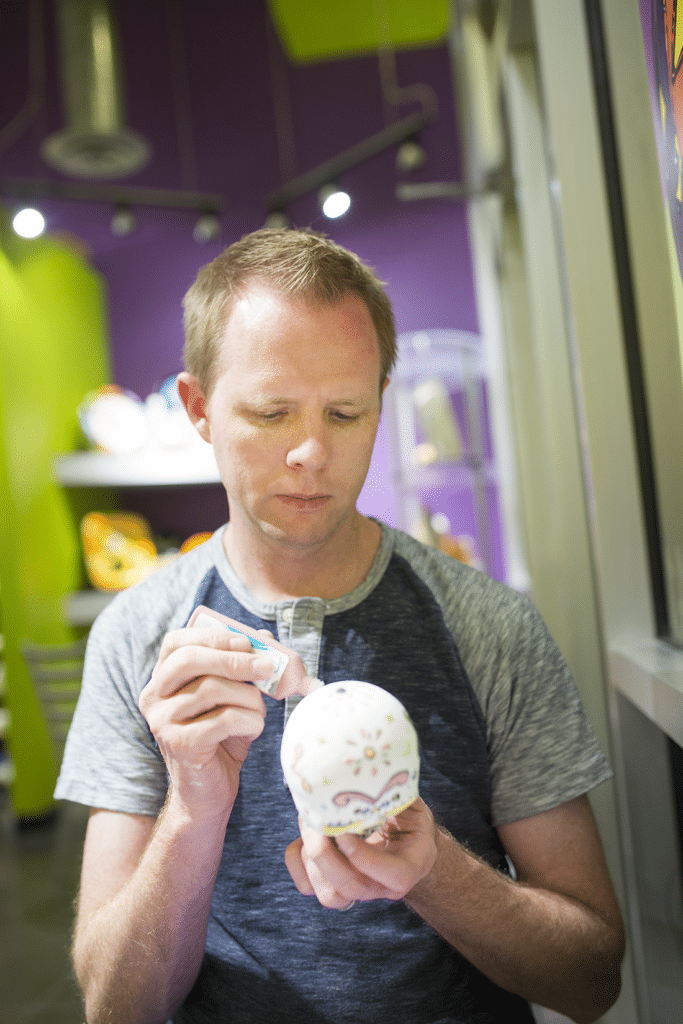 I love that we laughed our heads off at the end when they informed me we'd understood instructions wrong, and the sharpie etchings would all rub off when the piece was fired. Half my design and every piece that was black was going to be gone. And just like that Jacob and I went into tandem speed work to try to recreate everything I'd spent over an hour doing. Luckily, we got it and laughed and laughed that this should be very interesting to see the finished piece. Much to our shock, it came out great!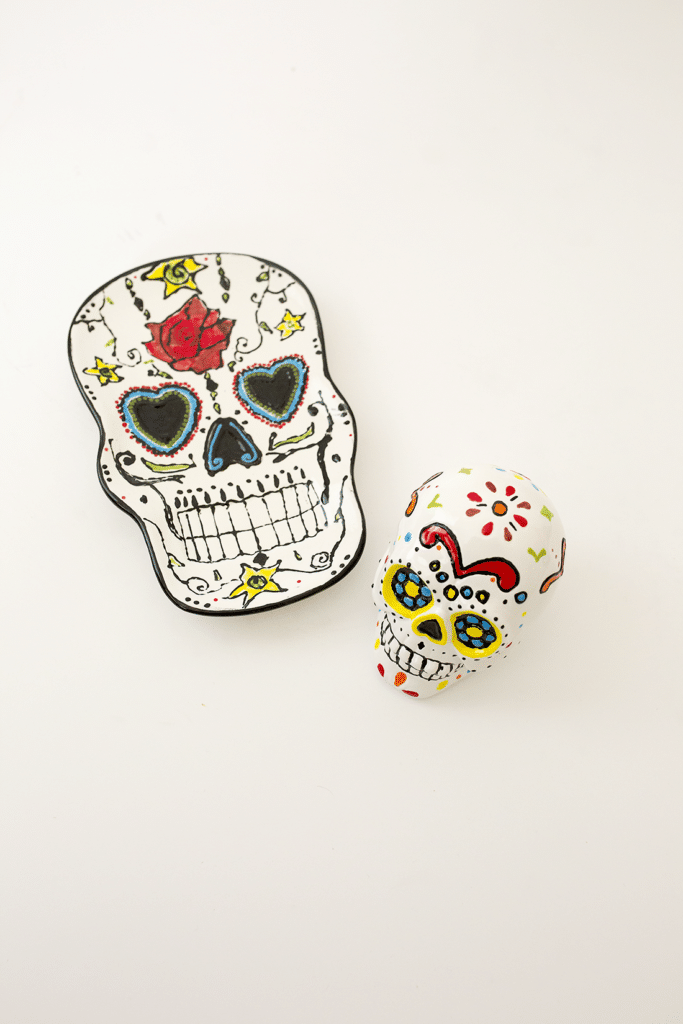 But even if it hadn't, I'll never forget us hunched over the same pieces working as fast and steady as possible and laughing at our inability to understand instructions.
We had so much fun, we'd love to do this one again! Maybe we'll add to our sugar skull collection for next year, or maybe we'll find another holiday to test our artist and speed work abilities again!
Beyond Dinner and a Movie
FREE BONUS!
Grab Our 5 Ways to Keep Your Love Alive and Make Date Night Fun. The BEST date ideas in your inbox weekly.