Top 10 Date Ideas in Tucson Arizona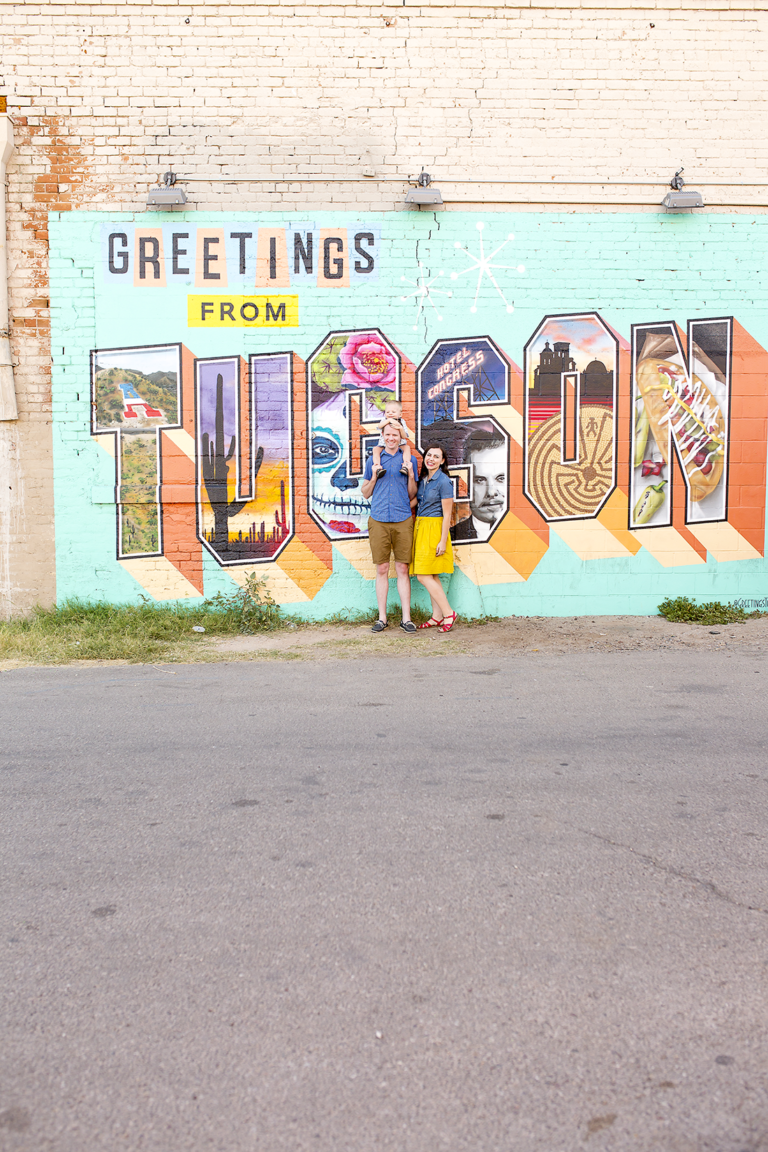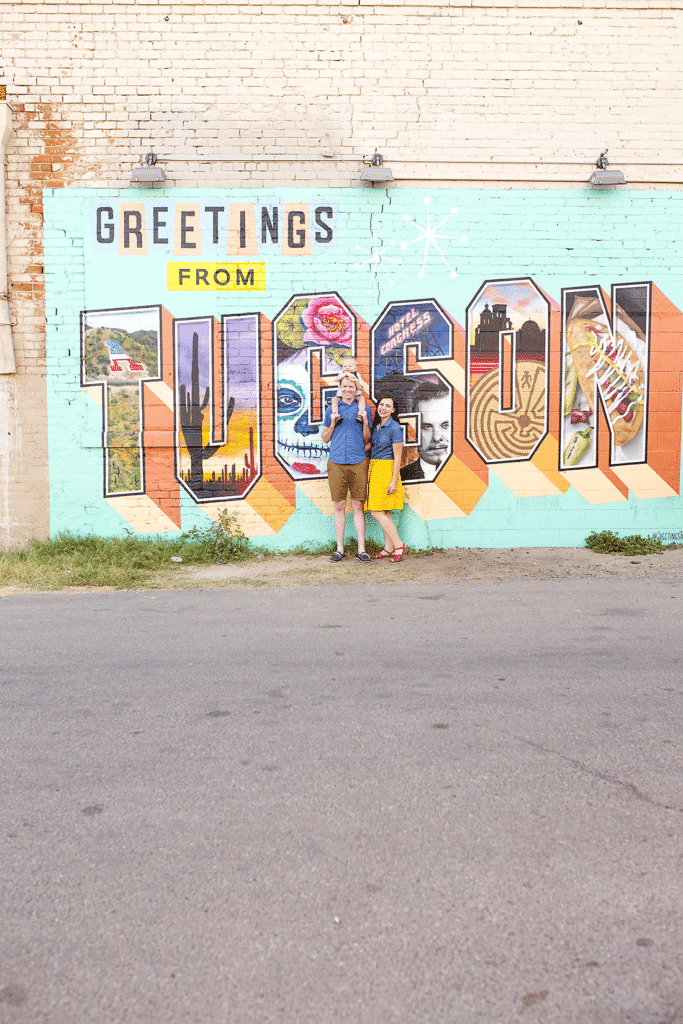 This post is sponsored by Visit Tucson, but all experiences and opinions on the Top 10 Date Ideas in Tucson are all our own (with a little help and advice from experienced Tucson locals!)
If you've been around these parts you know that we're all about new experiences, new memories, and new dates. And every now and then we're lucky enough to travel and find a lot of all of the above in one fun day or weekend! Travel dates either as a romantic getaway for two or as a family date have been some of our favorite things and I'm so excited to share a gem of Arizona with you today with 10 date ideas in Tucson, Arizona.
Desert Hiking. Tucson is home to some of the prettiest desert scapes and cacti out there, and there are so many options for hikes for all skills and levels! In talking to a local friend, she let me know Sabino Canyon is her favorite, and one she does a lot of photo shoots in.
The Gaslight Theater. We are talking a one-of-kind experience where you get a dinner and dessert show in old-west style. Shows are seasonal, satirical, funny, and just uniquely Tucson!
Bike Rides At Their Best. We are talking gorgeous scenery, streets designed for cycling, a place many professional cyclists live, and routes for the best and most novice. There are easy rentals, and planning a route with an urban or country view is so easy to do.
Grab an Eegee at Eegee's! Another local recommendation and favorite, you'll find an Eegee's almost anywhere you look in Tucson! They make a slush that is made from real fruit, and this refreshing treat is cheap, delicious, and so soothing on a hot afternoon. It's a cheap date on its own, perfect after a hike, or a fun activity for a family date.and while we're on food….
Eat Some of the Best Mexican Food of Your Life. Being close the border and in the heart of the Southwest, this desert oasis has serious benefits when it comes to Mexican Food. They boast of the best 23 miles of Mexican food, and they aren't kidding! We're pretty picky but decided to splurge on a nice dinner that's more of fine-dining experience and head to Cafe Poca Cosa at a friend's recommendation. Oh, my word that belongs in the top five meals of my life!They do a menu that changes every day, twice a day, using the best fresh ingredients. It's usually a slow cooked meat in a special sauce, tamales, and vegetarian and fish options too. But what you really need to get is a sampler plate of the chef's choosing. You'll get three different menu items, and if you both get this option, you'll get six different plates to try.
I've never had Mexican food like this before, and we both were amazed at the flavors and quality we enjoyed! As a side note, we've gone cheap and even vegan too, and Tucson really knows their Mexican food in all categories!
Visit the Air and Space Museum. Another local recommendation. With an Air Force base and plenty of military families, an airport, and an airplane graveyard not too far away, you have a lot of great resources to make this an impressive museum for the aerospace lovers in your life.
Visit A Mountain. The University of Arizona calls Tucson home, and they claim A Mountain as one of their landmarks. It's an easy walk/mild hike, and you'll see some of the prettiest city views from the top, and at the other scenic points just past it. It's really easy to find, and a very cool up-and-coming neighborhood is growing all around it making even the drive in scenic and fun.

Tour the Arizona-Sonora Desert Museum. A mix of flora and fauna, and part animal zoo celebrating the life and beauty of the desert, this is one you don't want to miss to see what this region has to offer and why so many find the desert such a beautiful places.
Treat Yourself to HUB Ice Cream. Once again, a local recommendation and favorite, and for good reason! Homemade ice cream from scratch with unique and fun flavors is the main attraction, but the cutest red and turquoise Instagramable shop is a pretty big selling point too! We had a hard time deciding on flavors all were so good, and our toddler had a hard time-sharing and even pausing to let his mom get a picture. It is really great stuff, and worth a stop just for the ice cream!

Visit the Tucson Botanical Gardens. Sometimes I forget use how lucky we are to see beautiful cacti and live in a land of the saguaro. If you want your classic desert picture, and to see how beautiful this place so many adore, you can fall in love with the desert at the botanical gardens.
And honorable mention! We've visited and shared posts about Tombstone before, which is only about an hour outside of Tucson. If you're making a weekend out of Tucson, I'd highly recommend going and seeing the old West preserved in all its glory in Tombstone!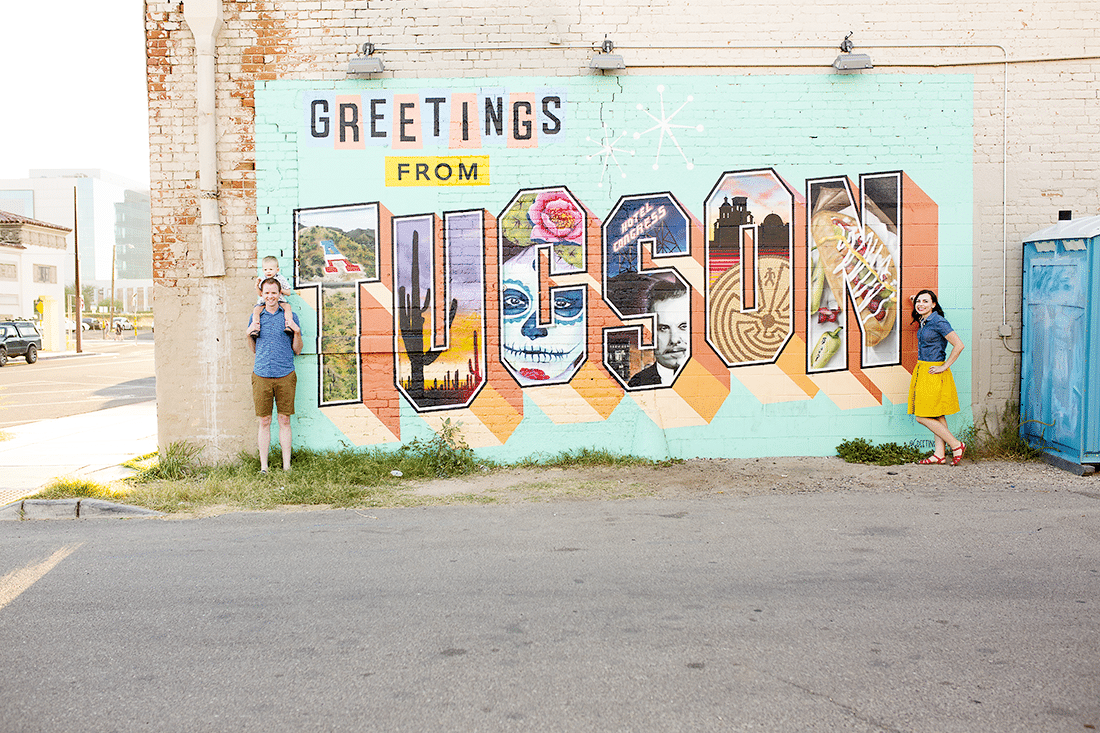 Get 365 Date Ideas!
We want to help you have the best date nights ever! Grab this FREE printable with 365 date ideas, a date for every day of the year so you never run out of ideas!