Need the perfect date idea? A paint night date night isn't just for artists, it's more fun for beginners. All the details for a couple's painting class date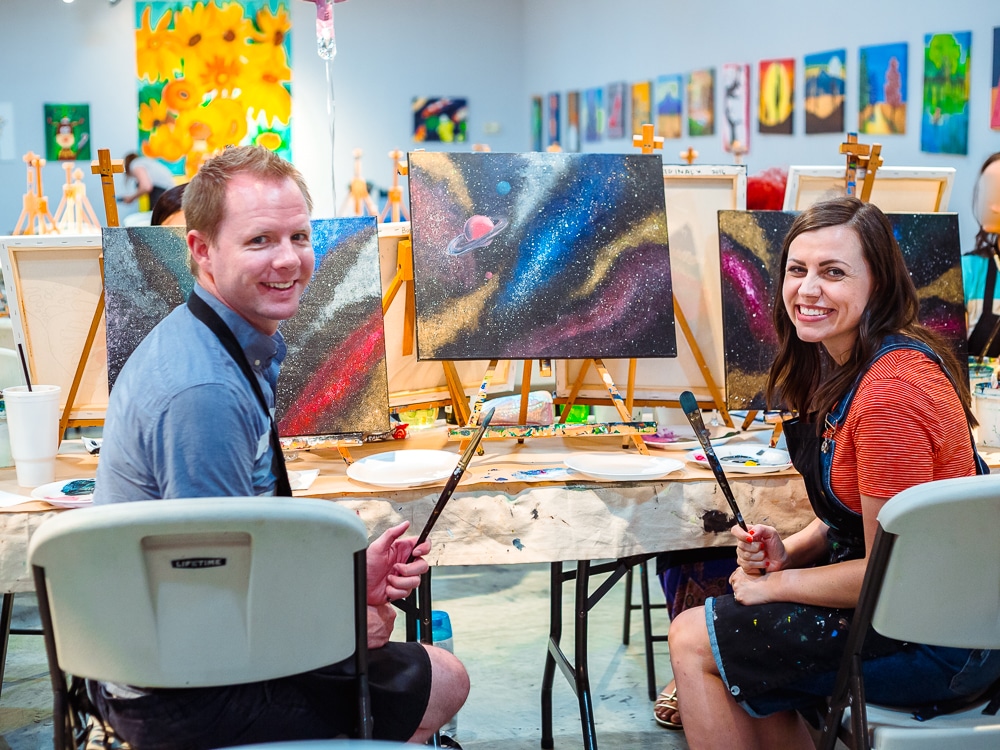 Paint Night Date Night
Date Info: Paint NIght Date Night at a painting studio

Price: $35 per person
Location: Find a painting class studio in your area! We're at The Art of Merlot in Scottsdale, AZ
Time: 2-3 hours per class
We discovered the paint night date night years ago on a Groupon deal.
This week I'm at a conference learning a lot about digital publishing best practices. I've smiled how many people have asked how many dates we've repeat. And I'm always happy to say not many! But if you're been around a while you may know a couple's painting class is one that's so different every time we do it, we repeat it about every other year.

Date Night Painting Class
If you've never heard of a date night painting class, here are the quick details.
It starts at an art studio that will set up everything you need to create your own painting. They set up the canvas, paints, and every other material ready to paint.
Do you need to be an artist to do a paint night?
Absolutely not! I think we love this so much because it's so out of the box for us! An instructor will walk you through everything. The less of an artist you are, the more exciting it may be to try something new!
Choose your own painting paint night
We have done two types of classes: a guided recreation where the entire class does one painting. Alternately, this time we did a "choose your own painting" where everyone in the class did their own painting.
I was nervous it would feel chaotic or less like a class, so we decided we would do the same painting together. Much to my surprise, I think we enjoy the choose your own painting couple's painting class even more.
It was more relaxed with a go-at-you-own pace feel. We found ourselves with more time to talk to each other, and less time watching a clock hoping to finish.
Couple's Painting Class
Jacob and I choose a space painting that used painting techniques that barely used a paintbrush! We painted with paper towels, our fingers, sponges, and flicked paint onto the canvas. I've never felt so creative and out-of-the-box with an art project! We were surprisingly mature enough not to flick paint on each other. But there were plenty of laughs as paint-splattered and we tried new things.
I loved pulling out the paintbrush to add glitter paint at the end. It felt like an adult arts and crafts class. One that made us laugh, pushed out creativity, and had us try new things.
We're clearly big fans of a couples' paint night for a date! I think you'll have a different experience at every studio, with every painting, and on every date. That's all the more reason this is such a perfect date that we've repeated, and will likely repeat again!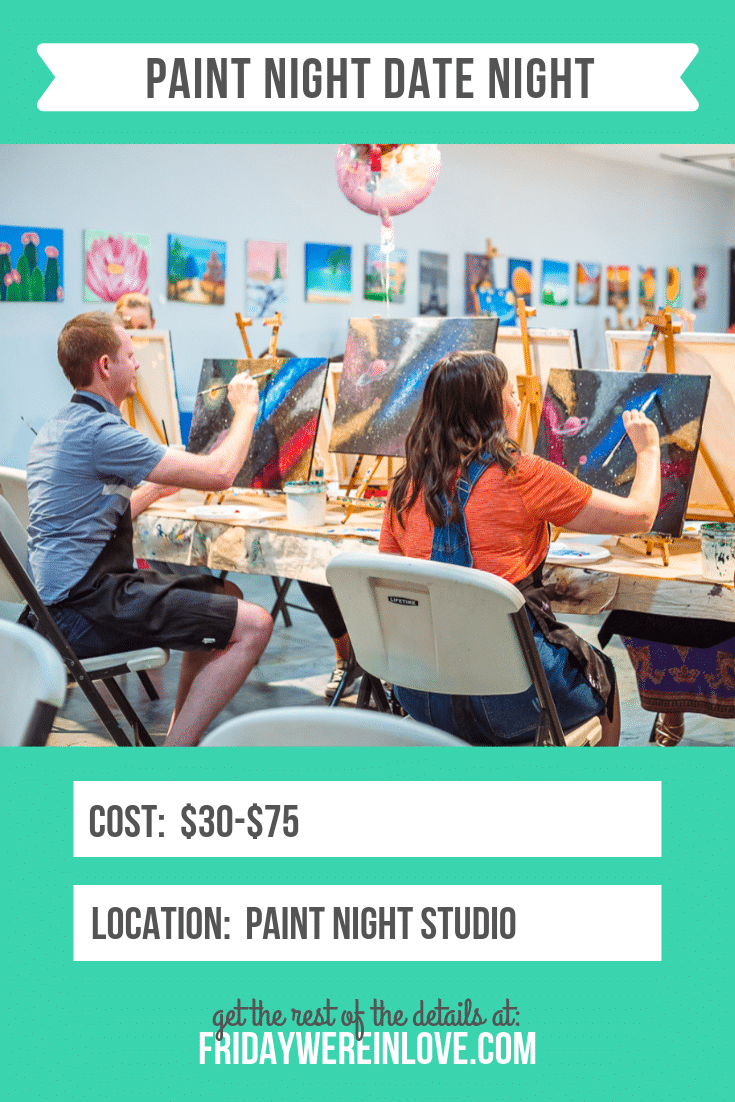 Like this Couples paint night? You may like these ideas too:
One of Our Favorite Creative Date Nights at Home
Pottery Painting Date Night: Sugar Skull Halloween Edition
Paint Splatter Studio Date Night
Get 365 Date Ideas!
We want to help you have the best date nights ever! Grab this FREE printable with 365 date ideas, a date for every day of the year so you never run out of ideas!