Halloween Stuffed Peppers
Halloween stuffed peppers recipe: these jack-o-peppers and other Halloween shaped stuffed bell peppers make the perfect healthy Halloween dinner idea!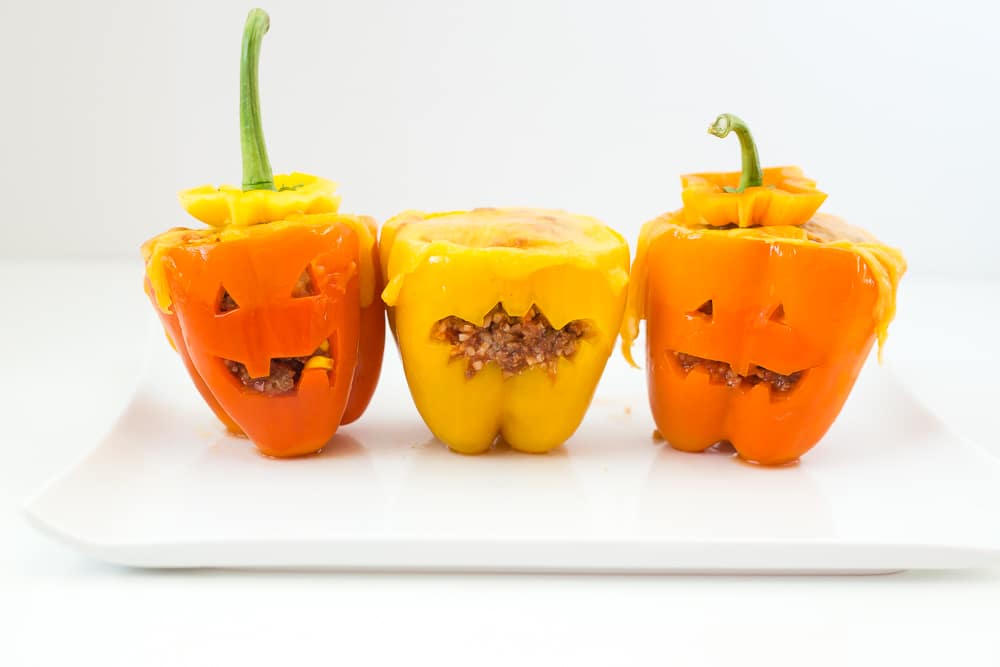 If you've been around these parts, you know obsessed is the light term for my feelings on Halloween. I love Halloween so much, I look forward to it all year! I have no idea why this girl who hates horror movies loves every other piece of it, but it sparks so much joy!
The only thing that doesn't spark joy is the sugar high and crash after trick-or-treating. That's why I'm a big fan of a healthy dinner I know my kids will eat before the big night.
Okay, let's be honest, anything Halloween themed with food is welcome in my home year-round. But particularly all October, I love to add a little extra Halloween fun with some Halloween dinner ideas. The only thing is they have to easy. I know how much we enjoy Halloween date ideas and we celebrate all month with our favorite Halloween ideas. Dinner matters, but getting it on the table quickly with something festive I'm proud of matters most!
These Halloween stuffed peppers are just about the perfect healthy dinner when you're looking for a Halloween dinner idea.
Easy Stuffed Pepper Time Saving Hacks:
Make the filling in advance and freeze a batch. You can defrost in a sink of hot water for about 10 minutes. I love the make this recipe once and double the recipe to use on Halloween night. Two-for-one dinners are my jam!
These are easy to prepare in advance. Feel free to make them in the morning and store in the refrigerator until you're ready to cook them. You can make them a day in advance.
Also, you should know the difference in bell peppers so you can choose the best ones!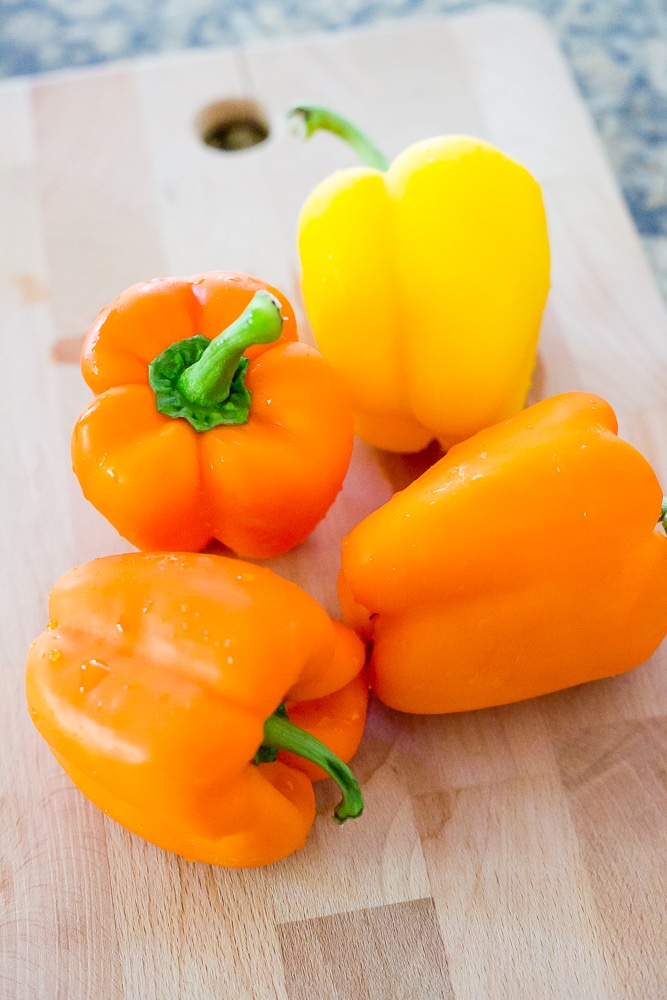 Male Bell Peppers vs. Female Bell Peppers
Male bell peppers have 3 bumps at the bottom. Female bell peppers have 4 bumps. You'll find more seeds in the female peppers, but they tend to be sweeter. Male bell peppers are typically ideal for cooking.
However, for this recipe, I'm a big fan of female bell peppers so my jack-o-lantern stuffed peppers don't topple over while they cook. Look for sturdy peppers that will stand up well while baking. This is typically female peppers, but you may find a few male peppers that do the trick too!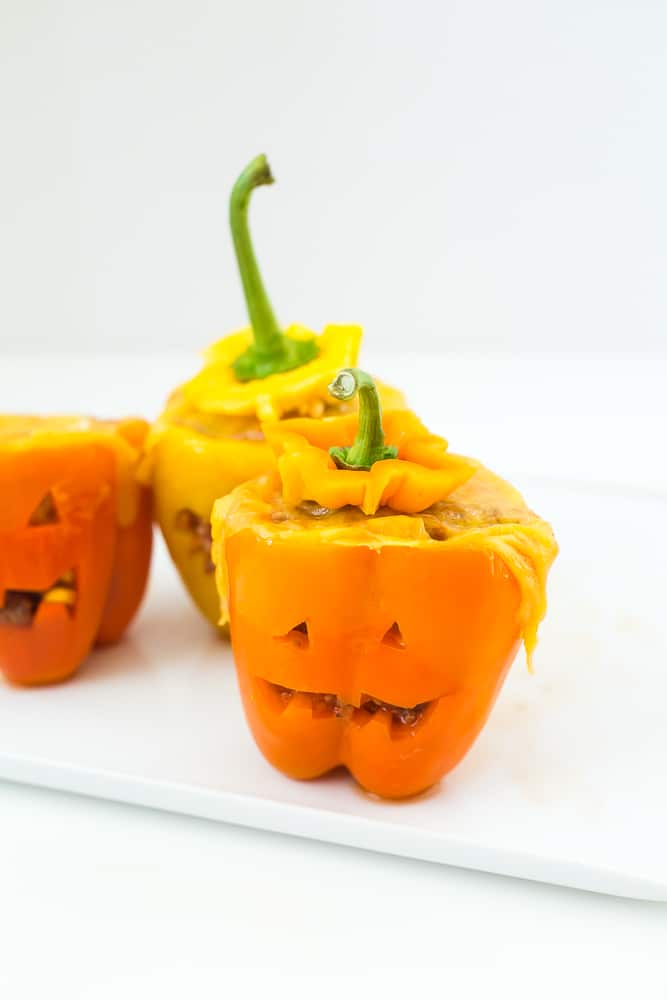 Halloween Stuffed Pepper Ingredients: 
4 large bell peppers or 6 medium bell peppers

1/2 onion, finely diced

1 lb cooked ground beef

2 tsp. minced garlic (I love to buy the pre-minced bottle)

1 cup frozen corn

1.5 cups cooked rice

1 can tomato sauce (14 oz)

3 TBSP taco seasoning

4-6 slices of cheddar cheese
Tip: I love to cook with a recipe that uses rice earlier in the week and make a little extra. It saves even more time in prep!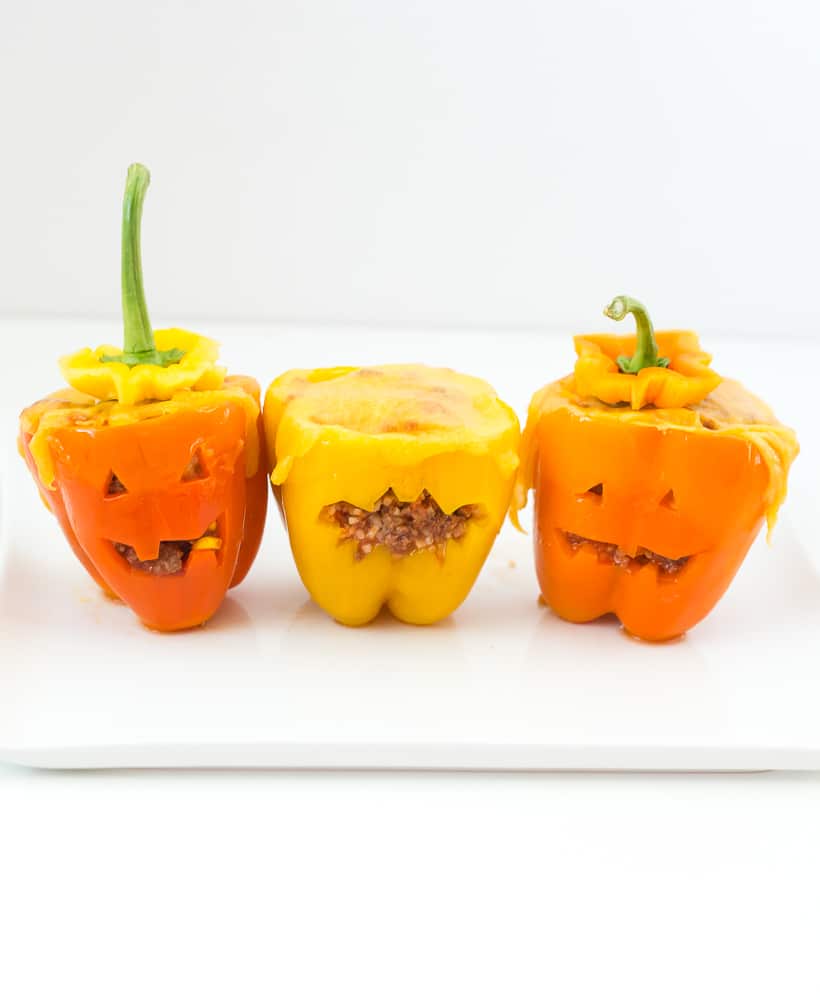 Jack-O-Peppers Directions:
*Pre-heat oven to 350.
Step 1: Set aside bell peppers and cheese. Mix all other ingredients together to create the stuffing. Set in the refrigerator or freeze for later.
Step 2: Wash bell peppers, pat dry.
Third Step: Cut to tops of your pepper and remove seeds and membranes.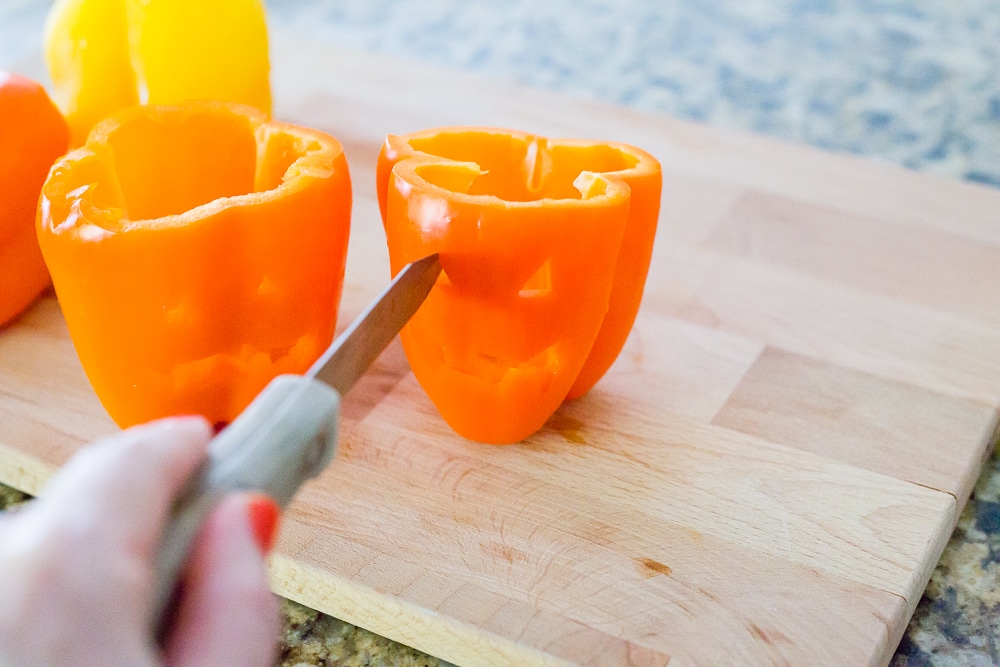 Step 4: Choose Halloween shapes to cut into the front of your peppers. We love the jack-o-pepper idea making pumpkins. But I really like to shake things up and add unexpected shapes. My son loves bats right now, so that made its way into our cutouts. The Halloween stuffed pepper's shapes are up to you- have fun! Be creative! And remember they don't have to be perfect to be cute and delicious!
Step 5: Stuff those babies with your stuffing! Push it all down with the back of a metal spoon. You'll want them stuffed well so they don't spill out while cooking.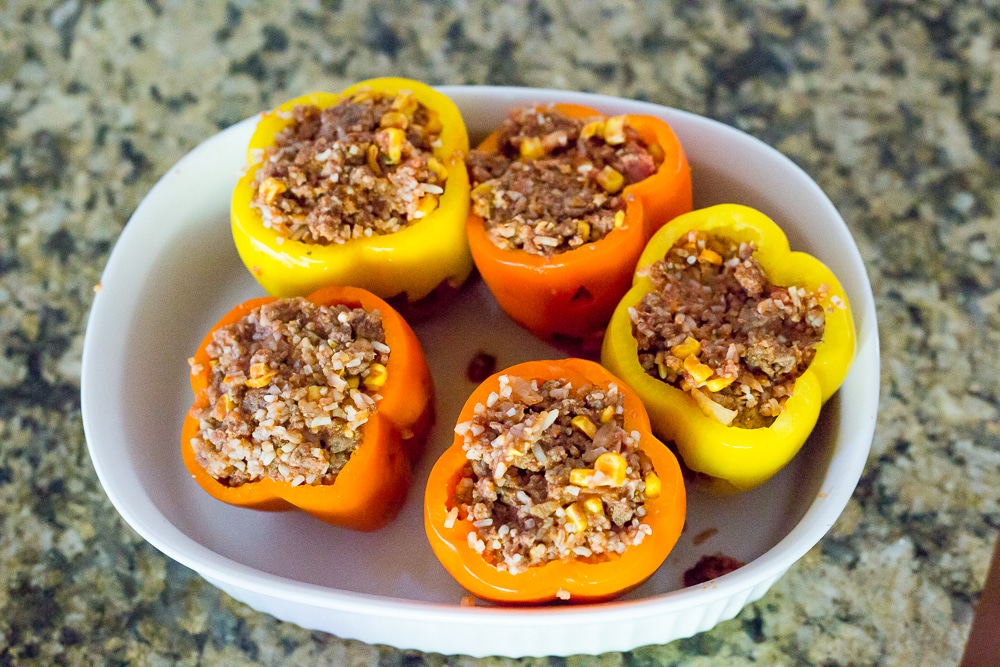 Step 6: Top each stuffed pepper with cheese. I love adding one thick slice per pepper. The cheese oozing down the sides only contributes to the fun Halloween dinner motif!
Step 7: Bake for 30 minutes for 350.
Serve warm! And last but not least, be sure to enjoy a healthy Halloween dinner before the big night!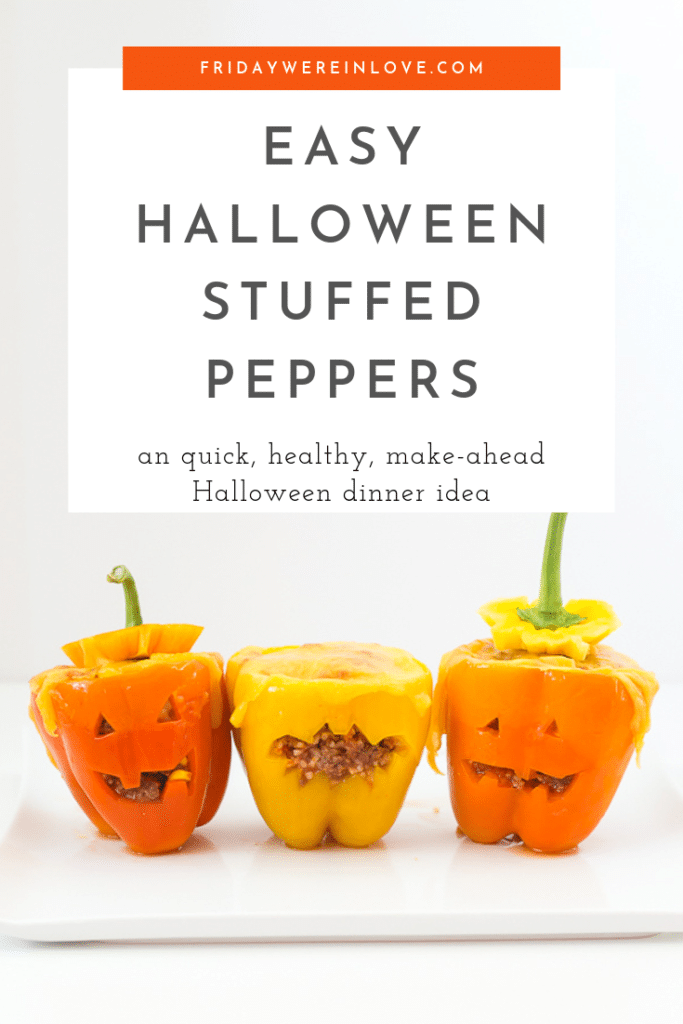 Like this Halloween dinner idea? You may like these ideas too:
Honey Mustard Ham and Swiss Panini Recipe
Get 365 Date Ideas!
We want to help you have the best date nights ever! Grab this FREE printable with 365 date ideas, a date for every day of the year so you never run out of ideas!