26 ways to spend Valentine's Day At Home! Make a memorable night with your sweetheart with one of these romantic and memorable Valentines at home ideas.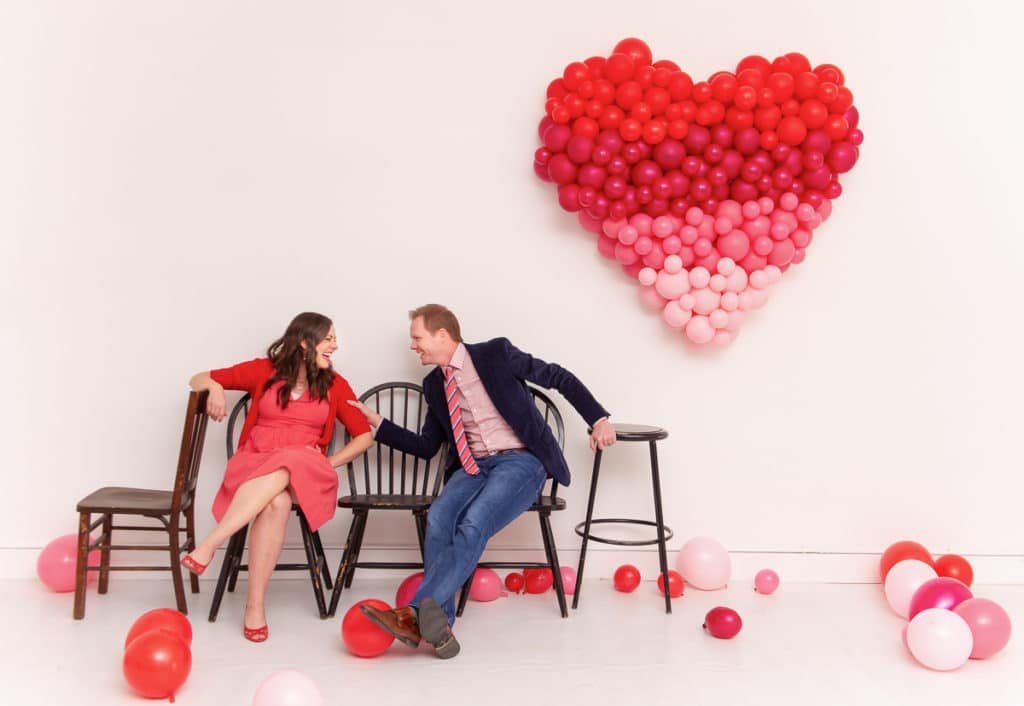 Who doesn't love celebrating love? When you're in a relationship, earning extra bonus points and making sure you include a little planning for a fun Valentine's Day is always the right choice!
But with busy crowds at most restaurants, price mark-ups, and limited reservations, sometimes the best way to spend the day of love is with some excellent Valentines at home ideas. Here are 26 excellent ways to spend your Valentine's at home!
Valentine's Day Dinner Ideas
Have a romantic Dinner
Jump on all the cliches and get rose petals, a bottle of champagne/sparkling cider, and all the tea-light candles or candlesticks to mimic your own candlelit restaurant experience. You can have all the benefits of a romantic restaurant without the noise and crowds.
Cook a fancy dinner together
One of our favorite dates is to cook a gourmet meal together. And good food isn't just exclusive to those who already know how to cook, you can do a virtual cooking class and have a chef guide you through the meal in the comfort of your own home.
This date night went viral during the pandemic and for good reason. It's an easy way to add some romance to your culinary date night! Read all the details and how to do your own blindfold baking date night here!
Try meal kits to make it easy.
Order a meal kit to make a romantic dinner easy and new and exciting at the same time.
Look into online classes and video tutorials.
There are so many amazing tutorials on food blogs, Youtube, and paid online classes. The good news is you can easily find some creative ideas and amazing tutorials at any budget.
Try to recreate favorite items from local restaurants.
If you have a favorite restaurant and a favorite dish, but you want to avoid the crowds, a cooking date night making some of your favorite things can be a fun twist on a dinner date.
Have a Themed Dinner
Theme your food red and white for dinner. Go with a cuisine theme from a specific region. You could even have dessert only if you want to please your inner child.
Show Love with Their Favorite Meal
Make a favorite meal of your partner to show a little extra love
Make a Five-Course Dinner
Create your own Valentine's Day menus sharing each course or menu item to make it feel more special than your normal routine
Create Your Own Ambience
Add Valentine's Day decorations to the dinner table and make even the most simple meal feel special.
Have a Fondue Night
Pull out your fondue pot, or get a hot plate and get ready for a romantic idea that provides a lot of quality time and a delicious meal together! We've done a romantic Valentine's day picnic at home both as a couple and with our kids. It makes a great Valentine's activity for the entire family, and it's also a romantic date night. There's just something about chocolate fondue that makes for the perfect Valentine's Day date night!
Romantic Indoor Picnic
This simple idea is always a fun date night. Plan for a romantic picnic, but take it indoors to a fun location. We love a great living room picnic! Maybe your bedroom or a porch is a special place. Find a romantic setting and create a romantic ambiance around your picnic. Pro tip: Set up a blanket, and grab a coffee table or cover a cardboard box for a place setting. It's a great way to enjoy your meal picnic style while keeping it a little easier to eat and enjoy food.
Have a Spa Day At Home
Check out some at-home massage techniques and give each other a romantic couple's massage. Grab some face masks and relax with a facial. You could even take it to the next level and draw a bubble bath with bath salts and rose petals for a relaxing soak.
Create Your Own Party
If a fancy romantic night out isn't in the cards, turn your dining room or living room into your own dance floor and party. Set up drinks and appetizers. Come up with a romantic playlist to dance to. And make sure your song is included in the night for a slow dance that may just reignite all the butterflies from your first date. It's one of those great ideas that may feel cheesy for a minute. But I promise you can forgo the live music and fancy venue, and still create that idea of a romantic valentine's party right at home.
Romantic Valentine's Day Ideas
Sexy Date Night
Although I'm always bashful mentioning it, bedroom games typically don't cost a thing. Find one that sounds fun to you and have a good time reminding yourself that love really doesn't cost a thing. 
Heat things up with a Love is Art kit. It's a painting kit you'll create while you…well you may just want to check it out to get the details. But the couple I know who recommended it highly recommended it!
Make Out in the Car to Your Favorite High School Mixed Tape
Somewhere we grow up and decide the car isn't functional, we're not teenagers, and there's more fun to be had than making out. However, taking a trip down memory lane together and setting the mood with some of your favorite high school slow songs can be just what you need to spice things up and better understand just what Katy Perry was singing about.
Love Notes Date
Give each other a set of sticky notes, and write something you love about your sweetheart on each sticky note. It's like a modern love letter that gushes those words of affirmation! Feel free to make a heart-shaped post with all the notes to let them read the list of things and blush a little bit.
Casual At-Home Valentine's Day Date Ideas
Have a Movie Night
Ditch the crowded movie theater and enjoy your favorite movie about love together! If you need some movie inspiration, check out our list of favorite romantic movies you'll both enjoy watching together.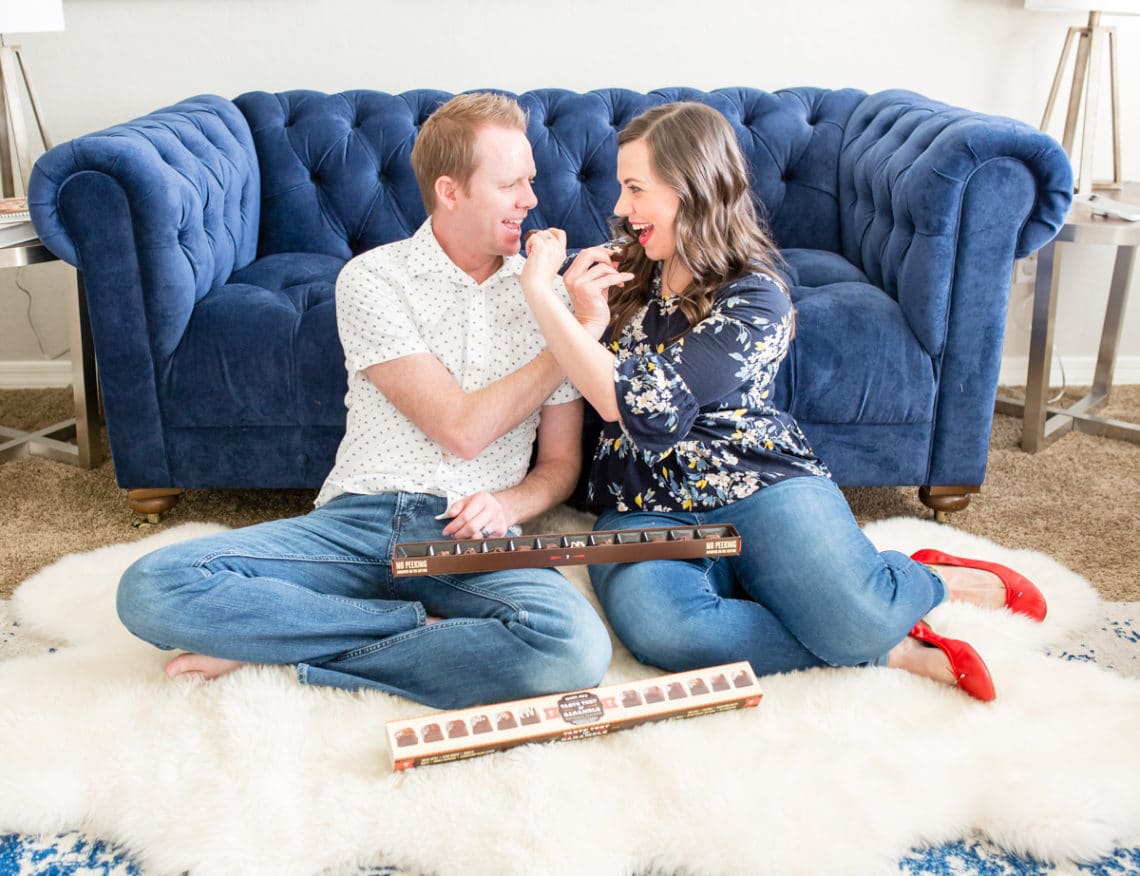 Grab a box of chocolates, and guess the flavors of each chocolate. Or, you can use our favorite trick from our chocolate-tasting date that makes it even easier. It's one of those activities that's an easy way to add in some fun little moments that feel perfectly on brand for Valentine's Day.
Make Chocolate-Dipped Strawberries Together
Hello, fun and easy at-home Valentine's Day ideas that let you make your own dessert or romantic quintessential Valentine's Day gifts. The best part is you only need a microwave and the ingredients and you're set for a really fun culinary date night.
Take a Romantic Stroll Close to Home
I know it's technically not an "at-home" date, but it's close enough we're going to count it. If you need a free date night with a little activity, go for a romantic stroll around your house, or even in the backyard. or nearby park is a surprisingly sweet way to connect and get a little activity in.
Order a Heart Shaped Pizza
The perfect way to keep things sweet and simple is to order takeout or have a pizza delivered. Nearly all pizza places offer a heart-shaped pizza available for delivery. Set up a romantic fort date spot, and you may enjoy a casual and romantic Valentine's perfect date for those who love more casual dates.
Have a Game Night
There's something about a little friendly competition that makes for a great date night at home! It's one of our favorite date night ideas when we need to have a date night in after our kids fall asleep. And, it can be a surprisingly romantic evening with a little help from some romantic bets as you play. Bet a kiss, play strip poker, or incorporate a romantic game into your plans.
Even if you play your favorite board games together, most people have a better time with this simple date than they do waiting for hours at a crowded restaurant.
Related: 100+ Couple Games for a Game Night Date Night
Have a Couple's Photoshoot
A Valentine's couple photoshoot is about the best way to document your love, and it will make a fun walk down memory lane in years to come. Set up a heart-shaped balloon wall, create a background out of inexpensive wrapping paper, and grab some fun props, It only takes a cell phone with a timer to and a few practice shots to have a really great time!
Pull out the old photos and reminisce.
Grab your wedding album, your Facebook albums, your phone stash, your memory card, etc. Grab all those pictures you have together and reminisce about the good memories you've made as a couple.
Like these Valentines at home ideas? Be sure to check out these posts too:
Valentine's Gift Ideas for Men
Love Playlist: Perfect Valentine's Day Songs
Valentine's Day Photo Shoot Date Idea
Get 365 Date Ideas!
We want to help you have the best date nights ever! Grab this FREE printable with 365 date ideas, a date for every day of the year so you never run out of ideas!