A roundup of lantern festival Arizona locations and dates so you can get tickets and enjoy the amazing experience of being a part of a lantern festival.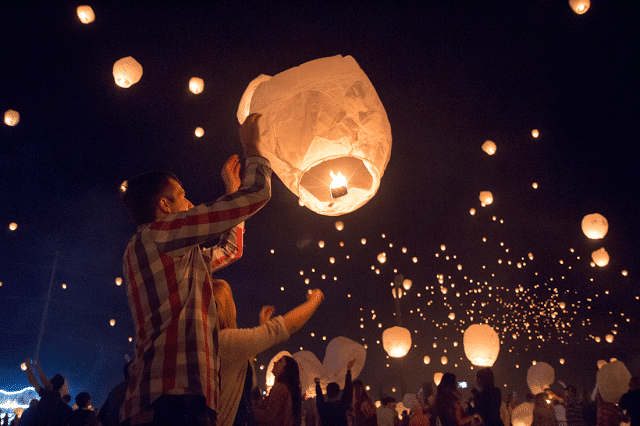 We're kicking off the New Year planning a bunch of couple's bucket list date ideas we want to make happen. One date we think every couple should do at least once is a lantern festival date night.
We shared our experience about The Lantern Fest in this post. A few years later, I'm still reeling from it and remember it as one of our all-time favorite dates! It's at the top of our list of dates worth repeating.
Since so many event companies have changed in the past two years, it can be a little more challenging to find a lantern festival near me. So for those in Arizona also looking for a lantern festival Arizona location, we thought we'd share the roundup so you can find and attend a night lantern festival.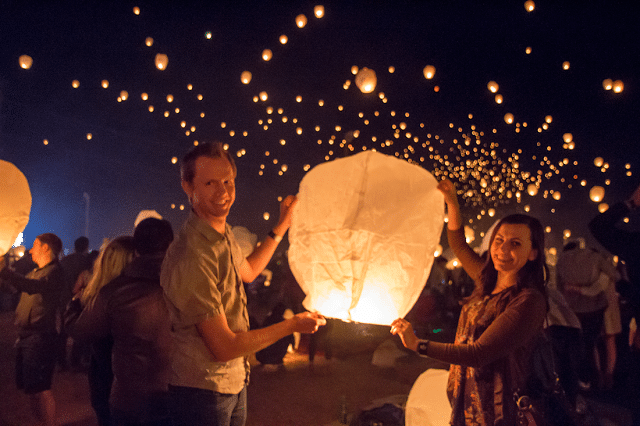 Lantern Festival Arizona
Tucson Lantern Festival
What: The Lights Over America Festival
Where: Tucson, Arizona
When: The First Week in April
Details: Check exact dates and get tickets here.
Tempe Water Lantern Festival
What: Water Laterns Festival Tempe
Where: Kiwanis Lake in Tempe, Arizona
When: November, typically the week before Thanksgiving
Details: Find details and tickets HERE
Water Lantern Festivals in Arizona
What: Lanterns are lit and sent off over a body of water
Where: Phoenix, Prescott, Lake Havasu, and Yuma have all been announced!
When: Watch for updates! Check out date releases HERE
The Lantern Fest
What: Sky Lantern Festival
Where: Queen Creek, Arizona (Has also taken place in Cave Creek, Arizona)
When: This one has been canceled for a few years, but typically happens in April in Queen Creek or October in Cave Creek.
Details: Watch for Updates Here
The Lights Fest
What: Sky lanterns lit off at night
Where: TBD, they haven't announced Phoenix locations yet
When: TBD
Details: Wath for updates and information HERE
Ready for more Arizona Date Ideas? Check out these ideas:
Tucson Date Ideas: Top 10 Date Ideas in Tucson Arizona
Date Ideas Phoenix: The Best Phoenix Arizona Date Ideas
Our 5 Best Dates of All Time and How to Recreate Them Yourself
New Year's Resolutions for Couples
Get 365 Date Ideas!
We want to help you have the best date nights ever! Grab this FREE printable with 365 date ideas, a date for every day of the year so you never run out of ideas!