New Year's Eve Mocktail Party- How to Host the Perfect New Year's Eve Party
Confession: We almost went to New York for New Year's Eve, but work schedules made us cancel the trip two weeks before it happened. We scrambled for some
New Year's Eve date ideas
. Then, ultimately asked, "What's the next best thing after Time's Square?"
The Casa de Whiting throwing together a classy New Year's Eve mocktail party instead!
We were lucky enough to crack the formula of how to host the perfect New Year's Eve Party even with little time to put everything together. I can't wait to share New Year's Eve Party Ideas that make for the perfect New Year party!
There's just something about dressing up fancy and having a delicious beverage in hand that screams "THIS YEAR IS GOING TO ROCK!"
We figured if we felt this way we had to have friends in the same boat looking for something fun to do. So, with one week's notice, we threw it all together. I shared more about \some tips we found for throwing a party on a budget last minute.
I think we've learned the formula for perfect parties- there are four things needed to make any party awesome. Let me share the "Four F- Formula for the Perfect Party."
How to Host The Perfect New Year's Eve Party:
Here's the formula that makes for a perfect NYE bash, with tons of New Year's Eve Party Ideas.
#1. Photo Booth
Wait, you noticed that isn't an F? I know, but I couldn't resist the marketing gimmick and I figured if I threw it in first you'd forget by the end of the post. Plus, phonetically we're basically still in the F category, so let's go with it.
I'm not sure what it is about photo booths, but they never seem to get old! The same mustache and glasses gig with a few other thematic props and BAM! guests are super happy to take some goofy photos together.
I grabbed dollar store items and made the rest with a die-cut machine.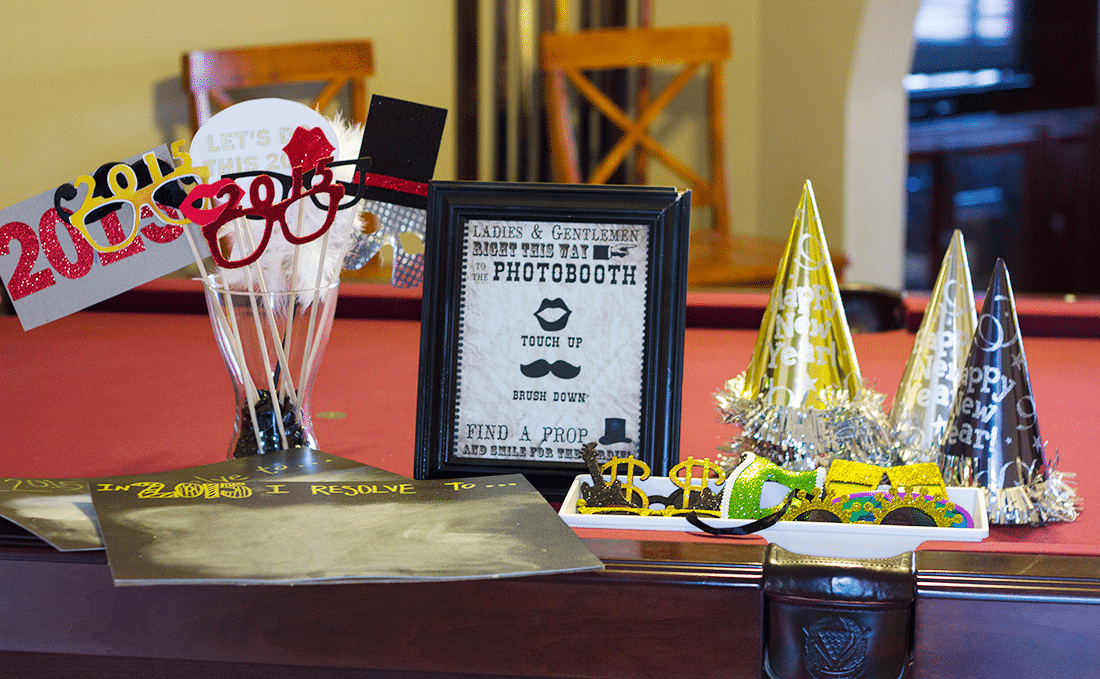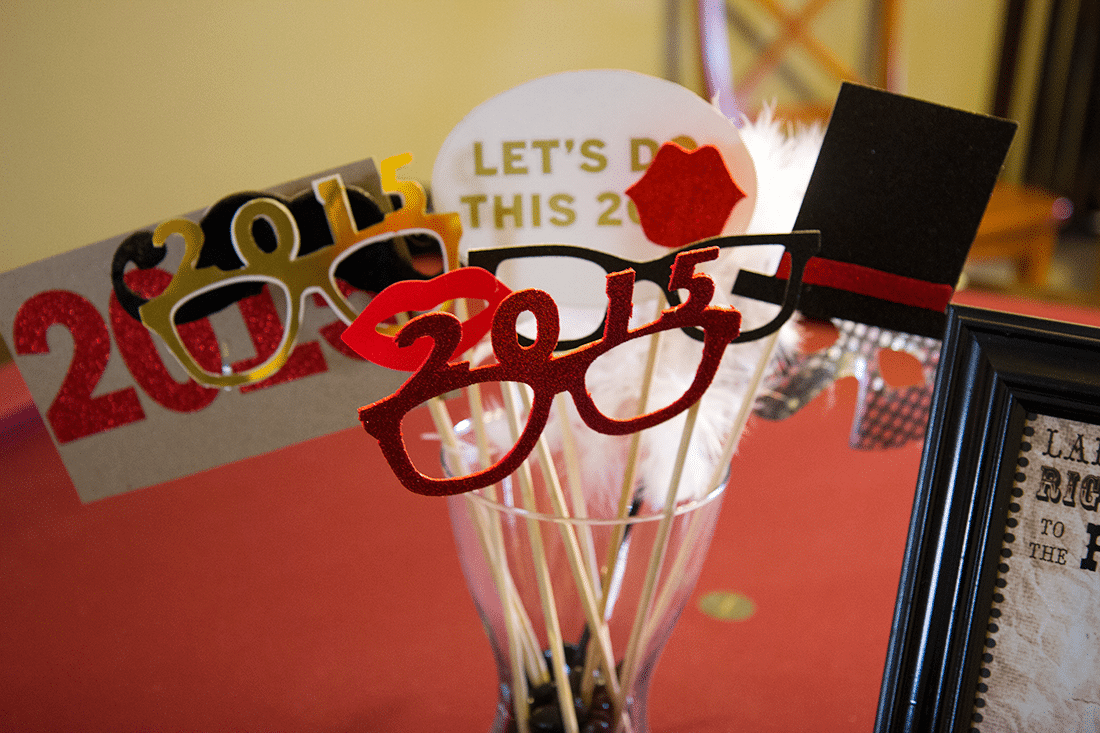 Our inner narcissists come out and we just can't get enough pictures together when there's a great backdrop and props.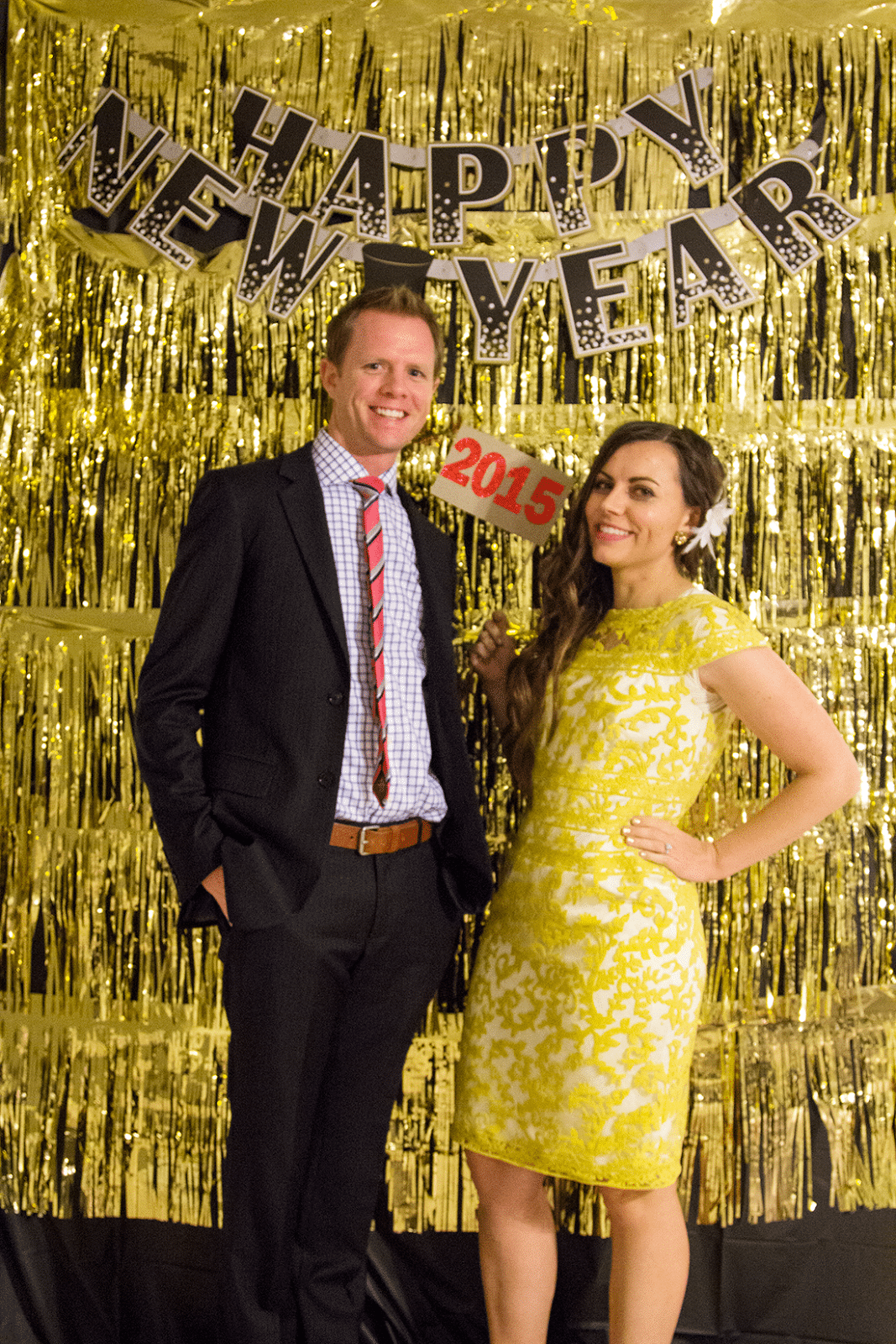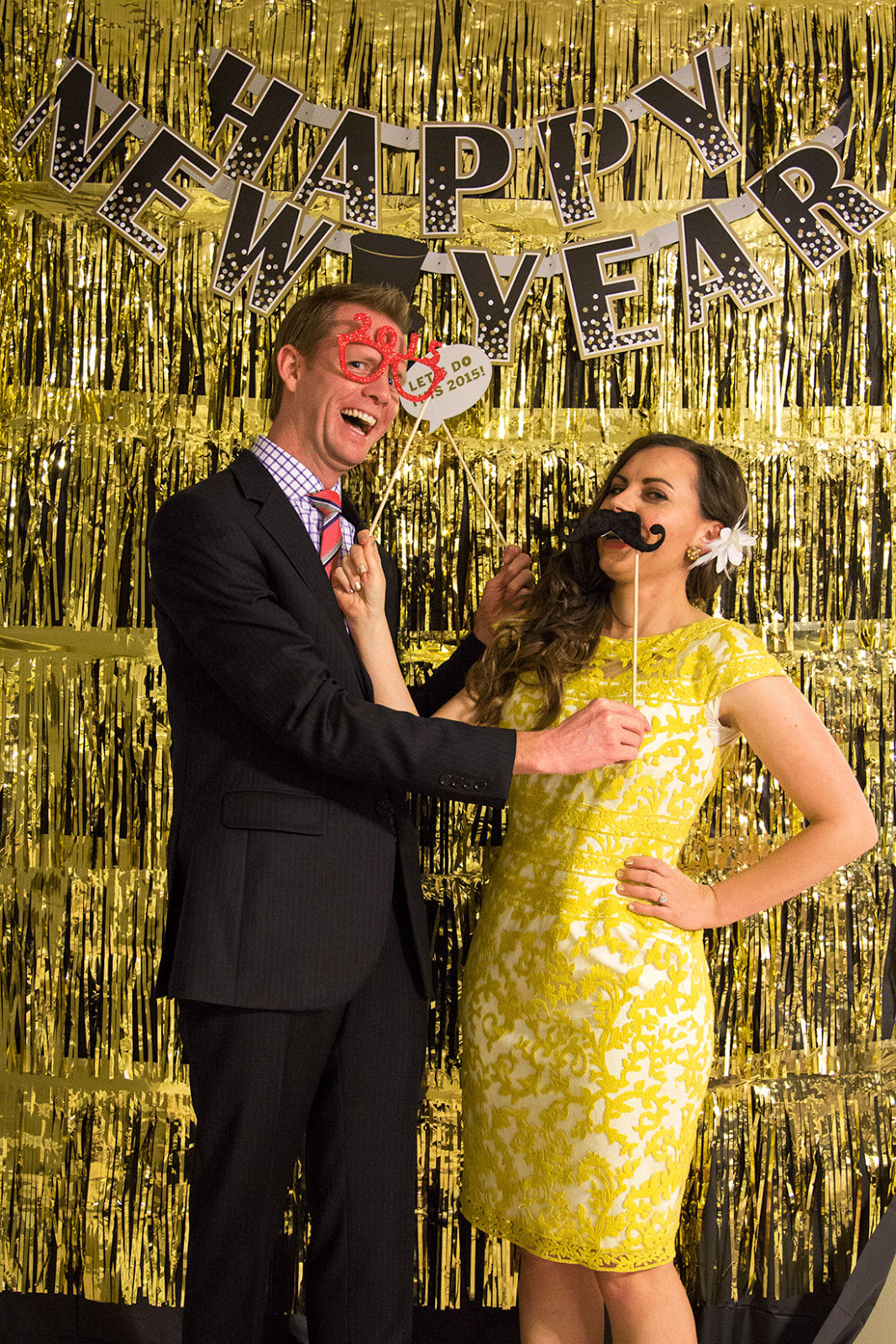 I don't think we were alone with this, our friends couldn't seem to get enough either!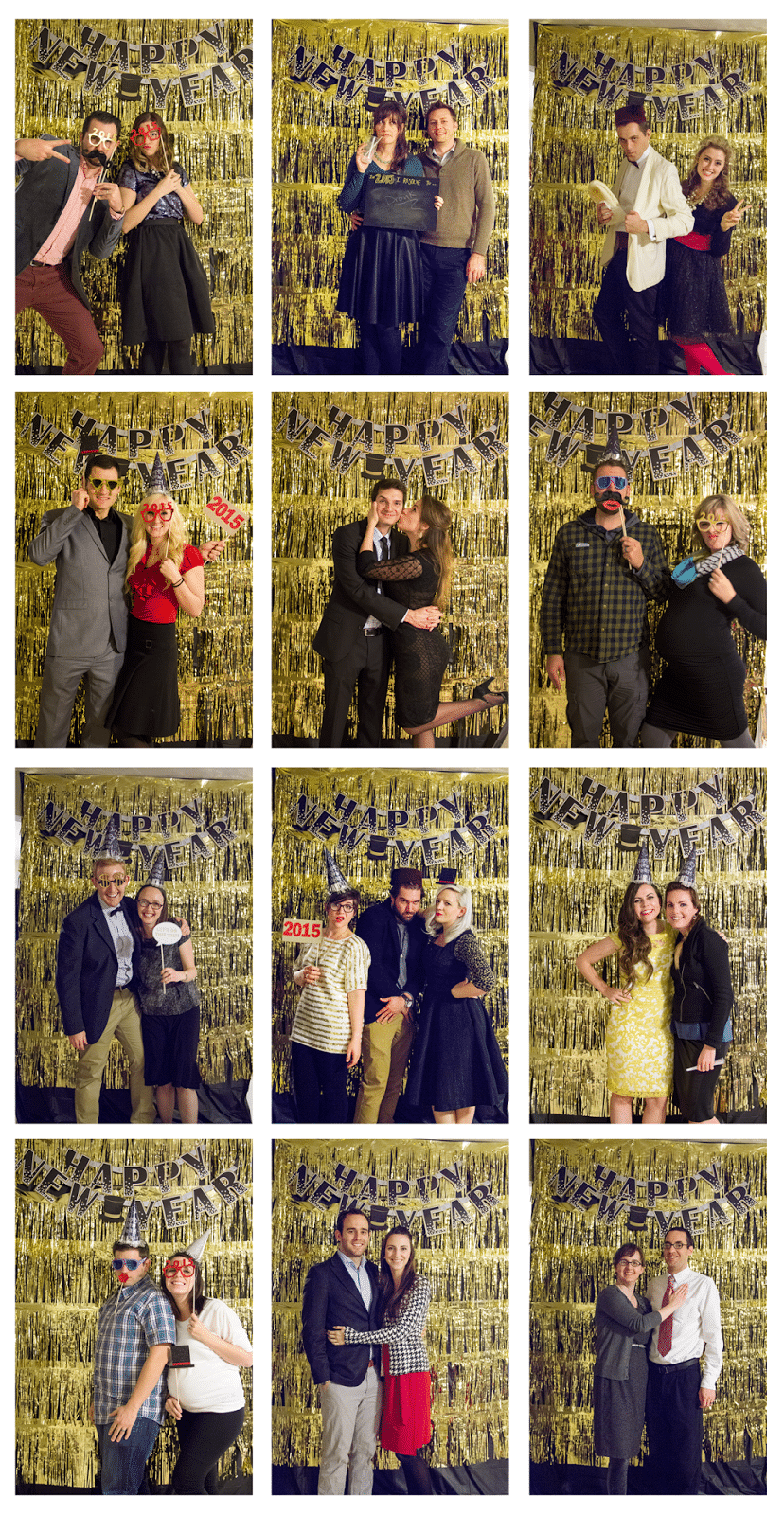 Speaking of friends…..
#2. Friends
Don't get me wrong, we could do this all by ourselves and count it a success that we had a party for two. In fact, pulling it together last minute the fear that it would just be us was definitely there! But seriously, inviting some of your favorite people, them actually coming (I know right?!), and laughing your head off with them makes for a killer party.
We also gave less than three seconds' notice to pull a funny face for this pic, and I feel this is sheer evidence of the quality of friends we have. LESS THAN THREE SECONDS people!
#3. Food
If you feed them, they will come. This has always been true for anyone at any phase of life. We asked all to bring an appetizer/treat, and I completely forgot that married couples pull through with some awesome food! Plus, most our pals are foodies, so dang, it went well!
Our contribution was the beverage selection. We went with an Italian soda bar which was easy to pull together, absolutely delicious, and a big hit with all the guests!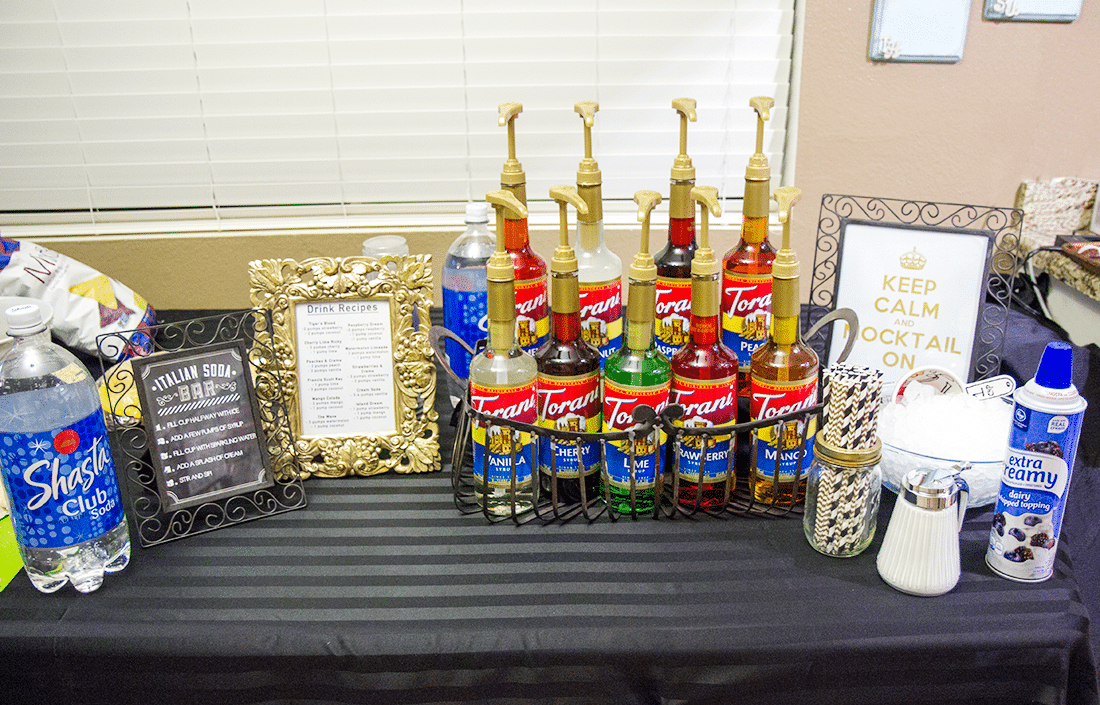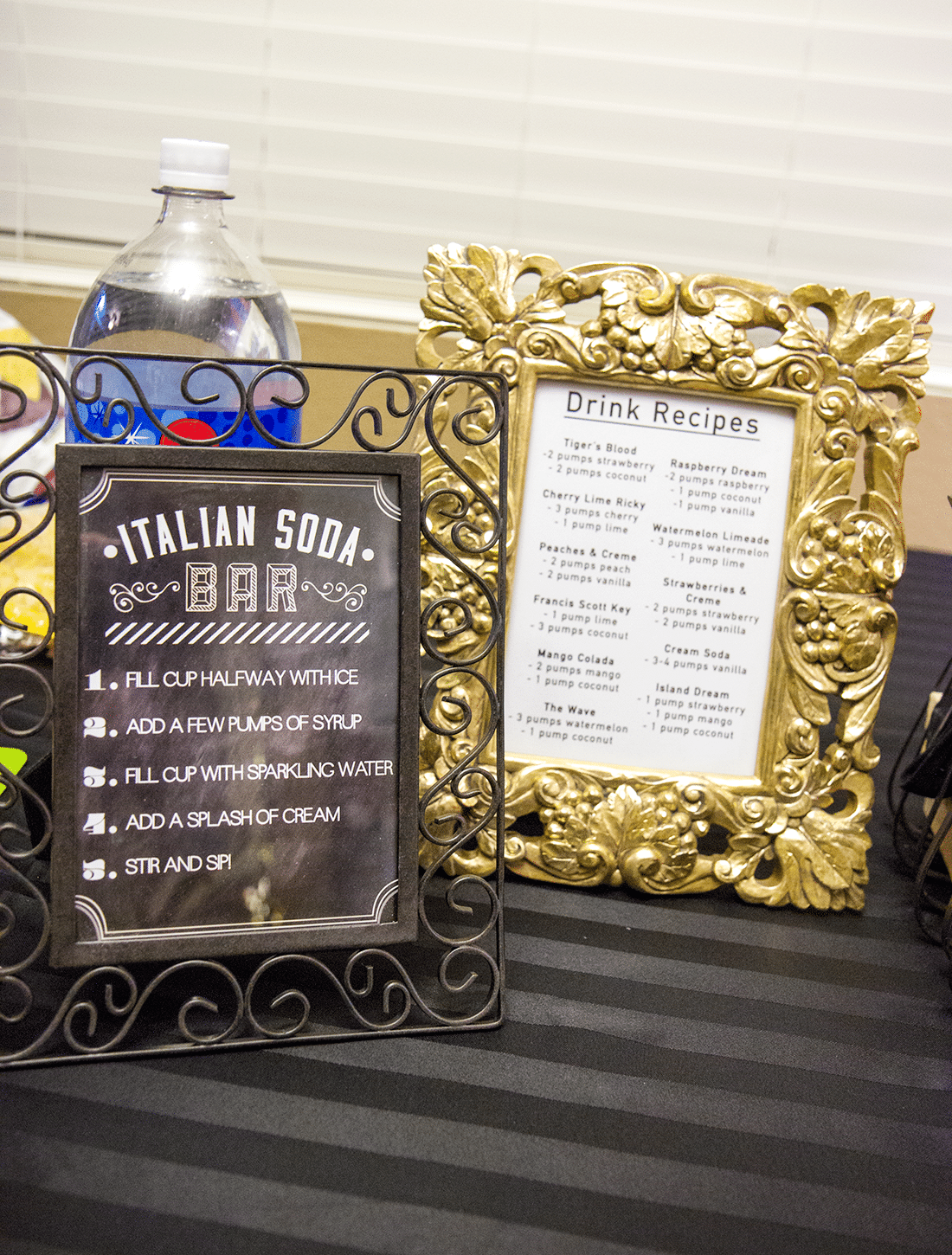 My insulin was spiked for the record, and I was wired most of the night. It's kind of like my little gift in life when that happens, and for the record, my two worst best spikes have been on NYE. I have strong reason to believe the first was the night Jacob decided he loved me, I mean I was running around a mall in high heels, pushing and riding large chair-holding carts at Mormon chapels, and danced until 7:00 AM… clearly that shows I'm a responsible adult and one would want to be in a long-term relationship with me.
Anyway, I'm excited to report this was one of those nights. I'm not sure what else would inspire me to make all the females pose for a picture I like to call "The Non-Alcoholic Lush Sorority."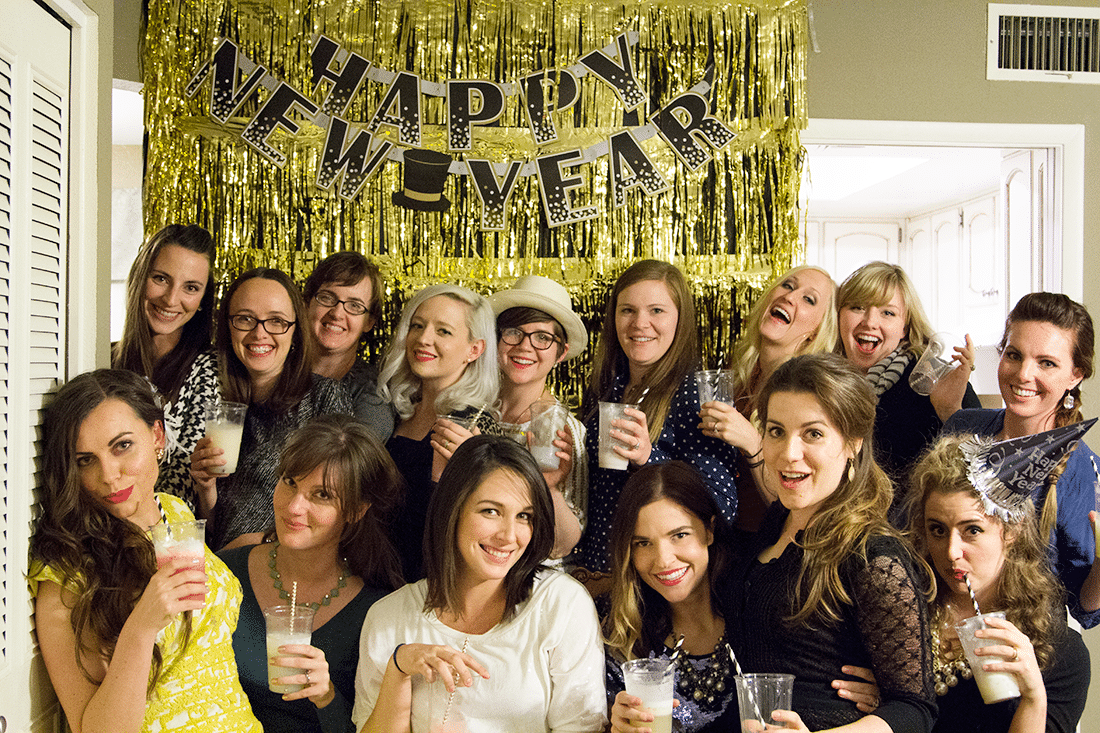 #4 New Year's Eve Party Ideas- Fire
Think about why luaus are so awesome for just a minute, the answer is food, friends, and fire dancers. Whatever form of fire shows up, so long as it's not your house on fire, it's always a good thing. We can't get enough of fireworks the few times a year Arizona makes them legal. Plus hello, we always gotta take our favorite New Year's shot after midnight.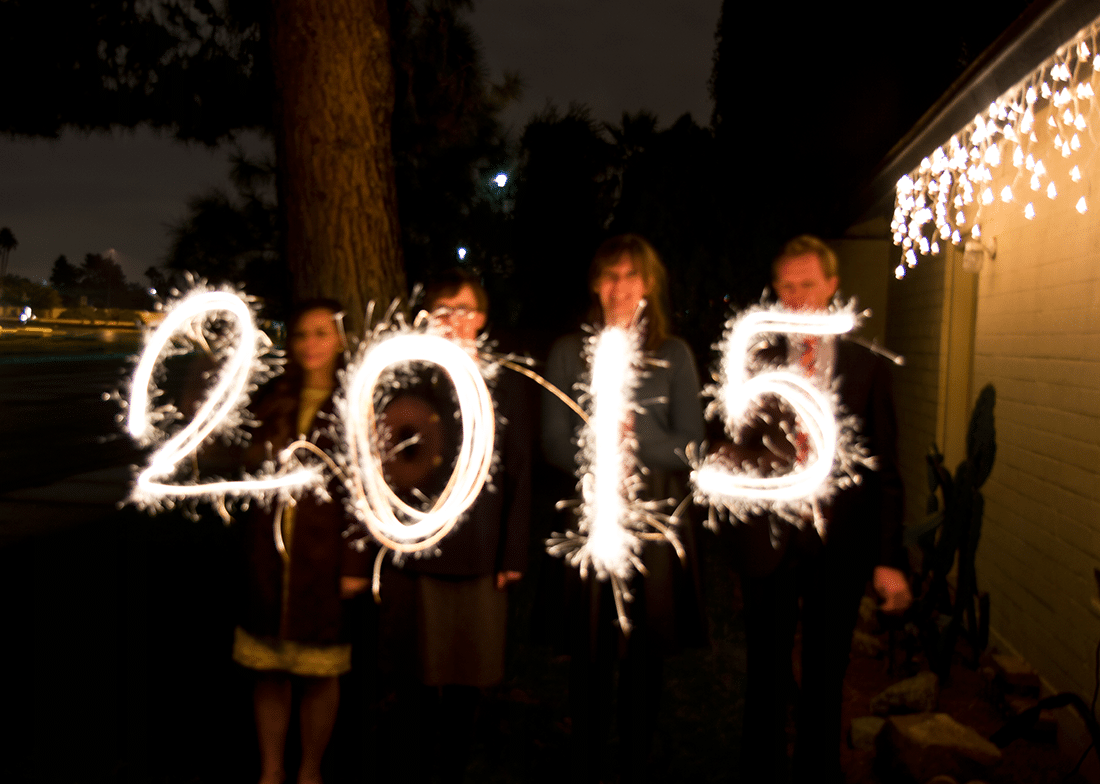 I'm so grateful we stayed put and spent time with some awesome people! I'm so glad Nordstrom Rack still has fancy dresses on sale in the month of December. I'm grateful for the opportunity to celebrate, which was our theme for 2014, and to do it with my favorite person. I'm also grateful for midnight and the mushy traditions that happen at midnight.
HAPPY NEW YEAR!
And here are a few other fun New Year posts to check out:
Goal Setting Worksheet Free Download!
Get 365 Date Ideas!
We want to help you have the best date nights ever! Grab this FREE printable with 365 date ideas, a date for every day of the year so you never run out of ideas!