New Year's Eve Date Ideas
Looking for New Year's Eve date ideas? Or ready to kick off January 1st with a New Year's Date? Here's a roundup of New Year's Date Night Ideas on the town and at home!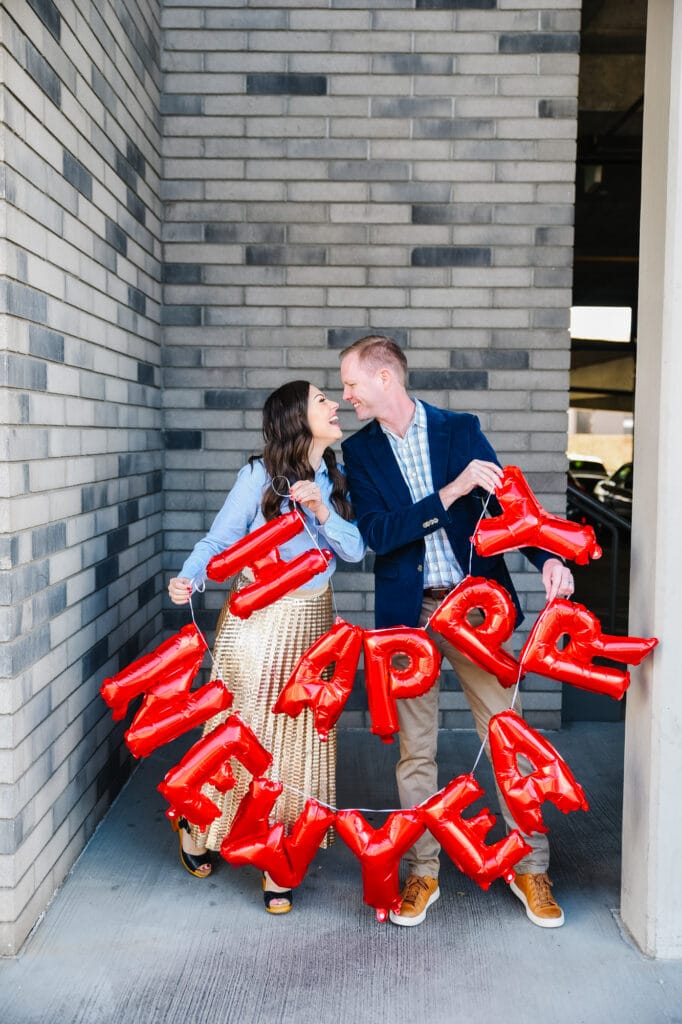 There's something about having a date for New Year's Eve. Maybe we can blame the song "What Are You Doing New Year's Eve?" for romanticizing New Year's as the ultimate night to have a date. Perhaps it's the tradition of giving a kiss to someone at midnight. Or maybe, it's just fun to ring in the New Year with someone by your side!
Get ready for a midnight kiss, and a great date night with a New Year's Date Idea!
Whether you're an established couple, one that has been married for a long time, or it's a first date, we have tons of great New Year's Eve Date Ideas and New Year's Day date ideas perfect for any couple!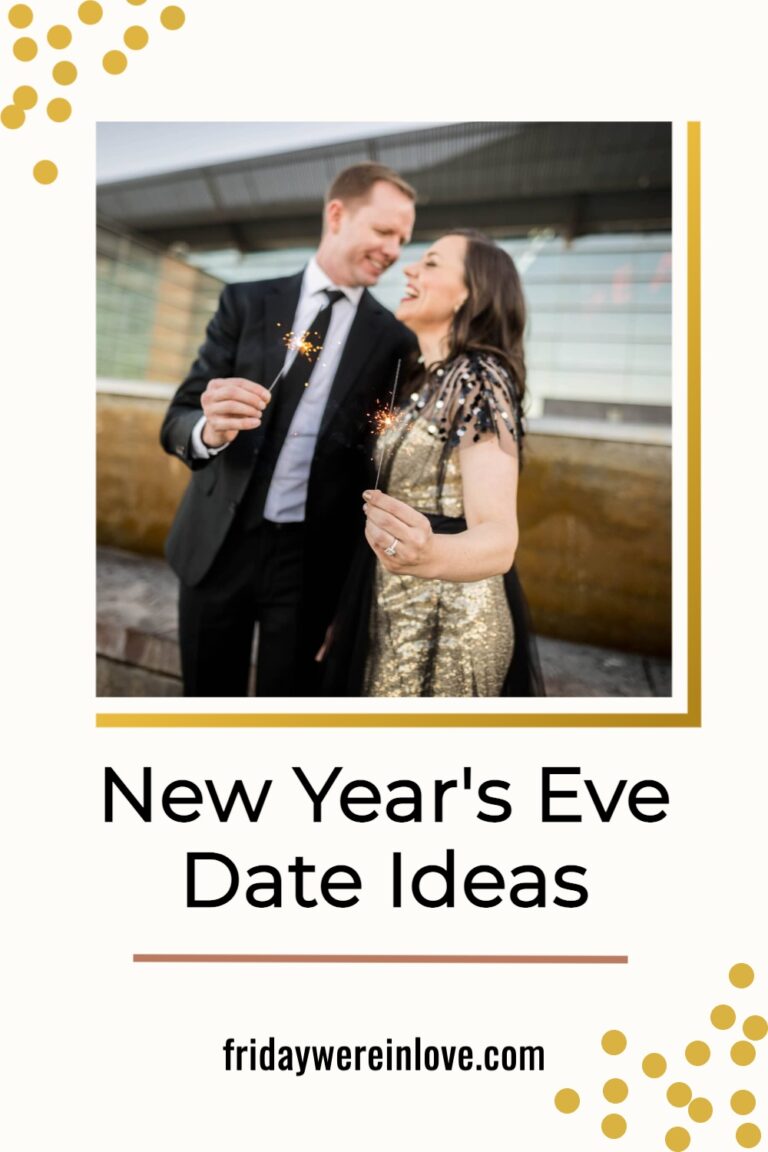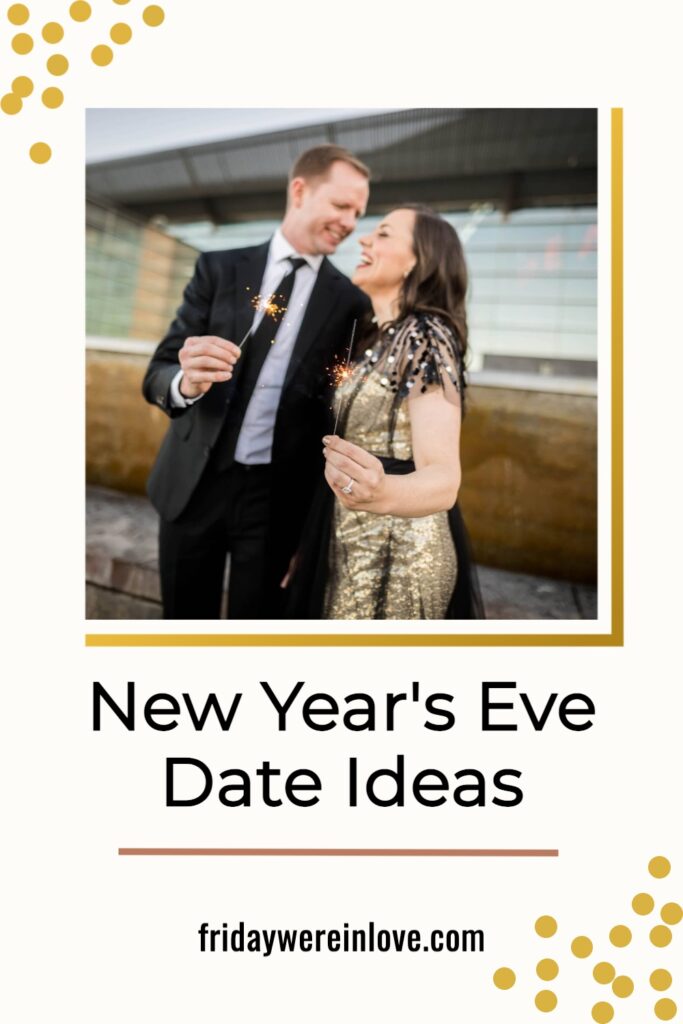 New Year's Eve Date Ideas
Find a New Year's Eve celebration in your area.

You may be surprised how many formal parties you can purchase tickets for a romantic New Year's Eve date night. We loved our roaring 1920's themed party ringing in the new year!


Go out for a formal dinner.

Celebrate making it through this year and treat yourselves! Grab a reservation, and enjoy a special menu and plenty of good food together!

Go Watch Fireworks

A firework date is always romantic, and who doesn't love a great romantic New Year's Eve date? Most cities and towns set of at least a few. Find a show and a scenic view to enjoy together.

Charter a Boat Cruise

So many lakes/oceanside boats offer romantic sunset cruises. Find one or rent your own boat for a New Year's boat cruise.

Grab a few of these biodegradable lanterns and set them off in a safe area. Write your hopes and dreams, send off negative feels from the past year, or put your biggest resolution on a paper lantern. Or you could just simply set them off and enjoy a moment of beauty together.

Host a small party with friends.

Ring in the new year with other couples. Invite others to bring their favorite dessert or appetizers, or drink recipes. It only takes food and a cute New Year's banner for the perfect setup.


To this day I think one of my favorite New Year's Eve celebrations was our mocktail party. We had the best time, and it didn't take much to throw together an evening that our friends got to enjoy too! But this would be fun even if it's a party for two!

Watch the Ball Drop

If you live in NYC, what better place to do than watch the ball drop together? If you don't, what better bucket list item to experience together?

Attend a Concert

If you can't make it to Time's Square shows, find the next best thing in your area! Many artists also do stripped-down more intimate shows on New Year's Eve. There's something so fun and energizing about live entertainment! See if you can be lucky enough to snag tickets!

Go see the lights one last time

Most people take their lights down right after New Year's Eve. Enjoy one last holiday light show before they're gone! And our Christmas light scavenger hunt may help make it even more fun. Plus you may want to use this Christmas Love Songs playlist to set the mood!

Go Cosmic Bowling

There's something about the light show mixed with bowling that makes cosmic bowling a fantastic lit-up event perfect for New Year's!

Do an Escape Room

There's something about escaping a year and escape rooms that go perfectly together! And if you're staying home, here's a fun way to do an escape room at home!
New Year's Date Ideas
Head to Brunch.

A brunch date is always a great idea! But it's even more fun on New Year's Day! Start the year off right with a date, and it's a great time to chat and maybe even…

Set goals together.

Download one of our FREE goal-setting worksheet templates and come up with things you hope to accomplish together this year.

It's the perfect time to create a couple's bucket list! We love to come up with a few splurge date ideas, cute date ideas, and trips we hope to take this year.

Go for a sunrise run or walk

Kick off any fitness resolutions and enjoy the first sunrise of the new year together. If that's too early for you, try one of 101 active date ideas to do on New Year's Day!

Deep Clean or Organize a Space

There's nothing like starting off a new year with a clean slate. Sometimes that slate is your actual space. Take some time to set yourself up with an updated system or a deep cleaned space.

Attend a New Year's Parade

Several cities and towns offer a New Year's Day parade. Check for one in your area to attend together.
New Year's Eve At Home
Cook a romantic dinner together.

Go all out, create something amazing. And enjoy a romantic dinner date.

Watch the Ball Drop from your couch

The biggest New Year's Eve bash is the New Year's Eve Ball at TIme's Square. There are so many headliner performers that lead to the big moment and countdown millions tune in to see. It makes for a great date night you can watch in your pajamas!

Create a time capsule of the year.

Grab a bunch of things that scream this year, even if you just print them online. Include headlines, pop-culture references, memes, and anything that dates this year perfectly.

Grab a bunch of drinks and rate each with our taste test scorecard printable. We love sparkling cider variations, but many people get a bottle of wine and other adults drinks to say cheers to.

We love to pick up gourmet chocolates after the holidays and have a chocolate-tasting date! Here's an easy way to do it and tons of fun ideas in this post.

Have a Game Night

Get your favorite board games, card games, and snacks for a little friendly competition. It's a fun way to have a casual NYE party either with a group or for two!

Have a Movie Marathon

Pop some popcorn, grab a blanket and some snacks, and get ready for a cozy night with your sweetie! Choose a theme like your favorite New Year's Eve-themed rom-coms (like When Harry Met Sally), or go with a series and watch every movie from start to finish. It's a fun way to countdown to midnight, and a great excuse to binge-watch a series of movies.

Have a Dance Party

Back in our single days, New Year's Eve almost always meant at least one dance party. The moment we got married, we realized these only happen if we purchase tickets to an event. But that doesn't mean we can't still make our own party at home, head to a venue, or get together with friends and make your own dance floor!

Have a Sparkling Cider/Champagne Toast

Take some intentional time to toast the year! Whether it was a good one, or a rough one, close out December by sending it off.

Set up a Balloon Drop

It may take a little time to blow up the balloons and prep the drop, but it's so worth it! And it's one of the most impactful decorations to celebrate the new year!

Create a Charcuterie Board

A great charcuterie board is always a perfect accompaniment to any date night in! It's the perfect romantic New Year's Eve date idea or New Year's day date celebration food.

Set up Your own photo booth

Why not create your own party at home? We shared how to make your own New Year's Eve Photo backdrop for under $20 years ago, and the post went viral! It is easier than ever to create your own photo backdrop with balloon arch kits, ready-made backdrops, or just use Instagram and Snapchat filters!


Have a Pajama Party

Isn't one of the best parts of being a couple the fact that you can have a great time just cuddling up at home? Seize the moment and enjoy it comfortably in your pajamas. Sometimes the opposite of what everyone seems to be doing makes something feel extra special and fun.

Enjoy a hot chocolate date night

Grab some gourmet toppings and create a hot chocolate bar. For more inspiration, be sure to check out our hot chocolate date night post.

Have a Living Room Picnic

Mix up your dinner routine with a romantic living room picnic with your favorite dish or a charcuterie board/cheese plate.
New Year's Ideas for Couples
Talk About Your Goals

You can set goals together as a couple. But also, I think it's the perfect time to chat about your individual goals. Talk about ways you can help each other achieve goals and support each other.

Do a Photo Shoot

Particularly if you didn't get any Christmas couple pictures captured during the holidays, you'll want to get one for a New Year's Eve date idea! Dress up, get ready, act like you had a party to capture even if you didn't. But get a nice picture to document the start of the new year.


Sleep!

As much as we love to plan all the fun, I think a great New Year's idea for couples is to plan some sleep. Treat yourselves to sleeping in and snuggling in bed. Plan a nap. The bustle of the year will be here the next day. Enjoy some intentional rest together.

Take an overnight vacation.

Chances are you both have PTO for either New Year's Eve and/or New Year's Day. It's the perfect time to enjoy an overnight vacation or a quick road trip.

Host a Potluck

Invite your favorite couple friends and celebrate New Year's Day together. Assign different parts of the meal and let everyone enjoy good food and good company together.

Light off Fireworks

If you live somewhere that permits it, light off your own fireworks!

Go Ice Skating
So many set the New Year's resolution to be more active. Why not start your first day of the year with an ice skating date? It's one of our favorite active date ideas!

Plan a Night By the Fire

On one of the coldest times of the year, there's nothing like a romantic fireplace to cozy up together. This could be at home, at an Air BnB, or at a hotel. And if this leads to a sexy date night, then it was a great way to send off one year and welcome in another! It's one of the best romantic New Year's Eve ideas that's easy to pull off!
Whatever you do, we hope you have a fantastic time connecting and enjoying ringing in the New Year!
Like these New Year Ideas for Couples? Be Sure to Check Out These Posts Too:
New Year's Eve Mocktail Party- How to Host the Perfect New Year's Eve Party
Get 365 Date Ideas!
We want to help you have the best date nights ever! Grab this FREE printable with 365 date ideas, a date for every day of the year so you never run out of ideas!