Decorating a Glamorous New Year's Eve Party on a Budget
Yesterday shared a New Year's Eve mocktail party and wanted to share a little about decorating on the cheap when you're trying to throw a glamorous party.
First thing's first, a photo booth is a must! I've put on enough Arizona Blogger Meetups in my life to know that this can get tricky, time-consuming, and expensive faster than you'd like. At the same time, a good-looking photo booth makes guests want to share their images and really creates a beautiful party memory. After a little groundwork, I figured out a creative option that was quick to assemble and inexpensive!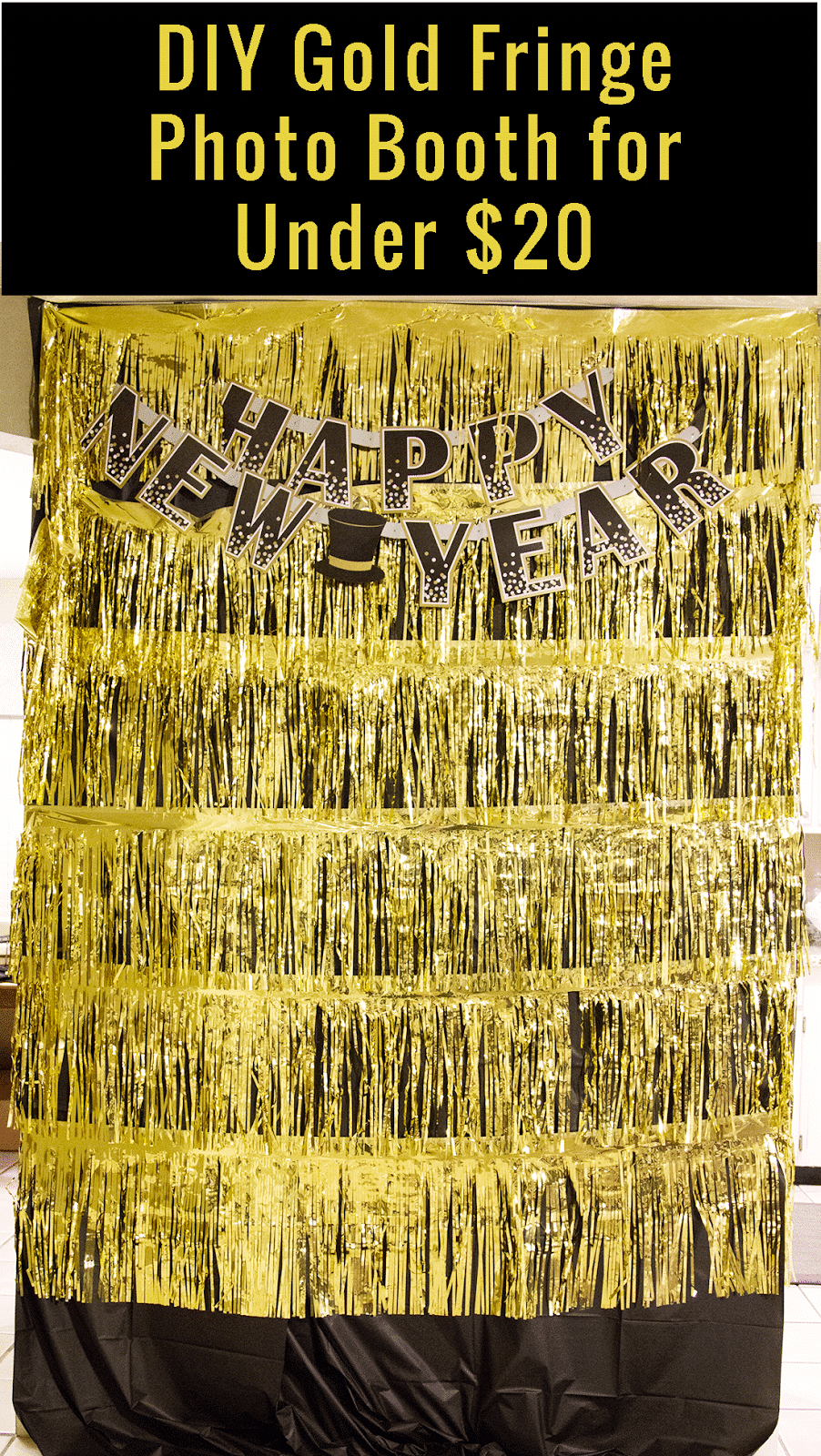 For New Year's Eve, I know sparkles and black and white are all standards, but they are also classic and they seem to be as thematic as red and green for Christmas. I figured some sparkle would be perfect and started looking at options. Fabric was one idea, but that can add up fast with how many yards of pricey stuff I'd need. Sequins glued to a backsplash was another idea, but large sequins are hard to find and I was short on time to order them, not to mention I really didn't have 8+ hours to glue them on. Then it hit me, I've seen lots of roaring 20's parties with fringe, and I figured Party City would hook me up- I just worried about the price. I found these babies that were $7.99 each, and I figured two would cover our 6 feet by 12 feet space. We were one row short, but I decided that wouldn't matter much in the pictures. Turns out, it didn't.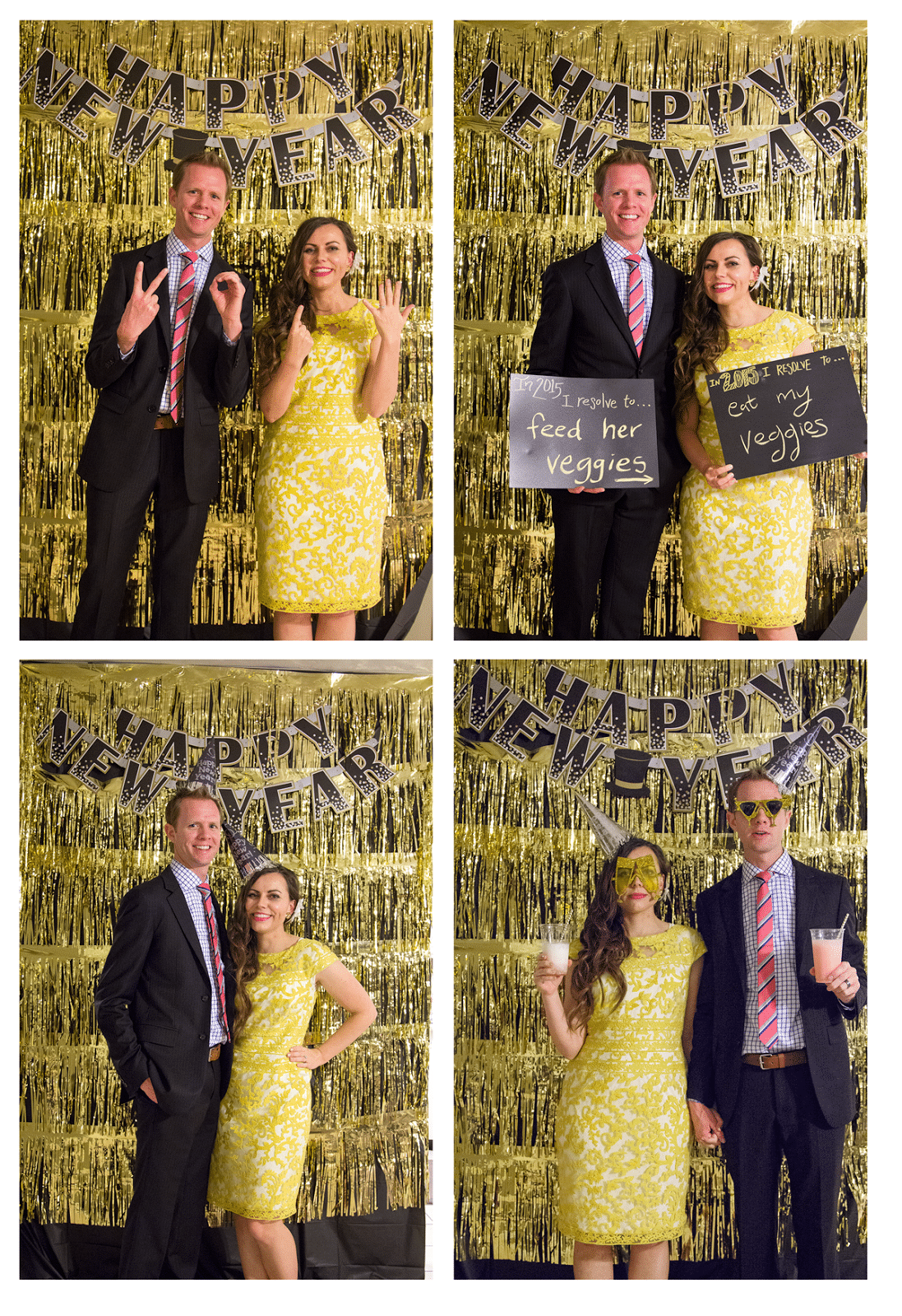 So here's what you need:

– 1-2 black plastic tablecloths, depending on your backdrop size ($1 each from your local dollar store)
– 2 Packages of gold fringe ($7.99 each from Party City)
– Optional: One Happy New Year or other thematic sign. I found mine for about $2 at a party store.

Here's how to set it up:
1. I started by hanging up the plastic tablecloths by spreading them out on the wall and attaching with push pins. This completely covered the wall and gave me the stark black background I wanted.
2. Start at the top with your first row of fringe. Staple it to the tablecloth, or tape to the wall if too flimsy. You could also use push pins too. Cut the fringe to cover only the tablecloth length, and secure the second edge as you did you first. Make sure it is in line with the top of the wall and straight- you're going to use this one as a guide to hang the rest.
3. Start the next row of fringe about an inch and a half from the bottom of your top piece so they slightly overlap. Repeat attaching to the tablecloth and cutting to the right size from step 2.
4. Repeat the process until your backdrop is covered and sparkling like a diamond!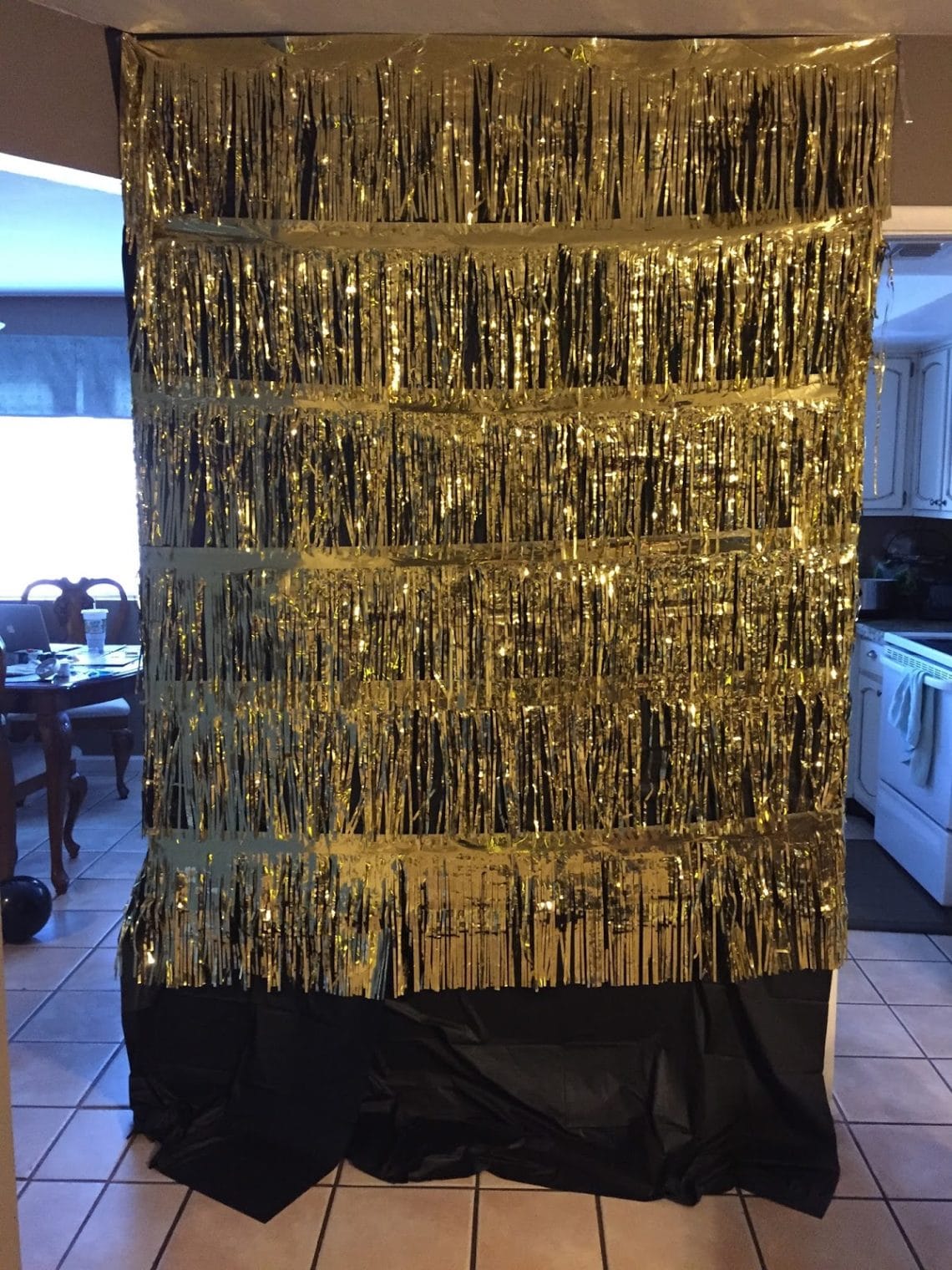 I took one process photo via phone, please excuse the quality!
5. Be sure to pull out any fringe covered by the row below it, you want the top part of each row to be covering the row below so it flows seamlessly and nothing is tucked in.
6. (Optional) Add your sign to the top. We taped ours below the fringe to the black tablecloth to hide the tape.

That's it! Grab your props and take pictures to your heart's content!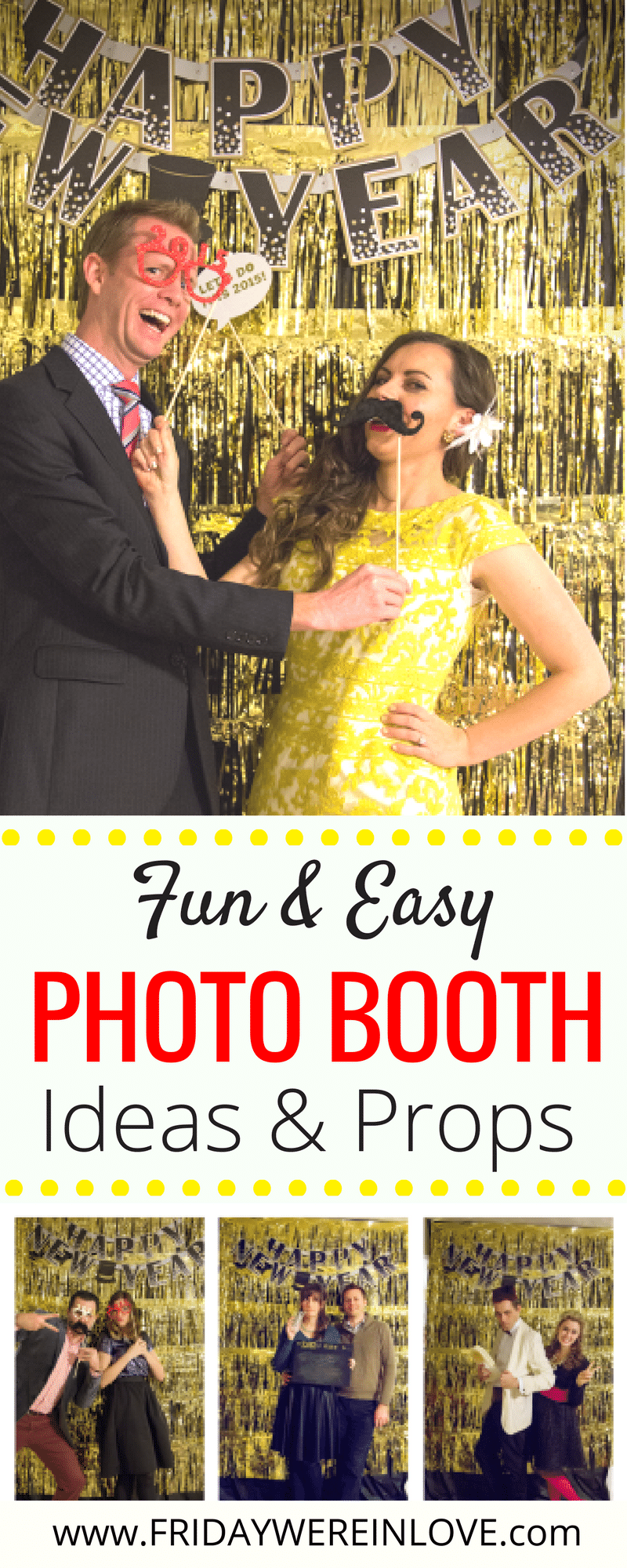 I found the hats at Party City, the glasses at the dollar store, and made some other custom props using a Silhouette machine with templates.
I printed the sign from HERE, and the chalkboard signs were placemats I found at Hobby Lobby with gold Sharpie used to make the "In 2015 I resolve to" lettering. It totaled about $30 to get all the props, but you could make do with less and go much cheaper if you'd like!
Our other showpiece was decorating our hearth with dollar store balloons. $3.00 got us 45 balloons to create the wall with. I should also add that you may want to add an extra $1.00 to your budget, because there was a little bit of a headache from blowing them all up, and I needed to run to McDonald's to get a Coke Zero fix to help with that. But overall, it was totally worth it to keep the decor on the cheap!And once again, I only snapped a cell phone shot of this to Instagram, so please envision this with more clarity and color, it was much better in person!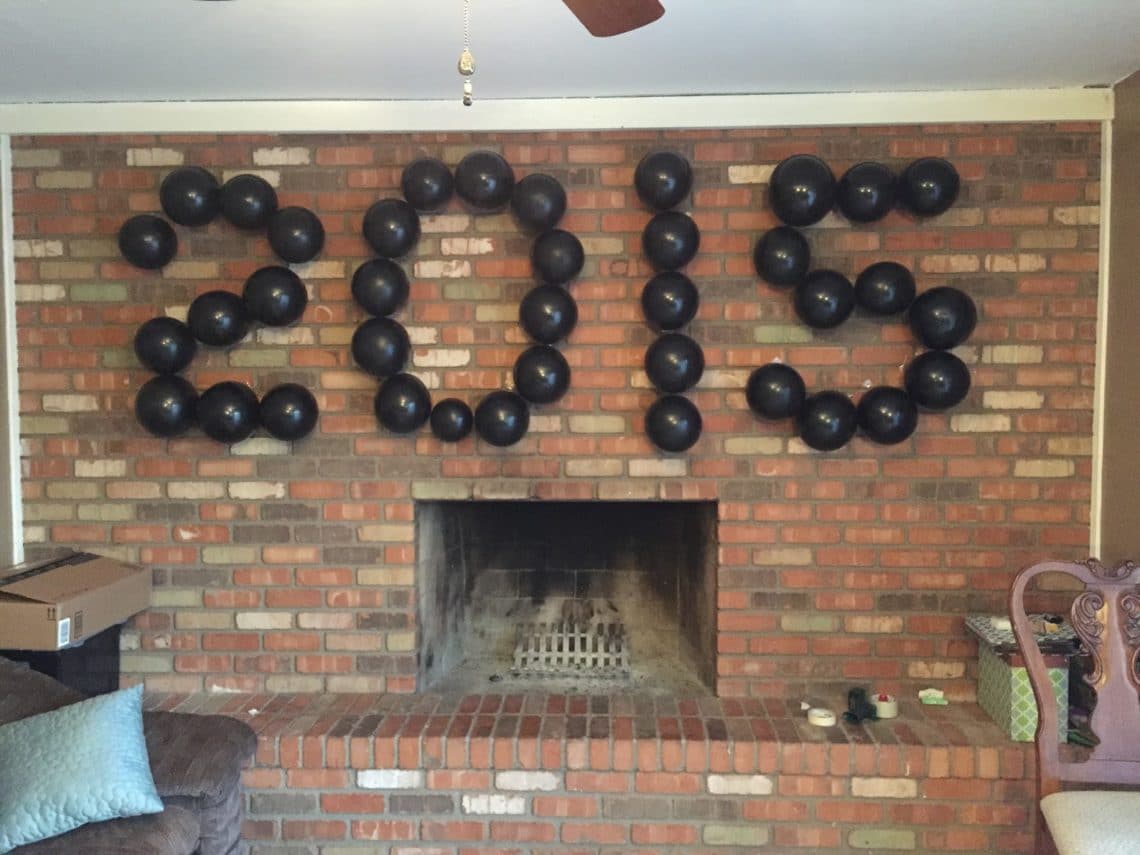 The other house decor included a few more New Year's signs from Party City that I got in a multi-pack, that set us back $5.99. We hung those random places that felt like they needed a boost.
The last piece was the table. We already had a black tablecloth, so we grabbed that guy! If you're going to get serious about parties I'd definitely recommend a black and a white tablecloth. From there you can change up however you need with decor.
The straws were found at Hobby Lobby and Target, they set us back $6.00.
We also had the black and gold frames from our wedding, so I cheated on that and just took a few weddings pics out for the night. I found a free printable for the Italian Soda Bar directions, I designed the drink recipes, and I also designed the Keep Calm and Mocktail On sign. I'll share all of those in a post about throwing together an Italian Soda Bar, but know the decor was cheap and Costco printing with about $4 later hooked me up with signs.
So there you have it! A couple hours of errands and setup, and about $70 later we decorated a glamorous New Year's Eve party.
Get 365 Date Ideas!
We want to help you have the best date nights ever! Grab this FREE printable with 365 date ideas, a date for every day of the year so you never run out of ideas!