Gadzooks Enchiladas & Soup (New Locations in 2020!)

Gadzooks Enchiladas Date Info:
Lunch date to Gadzooks Enchiladas at the Gadzooks Phoenix Location
Price: about $10 a plate
We sometimes joke how we're cursed to never work in the same city at the same time. Mesa, Queen Creek, Chandler, Tempe, and Phoenix have all been M-F events for us, but never at the same time. We always dream up having weekly lunch dates, but it's just never worked out.
Queue the holiday break! Jacob hits up his favorite lunch spot at least once a week, and tells me about it every time. I couldn't wait for the opportunity to meet up with him an enjoy some of the best enchiladas in the state of Arizona. Gadzooks Enchiladas & Soup is one of those places he just never tires of, and one I was so excited to try!
Gadzooks Phoenix
Gadzooks is right in the heart of Phoenix, and it has like 100 combinations you can make of your enchiladas. Don't worry if the enchilada options seem a little overwhelming. Employees can walk you through favorites. You can also take our word for our favorite and tweak it from there.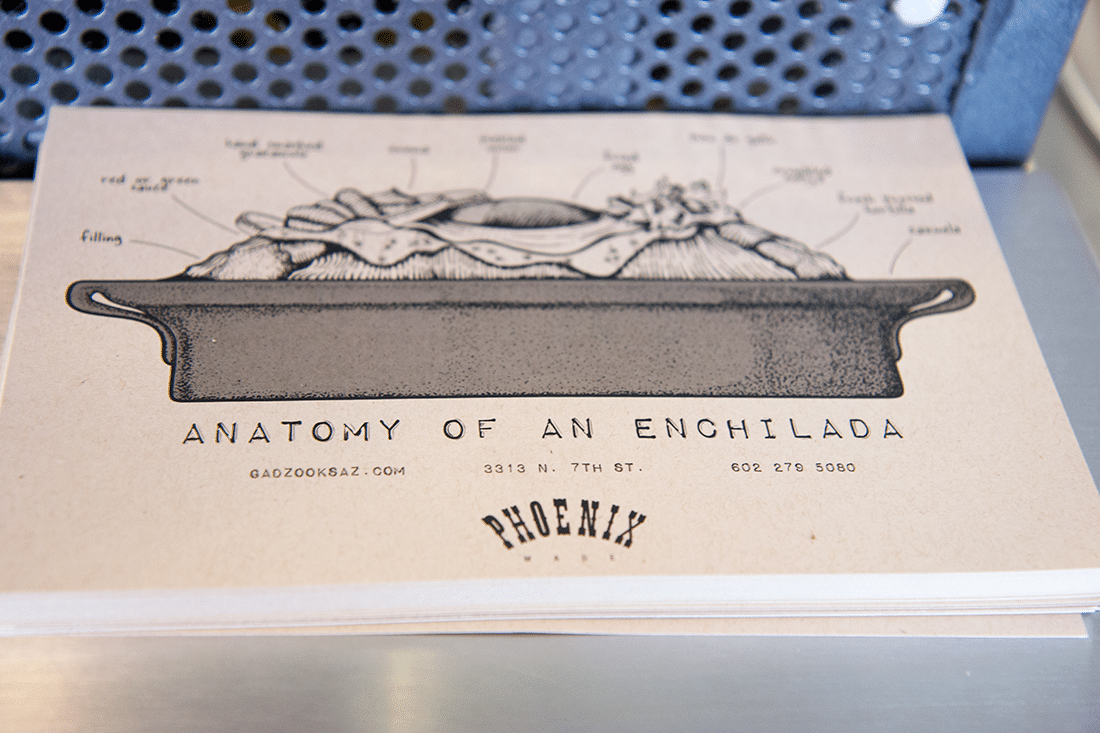 What to Order at Gadzooks Phoenix
This first visit I just copied Jacob and did the half beef half chicken with half red, half green sauce, and a myriad of toppings and dressings. I figured why not try everything?
But I've fine-tuned to a favorite now that we repeat this lunch date often. I'm a huge fan of getting half short rib, half cornbread mixed. If you're a vegetarian I'd highly recommend the cornbread filling. If you aren't, I'd still highly recommend the cornbread filling! It mixes perfectly with short rib!
I love the green sauce, the slaw on top, and sour cream and cheese. I top with the ranch jalapeno sauce and the honey vinaigrette. A few pickled onions on the side usually show up too. It's hard to go wrong, but those are my favorites I keep coming back to.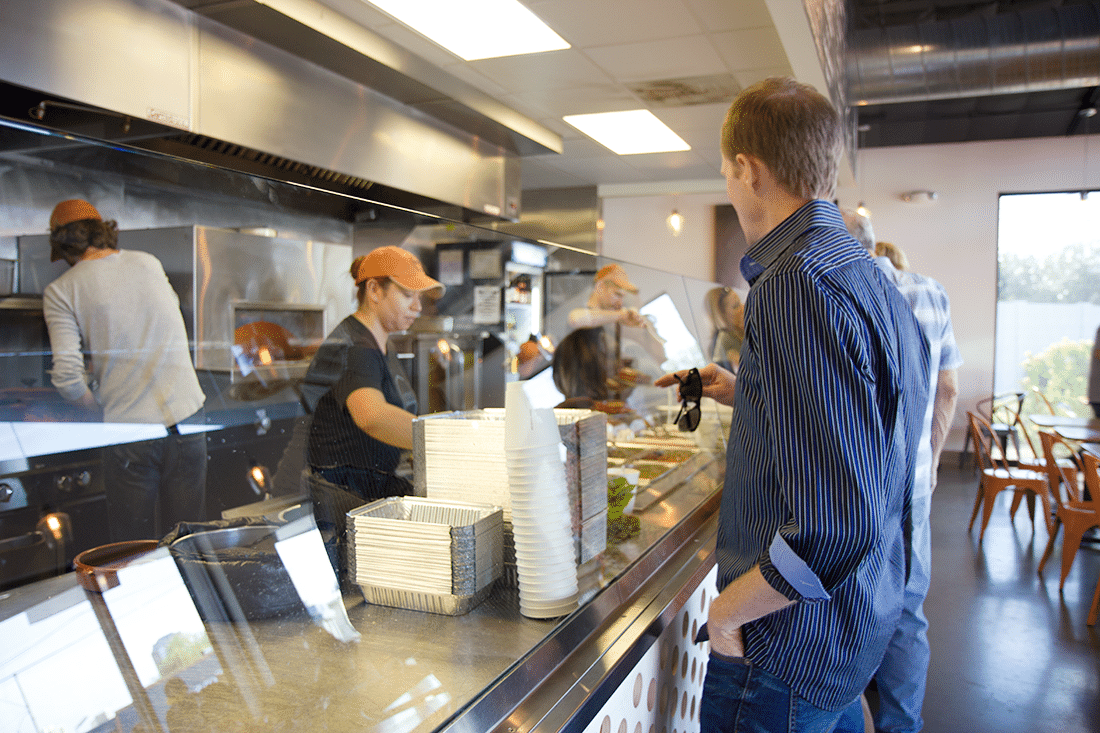 The Best Enchiladas in AZ
And let me tell you, enchiladas for two make the most delicious date lunch around! If you're looking for an amazing date night spot, lunch spot, or just some of the best food in Arizona, then Gadzooks Phoenix needs to be on your list!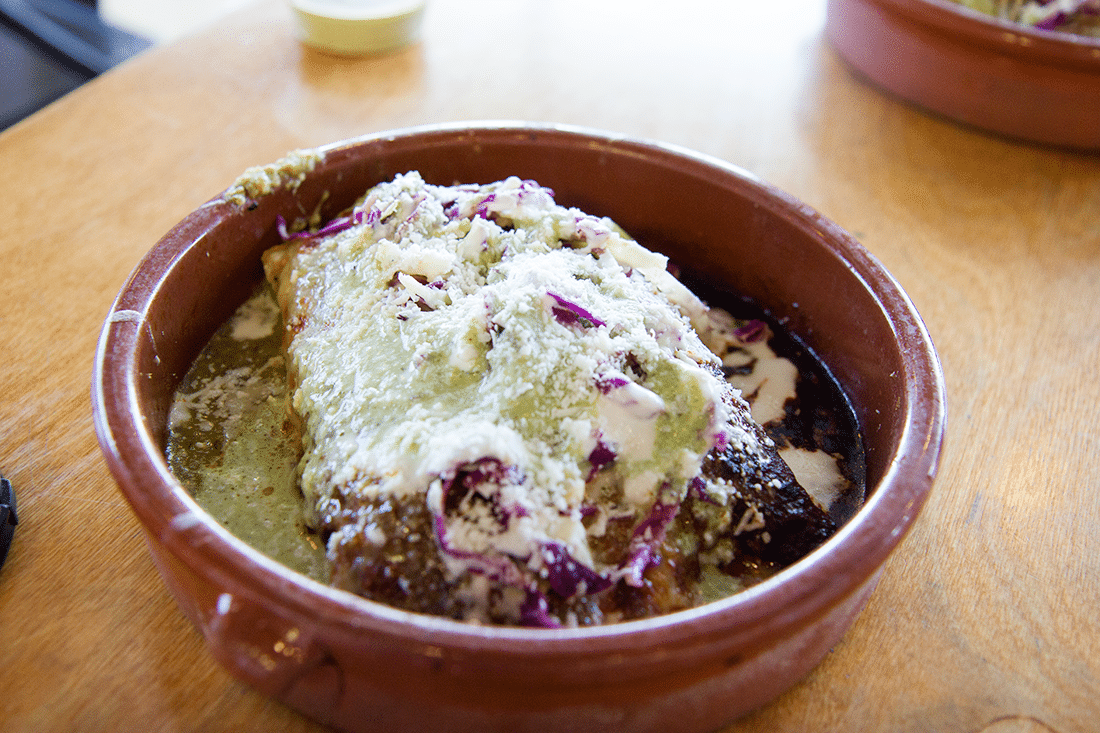 NEW LOCATIONS
I thought it would be appropriate to update this post with the new locations that are now available in 2020! We started going back in 2014 when there was only the original Central Phoenix location. They subsequently have added Arcadia (Camelback & 40th), Tempe (University and Wilson), and now Chandler (AZ Ave and Frye) too!!! We couldn't be more thrilled that our favorite fast-casual enchilada date-night spot is becoming more accessible to so many people! Now if only they could open one in North Mesa (hint, hint – I have heard there is a downtown Gilbert location in the works).
Like this Phoenix Arizona date idea? You may like these posts too:
Get 365 Date Ideas!
We want to help you have the best date nights ever! Grab this FREE printable with 365 date ideas, a date for every day of the year so you never run out of ideas!