Electric Scooter Rental Date Night
Have you seen those electric scooters floating around downtown areas? Here's how to find electric scooter rentals near you and have an electric scooter rental date night!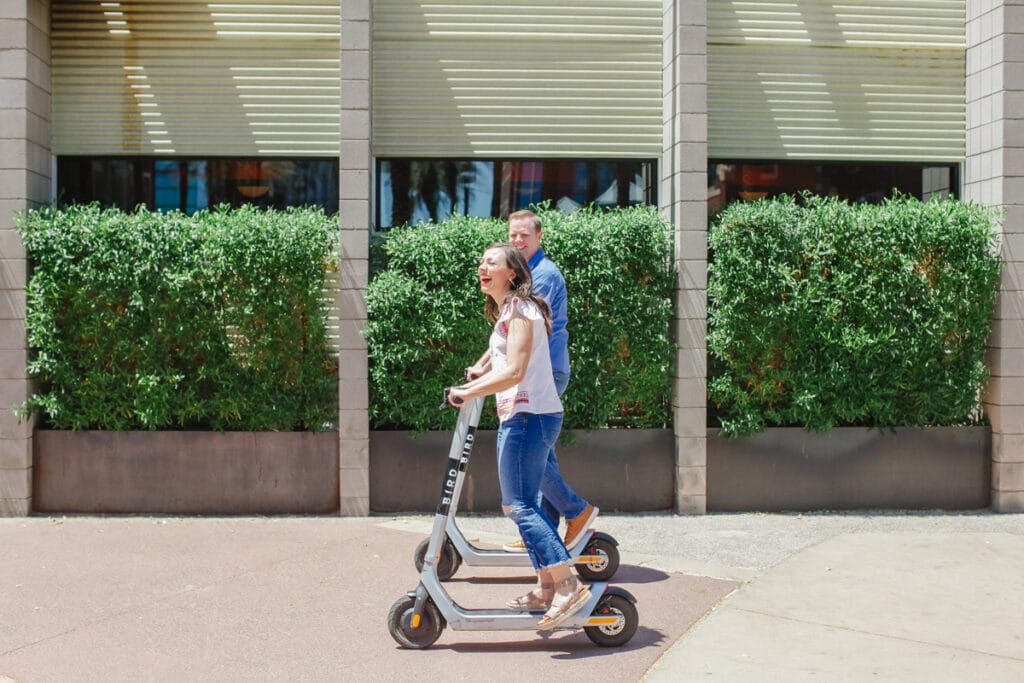 Riding Scooters Date Night
Date Info: Rental electric scooters in your nearest big city and make a night out of riding scooters!
Price: Plan at least $20 a person
Location: Downtown areas are your best bet! Most urban areas with bike and walking lanes have these.
Time: It can be as short as 20 minutes, but I'd recommend getting a day pass and planning several hours.
Tips:
1. Get a day pass!
We did this date twice in the same month (we loved it so much). The first time we paid by the minute and couldn't believe how expensive it was. Our second time we realized we could pay $20 for a day pass with unlimited rides! You do need to stop every 30 minutes and reset your scooter on a Bird Scooter. But you can easily do this and start a new ride on the same scooter.
2. Download the app in advance
, and pay for a day pass in advance so you're not sucked into minute rates that add up so quickly.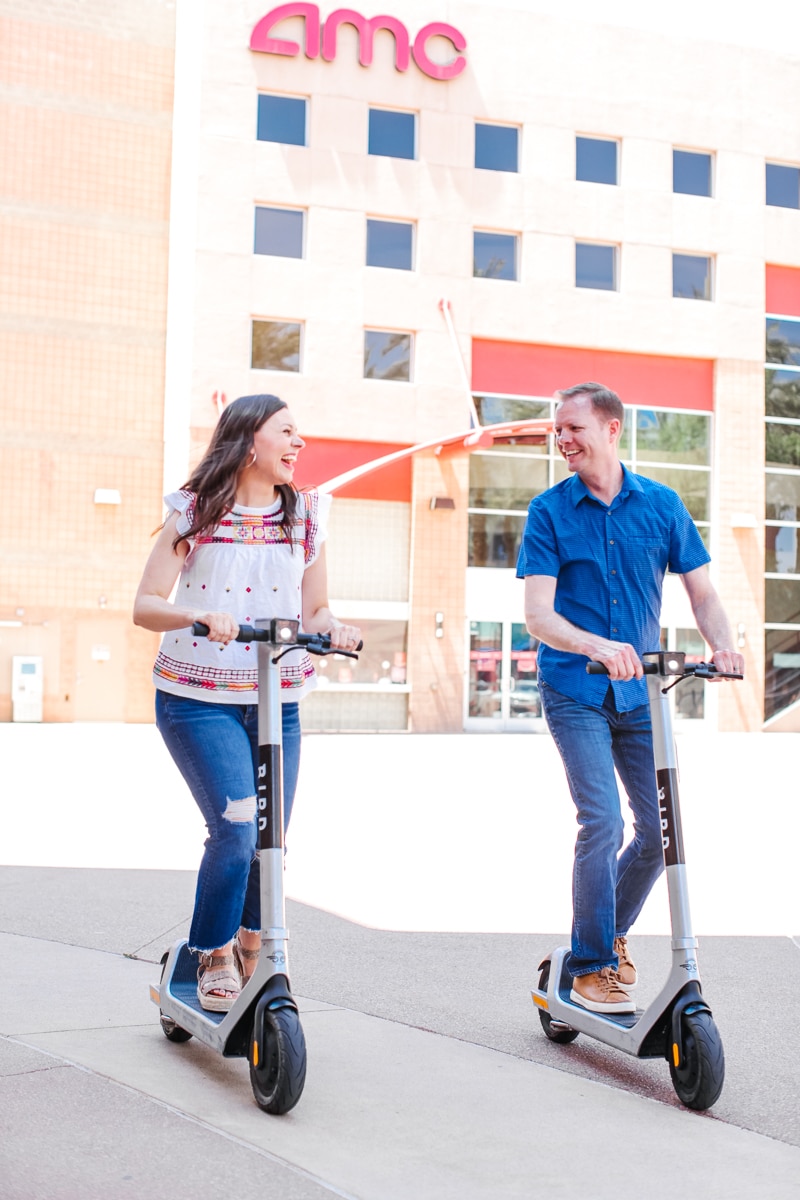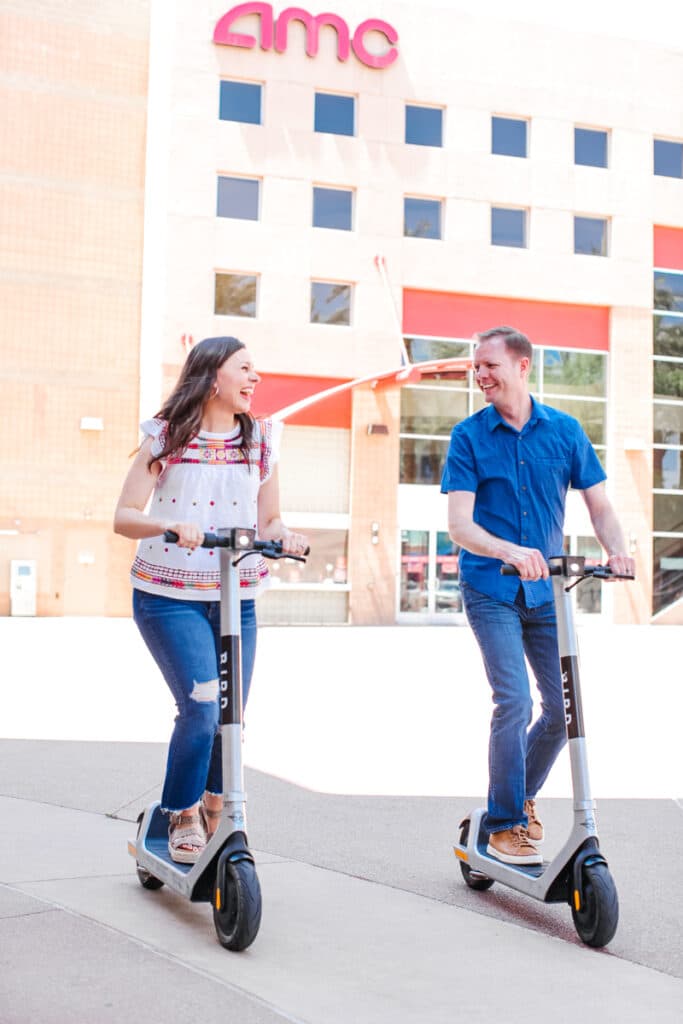 Electric Scooter Rental
Have you seen electric scooters for rent in major metro areas? I've always thought they looked so fun! A few years ago I was interviewed on a podcast about date night, and one of the hosts asked me if we'd ever done a date with electric scooters. I instantly let her know she's a genius and asked if we could steal that idea. Of course, she said yes! And even though it took a few years and a pandemic later to make it happen, we did It! And LOVED every minute!
I can honestly say this was one of our funniest date nights yet! We love exploring urban areas. Both of us are big fans of adventurous dates and new experiences. And snagging an electric scooter rental just fit the bill for everything we love about fun new date night experiences!
Electric Scooter Rental Near Me
It's easy to locate electric scooter rentals in your area, and even find one closet to you. We used the Bird App to find Bird scooters. Once you download and allow location services, you can GPS to the nearest one. It also lets you see how many scooters are in an area. So if you're ready to rent one for date night, you make sure there's some available before you go.
Also, most are in downtown areas. So look for bigger cities near you and check downtown locations.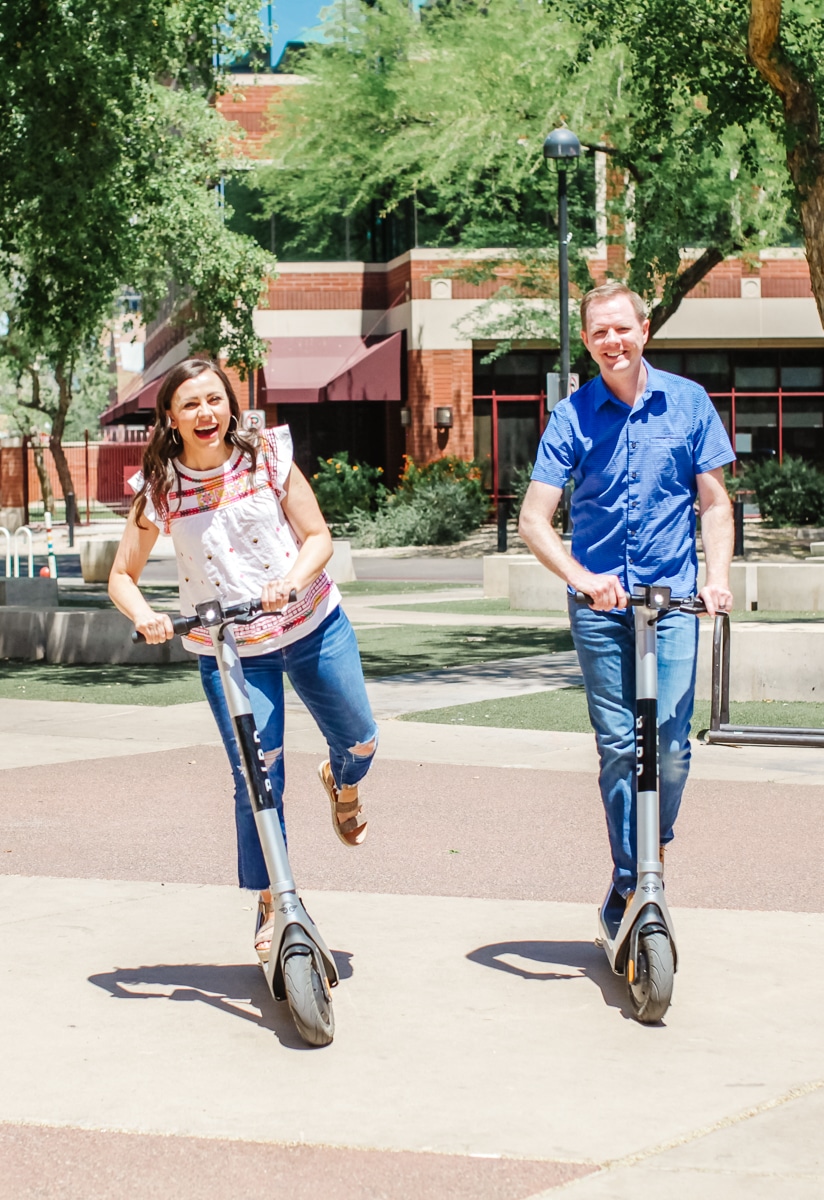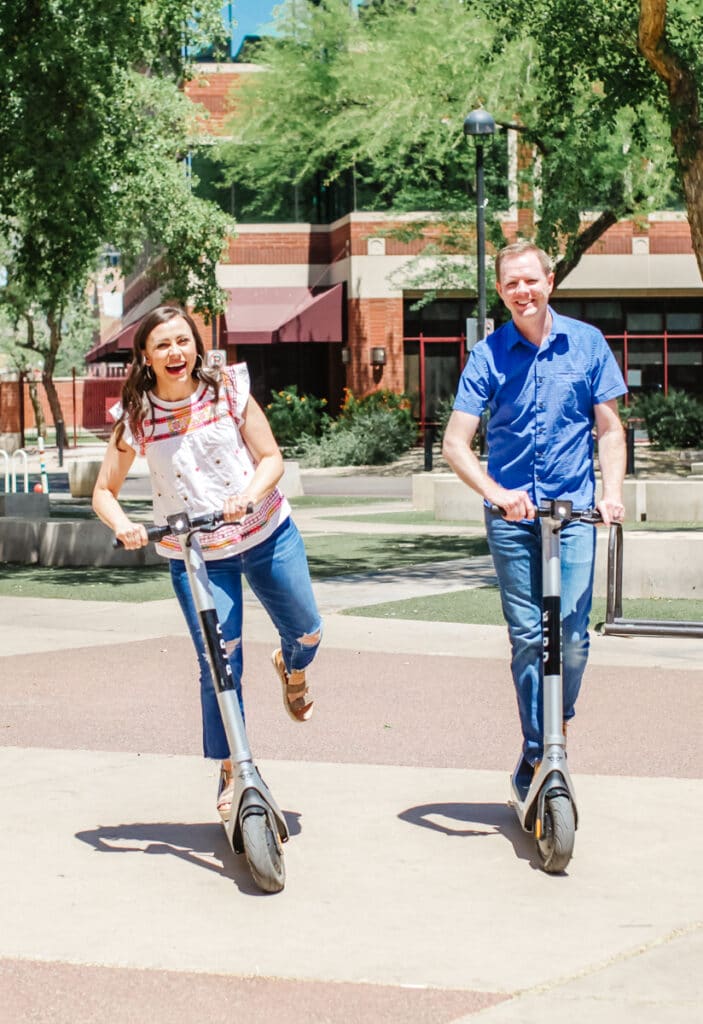 How do Electric Scooter Rentals Work?
I shared a little above, but essentially you need the scooter rental app and a credit card linked to it. From there, you find a scooter and scan the QR code. You choose to start a ride, and it starts billing you by the minute. If you do a day pass, it starts timing and your ride. You're go-to-go for 30 minutes with a Bird Scooter Rental. We just set timers and stopped and reset the rides often so we didn't overages.
When you're done, you park in a safe zone (the app lets you know when you're out of one). Push "End ride" and lock the scooter with the kickstand up. The app will request you take a picture of it parked. From there you can start another ride, or be done for the date.
Perfect Downtown Date Night
Now that we've talked logistics of an electric scooter rental date, let me tell you the reasons we loved it so much.
The Views

My breath was taken away getting to see areas of the city I've never stopped to enjoy before. It was truly magical to enjoy scooter riding along Tempe Towne Lake!

The romantic vibes

One of my favorite date nights ever was our romantic paddle boat date. There's something about seeing the city lights with someone you love that gives all the romantic vibes! We truly had a moment crossing Tempe Towne Lake and seeing the bridge lit up with reflections on the water.

Ability to see more city than we'd see on foot

Normally, a mile or two walk is all we'll get on a date night on foot. An electric scooter rental helped us cover so much ground and enjoy so much more of the city!

Adrenaline rush

I'll be super honest and let you know people do get injured if they don't take a minute to figure out how to ride these. There's a strong thrush, and it is a moving mini-vehicle. Don't let that scare you, they are easy to use and you can be so safe and careful on them!
But the ability to kick up the speed and get an adrenaline rush is totally there! That dopamine surge is also what you experience as you fall in love. That's why we think every couple should have a good adrenaline rush on a date night every now and then!

Childlike fun

I spent most of my teen years up for any new adventure or thrill. I felt like I had that experience all over again on this date! Truly, we both remarked we felt like kids again. It's just pure fun!

We loved it so much, we did it again a few weeks later! I plan to repeat this date over and over again as we start traveling more. It's the perfect way to see a city! It's also just about the perfect date night!
Like this electric scooter rental date night? You may like these posts too:
The Best 101 Outdoor Date Ideas
Get 365 Date Ideas!
We want to help you have the best date nights ever! Grab this FREE printable with 365 date ideas, a date for every day of the year so you never run out of ideas!