Happily Datebox Review: An Unpaid Happily Co Datebox Review
Happily Datebox Review: Unpaid Honest Happily Datebox Reviews from date night bloggers who have tried every date night subscription box on the market!
In ten years of making date night happen every week, last year rocked our world forcing at-home date ideas to be the norm every week. I think we did a great job finding quarantine date ideas, and making backyard date ideas happen. However, even we needed some help and wished date night would just arrive on our doorstep. The good news is, they can. Enter, date night boxes.
We have tried just about every date night box on the market! In fact, if you want a thorough review of each with pros and cons, be sure to check out our roundup of the best date night subscription boxes.
And just to get it up quickly for anyone referencing this post looking for a Happily Co Coupon Code, we can get you half off your first box to try it yourself!
Use Happily Co Coupon Code: FRIDAYWEREINLOVE
It never expires, use it any time!
Website: https://thehappily.co/dates
Let me start by saying this is not sponsored, and an unpaid review. But I also have to admit as we've found a lot of date night boxes a little cheesy or just didn't feel worth their price tag, Happily Co's Datebox subscription is the one date box we've personally subscribed to for the past year.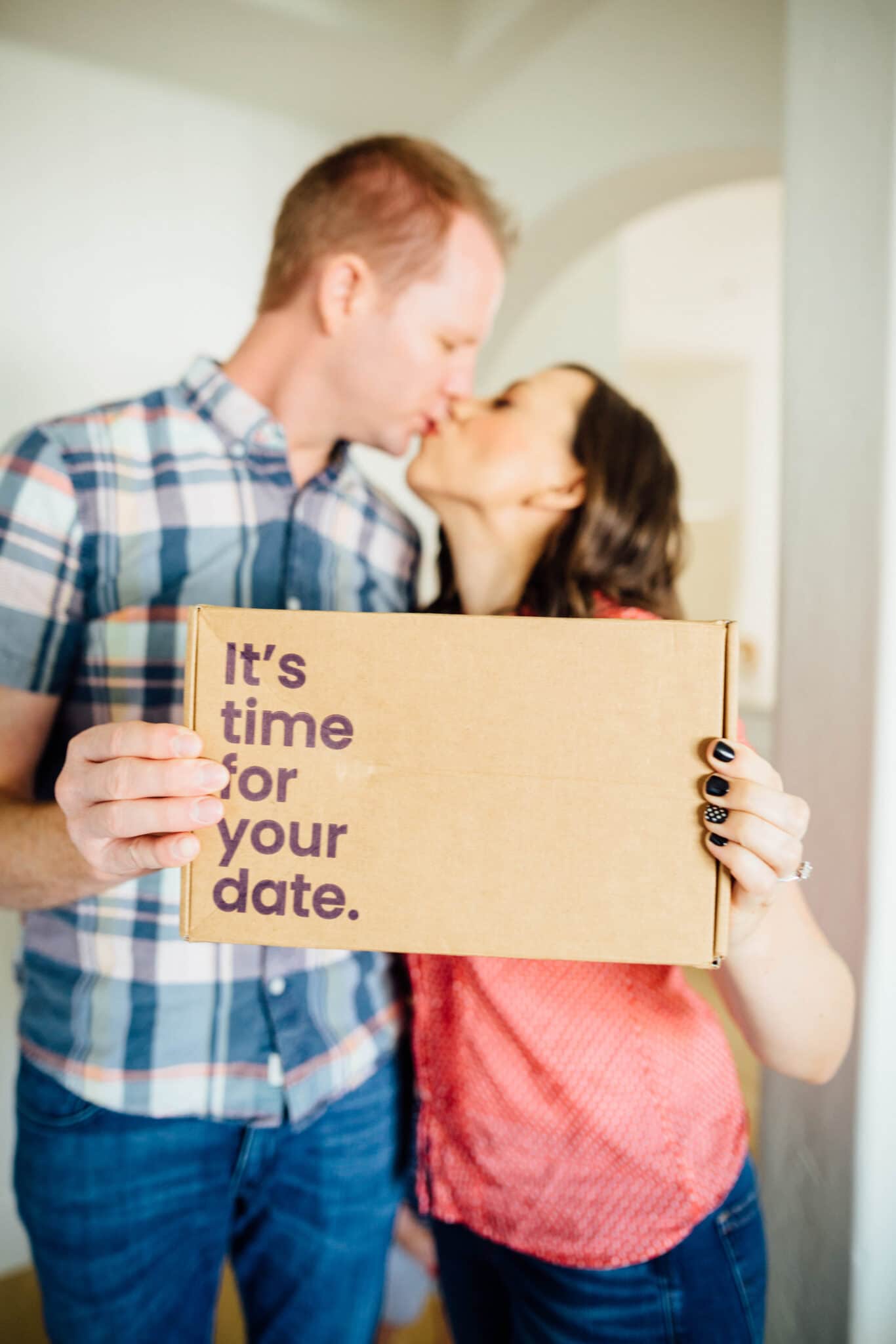 What is A Happily co Datebox?
A Happily Co Datebox (former known as Get a Date Box) is a creative date night experience that has a date night in a box show up at your door. Date night is planned, prepared, and sent right to you to enjoy at home.
Happily also has other relationship resources like a camping indoors date idea as well as relationship booklets and online courses. Happily is a rebranded "Get-Date Box" committed to the longevity of relationships.
The two types of Happily dates
First off, there's the traditional date box. These are delivered to your door with everything you need for a full date night. There's a digital date night box option for those on a budget or looking to pair down their date night.
Box plan: date-night guide and everything needed for the themed date, including playlists. They also have a digital date box plan!
Digital date box plan: typically, conversation starters, a recipe, a playlist, a relationship challenge prompt, and a printable activity.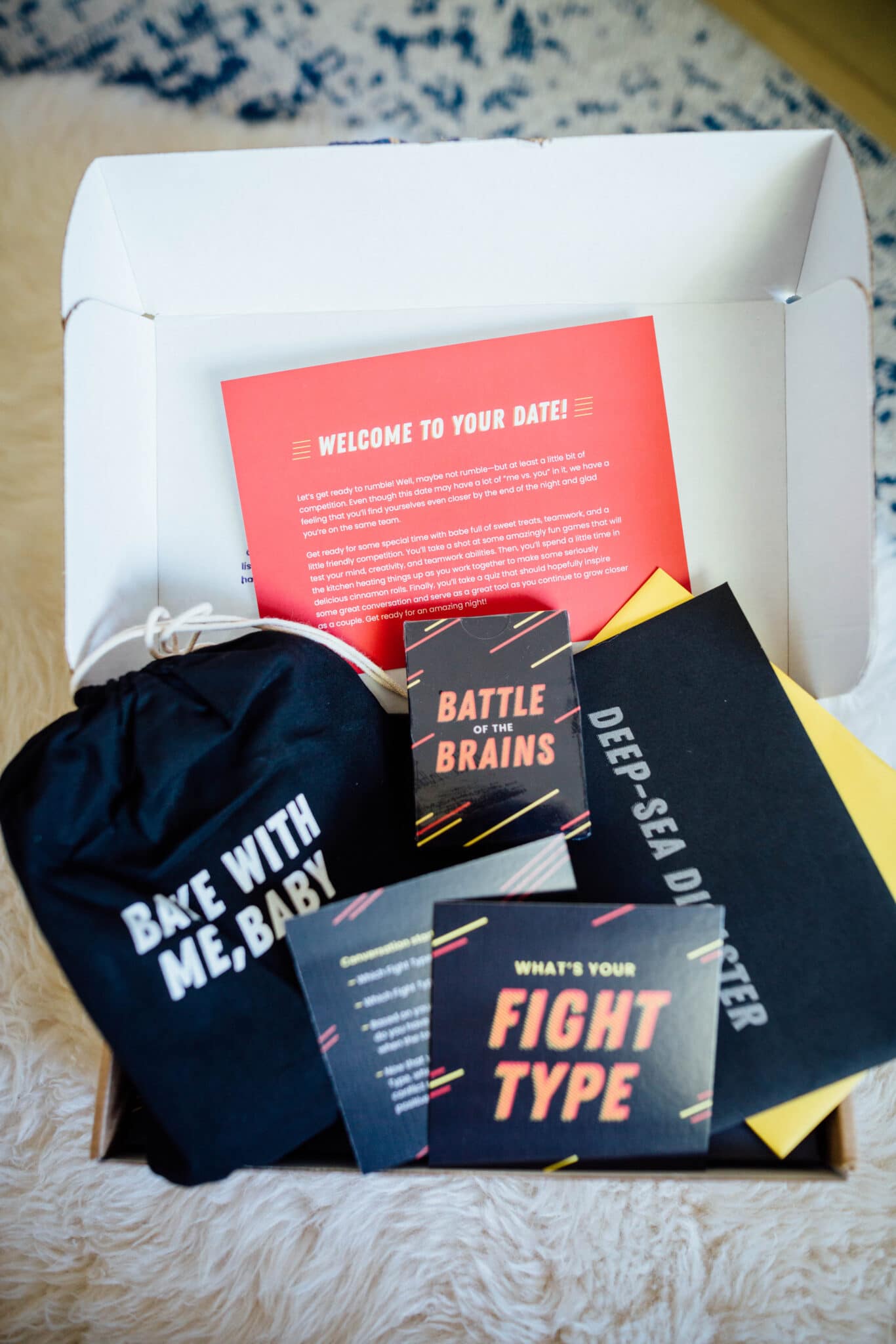 What's in a Happily Date Box?
A lot! Happily provides several different activities to do together for a date night at home. But what really makes them stand above the rest is the monthly quizzes/feedback you get to give so they're tailored to your interest. Don't love to cook? You can let them know and those dates won't be part of your date box.
We've tried so many fun things! From making cake pops to playing really creative connecting games. There are usually three activities in each box with the monthly theme. You can do them all on one big date night. Or, they are easy to stretch into a few mini-dates throughout the week.
Happily Datebox Examples
We made sure to film our last unboxing and share what we like about our Happily Datebox subscription to help you get a better idea of what to expect if you're considering trying one and need an honest Happily Datebox review.
Here's What You Can Expect Each Month in a Happily Datebox
A new theme with activities, food, and a holistic experience to match the new monthly subscription box
How to prepare for your date instructions: If you need any pantry staples or specific setups, the prepare for your date will let you know! Open your box and get a sneak peek without ruining the fun surprises of what's to come!
A date guide describing each element included in the box and how to use it.
A playlist curated to fit the theme of the box and help set the mood.
Conversation starting connection questions to help facilitate conversation and help you connect.
A food item to make together, or a snack to enjoy together during your date. They're very allergy-friendly if you have special dietary needs!
Three activities to do together. These are often very original, fun, and unique items Happily Co has created. They all tie in the theme, and they vary based on your feedback and questionnaire so they know you're getting activities you'll both enjoy,
Price Structure:
Digital Date Box Only Plan – $7.99/month.
Monthly Date Night Subscription Box Plan – $39.95/month. But $19.95 with promo code FRIDAYWEREINLOVE
Prepaid 3 Month Plan – $36.45/month.
Prepaid 6 Month Plan – $32.96/month.
Delivery Options: Box arrives around the 15th of every month.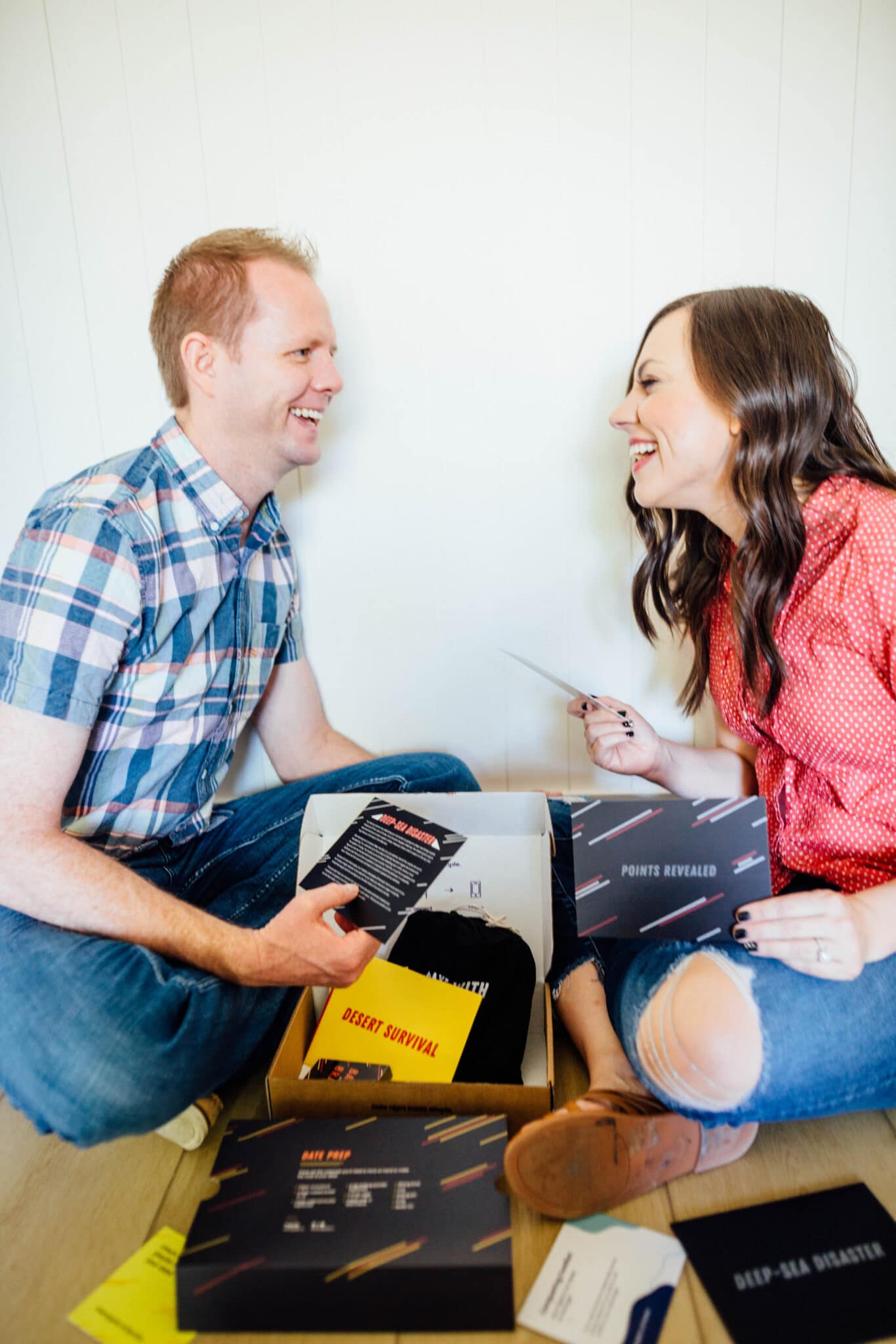 One Time Date Night Box
Are you looking for a one-time date night box you can try and not worry about a long term date box subscription? I'd highly recommend Happily Co Dateboxes!
Feel fry to try your first box and get half off with promo code FRIDAYWEREINLOVE. Once you get a notification your order has shipped, go in and cancel your plan. You can cancel at any time!
Alternatively, you can book a one-time date night box trial by gifting a date night box. Just make yourself or your partner the recipient! Our half-off promo code and link will still allow you to get half off this one-time gift.
Date Night Kit Pros:
You can try one box only to make sure you love it with code: FRIDAYWEREINLOVE
Colorful, exciting packaging.
Historically the leading brand in date night boxes.
Tailored to your preferences in a profile quiz.
Physical and digital options.
Tailors to dietary or allergy restrictions.
Auto-renew, cancel month-to-month anytime.
Blog with inspiration for date night.
Try before you buy: Free Digital DateBox email sample. It's the best way to get a free date night box if you're on a budget!
We think Happilyco wins The Best Date Night Box right now because they continue to deliver unique and fun at-home date experiences every month. They've been doing this for a long time, and they seem to just keep getting better at what they do!
If you're ready to try one yourself, remember we can hook you up with half off your first box! Just visit this link and be sure to use the Happily co coupon code FRIDAYWEREINLOVE at checkout.
Photos: Chrissy Blake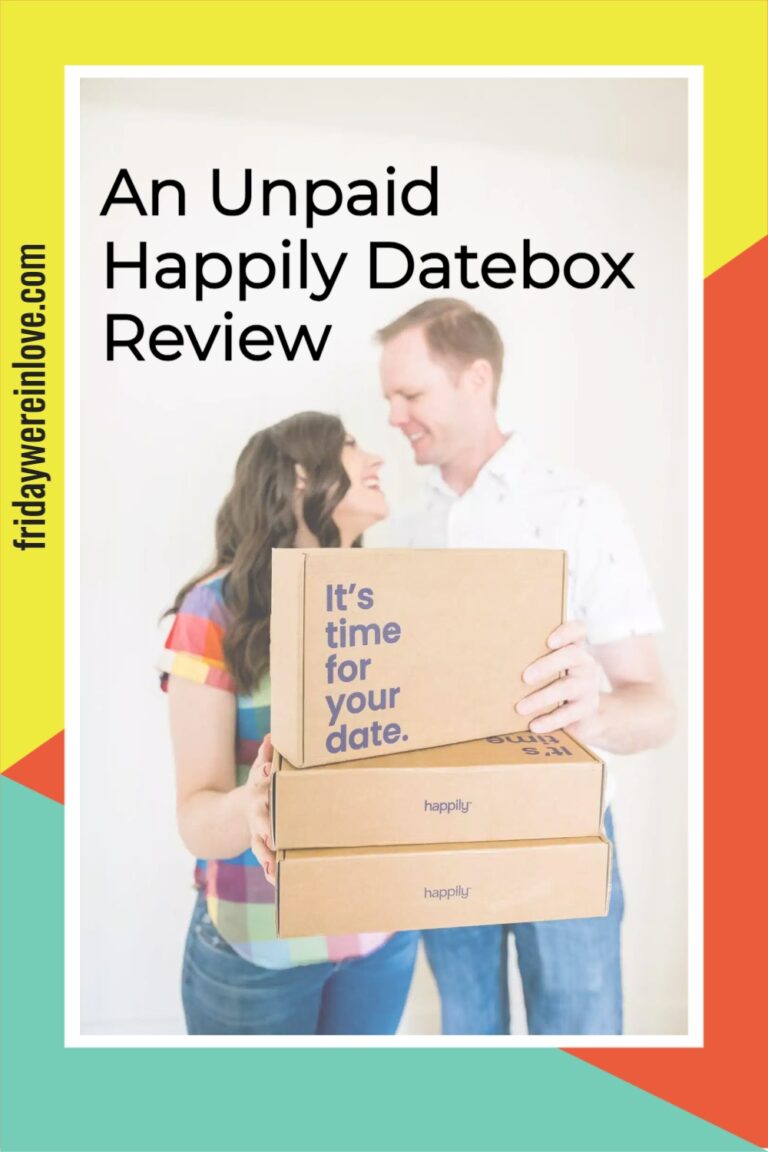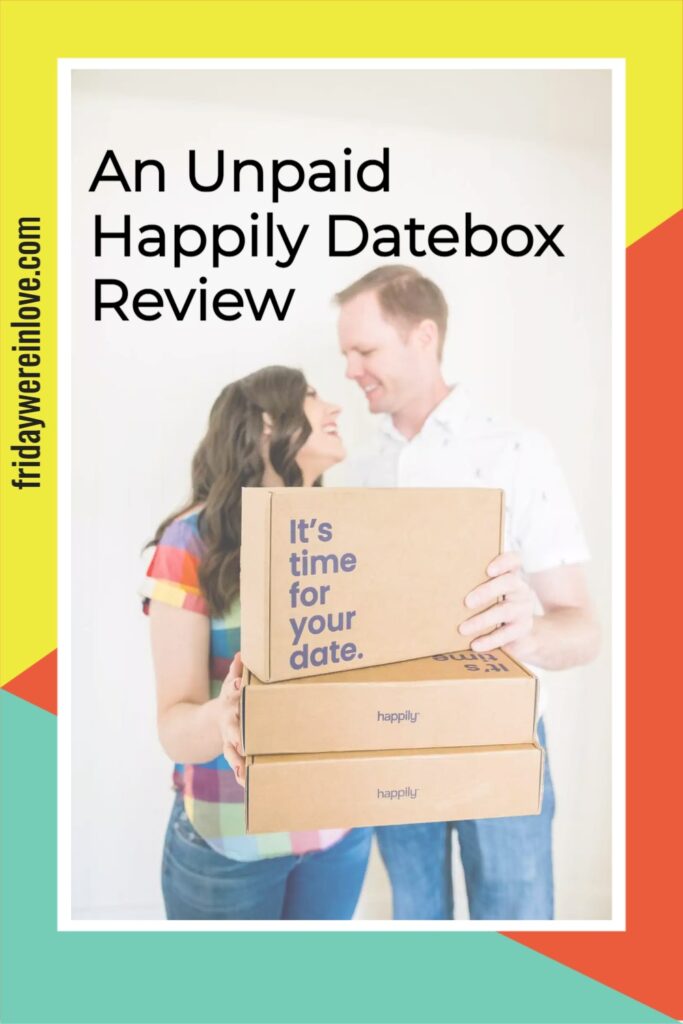 Like this Date night box idea? You may like these posts too:
Get 365 Date Ideas!
We want to help you have the best date nights ever! Grab this FREE printable with 365 date ideas, a date for every day of the year so you never run out of ideas!