Mentionables Lingerie (Modelless Lingerie Shopping): An Unpaid Review of Mentionables Lingerie 
Get ready for a disruptor in the lingerie shopping scene! Here's our unpaid, unbiased Mentionables lingerie review.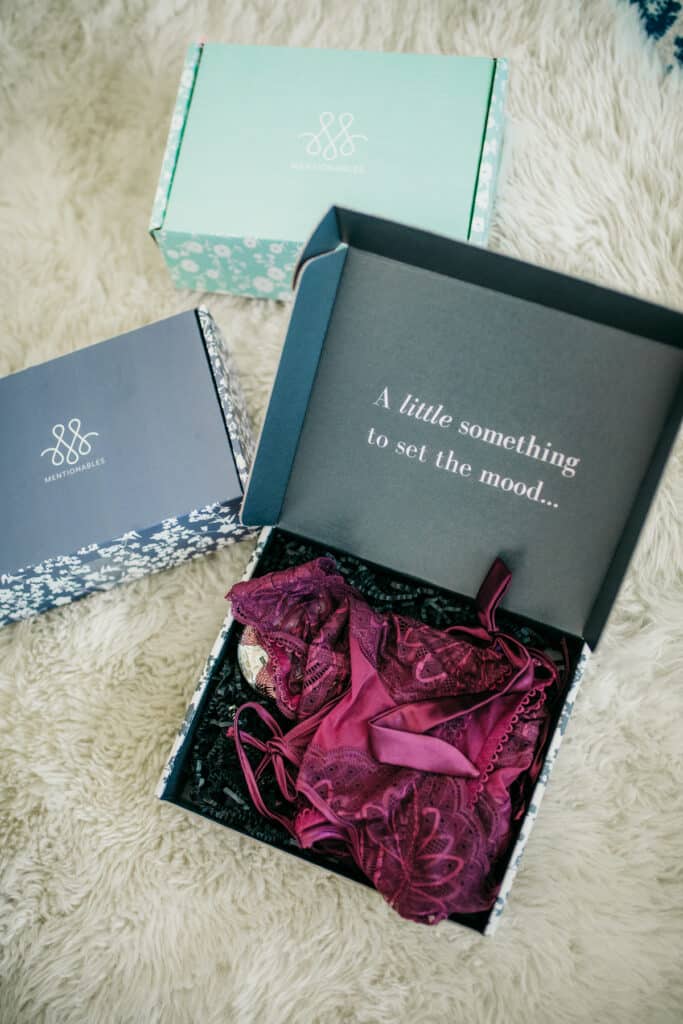 Are you tired of the same lingerie options that don't fit well or don't make you feel confident? I think you are going to love Mentionables Lingerie!
I have to be honest, we get asked to share intimacy products often. For obvious reasons, I rarely do. We try to keep things very PG since we share both date nights and family activities, and many families watch and view our content together. So when I share a review of a lingerie company that's unpaid, and unbiased, I hope you note that it's a company we think you should take note of!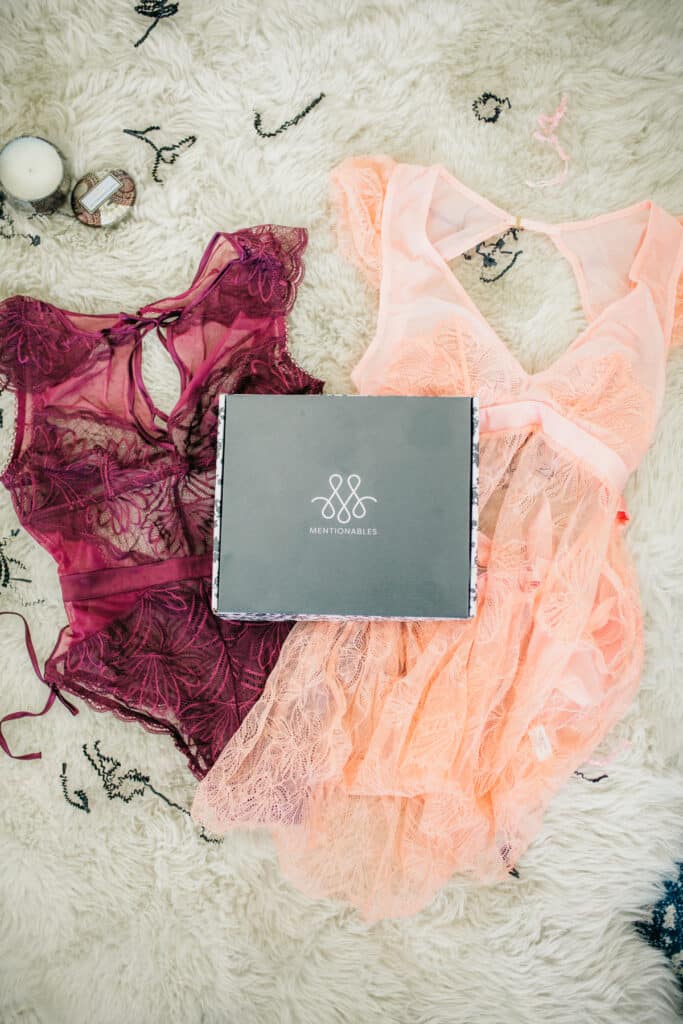 Body Positive Lingerie
With a focus on body positivity and comfort, Mentionables offers a wide variety of lingerie options for every body type. After years of personal use, we'll be giving you a comprehensive review of Mentionables Lingerie, including the quality, comfort, and fit of their products.
Most couples know that intimacy is a very important part of their relationship, and lingerie can be a favorite approach to spicing things up.
Here's why we think you'll love Mentionables as a great lingerie product and shopping experience.
Mentionables Mission
Here's their slogan straight from their website:
"Instead of getting stuck in a cookie-cutter body shape, we provide a model-free lingerie shopping experience so you can feel your best and forget the rest. It's easier than ever for you to shop online for your lovely little lacy things without any guilt or body shame.
We're making your unmentionables…well, mentionable."
– Mentionables Website
Mentionables is on a mission to make size-inclusive beautiful pieces in a model-free shopping experience. We're talking quality and style, a lack of body shaming, and options for everyone at affordable prices.
They understand that buying lingerie can be an intimidating experience. Also, a trip to Victoria's Secret can feel like an uncomfortable experience, particularly if you're not in your early 20s. Mentionables is making lingerie shopping easy, comfortable, and size-inclusive.
I think you're going to love this brand that has been making waves in the lingerie industry for its quality products and unique designs, is helping couples feel a lot more comfortable in their own skin.
And they want you to feel comfortable with their unique modeless lingerie shopping experience!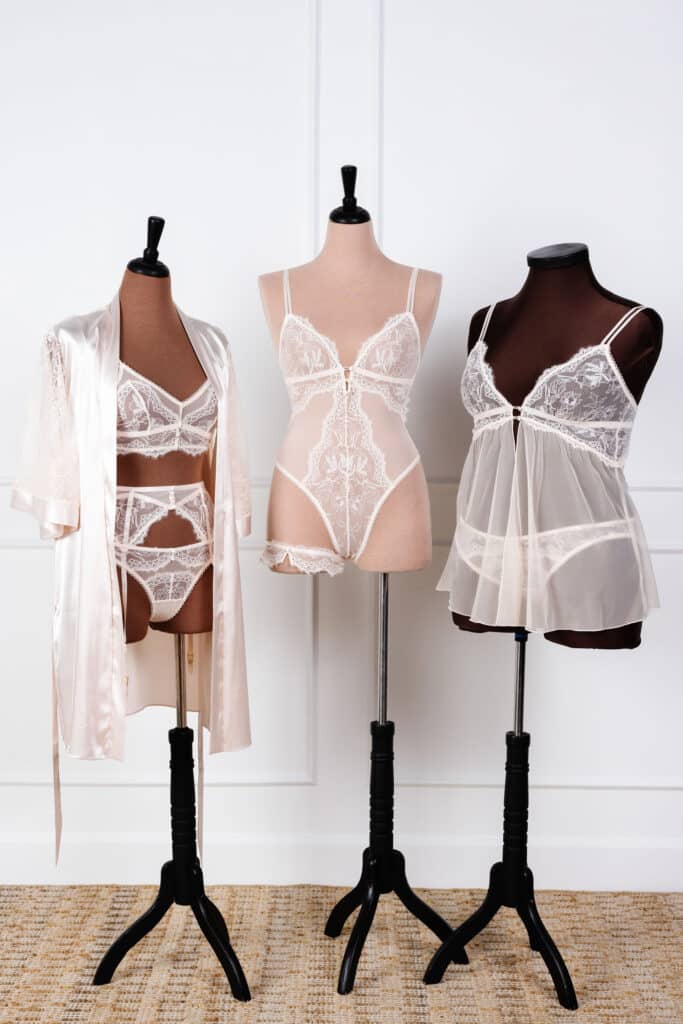 Mentionables Lingerie Review: Everything You Need to Know
Let's break down: their product range, the materials used, the fit and sizing, and overall value for money.
Product Range
Let's be honest, the top thing to look for is styles you feel cute, confident, and sexy in. This is the part I think Mentionables nails best, they make a variety of styles and offer size ranging from XS-3X. You'll find sorting by type of product, and they always have a bridal line perfect for the wedding night and bridal showers. They even make options for the groom too!

They also rotate through seasonal styles and colors to keep things fun and of course, beautiful. 
Mentionables Lingerie offers a wide range of lingerie products, including bras, bralettes, panties, bodysuits, sexy teddies, and babydolls. There are a few spicey items like crotchless panties. And I love that you can sort by type of style straight from their dropdown menu making shopping for your favorite style super easy!
They also offer a selection of loungewear and sleepwear, including robes, pajama sets, and nightgowns.
And they didn't leave men out either. You can find coordinating boxer briefs for him too.
You'll find comfortable items you can wear every day, and plenty of special items for a romantic evening.
Their products come in a variety of styles, ranging from classic and timeless to edgy and modern. Whether you are looking for something simple and elegant or something bold and daring, Mentionables Lingerie has something to suit your taste.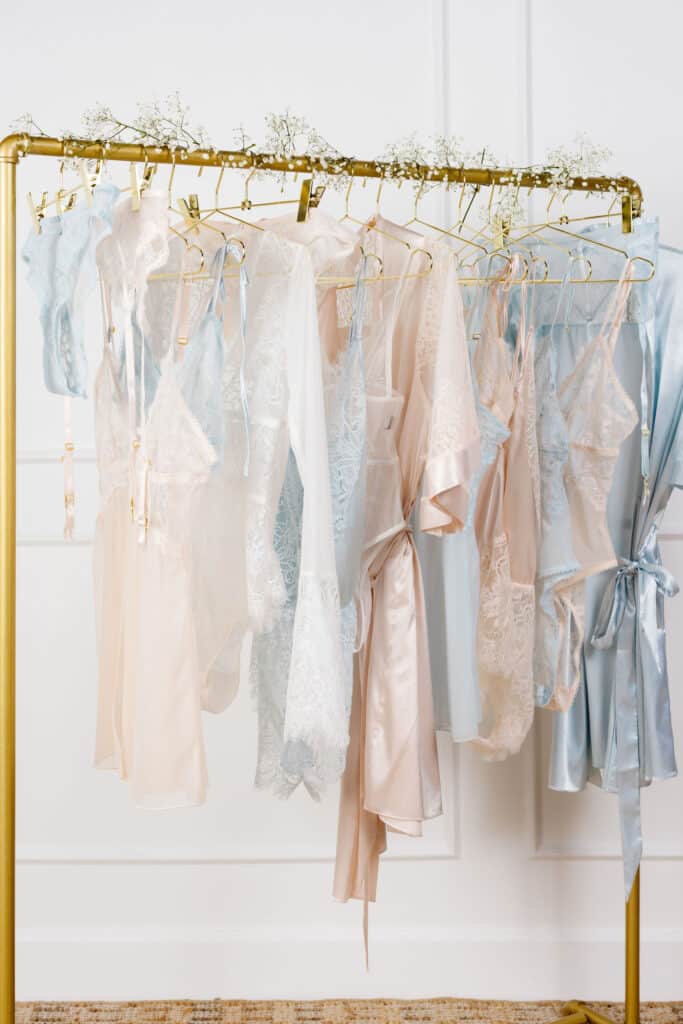 Quality of Mentionables Lingerie
When it comes to lingerie, quality is of the utmost importance. Mentionables Lingerie delivers in this aspect with high-quality materials that feel luxurious to the touch. The fabrics used are durable and won't easily tear or wear out after a few washes. The stitching is neat and even, ensuring that the lingerie lasts for a long time.
Materials Used
One of the standout features of Mentionables Lingerie is the quality of the materials used in their products. They use only the finest materials, including silk, satin, lace, and mesh, to create lingerie that is both beautiful and comfortable to wear. Their products are designed to be both durable and long-lasting, so you can enjoy them for years to come.
Comfort of Lingerie
Mentionables designs their lingerie pieces with comfort in mind! The lingerie is made with soft, materials that feel comfortable against the skin. The straps and bands are adjustable, ensuring that the lingerie fits well and doesn't dig into the skin. Whether you're wearing Mentionables Lingerie all day or just for a special occasion, you'll feel comfortable and confident.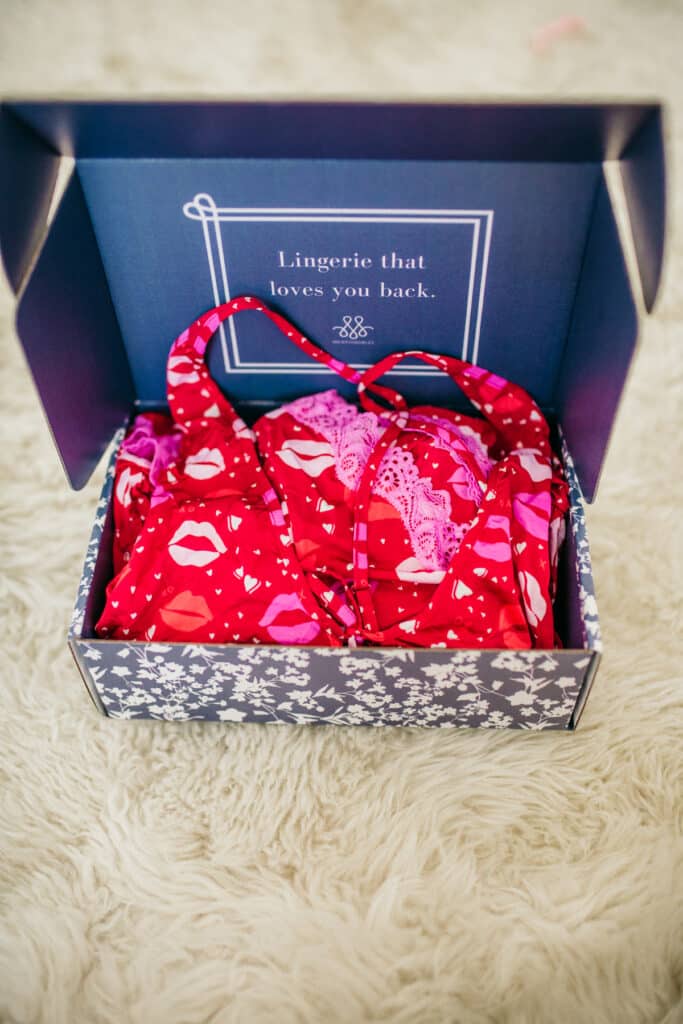 Fit of Mentionables Lingerie
Mentionables Lingerie offers a wide range of sizes, from XS-3X, ensuring that everyone can find the perfect fit. The lingerie is designed to fit well and accentuate your curves in all the right places. The sizing is true to size, so you can order with confidence.
Pricing and Value of Mentionables Lingerie
Mentionables Lingerie is reasonably priced for the quality and comfort it offers. While it may be a tad more expensive than some other lingerie brands, the value you get for your money is worth it. It's meant to be used and loved for years, making it a much more sustainable option. Plus, Mentionables often has sales and discounts that make their lingerie even more affordable.
As far as quality goes, I can speak as a customer that the pieces I own have lasted for years. They hold up so much better than many pricer options. The quality is great, and I think you'll be super happy with your experience.
Mentionables Promo Code
We asked and they delivered! Use our unique Mentionables promo Code: INLOVE to get 10% off your order!
Shipping and Customer Service
Mentionables Lingerie offers fast and reliable shipping, so you can receive your lingerie quickly and easily. Their customer service is also top-notch, with a helpful and friendly team available to assist with any questions or concerns.
They offer 14-day returns on unused items. And they also cover any damage issues with a quality guarantee. So you can not only feel confident in their pieces, you can feel confident in the purchasing experience too.
History of Mentionables Lingerie
Emily founded Mentionables Lingerie in 2018 after struggling to find comfortable and affordable lingerie. She wanted to create a brand that would cater to women of all shapes and sizes, and that's exactly what Mentionables Lingerie does. Amanda and her husband run the business from their headquarters in Utah. They are committed to providing the best customer service possible.
I also love that intentionally make the shopping experience model-free to feel comfortable to men and women. You can send your spouse this link and feel comfortable letting them pick out a sexy present with model-free product displays.
Frequently Asked Questions:
– What sizes does Mentionables Lingerie offer?
Mentionables Lingerie offers sizes ranging from XS to 3XL, ensuring that everyone can find the perfect fit.
– How do I know what size to order?
Mentionables has a size chart available on their website to help you find the perfect fit! And trust me, it's a good one! It's recommended to measure yourself before ordering to ensure the best fit.
Can I return or exchange my lingerie if it doesn't fit?
Yes, Mentionables Lingerie offers a hassle-free return and exchange policy for 14 days if your lingerie doesn't fit.
Is there a Mentionables Lingerie Promo Code?
There sure is! Use promo code: INLOVE to get 10% off!
Is Mentionables Lingerie ethically made?
Yes, Mentionables Lingerie is ethically made! They have a strong focus on sustainability and ethical labor practices. They use eco-friendly materials whenever possible and work with factories that prioritize fair labor practices.
How do I care for my Mentionables Lingerie?
Mentionables Lingerie is easy to care for! It can be machine washed on a delicate cycle. They also have tutorials how to spot clean, hand wash, and hang or lay flat to dry to ensure the longevity of the lingerie. You can find detailed care instructions on their website.
Can I purchase Mentionables Lingerie outside of the US?
Yes, Mentionables Lingerie ships worldwide, so you can enjoy their products no matter where you are located.
Model Free Lingerie Shopping
Mentionables Lingerie is an excellent option for those looking for high-quality, comfortable, and fashionable lingerie. Their focus on body positivity and sustainability makes them stand out from other lingerie brands.
With a wide range of sizes and styles available, there's something for everyone at Mentionables Lingerie. Whether you're looking for a basic bralette or a sexy teddy, you're sure to find something you love. So why not give Mentionables Lingerie a try and feel confident and comfortable in your own skin? They're a great company to support and a great way to add a little fun to your intimate apparel!
Like this Menionable Lingerie review? Be sure to check out these posts too:
Valentine's Day Couple Outfits