Husband Gift Guide: What to Get Your Husband for Christmas
Wondering what to get your husband for Christmas or his next birthday? We have you covered with this husband gift guide! Here are 50+ husband gift ideas in realistic price ranges for husbands of all interests!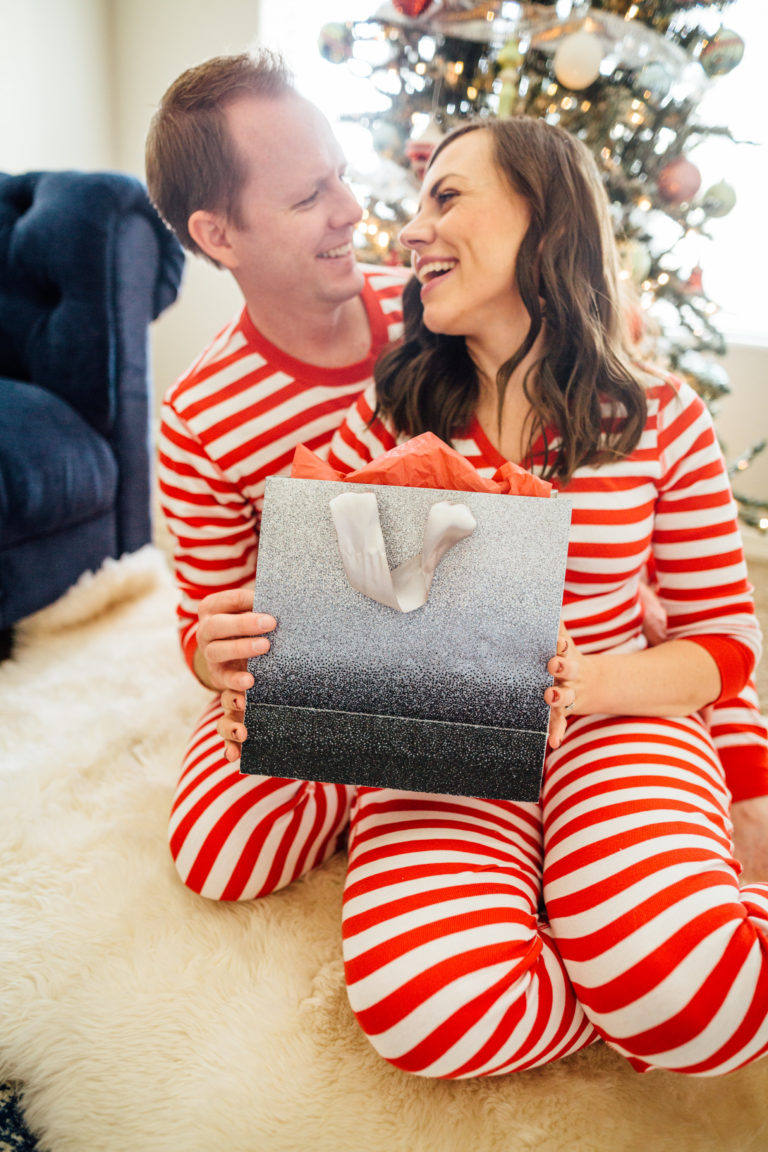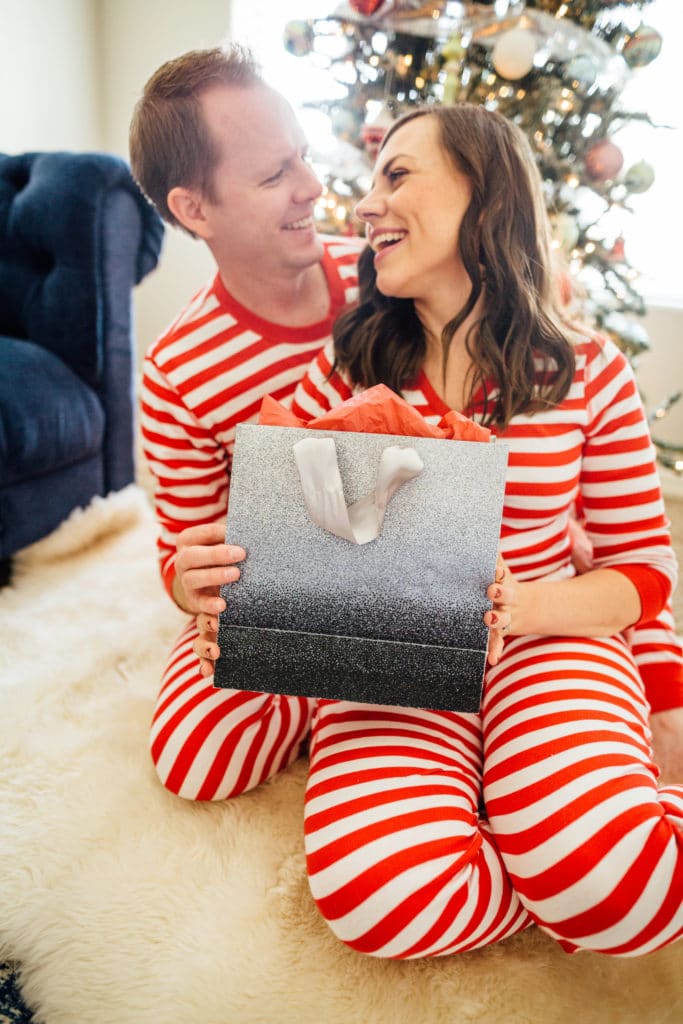 Men definitely have a stereotype of being difficult to shop for. And so many husband gift guide options assume all men play golf and drink, which can leave what to get your husband for Christmas quite the conundrum.
Your husband can be the toughest holiday gifting person to figure out! Several buy themselves what they want throughout the year, and many only want big-ticket items that may not be in the budget.
So many men's gift guides also rely heavily on stereotypes of men only loving golf and drinking. This leaves a lot of husband gift planners a little stumped when theirs isn't a fan of one or either.
We're here to help friends! We're all about meaningful and unusual gift ideas that they'll actually use!
Here are 50 Excellent Gifts for Men
All sorted by category to help you find the perfect gift for the men in your life. Find tons of excellent husband gift ideas for Christmas!
Experience Husband Gift Ideas
We have gifted each other a version of this pre-planned, pre-paid date night gift for 10 years now! It never gets old! There's something so magical about date night together, and making it fun and easy is always a great gift idea!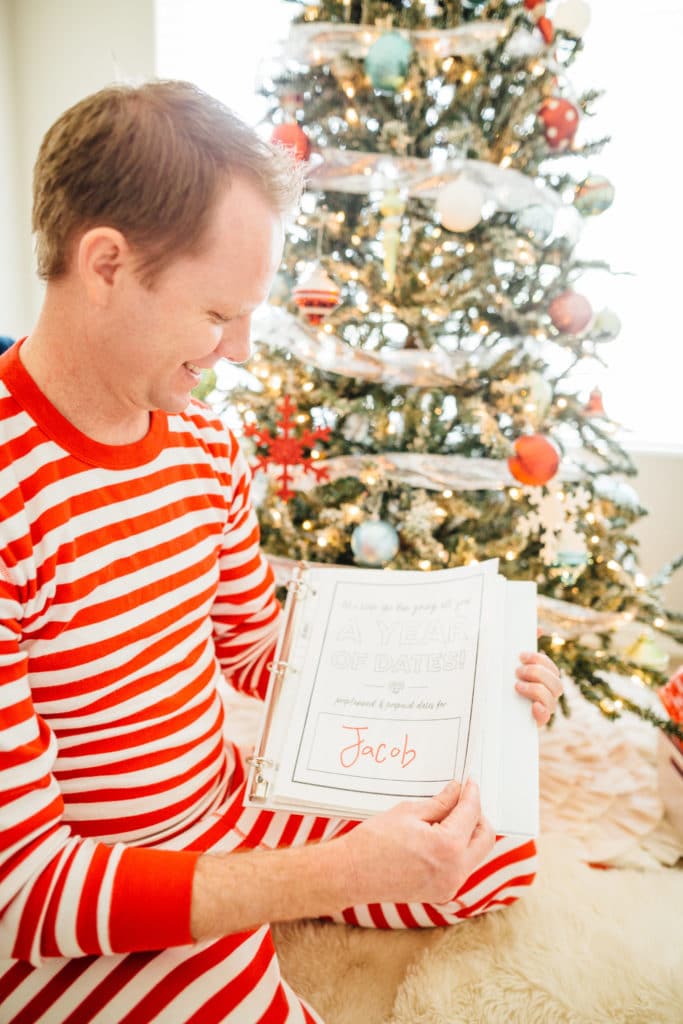 A Weekend Getaway
This is one gift every couple can use at almost any given time! There are so many travel deals right now, and Groupon has made it so easy to find great local staycation/nearby getaway rentals for a change of scenery. Of all the 2020 husband gift guide items, this may be the most needed!
These have been a lifesaver this year with so many dates at home! They used to be cheesy, but they have come a long way and are worth every penny! You can easily gift a full year of date nights delivered to your door or just try a single box. Our current favorite is the Happily box, and I have half off the Happily date box promo code for you! Use this link and sure to use the Happily promo code: FRIDAYWEREINLOVE to get 50% off your next box!
An Epic Date Night
If a year of dates isn't in the cards, I highly recommend giving at least one epic date night. Here's a list of 12 date night gift ideas that make it easy. We love to find something off-the-wall on Groupon.
*You may also find these posts helpful:
Amazon Date Night: Date Nights You Can Order from Amazon
10 Dates Worth Repeating
Splurge Date Ideas Worth Every Penny
We have a whole post reviewing this awesome concept! But one book will give you 50 adventures to do together, which all make great dates! It's a really affordable gift for how much you get from it, but we have a bonus 10% off any order with the Adventure Challenge Promo Code: INLOVE10
This is our one big splurge item in the gift guide, but it's something we both think would be the ultimate gift! We sure love grabbing discount Disneyland tickets for our family, but it was a dream going on an epic Valentine's Day Disneyland date to Sweetheart's Nite! I mean riding roller coasters like you're teens is just something magic for your relationship!
I love that you can lock in your deal with flexible travel with this service for only $200 down. Pay for half a trip, and pay the other half two weeks before you go. It's easy to plan and easy to make this extra special gift happen!
And as a bonus, I have to add you can get $10 additional off a vacation package with promo code FRIDAYLOVE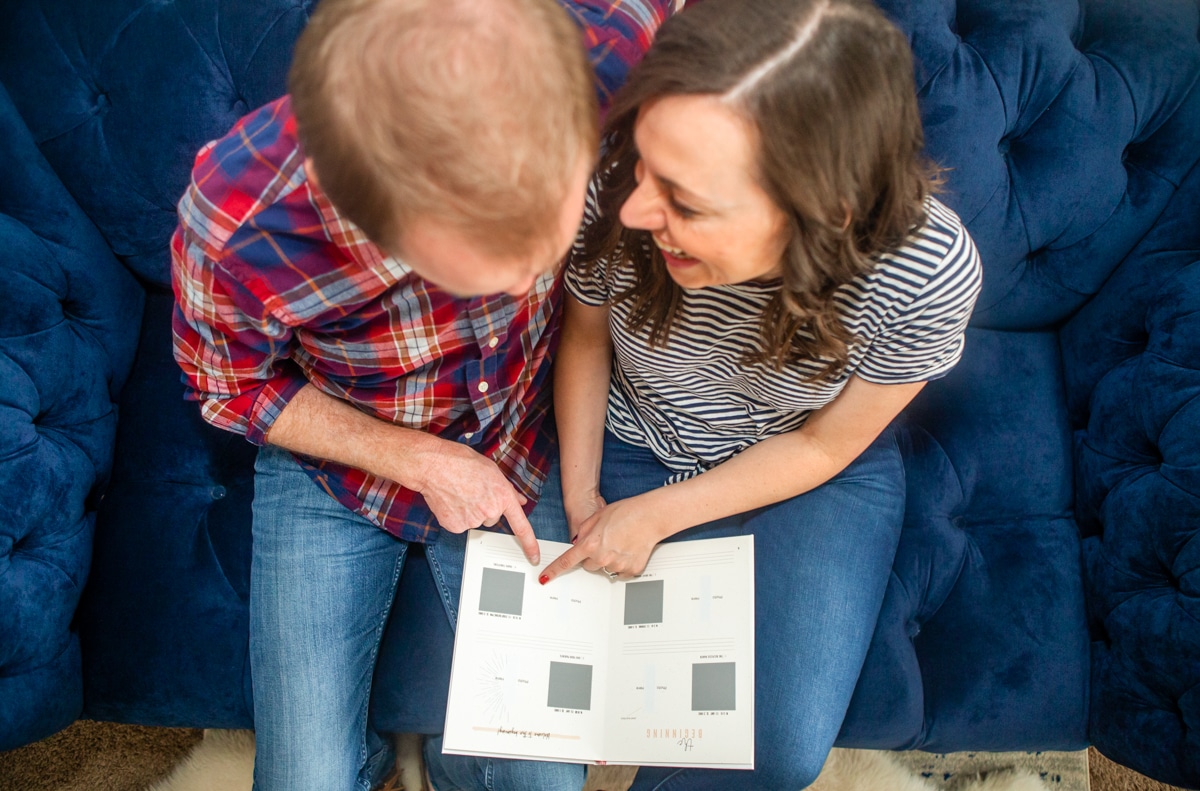 You can never go wrong with movie tickets! So many theaters offer deals and serious upgrades during the holiday season. You can also grab snack vouchers, theater cups if they like soda, or vouchers for cocktails at specialty theaters.
Gift Card to His Favorite Restaurant
I'll never forget the look on my husband's face when he opened that high-end steakhouse gift card the first year we were married. I've made an effort to gift him a really great meal at his favorite places as a husband Christmas gift every year ever since! Don't just save this for anniversaries or Father's Day. It's a great gift any time!
Romantic Husband Gift Ideas
Massage
Either book a massage for them or book a couple's massage. You could also get a Theragun and promise the hubby many massages in the comfort of your own home!
I love that Mentionables offers model-free shopping and really pretty pieces! Their goal to make everyone feel beautiful and sexy no matter what their size or body type is such a great message! They're at the top of our Christmas lingerie list with the best pieces. And this is one gift that can tune up the romance all year long. Plus you can enjoy the shock when he opens that gift box!
If you're looking to spice things up in bed, this book is a different take with a lot to offer! It explores habits and connections outside the bedroom to add more passion in the bedroom. The reviews are amazing, and it's been a hot new product they can barely keep in stock! Also don't forget you can get 10% off with the Adventure Challenge promo code INLOVE10
*We love everything The Adventure Challenge release! Check out our Adventure Challenge for Couples unpaid review here!
These are always great for a date night, a party, or a night you just need some amazing cheese. It's one of those unique gift ideas you'll both be glad you own!
A little truth or dare or would you rather to talk about intimacy can be super fun and beneficial gift for both of you! This is a tasteful game that helps you spice things up and facilitates communication.
New Cologne
I love giving a cologne that's more of a romantic gift for me than for him. He'll gladly oblige by wearing my favorite scent for a little more romance. It's one of those purchases we made for an anniversary gift that we both enjoyed for a year!
I could recommend some favorites, but because we're all different and attracted to different scents I really recommend buying one in person and making sure it's a smell you are attracted to!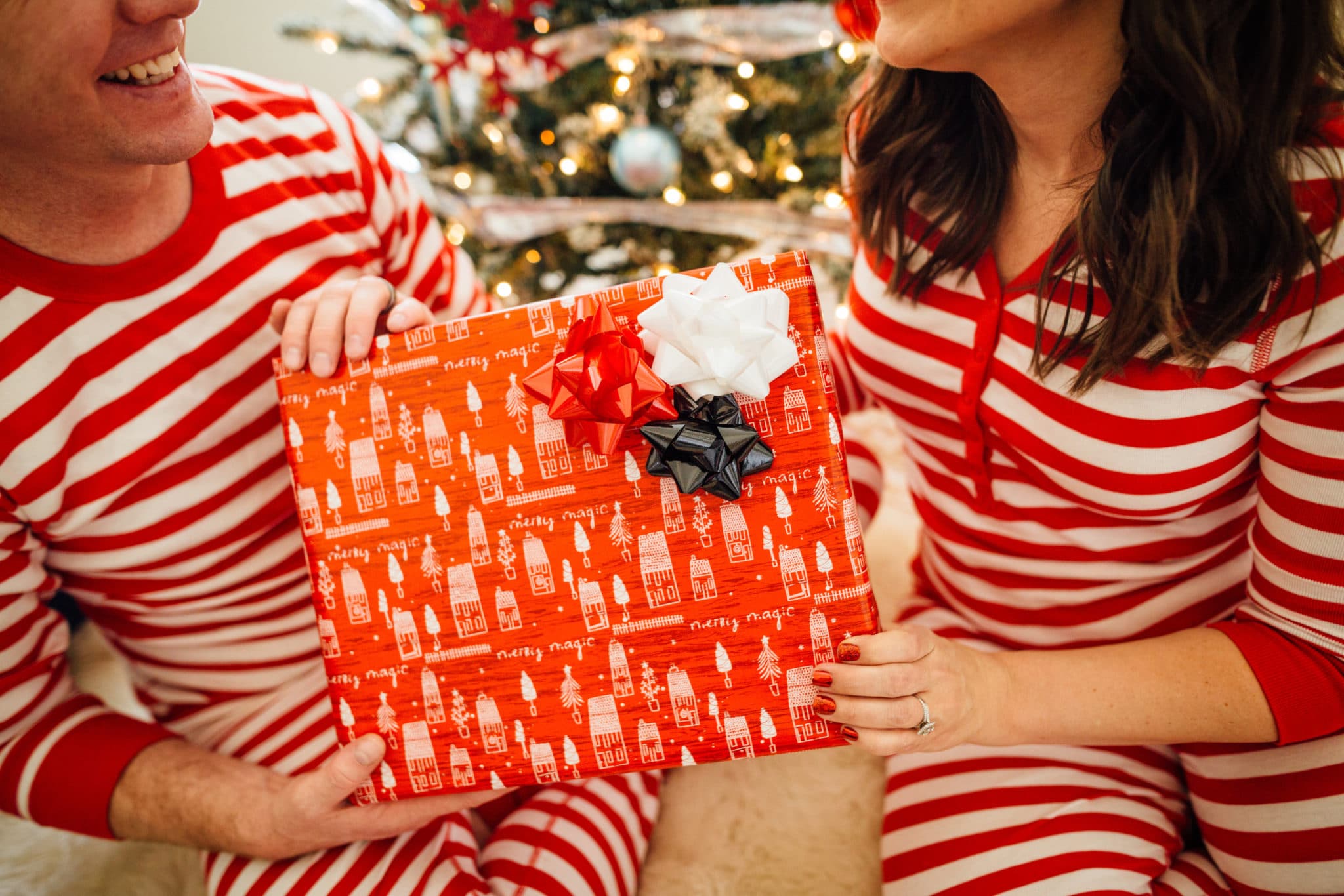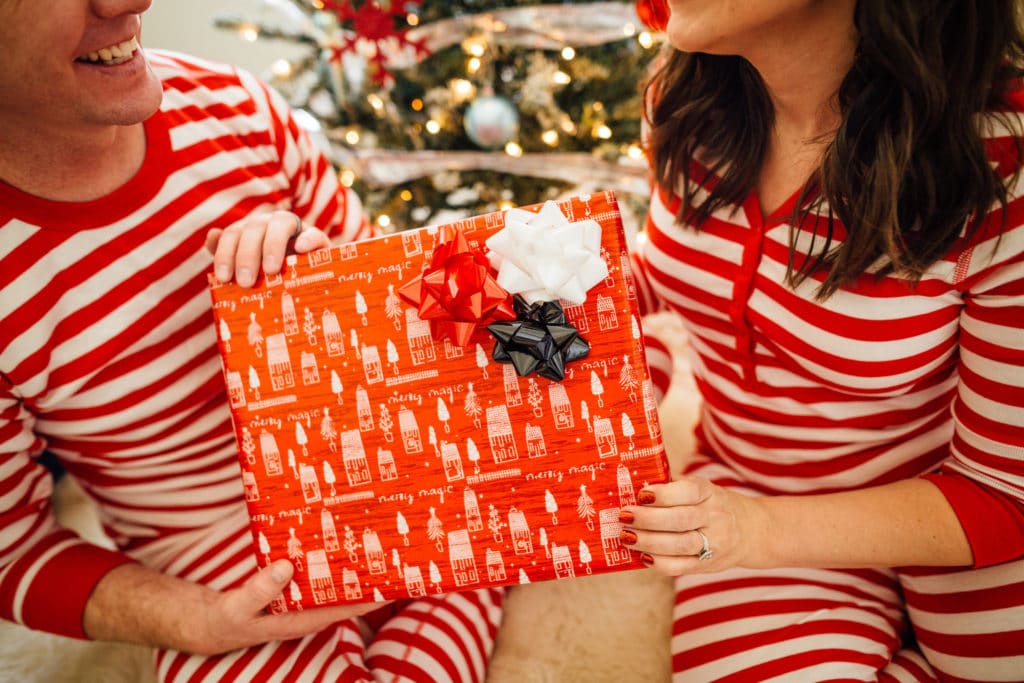 Fun Husband Gift Ideas
We love our outdoor movie theater setup and love that the projector makes for fun movie nights anywhere! You can take this on trips, for a fort date night, or anywhere in your house to shake up movie date nights.
This item is so fantastic for those daily back and shoulder rubs! It helps relieve tension stress, and it's a nice luxury with thousands of rave reviews!
Gift Cards to Favorite Lunch Spots Near Work
I've done this one for 10 years now, and it never gets old! Even if he's working from home, hook him up with a nearby lunch spot and let him get lunch on you.
TSA Precheck/Global Select
This almost belongs on a practical list, but if you plan to travel at all in the next five years you're going to want to get TSA Prechecked and/or Global Select approved. It's about $100 to do it, but it enables you to bypass long TSA lines at airports. We hop right on flights and get to skip huge lines with international travel. If he travels at all this is a must! If you want to plan a fun trip, this is a great gift to get you set up for an even smoother dream vacation!
It's been a year (or two) at home with a lot more movie nights, and this set is so fun to make gourmet popcorn at home!
Genetic testing is just so cool! Help him find more about his ancestry and genetics with a 23 and Me kit.
We found these at Trader Joe's years ago and have purchased one every year ever since. It's a $6 box of fine chocolates that guides you through guessing the flavors. It's so fun and makes a great date or a fun family activity.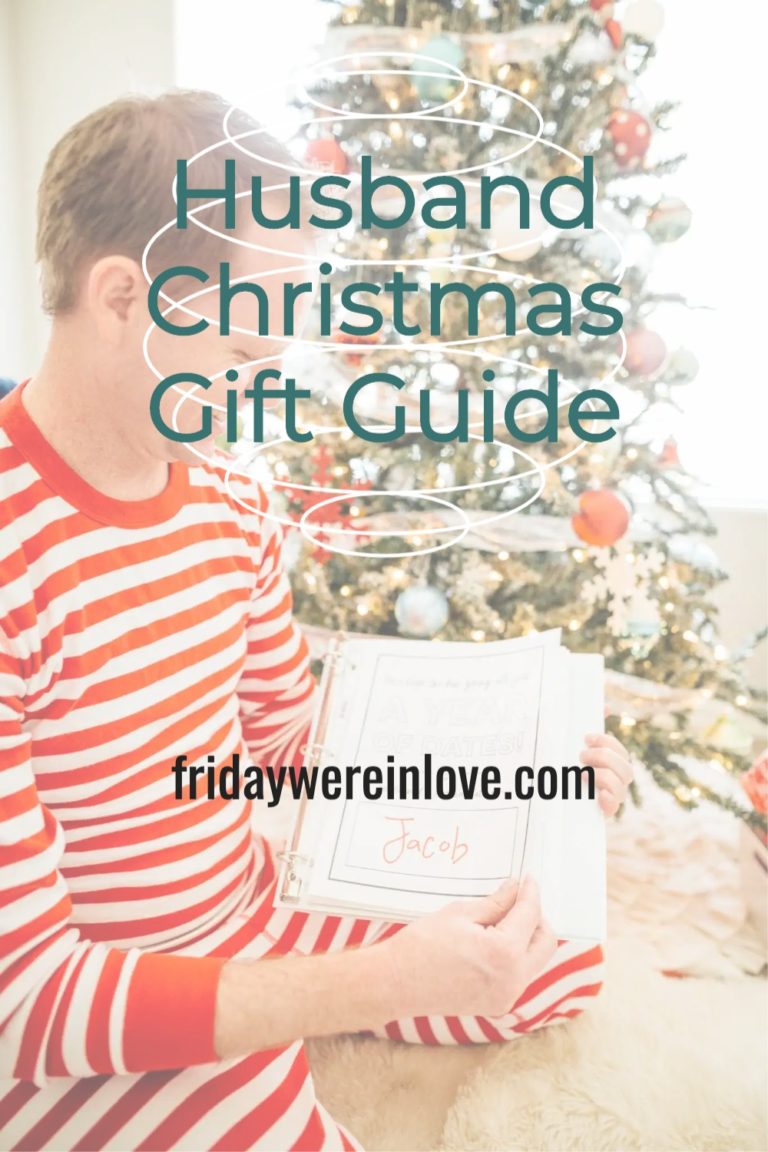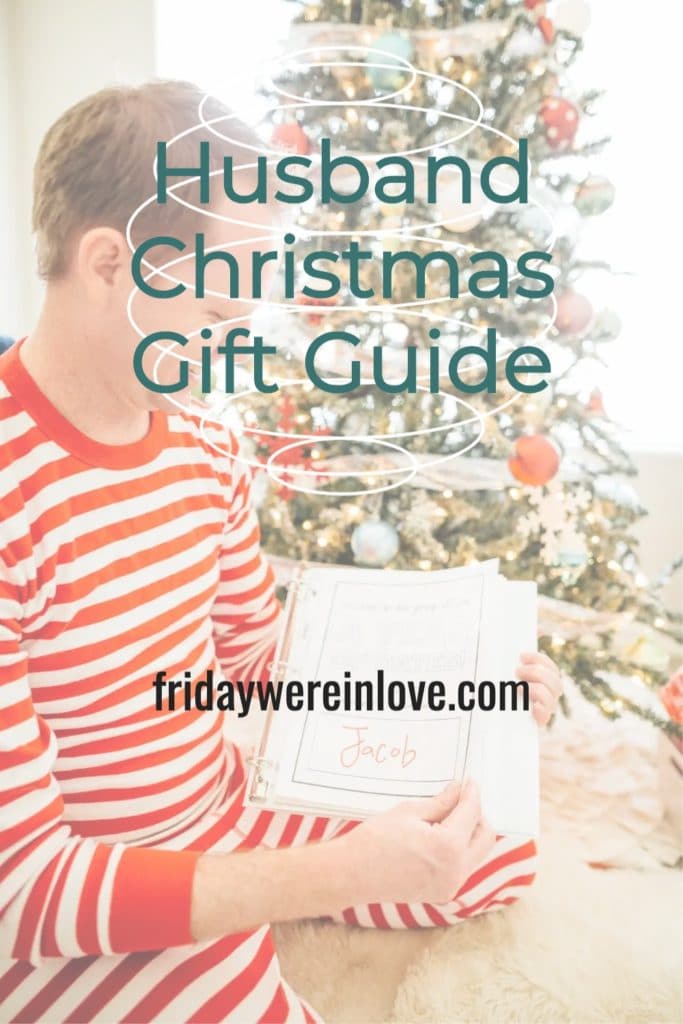 Practical Husband Gifts
I gave this to my husband two years ago, and guess what he took to work every day! I'm a firm believer in reducing waste and leveling up your water intake. And A Yeti mug is always a great choice too! We love having one tumbler at home, and one at the office. In fact, I just gifted him an upgraded model with a handle for his birthday and he loves it even more! It's often sold out, but if you can snag one, a Stanely cup is so worth it!
For the same reason we love the tumbler, we're fans of insulated water bottles. A Hydroflask is worth its price tag when you see how much you use it! The water bottles are great for on-the-go, for travel, and we usually keep one in the car at all times.
Hello better sleep, more cozy nights. I love that there are cooling weighted blankets for those who sleep hot too! Find a high-quality option and they'll use it forever!
We are gifted each other this customizable pillow with amazing ratings. Everyone I know who owns one swears by it! You can add us to the list because it was worth every penny and we adore ours! Plus the gift of better sleep is a pretty amazing gift!
If you haven't experienced Airpods you may not know how useful and loved these items are! They make hands-free phone use and podcast/music listening so easy! Seriously the best gift anyone gave me this year, and one I think every husband who has an iPhone will love too! And if he already owns a pair, I can't recommend this leather case cover enough!
I can't rave enough about our Anker Portable Charger and how quickly they charge our devices! Just charge the Portable Charger and bring the USB/charger cable and you can go from a dead battery to a full one in about an hour! It's one of the best gift ideas for people who travel, spend long days on the road, take a lot of phone calls for work, or love using their phone at Disneyland as we do!
Prepaid Car Wash Card
A clean car is always a good idea. So many local car wash companies offer prepaid cards for multiple washes at a great deal. It's a great way to support local businesses!
If he loses his keys more than once a month, this may be the game-changer you're both looking for.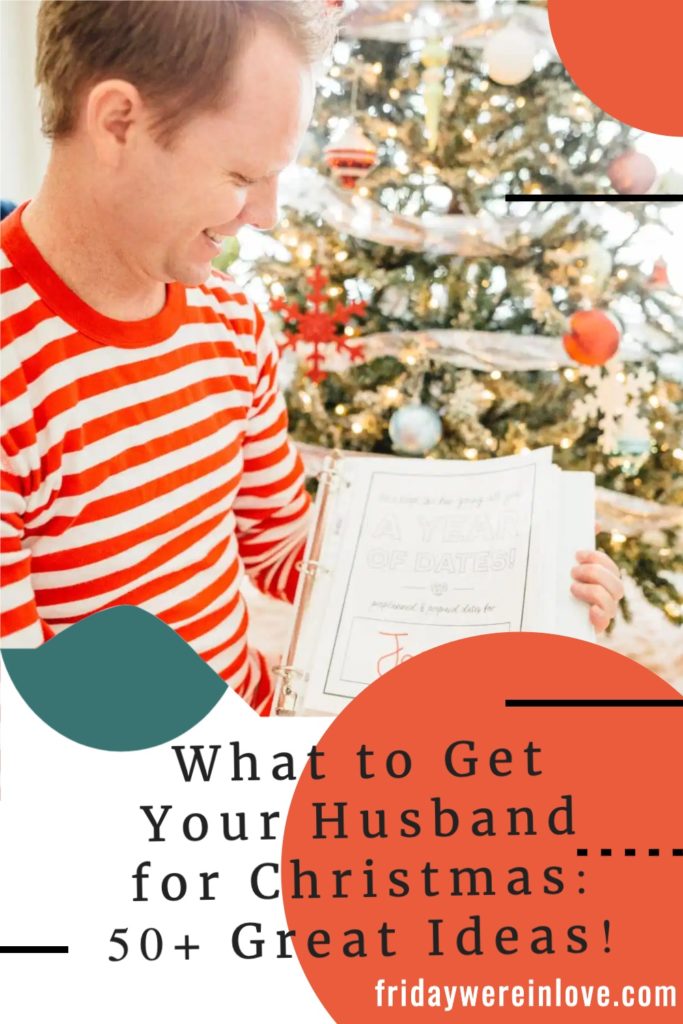 Personal Grooming Husband Gifts
If your husband shaves daily, investing in a good razor seriously improves the quality of their life.
When rocking a beard, this is something he'll use and love! Get a highly rated and reviewed one like this model.
Even if you see a barber regularly, it's a great idea to have an excellent tool like a hair trimmer to keep sideburns and his neck clean-shaven. Lots of men use their hair trimmer as a nose, eyebrow, or ear trimmers. It's a grooming game-changer for many men!
I will thank family members for sharing this wax warmer as something they both love and use as a couple. Nose hairs, ear hairs, basically any hairs you may think are less attractive, you can wax off in a minute! Plus, I feel like it's one of those things most husbands don't know they need until they have it.
It's too bad our society hasn't placed an emphasis on men taking care of their skin. I know most are content with soap and water, but a good moisturizer with sunscreen with effective ingredients can make such a difference! I love that my husband appreciates a good facial lotion and knows he needs sunscreen daily. I found this top-rated men's skincare line on Amazon about eight years ago, and he's loved it and used it daily ever since!
And Supergoop sunscreen is always a winner too!
If he doesn't own one, it's a great time to remedy that! Cleaner teeth, fewer cavities, and the most recommended toothbrush on the market make for a great practical gift!
If he's a fan of curbing those chapped lips, hook him up with a year's worth of lip balm. We love the Burt's Bees set, and a gift package always makes him smile!
Clothing and Accessory Husband Gift Guide
I gave Jacob a classic zip-front sweater several years ago. I was immediately shocked by how much use it got! Jacob literally wore it out, and we live in Phoenix! A quick zip up classic lightweight sweater is perfect for date night looks, to bring to the office, or just to up their fashion game with a comfortable easy option.
Mission Belt
The quality, custom sizing, and mission behind Mission Belts make them such a great company to support! We were really lucky to get to sample a few of these when they first came out, and my husband has never looked back! He's purchased a few more colors, and wears a Mission Belt every day! They make a great gift, and their gift sets are always a win.
My brother is obsessed with new socks, and my sister-in-law found a gift that keeps on giving. The sock of the month club gives him fun new socks to keep things fresh and stylish each month.
Is he on his computer/phone often? Blue light glasses can help with better sleep and reduce headaches.
I hate to stereotype, but all the men in my life couldn't care less if their pajamas look great or are even worn out. A new pair of flannel pajama bottoms or even a new pair of basketball shorts are a great useful gift!
It seems most men are forgoing the traditional watch and if they have a watch, it's an Apple Watch. It's a great time to update his watchband with a nice option he'll use and love.
If he doesn't already own a phone case with those two tiny pockets that hold just a few cards to replace their wallet, they're missing out! Grab a classy leather-style phone wallet case here.
Culinary Husband Gift Guide
This has been the gift that keeps on giving! Even if you own an air fryer, consider upgrading! We use this appliance daily! While we all adore it, it's my husband's favorite kitchen item. Having leftover fries taste fresh has been a game-changer.
It's a spatula, measuring cup, and mixing spoon all in one. If your husband appreciates cool gadgets in any form, this is a cooking game changer.
Learn the elements of cooking in this highly rated best-selling book men and women are raving about!
Cooking Class
My husband really likes learning techniques and feeling proficient in the kitchen. We've taken a couple's cooking class for a date several times, and it's always a great way to learn! There are a ton of excellent options on Masterclass with professional chefs that would make an excellent gift!
My husband had a chef roommate during his college years, and he gifted us one of these for a wedding present. We have LOVED it and used it almost daily! If he's even remotely into cooking, I promise it's a gift you'll both use and love! We now own two quality chef's knives and love that we can cook together with this amazing tool!
I know this one can fall into the stereotype gift options, but if your husband owns a grill, a grill tool set is something that needs replacing every few years. It's a great option to get an updated set in a kit that keeps them organized and him happily grilling!
Tools and Hobby Gifts for Husband
Jacob asked for this electric drill as a birthday gift when we were newlyweds. I'm ashamed to admit I did not understand at the time. Now that we're into two great home makeovers together, I 100% get it! We use ours so much and if he doesn't own an excellent electric drill I would add this to a gift list!
Everyone who gets a power washer swears it's a game-changer! Keep everything clean, and do it with ease with this amazing tool!
It doesn't matter what type of car or truck he drives, keeping it clean always feels amazing! Make it super easy with an awesome kit with everything he'll need to keep it looking its best.
If you plan to paint anything this year, you won't believe how excellent this tool is! We've refinished so much of our home ourselves because of this amazing tool! It's one of those tools that feels hard to justify when you're buying everything else. Giving it as a husband gift for the holidays or a special occasion means you'll thank yourselves later when you're reading for a project.
If you want to get serious about home projects, this saw is the tool to have on hand! Updating baseboard and elevating your home with trim or board and batten options is so easy with one of these!

We have used this for so many home projects I can't believe it! It's a great tool to own and a great gift option!
This little item is so useful during projects! Nails and screws stick to this cool wristband to make projects faster and easier.
We could add more, and likely will keep updating this post as more amazing husband gift ideas come to us! If you've bought a total winner gift feel free to drop it in the comments to help others out!
Like these husband gift ideas? You may like these posts too:
50 Excellent Stocking Stuffers for Men
10 Perfect Items For Your Husband's Easter Basket