How to Create Your Own Outdoor Movie Theater for Backyard Movie Nights
How to Create Your Own Outdoor Movie Theater for Backyard Movie Nights that's perfect for your space and budget!

Every time I share our backyard theater setup, I get so many questions! Yes, it's 100% worth it, and it was time for a post dedicated to all the answers in one place!
If you have ever thought of setting up an outdoor movie theater in your backyard, we can't encourage it enough! We've had our backyard theater setup for almost three years now, and I can't believe how much we've loved it!
What items do you have for your outdoor movie setup?
There are a lot of ways to set these up, and we've sort of gone middle ground with our setup.
First of all, a projector. 
We purchased a projector a few years ago. We had an older model a former teacher sold us at a garage sale. It worked, but it was a pain to set it all up. When I saw a sale, I went for it and bought a new projector for Jacob for his birthday.
We have THIS PROJECTOR.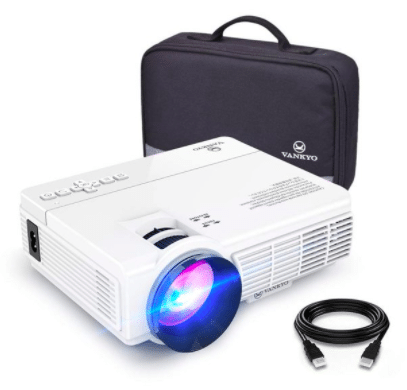 It does an excellent job for the entire length of our backyard, and it's a good price (even not on sale). I really love the zoom feature so we can play with size. Seriously, it's been great and I was surprised we found such a good one for this price!
Best Mini Portable Projector for Movies
If you want to invest in a mini portable projector for movies, check out this highly-rated portable projector. It's perfect for packing along on trips, taking on outdoor movie dates at any location, or quickly setting up in the backyard.
It's a bit of an investment, but one we think you'll love and use for years!
Outdoor Theater Setup
Next, a movie screen that is designed for outdoor use.
We also invested in a screen early on. There are a lot of options, but a blow-up movie screen for the backyard was our top choice. It's easy enough to set up, and it's easy to store. We have this model.
I love that it came with a fan to blow up the screen and keep it up all movie night long!
Finally, a sound system. 
After one night trying to use external speakers for an old desktop, we decided to invest in a sound system. We found an awesome sale one day and knew it would be a good splurge. I'm happy to report it totally was! We don't have to be right next to a laptop to try to hear the movie.
Also, we have an iPhone Lightning adapter. I'd highly recommend one! You can stream movies right from your phone or tablet and it makes the setup so easy.
What do you need to set up a backyard movie theater?
You can get creative with what you choose to include, but we'd argue there are a few must-have items and a few nice-to-have items.
Must have:
Nice to have:
A cart/ladder/stool to prop up the projector
a professional movie screen
a sound system
HDMI Apple Adaptor
Extension cords
Extra nice to have:
How much does it cost? 
That's a loaded question because you can truly do a budget outdoor movie theater with a simple projector. Many people make it work with the side of a wall and using their phone/computer speakers. So if you're on a tight budget, here are some great projectors that you can work with!
I listed the must-have items in our book, and I'd at least prioritize a screen, a projector, and some speakers. You can choose to go as fancy as you'd like. If picture quality and sound quality really matter, it may be a splurge. But I'd find one that will work for how often you'll use it and read reviews for all equipment.
We of course won't fault anyone who builds in an outdoor movie theater. I sure love the spaces I've seen with bistro lights, outdoor movie furniture, and a dedicated space for viewing outside.
We acquired most things one at a time. But now that we're happy with our setup, here's our total cost. In total, we have dropped about $350 on our outdoor movie theater. It was a bit of an investment upfront for our setup, but it has been the gift that keeps on giving!
Seriously, swap out a few nights out to dinner or use some of your vacation funds this year to give the gift of a movie night experience you'll love for years!
How to Choose the Right Outdoor Movie Projector.
The projector is going to be the main item in setting up a backyard movie theater. And not all are created equal! Most of the really cheap options only project from a few feet away. That may work for some people, but for most, you're going to want one powerful and clear enough to give you amazing movie quality.
Here's how to choose the right projector for you: 
Start with a tape measure and head to the backyard. Find the areas you think you'll set up a screen, and where you and guests will be sitting. We have a longer, leaner backyard. We knew we could be watching a movie from one end to the other, so we planned for the greatest distance. Measure in feet how far away that is.
When you go to choose a projector, be sure to read the details on the projector. Each will list the projection distance. Note at the max distance it may be a bit of a stretch (it's the lowest denominator here), so I'd shoot for one that your max distance fits comfortably in the middle or lower of the range. Use that distance as your guide.
Next, you'll want to look at the resolution (how clear the picture will be) and the brightness numbers. The higher those numbers are, the better the picture. Also, the higher the price.
For everyone, the dollar spent depends on how picky you are about the clarity and overall picture quality. Read some reviews. Look at an LED and modern design. It isn't hard to find at least a decent picture quality at a great price.
Once again, here are some great affordable options.
We also love this one, and here's the one we own.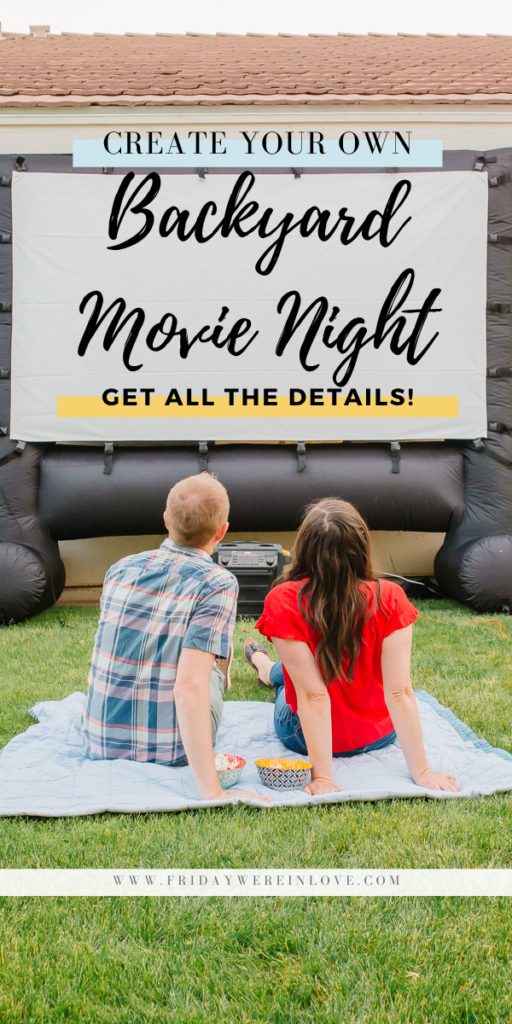 Backyard Movie Theater Setup
This is my favorite part, it's where the magic comes into play!
We're such fans of bistro lights to make it feel a little whimsical and magical. Plus, they give off a bit of that movie-theater feel with rope lights.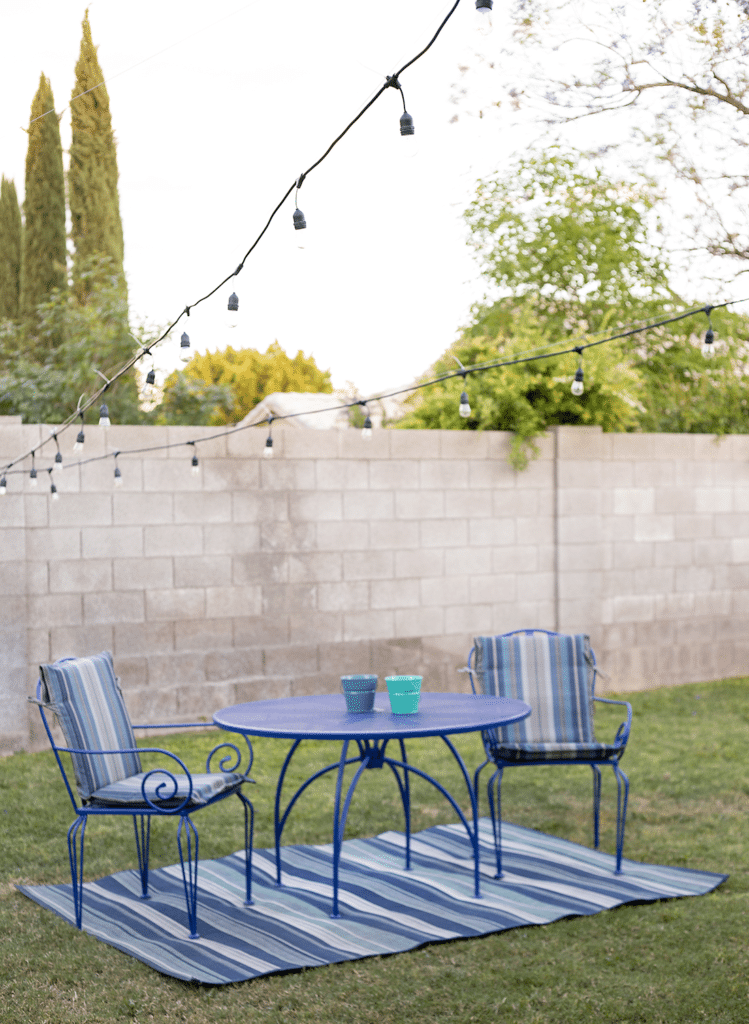 Our family is a huge fan of being cozy and comfortable while watching. While I'd love a complete reclining seat option, that's not practical for a family who uses this screen six months of the year. We've found a good old-fashion picnic blanket that keeps water out is a good way to go. Also, folding chairs, camping chairs, and our outdoor patio table chairs do the trick just fine.
When we invite other families over, we typically ask them to bring their own camping chairs. It works great, and we can set up a viewing party quickly and easily!
I'd also recommend a bin of extra blankets. Even in sunny Arizona, most nights are cooler and most people want a blanket. Our kids are always colder than they thought. Our friends who have come over usually don't think to bring a blanket. I'd recommend investing in a bin you can store with some extra blankets. We have a bunch of these cheap fleece blankets, and it never ceases to amaze me how often we use them!
And it may go without saying, but it's a great time to think about movie snacks too! I have a whole post coming soon about movie snacks and home theater food ideas. Stay tuned, we'll help you pair the best outdoor movie nights with the best outdoor snacks coming soon!
Let us know if you have any questions, we'll gladly answer and help you figure out the best outdoor movie setup for you!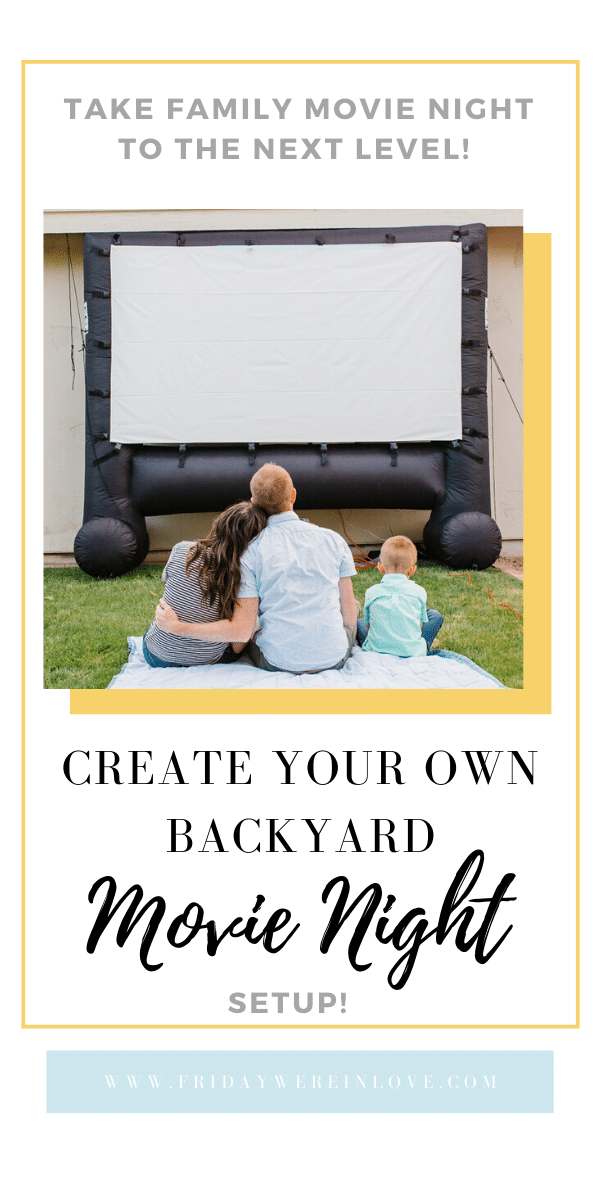 Like this outdoor movie night post? You may like these posts too:
The Best Family Movies for Family Movie Night
Stay At Home Date Ideas for Couples
Disney Plus Watchlist and Free Printable for Families
Get 365 Date Ideas!
We want to help you have the best date nights ever! Grab this FREE printable with 365 date ideas, a date for every day of the year so you never run out of ideas!