When the weather isn't ideal, an indoor date night is! Here are 50 fun indoor date ideas to help you get your date night on no matter what the weather is!
Fun Indoor Places to Go for Date Night
Go ice skating! An ice skating date is a fun way to cool off in the summer. It's also a great way to enjoy a winter activity when it's too cold to do outdoor activities.
Buy concert tickets. Enjoy some live music at an indoor venue. You can splurge on your favorite artist, or support a local band on the cheap! I still swoon over the Taylor Swift Reputation Tour date my husband gave me!
Go to the movie theater. It may be the best place to cool off during the hot summer months when you still need a fun indoor date!
Escape Room Date
Escape rooms are such a fun place for date night, and truly one of the best indoor date ideas! You'll solve a series of puzzles and clues to escape a room in a set amount of time. We love doing an escape room date for a group date! These are in almost every city, but if you need it for at-home date nights, here's how to do an escape room at home.
Book dance lessons.
You could learn ballroom, tango, breakdancing, swing, etc. We took swing dance lessons as newlyweds, and it was such a fun activity that really pushed us far out of our comfort zones- in a good way! Dance lessons are a great time learning together, and by the end of the night, your hard work pays off while you've enjoyed your time inside!
Have a bowling date night. It's one of those fun cheap date ideas that everyone loves repeating!
Have a go-cart racing date night. You can book a lane and two go-karts for a ton of thrills and fun!
Indoor Food Date Ideas
Head to your favorite restaurant.
Enjoy a dinner date and let them pay for the AC or heating bill! Order at least a main course, but it's even more fun to stay for dessert!
Make a fancy dinner at home!
Prep the menu and go shop for fresh produce. Make sure to pick up a bottle of sparkling cider or a bottle of wine. It's even more fun to make something out of your comfort zone together and learn a new skill while you prepare a romantic dinner for two.
Try the Adventure Challenge Dinner Dates Cook Book for great ideas!
Have an indoor picnic.
A living room picnic date is always a hot summer date we love to do! We love to order takeout and set up a blanket on the living room floor. But you could also pack your own picnic basket and enjoy a culinary picnic that you create.
Bake Cookies
Grab a favorite new cookie recipe, and get ready for one of the cutest cute date ideas! This is one of those classic great date ideas perfect for any time of the year, but particularly for winter date ideas when you're ready to bake some holiday sugar cookies.
Visit a local market.
While you're there, order a type of food you've never tried before.
Try New Romantic Restaurants
Look up romantic restaurants to try. Make a list and go visit several when the weather doesn't permit outside date nights. You could even add some mystery and draw a restaurant name from the list as a surprise. But either way, a special dinner with ambiance and good food is such a great indoor date idea! It's a classic romantic date idea that gets a fun upgrade when you try new delicious food together.
Have a taste-testing date night.
Either grab several types of sparkling beverages from Trader Joe's or pretend you're at a distillery and create your own wine-tasting date. We even have a free printable scoring card to use!
Make it a double date!
Invite your favorite couple to dinner and make a double date out of your next dinner date! It's the perfect place to have so much fun laughing and talking without the stress of hosting.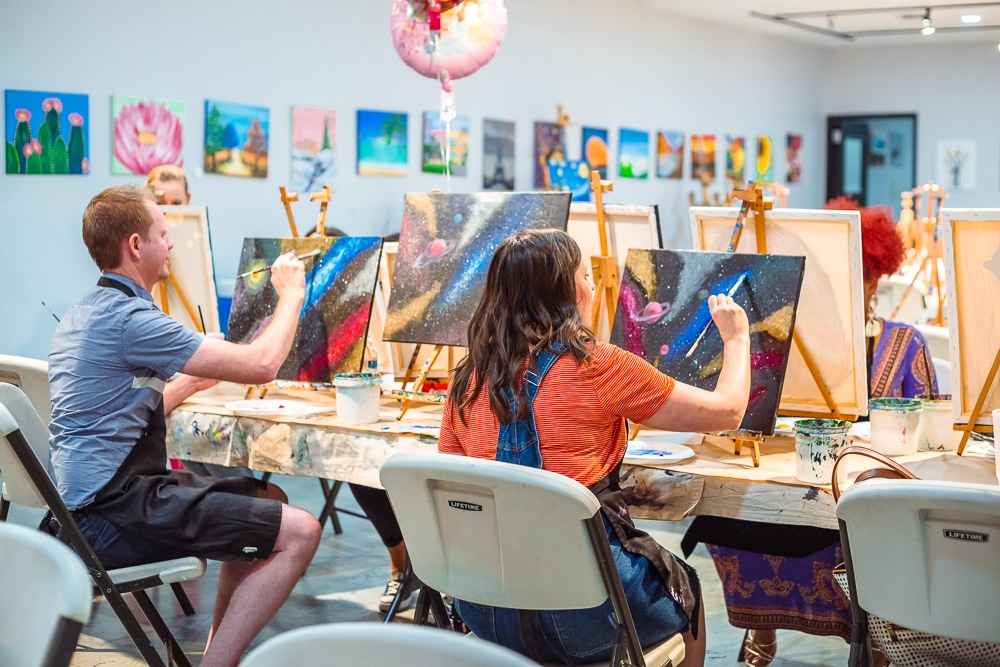 Indoor Cute Date Ideas
Play retro video games together at an old-school arcade.
Visit a vintage ice cream parlor. And go ahead and enjoy an ice cream sundae or banana split. It's one of the best ways to have a good time without having to spend a lot of money!
Create a time capsule. Find things that represent pop culture right now at thrift shops and dollar stores. Prepare it to be opened in a few years so you can take a walk down memory lane together.
Do a paint night date night. A BYOB paint night is one of our favorite and most repeated indoor dates! Whether you're artistic or not, it's a unique date idea everyone seems to enjoy!
Visit your local aquarium. Enjoy learning about sea life and learn a lot about marine biology. An aquarium date night is surprisingly romantic and very relaxing!
Paint pottery together. Find a local pottery studio that lets you paint and design a piece. They'll fire it up and glaze it. You get to enjoy a cute date night full of conversation and creativity.
Hit Up a Karaoke Night at a Local Venue.
So many bars have a karaoke night, and it's a whole mood! Whether you can sing and want to show off your skills, or need a good laugh at the lack-thereof, these is all kinds of fun entertainment!
Tour a local candy factory.
Learn how sweet treats are made, and have fun taste-testing new candies.
Visit a Fun Center.
Play a classic date night game of mini-golf, try some laser tag, and some even have an indoor Ferris wheel to ride together! Be sure to find a photo booth and take some classic photos to document your fun date night!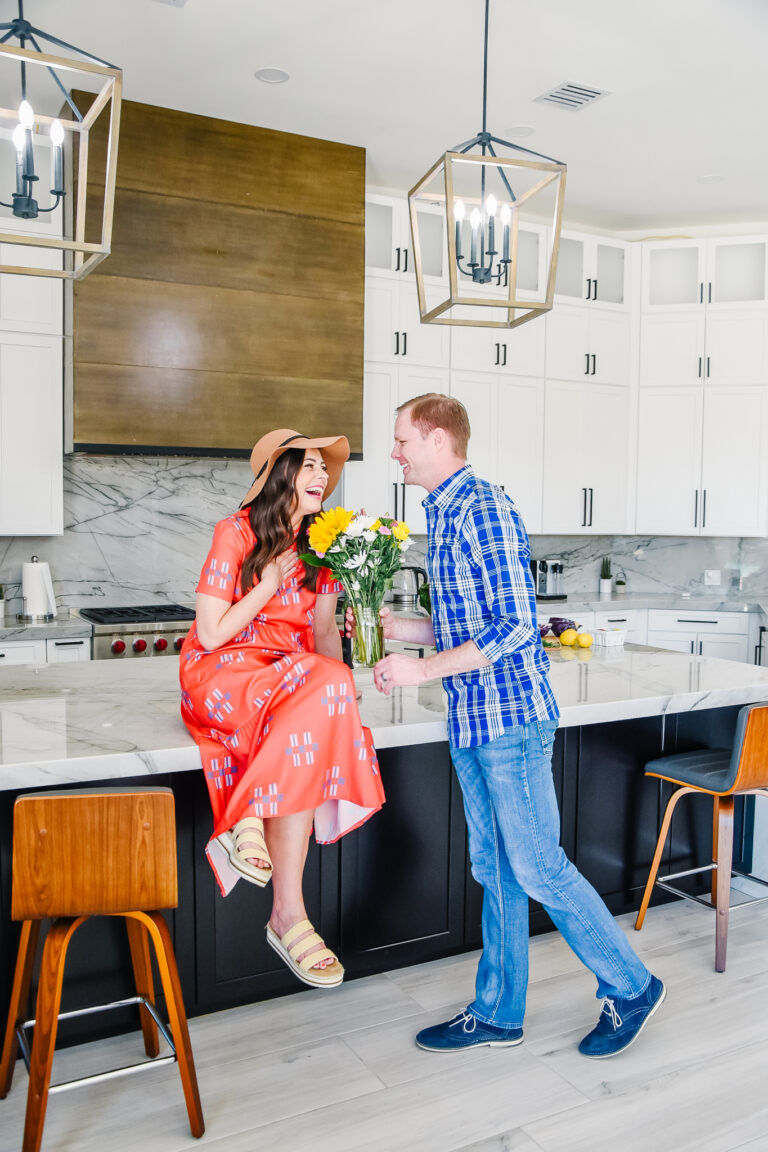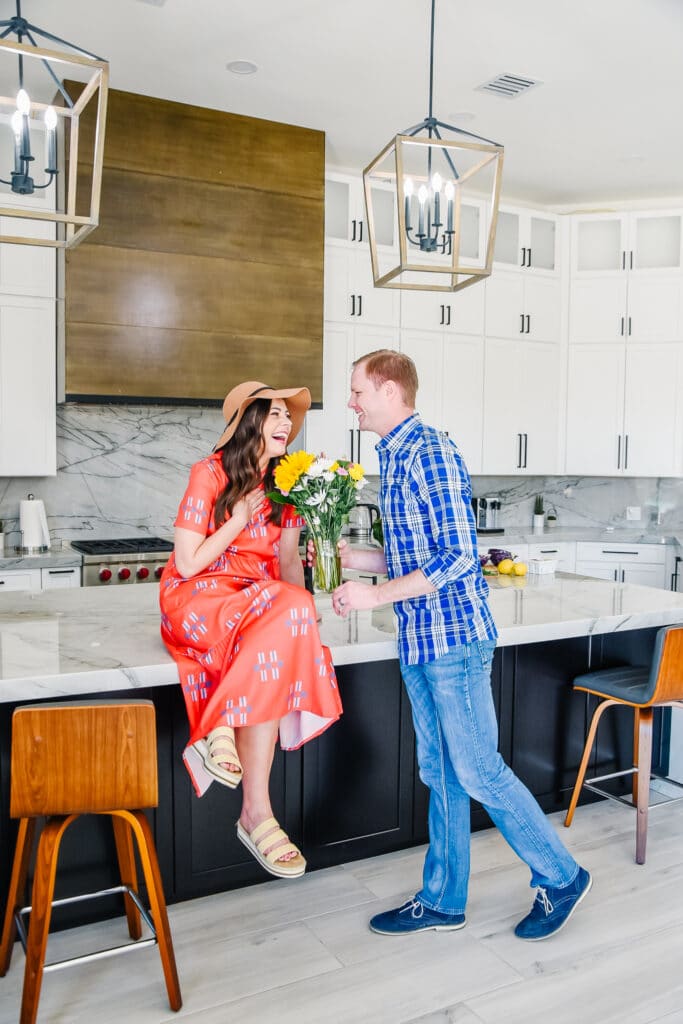 Home Date Night Ideas
Try a date night box.
We've reviewed all the date box subscriptions, and we have a special promo code (FRIDAYWEREINLOVE) to get you half off our favorite box. Check out our Happily date box review here.
Turn up a little friendly competition with a game night!
This is one of those home date ideas you can do so many different ways! Play board games, card games, or fun games of your choosing together! You can enjoy your competitive side while spending time connecting. If you want to kick if up a notch from a classic game of Monopoly or Scrabble, be sure to check out 100 couples games to play for ideas!
Have a movie night with a theme.
Plan food or snacks that coordinate with your movie. You also get bonus points if you dress appropriately to match the movie night theme.
Look through old photos and remember the last time you did something really amazing together!
It's the perfect date to reconnect and share a couple of hours remembering some of your best moments together.
Create a couple's bucket list.
Come up with a ton of fun date ideas you want to do together. It's the perfect way to make more regular date nights happen. And the good news is, you'll have your own plans for the best date ideas you want to make happen this year!
Have a Spa Night At Home
Turn up the relaxation and romance with an at-home spa date! Give each other massages, try a face mask, give each other pedicures, or draw a romantic bath.
Have a living room campout date night.
Set up your tent and plan an indoor campout together.
Indoor Events That Make Fun Date Night Ideas
Attend a sporting event.
Basketball games, hockey games, and even many baseball games take place indoors with climate control.
Go to a play.
Find a local theater show to attend, and enjoy this perfect indoor date.
See a touring Broadway show.
These come around the cold holiday months and during the hot summer months. They're perfect for escaping the elements and letting a third party entertain you. Our favorite has been our Hamilton date night!
Attend a Comicon.
You don't even need to dress up to enjoy watching others live out their fandom passions! I can almost guarantee you'll build a lot of new memories and have a unique date night experience!
Find a restaurant or bar to visit on opening night and attend the festivities.
It's also one of the best things to connect with your local community and support small businesses!
Visit an art gallery.
There are often touring exhibits and special night events to attend to mix up this fun date night.
Free Date Ideas
Do an indoor scavenger hunt.
These are perfect for hunting for objects or things that start with each letter of the alphabet through a large sporting goods store or mall.
Have a Would You Rather? date night.
Download our free Would You Rather Dating Questions for Couples and enjoy this fun way to get to know each other better! We have over 100 fun questions perfect for a first date and also fantastic for long-term relationship couples as well!
Tour a museum on their free night.
Most have one night a month with free admission to the public. The best part is it's one of those indoor date nights that will keep you entertained for hours without costing a penny!
Visit a storytelling open mic night at a coffee shop or bookstore.
You'll hear comedy stories, ghost stories, love letters, and interesting life experiences. It's an entertaining event that is usually totally free!
Have a bookstore date night.
This one is perfect for a rainy day hot day! Tap into your inner child and share some of your favorite books you grew up. You can also find books you've read and loved and share them with each other.
Active Indoor Date Ideas
Rent a racquetball court for date night. And, be sure to bring on the friendly competition!
Hit up a roller skating rink for a roller-skating date night. These are extra fun on themed event nights. And holding hands and skating one of those surprisingly romantic date nights that makes you feel like a kid again!
Take country line dancing lessons. Many country-themed bars and dance venues offer a country line-dancing night. You won't believe how fun it is to learn The Boot Scootin' Boogie together!
Learn to skateboard at a nearby park. Yep, these are available indoors and often padded for a little more safety!
Attend a spin class together. You won't believe how much fun you have while you do a good thing for your health!
Go rock climbing. A rock-climbing date at an indoor climbing gym is so much fun, a great workout, and gets those endorphins flowing!
Romantic Date Night Ideas
Do our 5 Love Languages Date Night. Also, be sure to grab our free printable! You'll learn new things about each other while you spend some quality time together!
Draw a romantic bubble bath. Go ahead and enjoy some intimate time together.
Take a gourmet couple's cooking class. These range from learning new culinary skills, decorating cakes, planning your next date night menu, to learning how to brew your own beer. There are so many fun classes to take. And they're always a great place to find fun indoor date ideas!
Set up a romantic fort and have a romantic fort date night. Grab some inspiration and fun activities to do in a fort right here.
Plan a hotel date night! Here are a bunch of hotel date night ideas (and romantic ideas)to make your time at the hotel feel extra special and connecting.
Have a chocolate-tasting date night. We shared the easiest way to do a chocolate tasting date here!
Like these fun indoor date ideas? Be sure to check out these posts for similar content:
Car Date Ideas: Fun Date Ideas to Do In the Car
Get 365 Date Ideas!
We want to help you have the best date nights ever! Grab this FREE printable with 365 date ideas, a date for every day of the year so you never run out of ideas!