Tons of rainy day date ideas you can do inside, outside, at home, and out on the town that aren't movies! Embrace the rain with these date ideas!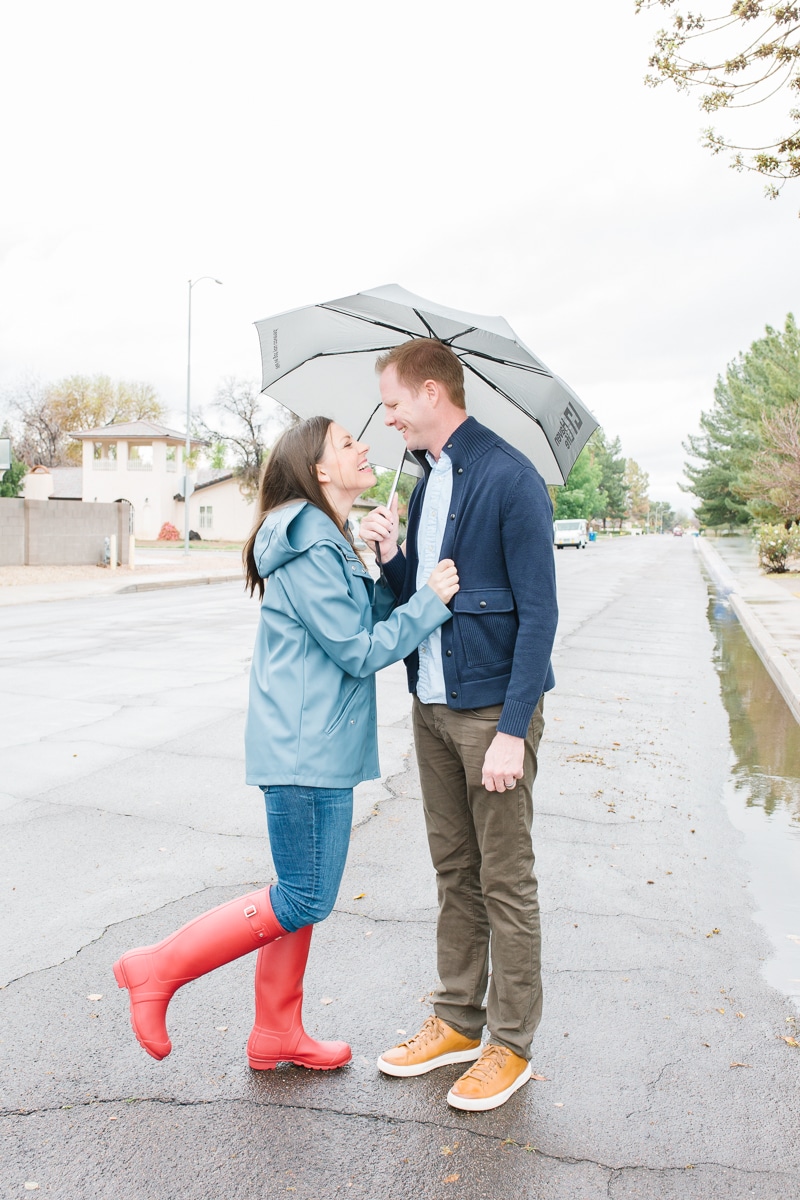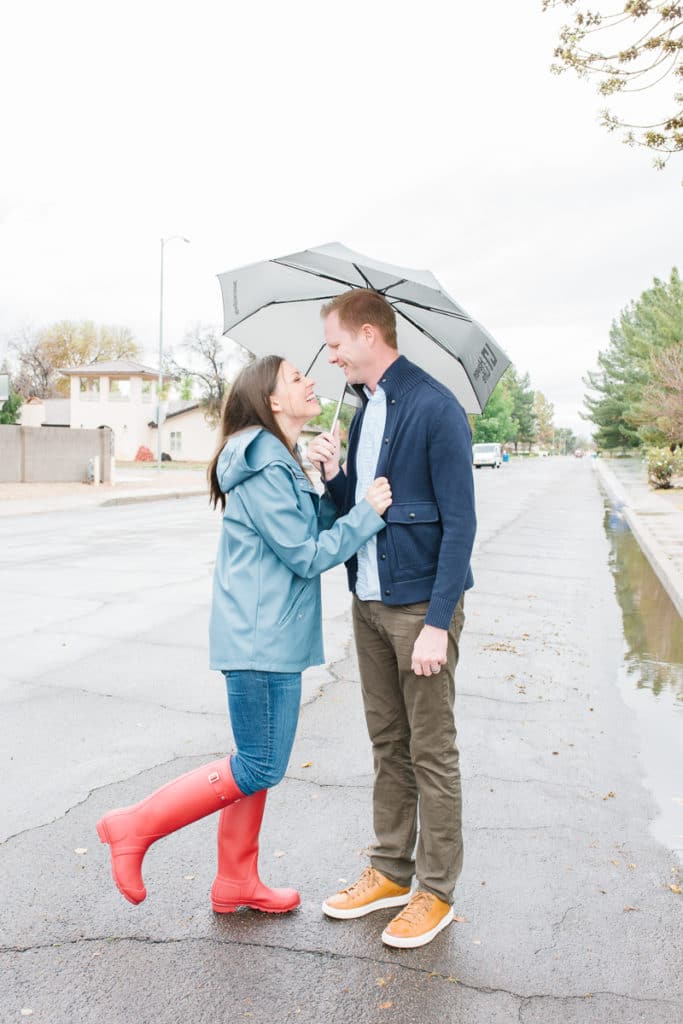 I have always loved April as a month that the weather seems optimal in most places. The colder climates are watching the snow completely melt and storms turn to rain. The warmer climates are watching the rain go from cold to warm. Everything is in bloom, and it's the perfect time for a spring date idea!
Rainy Day Dates
But I know many couples don't love that April showers bring May flowers when it comes to their date night plans. A romantic sunset picnic is dampened literally and figuratively by the rain.
But don't fret friends, we have your back with tons of Rainy day date ideas! We are all about embracing the rain for date night. Sometimes that means finding the fun things to do in the rain and embrace it outside. Sometimes that means heading indoors to a fun location. And if you're reading to stay in and stay home, we have tons of cozy rainy day dates at home to do.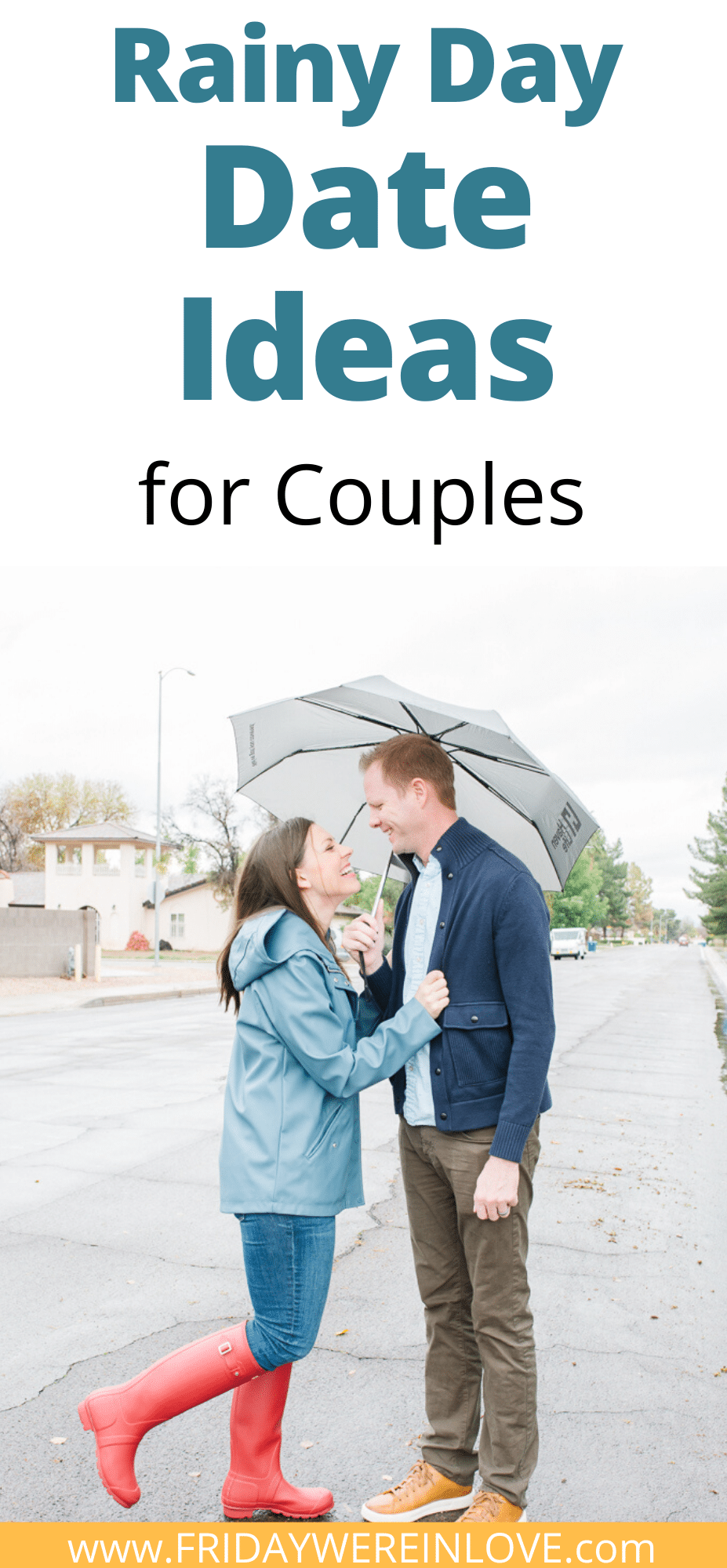 Things to Do In the Rain
Puddle Jump
Go kiss in the rain. Seriously, makeout and reenact every romantic comedy scene you've ever dreamed of.
Grab an umbrella and head for a walk
Drive through puddles and make a big splash. You may be surprised just how much fun this activity is!
Mudslide down muddy hills
Grab some buckets and have a water fight
Make origami boats and go race them (bonus points- color the bottom with crayon to make them last longer)
Slip and slide in the rain. Get a giant plastic tarp and create a water slide you'll never forget!
Have a dance party in the rain. Go crazy, turn up some jams, and embrace a very wet and very fun dance party.
Go for a drive and search for rainbows. Find a clear view, or just a romantic viewing location. Hunt those rainbows down!
Take rainy day photos. It's a different photography skill than a sunny day or evening. Get artsy and try to capture drops, gushing backgrounds, and bright, vibrant colors on those dreary days.
Fun Things to Do on a Rainy Day At Home
Fun Things to Do on a Rainy Day At Home 
Have a romantic and cozy date night in while it's pouring outside with these fun things to do on a rainy day at home.
What to Do on a Rainy Day for a Date (And Fun Places to Go!)
Go to your favorite coffee shop and get a warm cup of coffee or hot chocolate.
Eat out! Find a restaurant or cafe with a view and ask to be sat by the window. Watch the rain and enjoy the extra romantic vibe.
Go to the nursery. Plants are in heaven drinking up the rain, and it's an extra beautiful time to go see them while you walk through a nursery or garden together.
Visit an art museum. You can stay dry inside and listen to the moody sounds of rainstorms on the outside.
Go to your local science museum or science center. They often have exhibits on thunder, lightning, and rainstorms. It's one of the most interesting times to go learn!
Attend a trivia night. Try your gameshow skills!
Watch a big game at a sport's bar. Even if it's not your team or even your thing, it's highly entertaining to watch die-hard fans who show up rain or shine.


Rainy Day Dates on the Town

Go indoor rock climbing. Your local rock gym should be cooled down and keep you completely dry!
Take a couple's cooking class together.
Hit up the skating rink! Hold hands and enjoy this retro roller skating date night.
Sign up for a service project together. Turn date night in a night of doing a lot of good!
Support your local theater and see an indoor play.
Visit your local aquarium together for an aquarium date night that embraces the water!
Have a paint night date night out on the town. Sign up for a paint night class in your area. It's so romantic to paint to the background sounds of pouring rain!
We hope one of these rainy day date ideas helps you enjoy the storm a little more with a fun date night idea!
Like these date night ideas? You may like these posts too:
Outdoor Movie Night: A Fun Way to Upgrade Family Movie Night
The Adventure Challenge Review: A Fun New Way to Find Your Next Date Night
Get 365 Date Ideas!
We want to help you have the best date nights ever! Grab this FREE printable with 365 date ideas, a date for every day of the year so you never run out of ideas!