Couple's Journal: Reviews, Options, and Why Couple Journaling makes a Great Date
Have you heard of the rising trend of using a Couple's Journal? They are gaining popularity due to the way they connect couples and strengthen relationships. Here's a roundup of the top relationship journals for couples.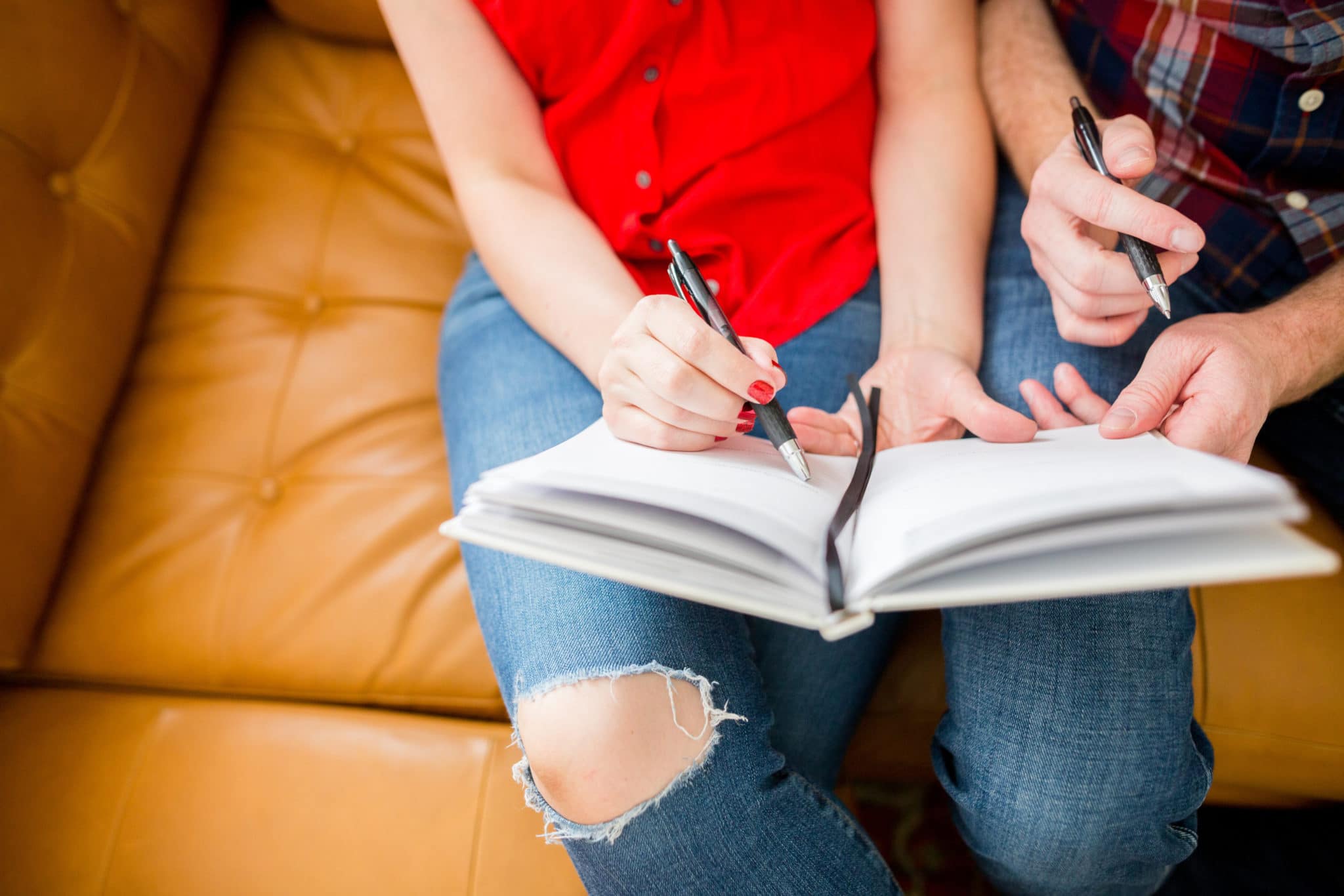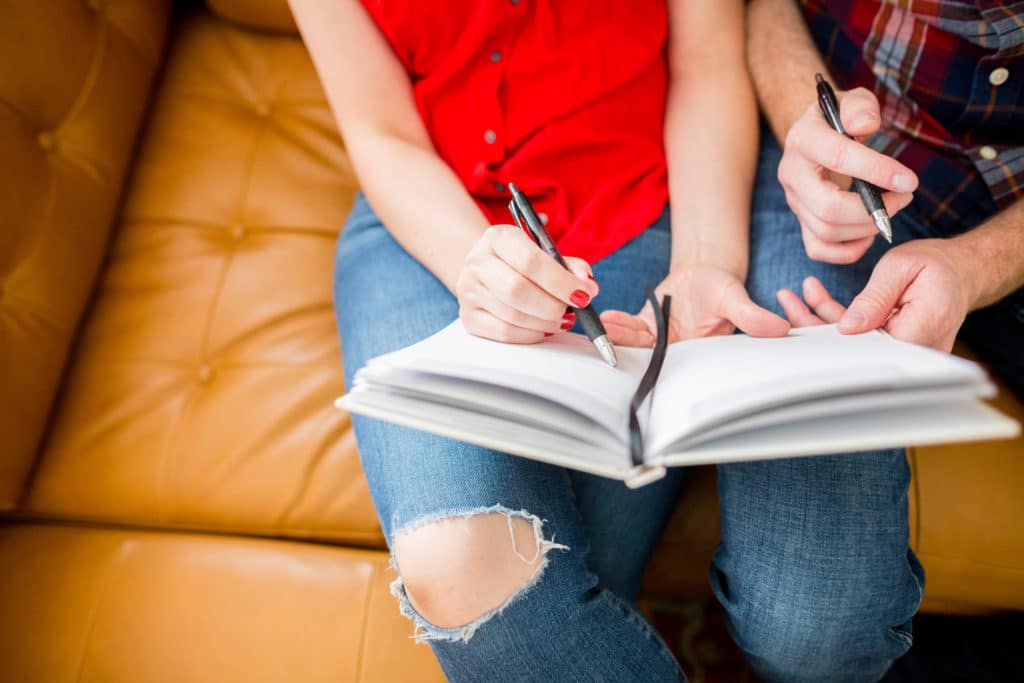 In the last several years a wonderful trend has arisen: bullet journaling and prompt journals to document and process feelings. I've seen parenting journals that help document all the small things you'll want to remember about your kids. There are depression/anxiety journals and grief journals to process emotions and trials. Oh, how I could have used an infertility journal through the hardest years of infertility! And in the past year, the couple's journal has made a debut on the scene!
Couples Journal
For a couple who loves going out with cute date ideas, the idea of sitting and doing a journal together didn't sound all that appealing at first. Plus, neither of us our big journal keepers to begin with. But this year we've spent some date nights in working on some couples journal prompts and have found these are really amazing tools!
It's a great way to deepen communication, facilitate a stronger feeling of closeness, and increase emotional intimacy for married couples, and couples in long-term relationships.
Particularly right now, when we've spent more date nights at home with little kids, these journals can be such a great tool! If you need a great date night in, and you'd love to have a deeper connection with your sweetheart, a journal for couples may be the perfect thing right now!
The Best Relationship Journals for Couples
Here's a roundup of our two favorite journals, and the couple of writing prompts and experiences you can expect from each.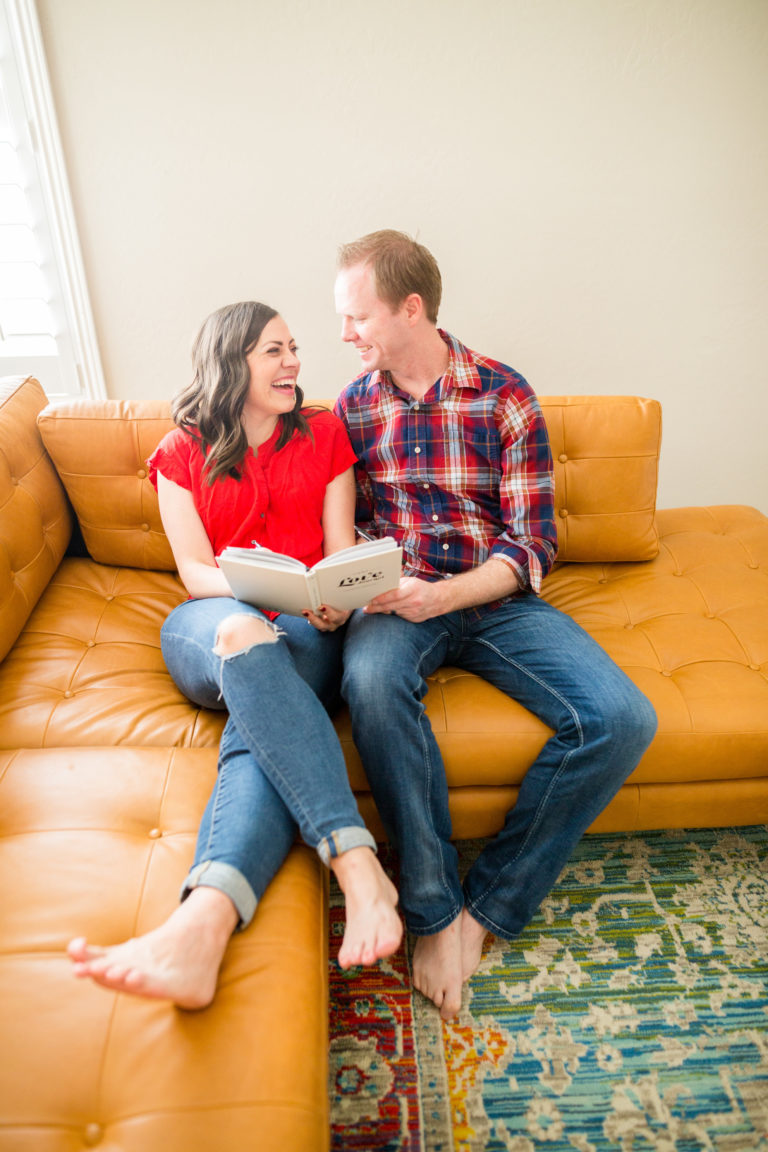 This was our first couple's journal, and I was sent one by the founder who I met in person last year. I was instantly impressed with the creator, Kim, and her husband Clay. They are an amazing couple doing amazing things with the Loom Journals brand and company they've built! They instantly asked me if I'd be interested in trying the Loom Love Journal and I said why not. I wasn't sure what to expect, but I was floored when I opened the first page!
I have to add one note- they've merged with our other favorite journal company, and you can buy each unique journal at the same site. Just look for the Loom Journal for couples!
The Loom Love Journal (by Promptly) has the same prompts, printed on two side-by-side pages. These questions go deep! And at the same time, they are approachable and easy to answer. I seriously think of them like a therapy session that we can do from your living room. They share questions to reflect on their thoughts and feelings. You'll find days of Q&A options, connection tips, and ways to facilitate a stronger bond.
This journal for couples helps provide new insights into thoughts and feelings, and it's a tool so many happy couples use!
Couple Writing Prompts
Here's a sample of some of the couple writing prompts:
Something I've Learned About You in the Last Year:
Something I've Learned About Me in the Last Year:
and, finally: Something I Appreciate About You Is:
It's a great way to compliment one another, share your deepest feelings, and take note of the best thing about specific details of your favorite moments and experiences as a couple.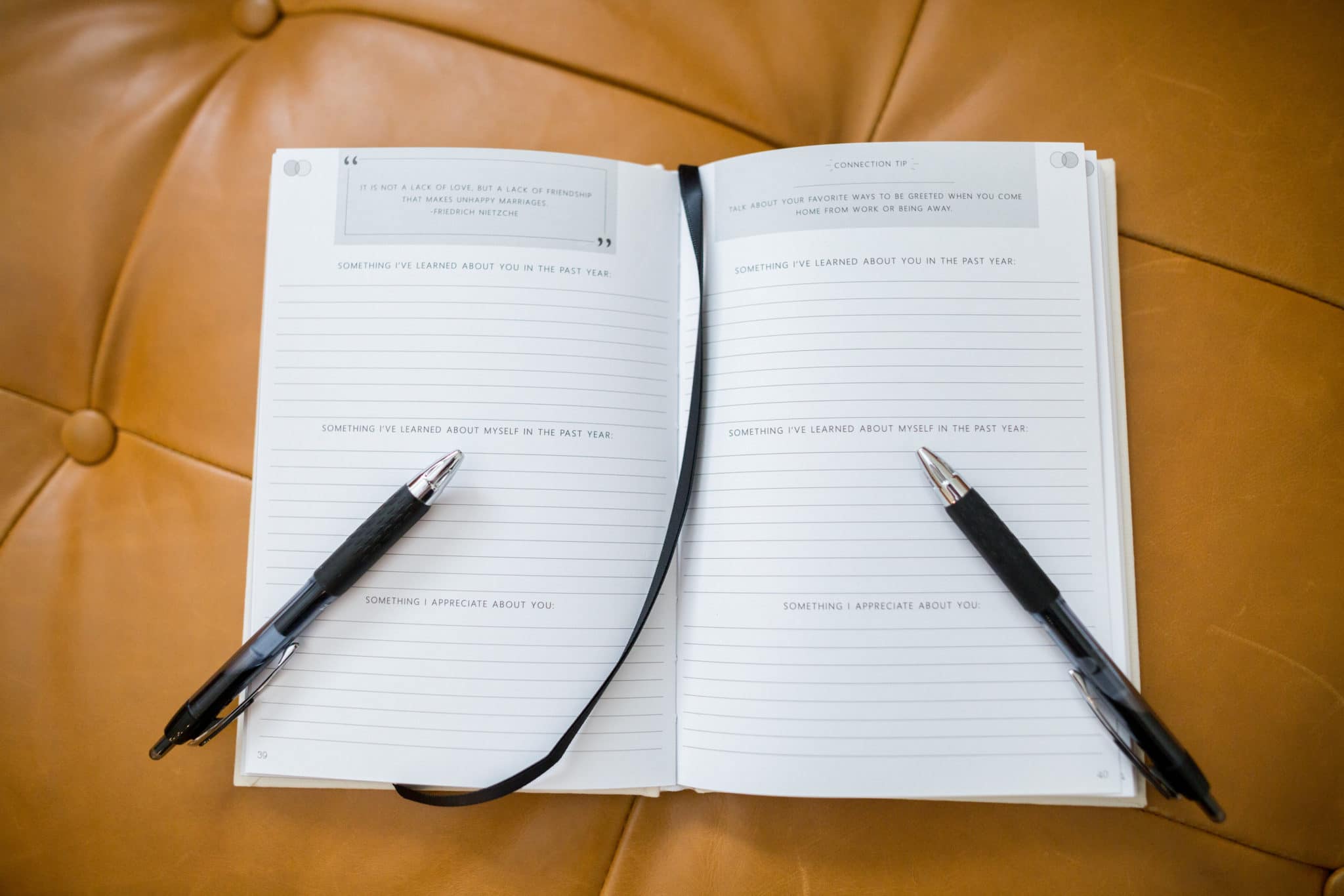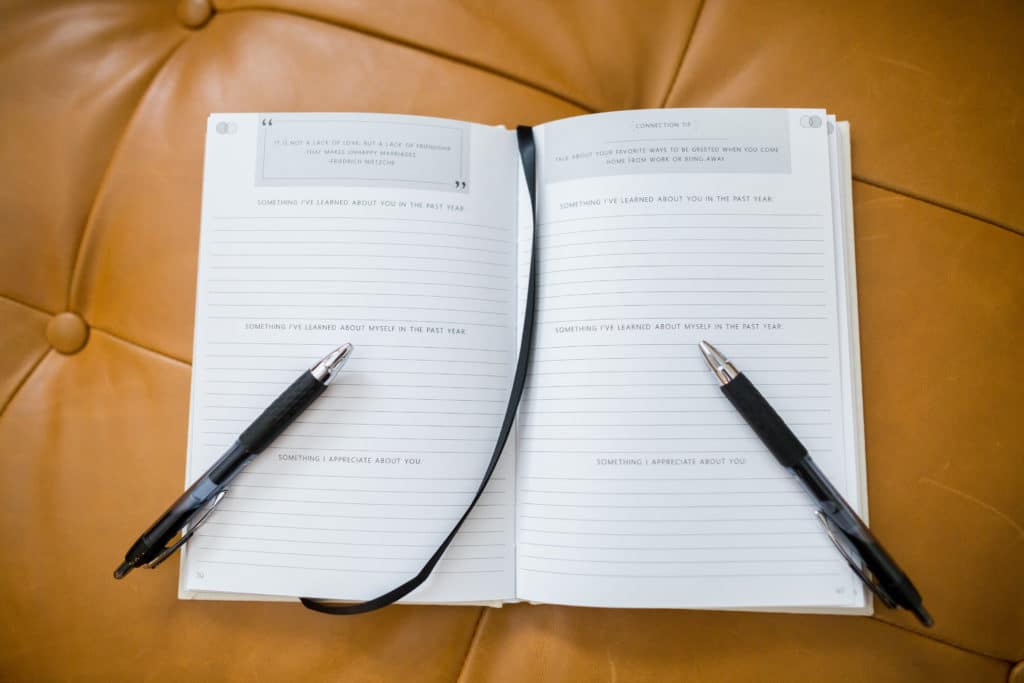 It's full of hundreds of these writing prompts for couples that you both get to do together. I love that it gives a space to give words of affirmation (one of my love languages). But it also opens up ways to talk about appreciation, improvement, and your hopes and dreams together. It's one of those journals you can use for a whole year and the couple journal ideas are top notch!
Promptly Journals Coupon Code: fridaywereinlove for 10% off
The Promptly Journals Love Story is a great option for a couple's journal because it connects you together by remembering and recording the past.
Have you heard the quote "Every love story is beautiful, but ours is my favorite." I hope every couple feels that way! And each and every story and history of love is worth recording!

Promptly Journals Love Story prompts to encourage you to write down (and add pictures!) of the following:
Firsts – like your first date, first kiss, first I love you, etc.
How We Met – How fate brought you together and some fun details of your story
Your proposal, engagement, and wedding details you'll want to remember
Life After the Wedding: your honeymoon memories
Anniversary Memories: how did you spend each anniversary? What are your feelings and thoughts as you hit big milestones?
Last: last words, last kiss, and details you want to be recorded in your personal history together
It's a great way to document your personal story. It also adds to that beautiful story year after year with some anniversary prompts. Plus, what a treasure this couples journal love journal is for future generations to read and cherish together!
It makes a great gift for your spouse, or as a wedding present or anniversary present. It's one marriage journal you'll keep as a keepsake for decades!
We personally own both of these relationship journal options, and they are both worth every penny! I love the different ways they help couples connect and celebrate love! I love even more that they are a romantic date you do from your couch.
Photos by: Chrissy Blake
Like this at-home date idea? You may like these posts too:
The Best Romantic Comedies for a Movie Date at Home
Date Night Subscription Boxes: Your Ultimate Guide to Date Boxes for Couples
Get 365 Date Ideas!
We want to help you have the best date nights ever! Grab this FREE printable with 365 date ideas, a date for every day of the year so you never run out of ideas!