Murals in Phoenix Walking Tour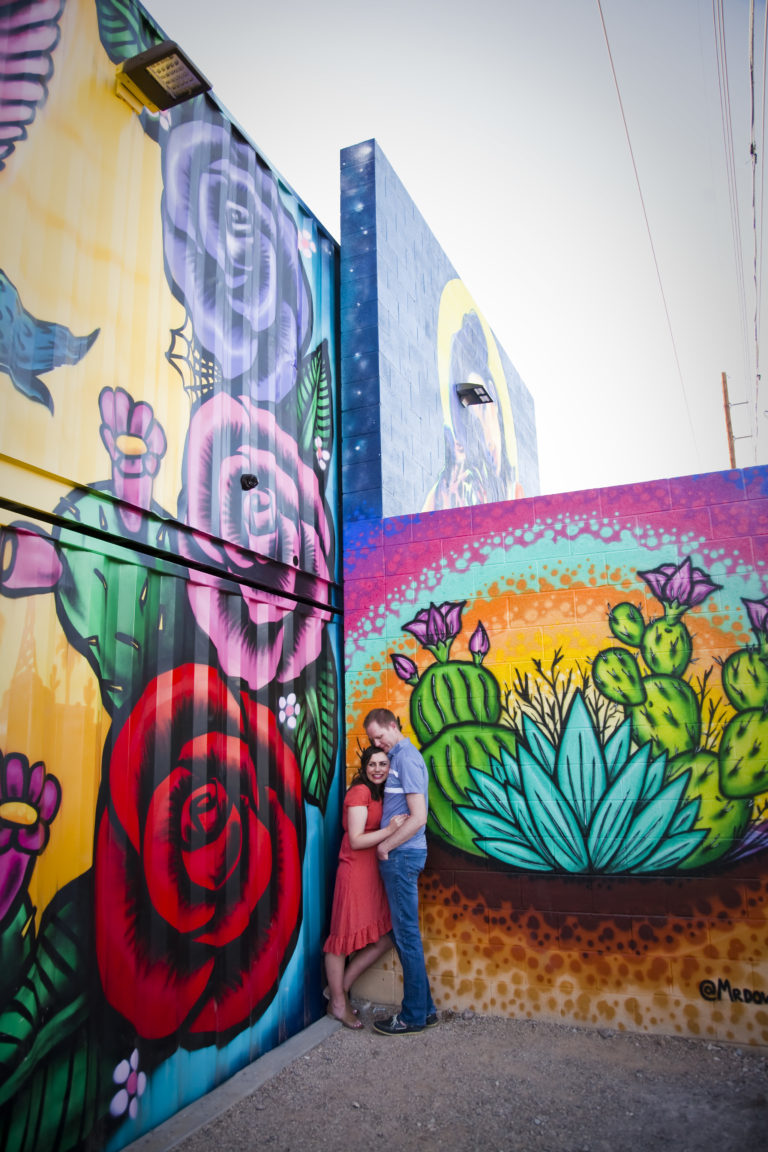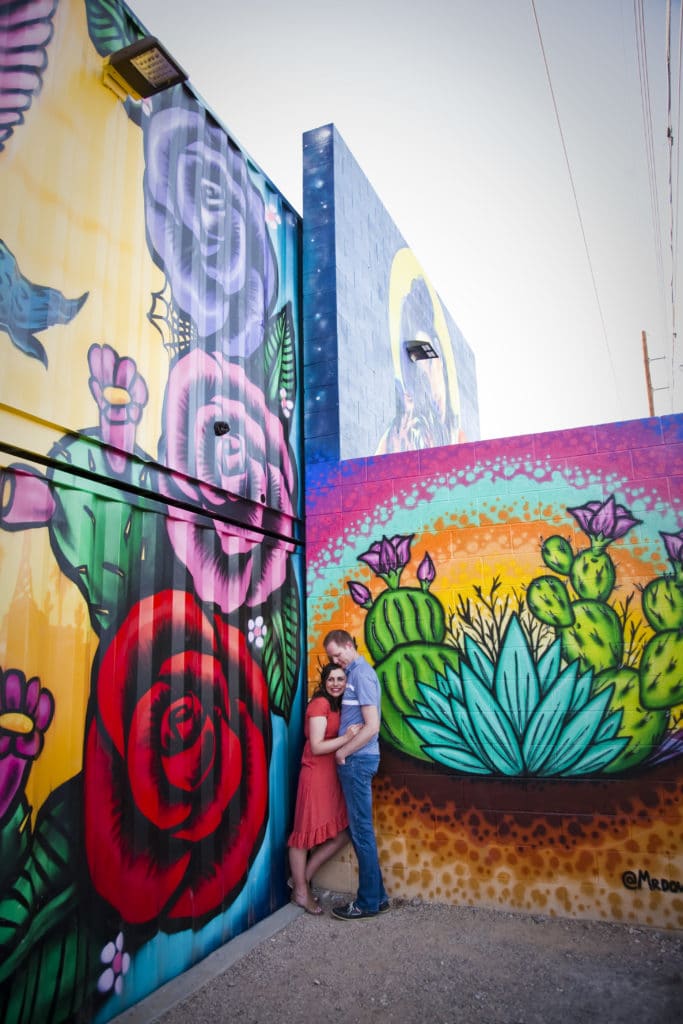 Murals of Phoenix Walking Tour Date Night
Date Info: 
Mural Tour of any major urban area
Price: Free!
Location: Downtown Phoenix, Roosevelt Row, and the Churchhill primarily
Tips: Find a cluster of murals and park near those. Get the most bang for your buck in an art district.
You could also hire an Uber for an hour and have them drive you around to all the locations to cover a lot of ground quickly.
This isn't our first time doing a
murals in Phoenix tour
. I got the idea years ago when I found a list of murals to check out in Central Phoenix. But there's something really beautiful about this date. In most areas, things will change like crazy over the course of a year or two. So you can do the same date again with a completely different experience. That my friends is precisely what we did!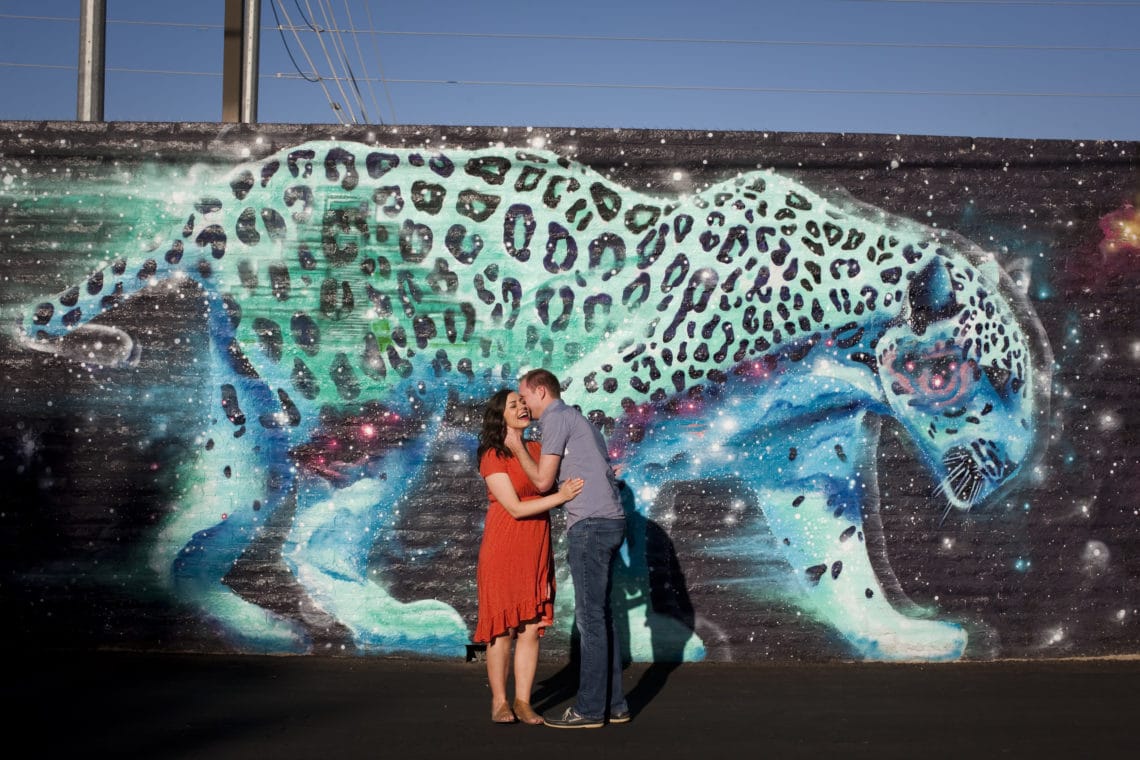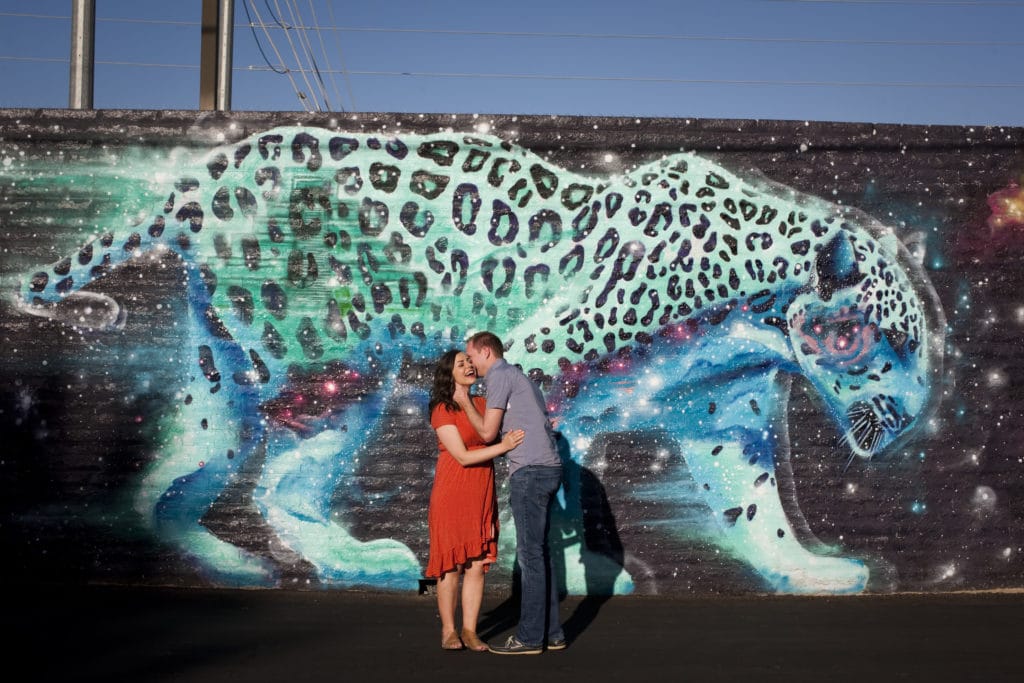 Why Urban Murals Make a Great Date
Finding urban murals makes about the best date! Let me tell you why I think all couples of any age or stage in their relationship should add this to their date night calendar.
– It's FREE!
– It's a super creative and original date you probably haven't done before
– Hello art show, only without the price tag
– It's super Instagram worthy, and worth bringing a camera or even a photographer!
– Expect conversation sparks! You'll find inspiring messages, political statements, jaw-dropping talent, and fun inspiration. Even if you aren't an art lover, this modern take is something everyone can appreciate on some level.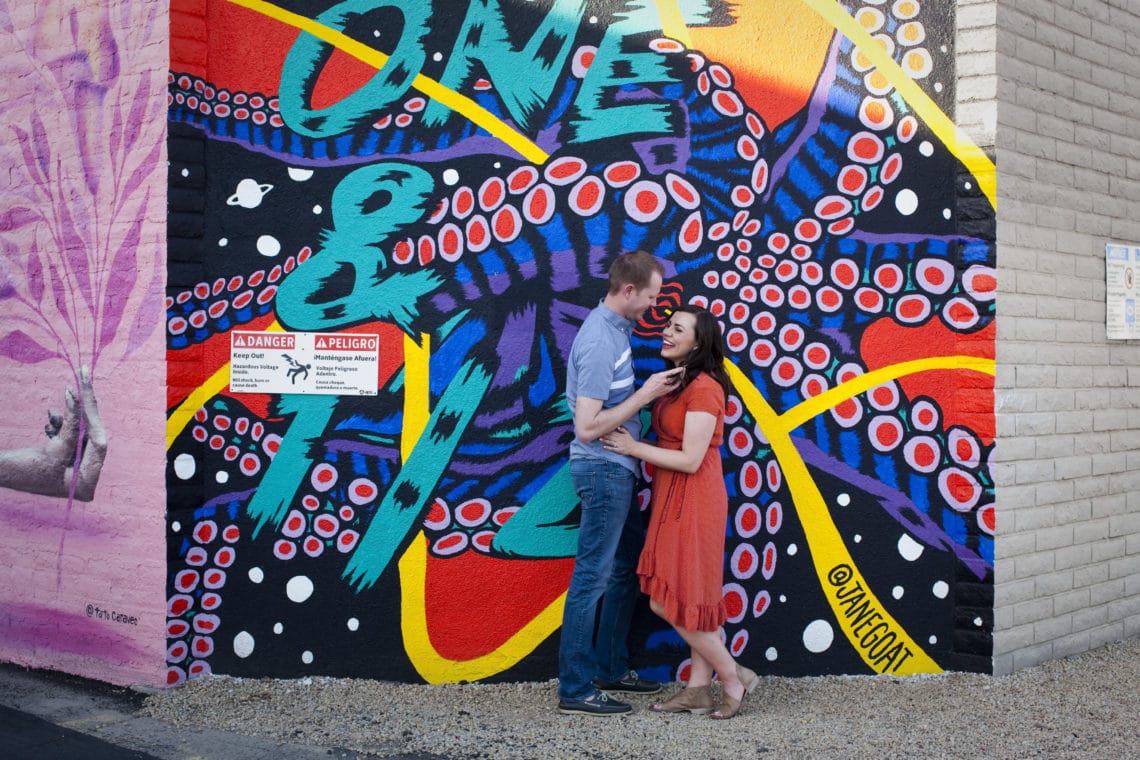 Where are the new Phoenix murals?
The good news is the new Phoenix murals are ridiculously easy to find! With all the current construction, new developments are creating dedicated areas for street art and commissioned murals.
The best new area (in my opinion) is by The Churchill. There are tons of great restaurants and bars and one of the coolest hangout spots in Downtown Phoenix in one place. Just behind the complex is a street filled with murals in Phoenix you can all locate in one place!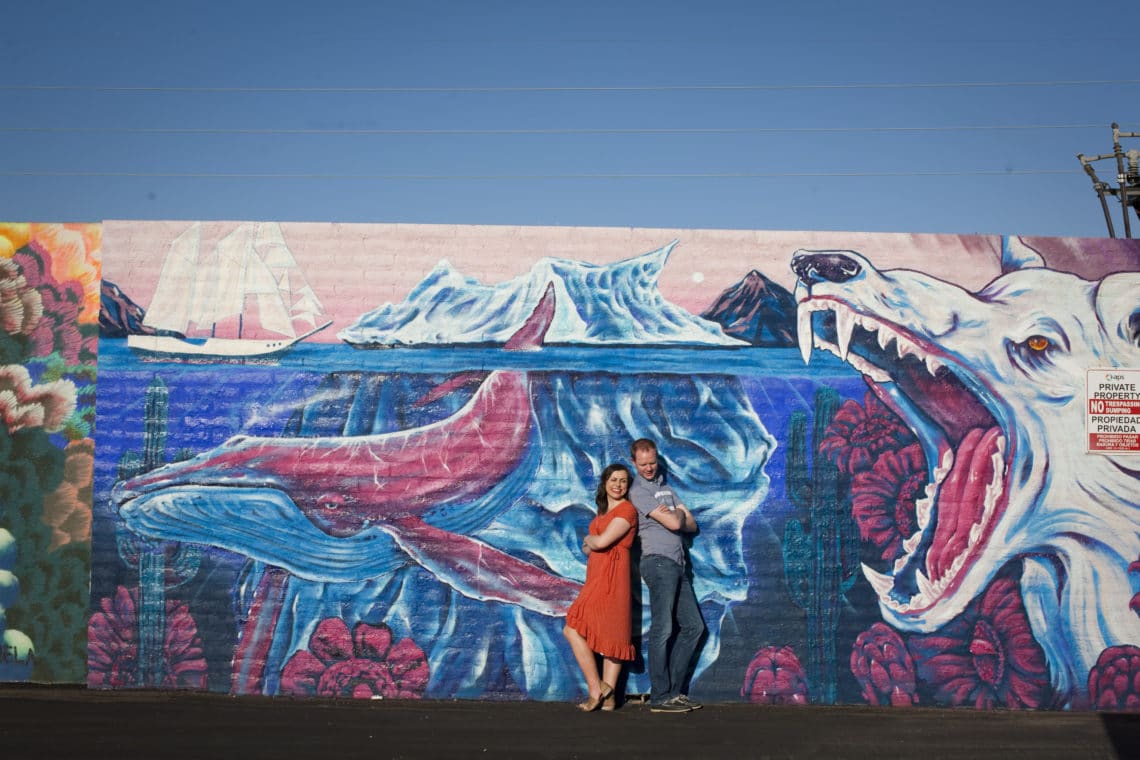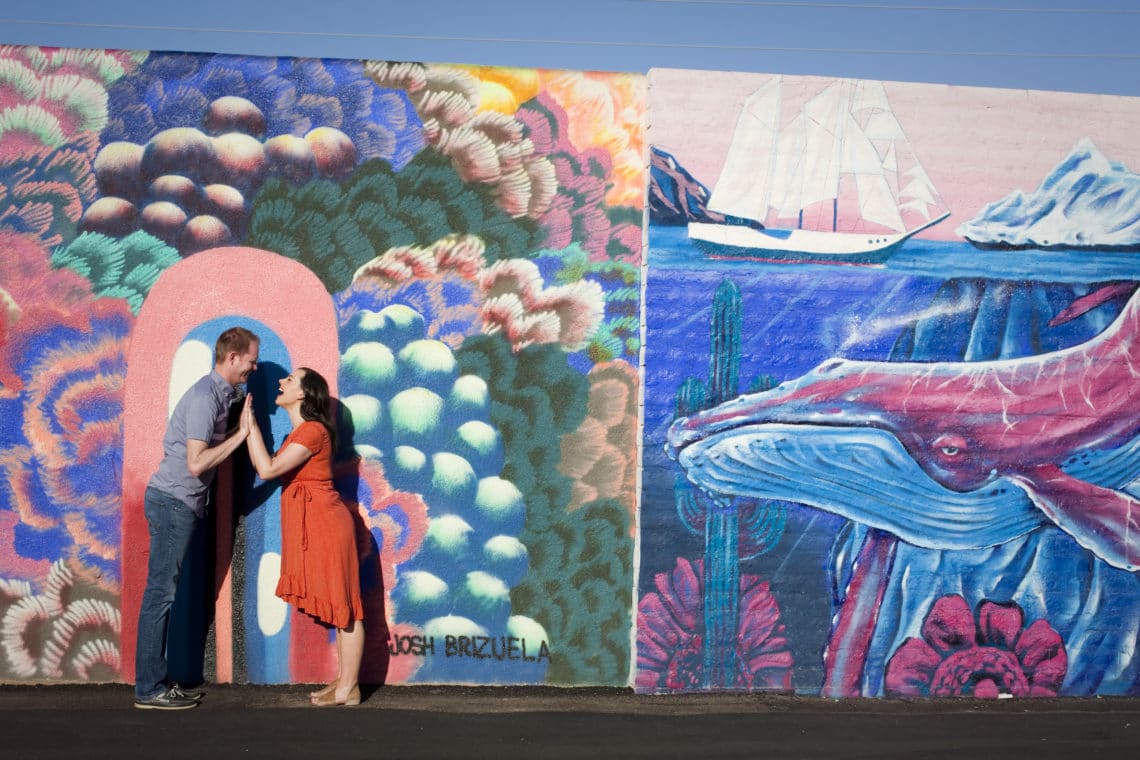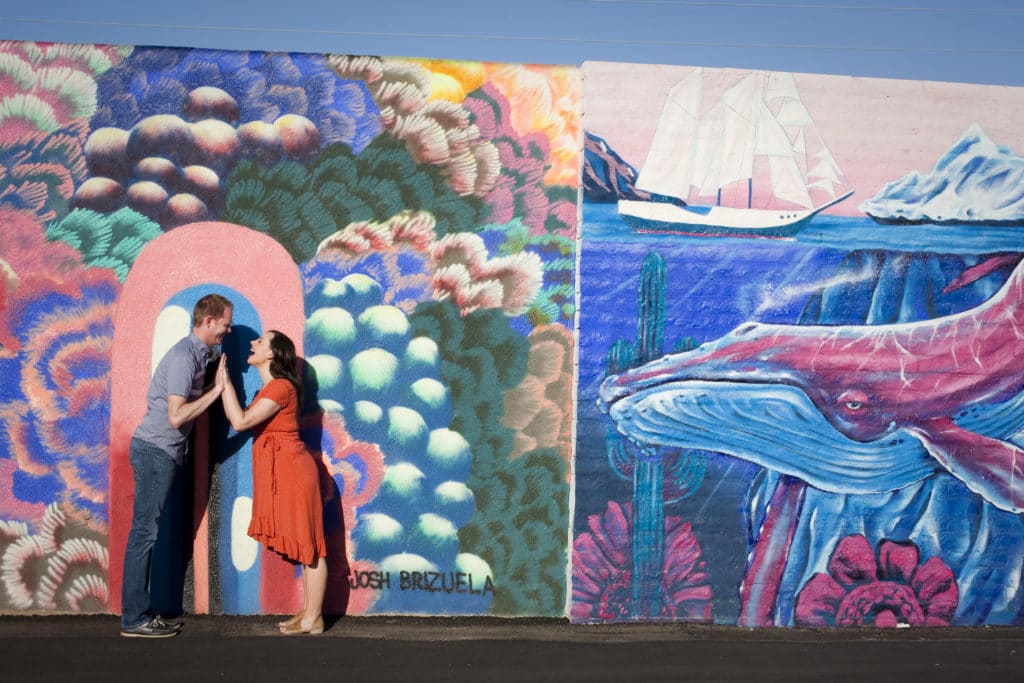 Rosevelt Row Murals
The other amazing location that has the best murals in Phoenix: Rosevelt Row.
The bird mural on Roosevelt Row is the most famous, but don't miss this fun winged addition too!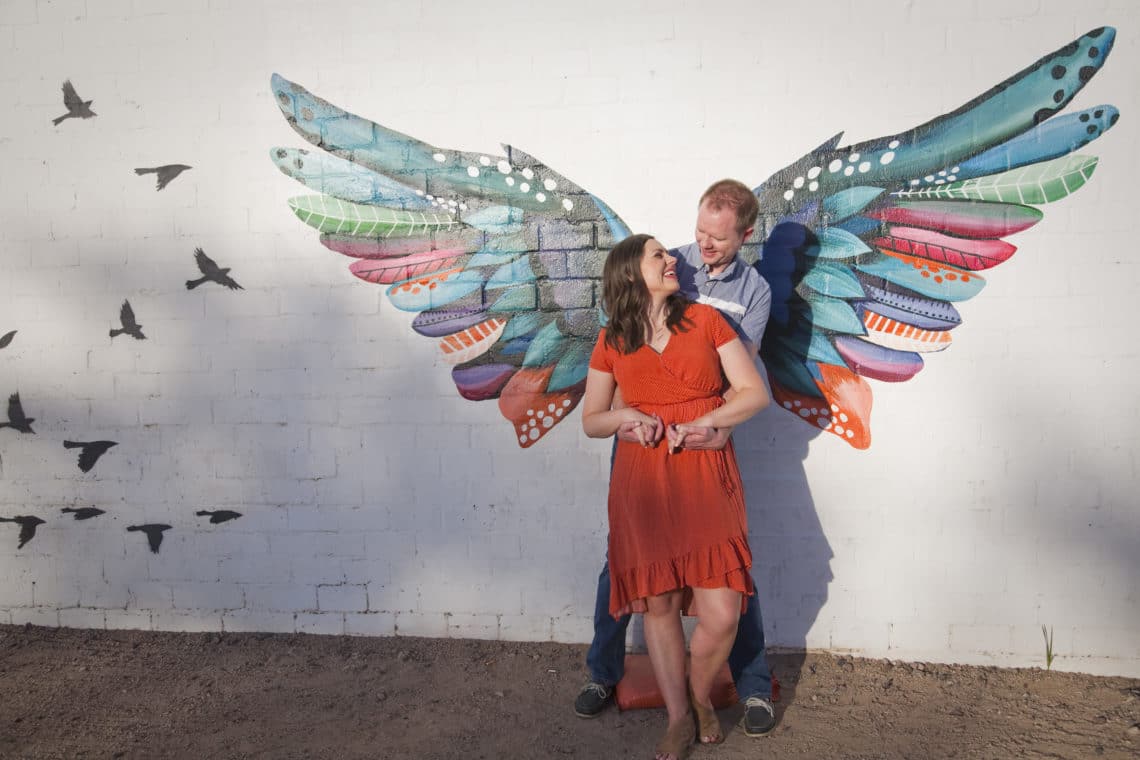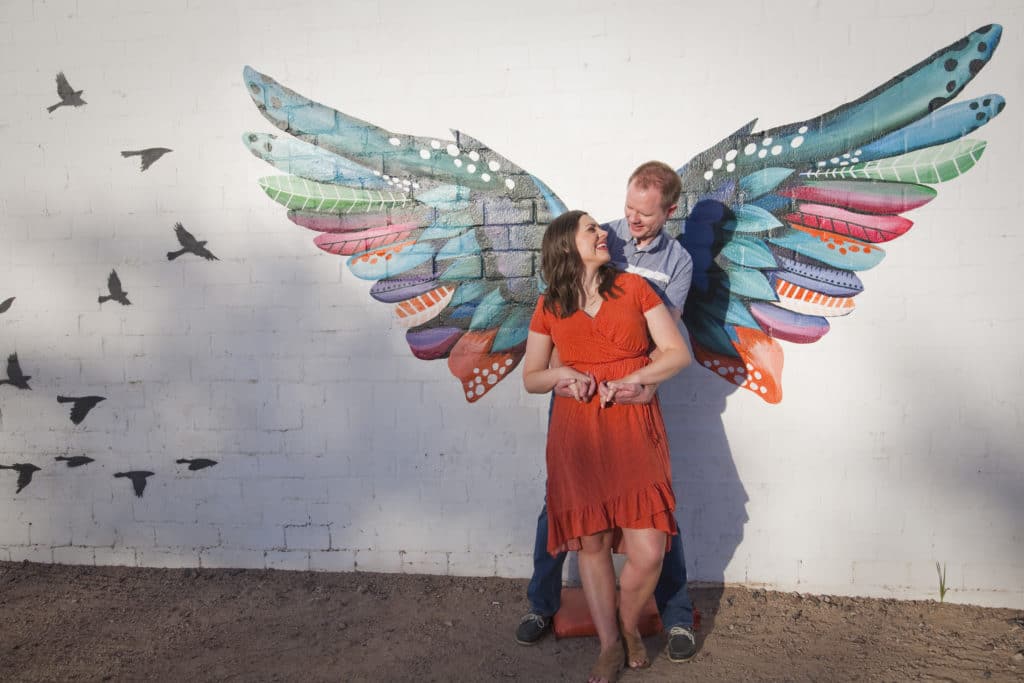 Park almost anywhere near Rosevelt and go ahead and explore the area!
They run from Seventh Street to Seventh Avenue. And you can find several off the main stretch between McDowell Road and Jefferson Street.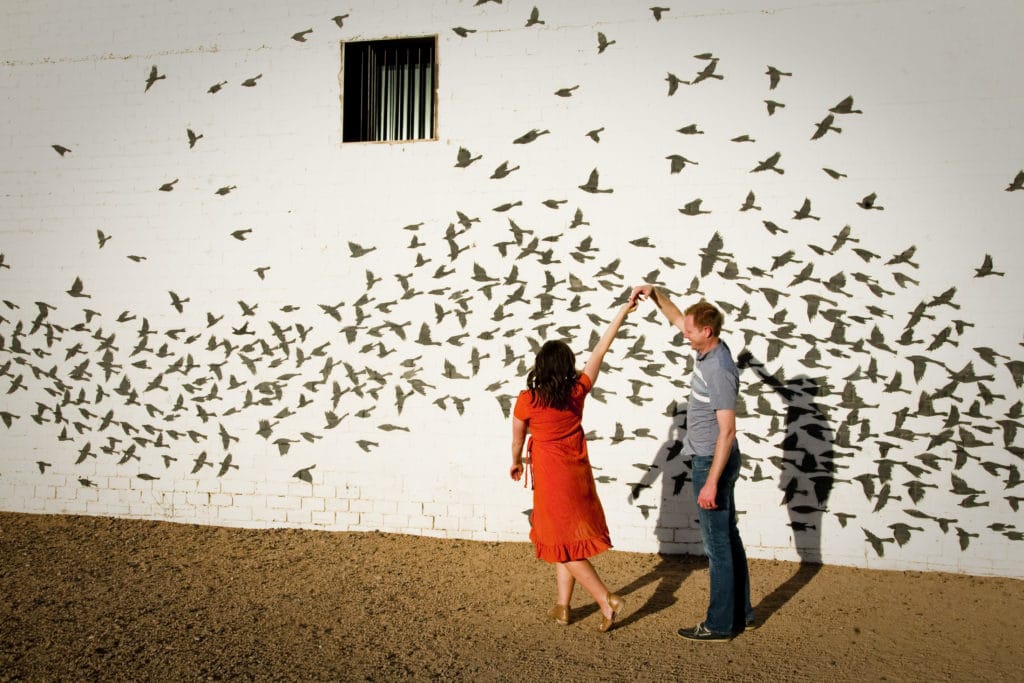 I'm not kidding when I say look everywhere! Almost every building has something on one side. Allys and dumpsters are some of the most bright and fun areas you'll see in the nation. Also, these change all the time. If you have one you love and want in a picture, don't wait!
Roosevelt Row is known as the art district. It's also where many First Friday festivities take place. If you want a true walk and exploration date, I'd recommend hitting it first!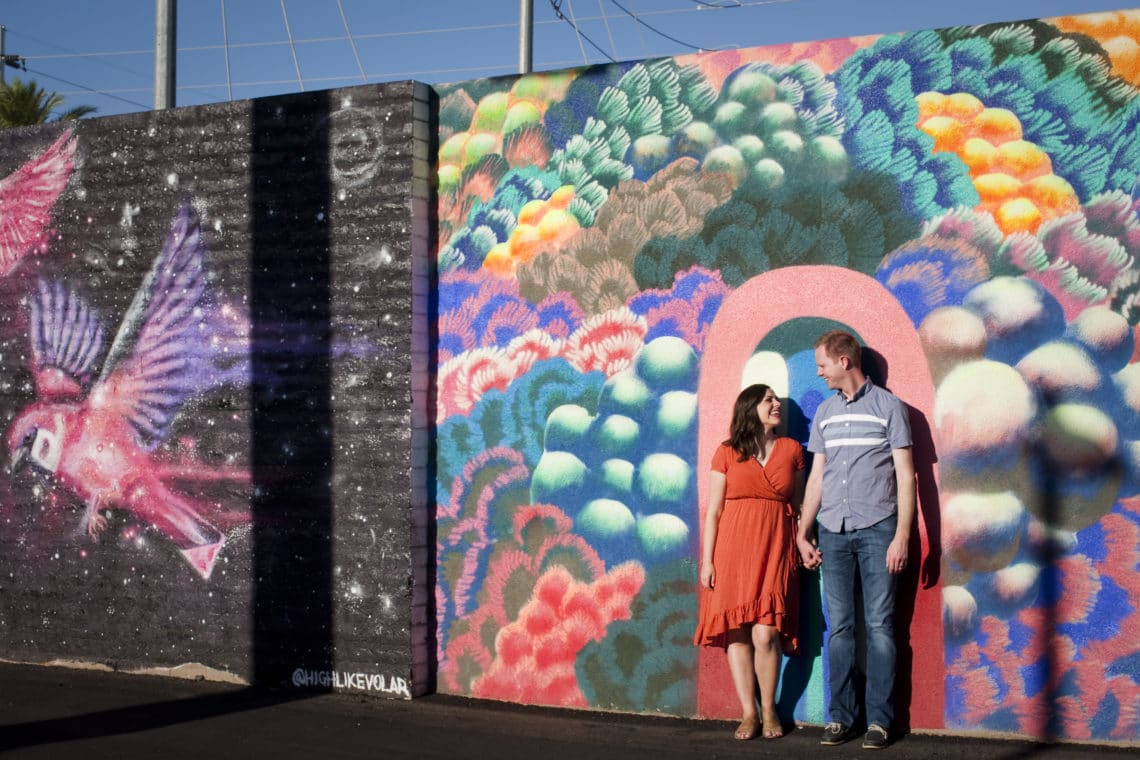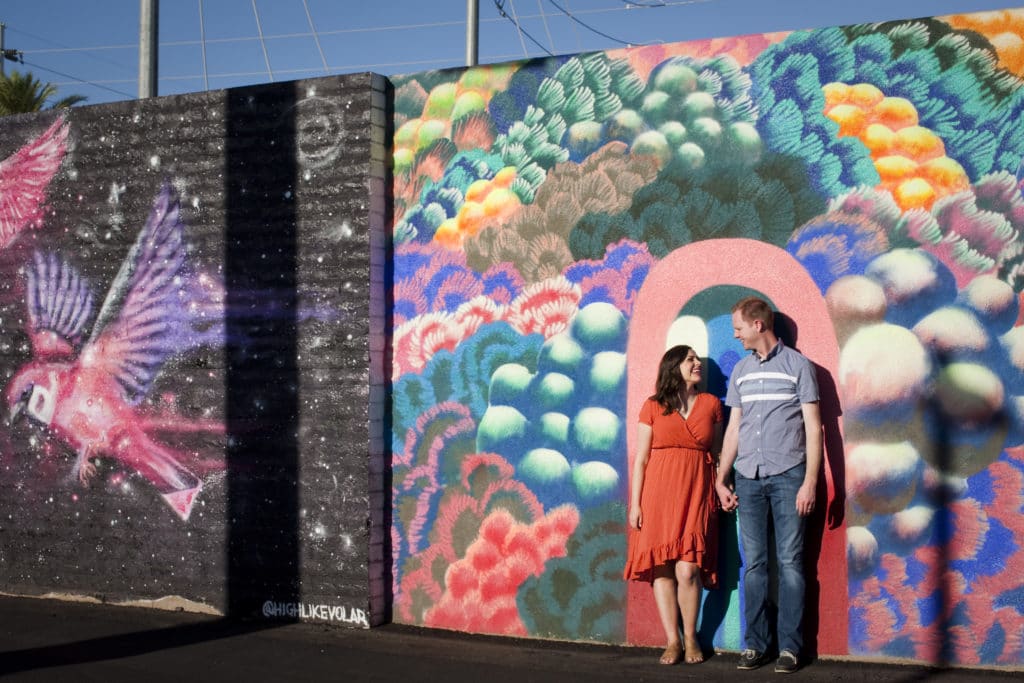 Other places to find Phoenix Murals
I love looking at pictures and finding the hashtag at the bottom. Did you notice several in our pictures? Many artists are leaving their Instagram account handle so you can easily find them and the location of all their work. It's also fun to see what they're currently doing and be ready to be one of the first people to visit new murals!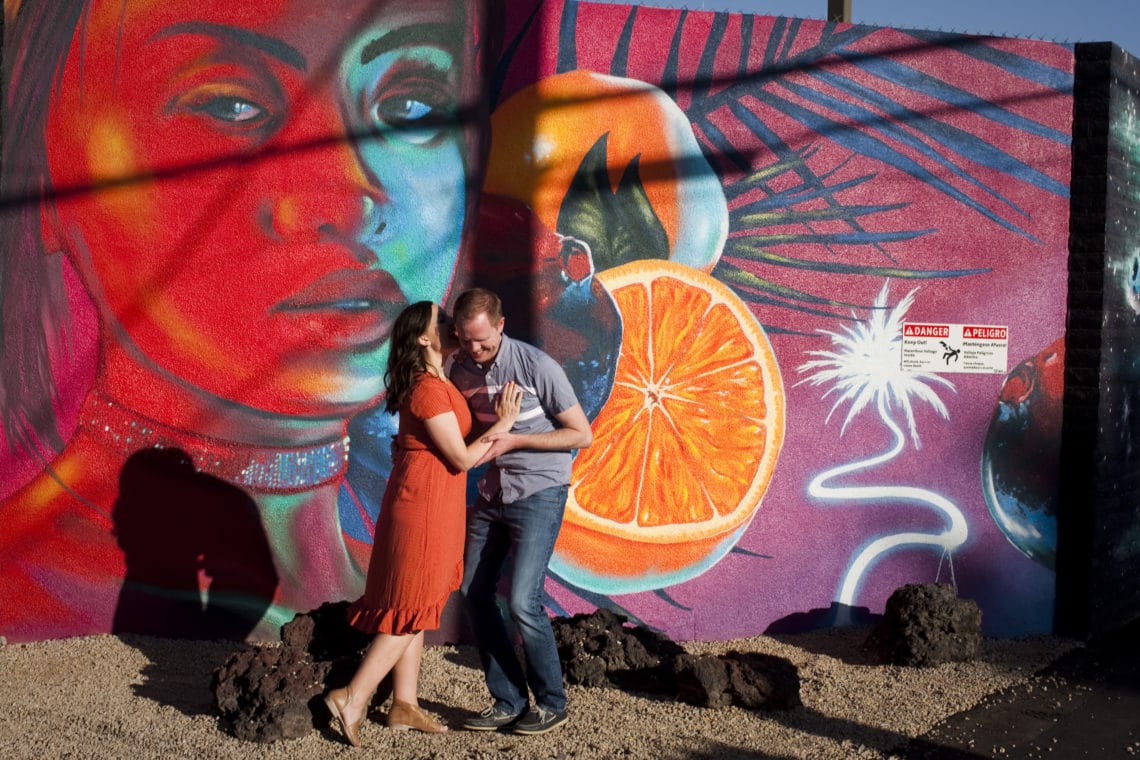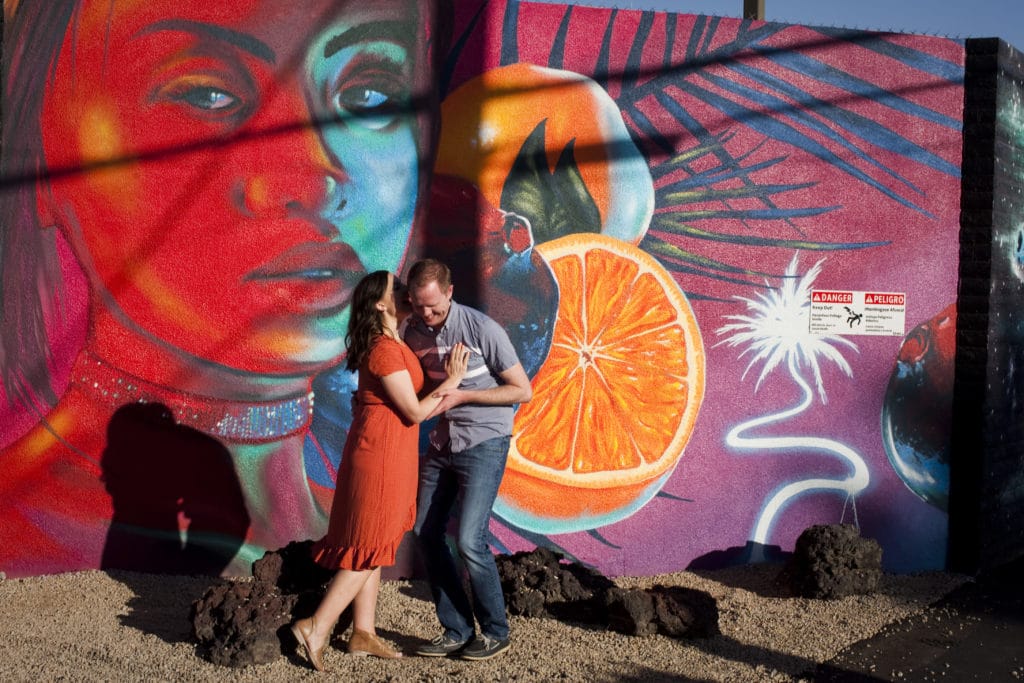 Instagram Murals of Phoenix
I also really love the
@phxmuralproject
account. They share the stories and the latest murals in the area.
And the
@phxmuralproject
maps out exact locations with images to help you decide what you'd love to see.
I'm sure in another year or two we'll be doing this date again! It's always fun, it's always free, and there are new exciting things to see all the time!
Downtown Phoenix, thanks for reminding us that we live in such a fun, colorful place!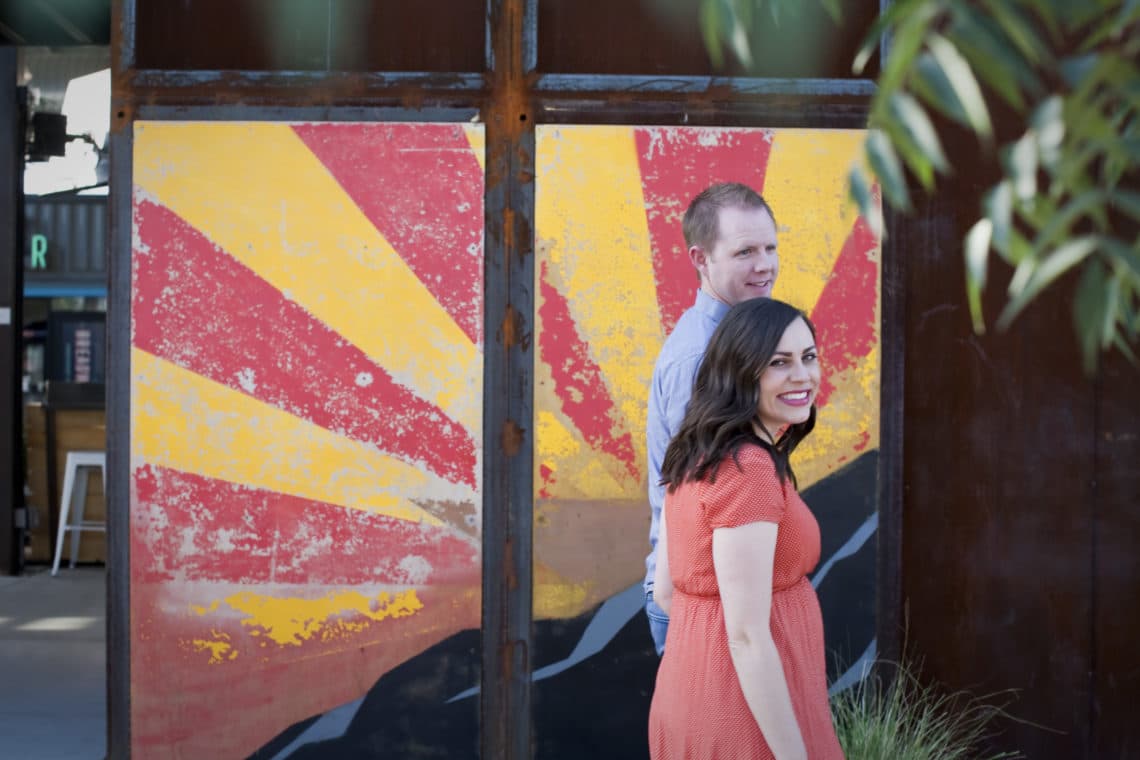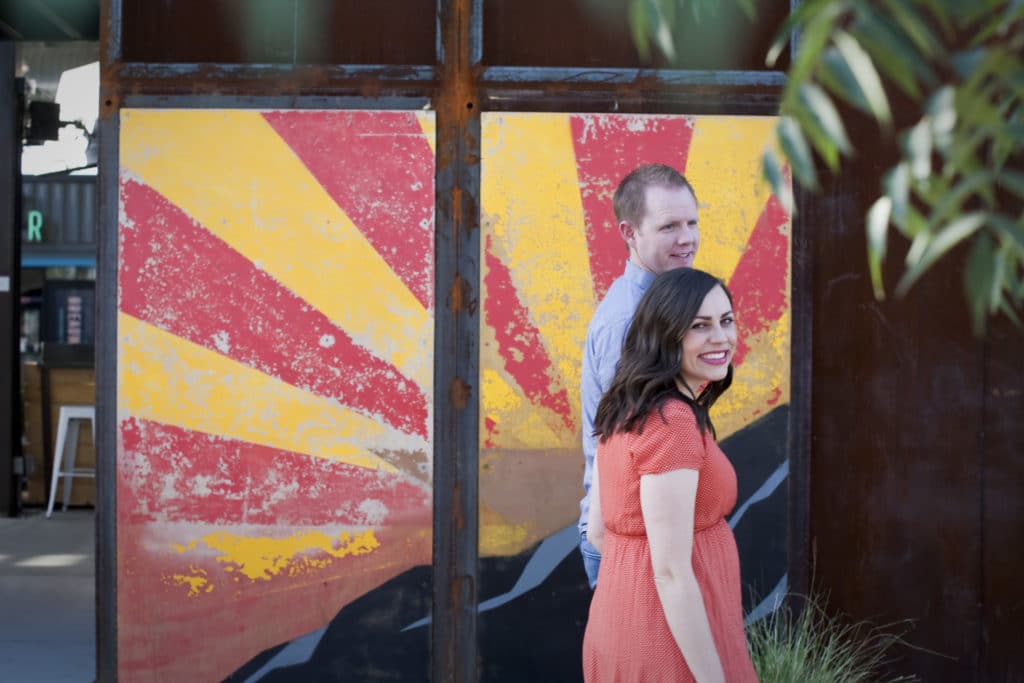 Like this Phoenix Murals date idea? You may like these posts too:
Arizona for Fashion Lovers: Scottsdale Fashion Square
Get 365 Date Ideas!
We want to help you have the best date nights ever! Grab this FREE printable with 365 date ideas, a date for every day of the year so you never run out of ideas!