35 Excellent Movies to Watch on the 4th of July 
​Ready to kick back and watch a movie this independence day? Check out the best 4th of July movies that range from a bit of American history to American classics that give a nod to the United States and are a good time on the 4th of July! 
There are so many things that make America great, and celebrating the 4th of July with a movie-viewing party is a fun way to give a nod to America! Did you know one of our greatest exports is entertainment? I learned that in business school, and ever since I've noticed movie posters. pop culture, and popular music from the U.S. in every country I've been lucky to visit!
Movies to Watch for the 4th of July
Sitting down and celebrating American cinema over the Fourth of July weekend is a fantastic way to enjoy a holiday weekend! From a classic film that portrays benchmark moments in American history to an action film with American themes, and even family-friendly American classics, here are 35 movies that make great Fourth of July movies!
Historical Fiction and Historical Drama Films
This modern retelling of American history took Broadway, and maybe even the entire world by storm! Creator Lin-Manuel Miranda recounts the story of the founding fathers through modern rap mixed with classic Broadway music. Disney filmed the original cast and turned it into a movie for the masses to enjoy. It's one of the most entertaining films you'll ever see, and deeply routed in historical facts and events. It's one of the best movies you can watch on July 4th!
2. 1776
This 1972 musical film dramatizes the days leading up to the signing of the Declaration of Independence. It's a humorous and humanizing look at the Founding Fathers and the beginning of American democracy.
3. Yankee Doodle Dandy
A 1942 classic, this biographical musical tells the life of George M. Cohan, a renowned musical composer, playwright, actor, dancer, and singer. The film's patriotic themes make it a fitting choice for the 4th of July. And when many of the best movies to watch for the 4th of July can feel heavy and dramatic, this is a delightful uplifting choice!
4. A League of Their Own
This 1992 sports comedy-drama tells the story of the All-American Girls Professional Baseball League during World War II. It's a celebration of female empowerment and American perseverance.
5. Glory
This 1989 film tells the story of the 54th Massachusetts Infantry Regiment, the Union Army's second African-American regiment in the Civil War. It's a moving exploration of race, sacrifice, and courage.
6. Pearl Harbor
This 2001 war film offers a dramatic retelling of the Japanese attack on Pearl Harbor and its aftermath. It's a somber exploration of a crucial moment in American history.
7. Hidden Figures
This 2016 biographical drama spotlights the crucial work of African-American female mathematicians at NASA during the Space Race. It spotlights black women historical figures who serve as the hidden figures of American history. It's an inspiring tale of overcoming discrimination and sexism and reaching for the stars. The all-star cast Taraji P. Henson, Octavia Spencer, and Janelle Monáe give some of the best performances of their career in this inspiring film! 
8. Lincoln
This 2012 historical drama, directed by Steven Spielberg, features a powerful portrayal by Daniel Day-Lewis of President Abraham Lincoln during the final months of his presidency. It's a profound exploration of leadership and the fight to end slavery.
9. John Adams (miniseries)
This 2008 miniseries gives a detailed look at the life of John Adams, the second U.S. president. It offers insights into the Revolutionary War and the early years of the United States.
10. Flags of Our Fathers
This 2006 war film directed by Clint Eastwood tells the story of the men who raised the American flag at the Battle of Iwo Jima. It's a thought-provoking exploration of heroism and the power of symbolism.
11. The Patriot
This 2000 historical war film features Mel Gibson as a peaceful farmer driven to lead the Colonial Militia during the American Revolutionary War after a tragic act of violence. The movie offers a dramatic representation of the fight for American independence.
Directed by Steven Spielberg, this 1998 war film provides a visceral depiction of the D-Day landings in World War II. It's a powerful study of duty, honor, and the realities of war. It was nominated for best picture, and Tom Hanks was nominated for best actor, to name a few of the award nominations from this film. It's often regarded as the best historical drama of our time!
13. Born on the Fourth of July
This 1989 biographical war drama film features Tom Cruise as Vietnam War veteran Ron Kovic, who becomes an anti-war and pro-human rights political activist after feeling betrayed by his country. The movie explores themes of patriotism, loyalty, and disillusionment.
14. Apollo 13
This 1995 film recounts the harrowing true story of the Apollo 13 lunar mission. It's a gripping testament to American ingenuity and resilience in the face of adversity.
15. Miracle
This 2004 sports film recounts the story of the 1980 U.S. men's hockey team, who won the gold medal in an unexpected victory against the Soviet team at the Winter Olympics. It's a rousing tribute to one of the greatest upsets in sports history.
16. The Right Stuff
This 1983 epic film chronicles the early days of the U.S. space program and the seven original astronauts of Project Mercury. It's a grand exploration of the courage and ambition behind one of America's greatest achievements.
17. Patton
This 1970 biographical war film provides a compelling portrayal of U.S. General George S. Patton during World War II. It's a study of military leadership and the nature of war.
18. The Great Escape
This 1963 war film is based on the true story of a mass escape from a German POW camp during World War II. It's an inspiring tale of resourcefulness and resilience in the face of daunting odds.

19. Flags of Our Fathers
This 2006 war film directed by Clint Eastwood tells the story of the men who raised the American flag at the Battle of Iwo Jima. It's a thought-provoking exploration of heroism and the power of symbolism.

20. Midway
This 2019 war film depicts the Battle of Midway, a turning point in the Pacific Theater during World War II. It's a visually impressive, action-packed tribute to one of the most pivotal battles in naval history.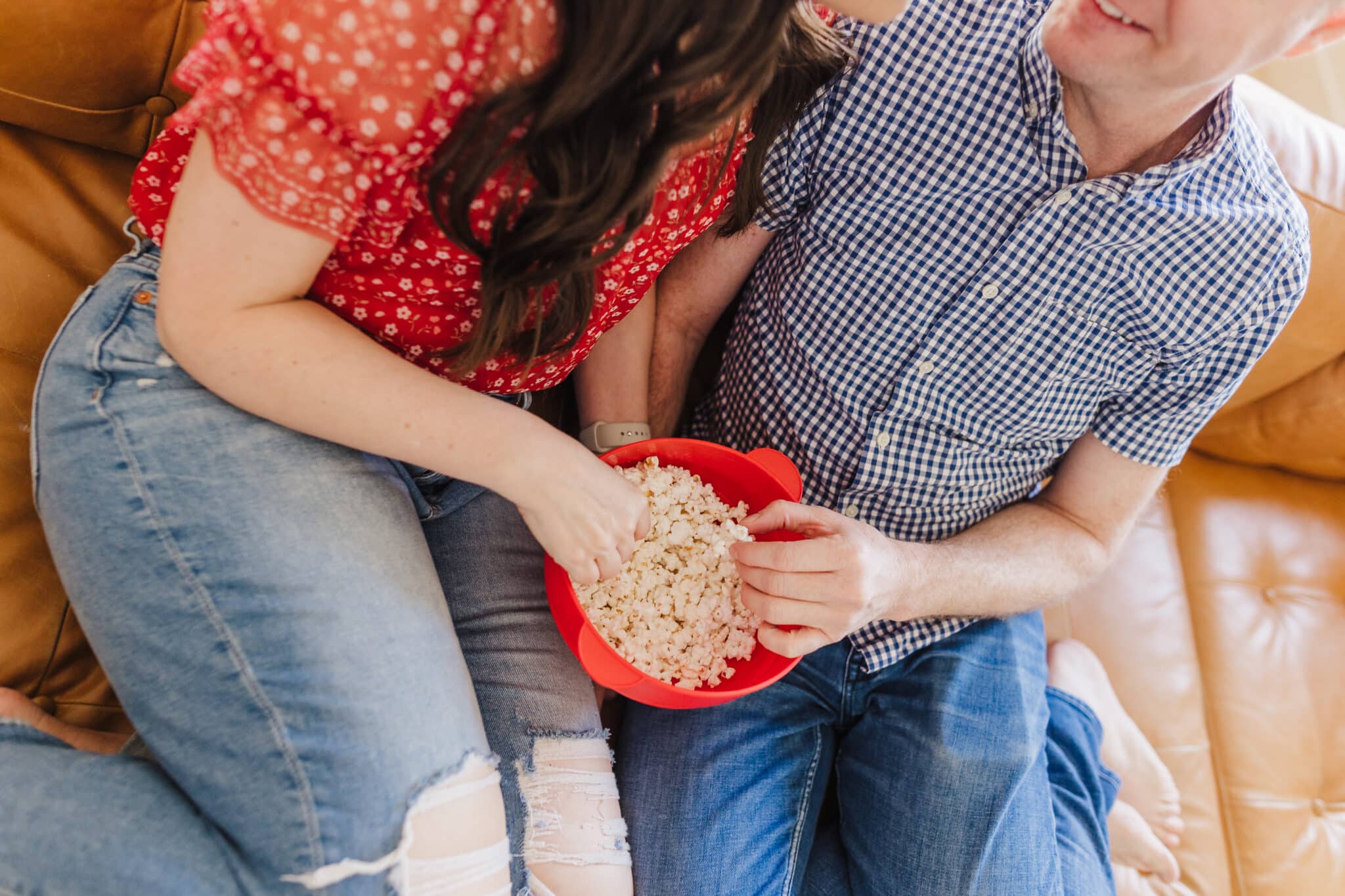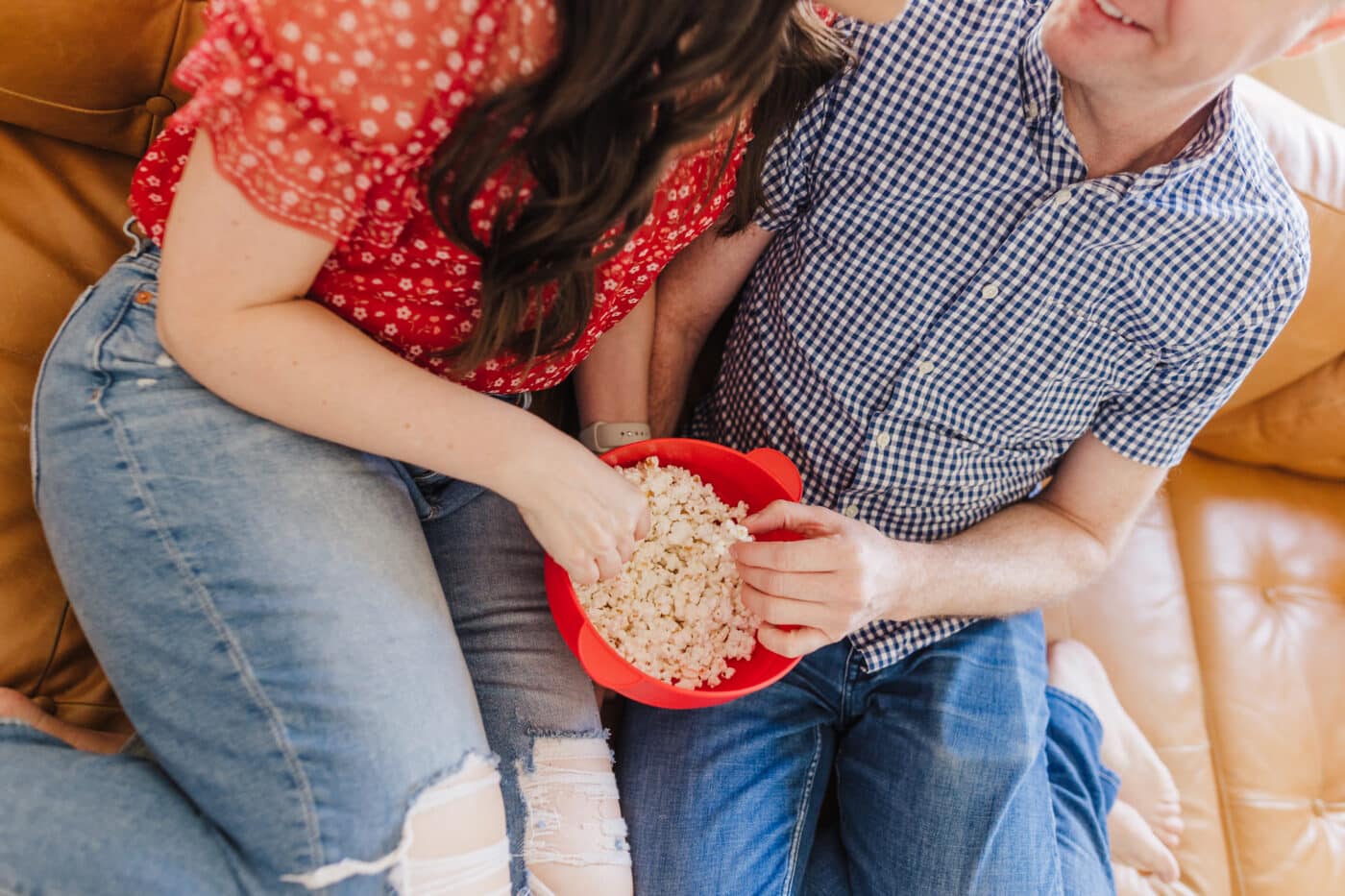 ​U.S. Pop Culture Movies
21. National Treasure
This 2004 adventure film stars Nicolas Cage as a treasure hunter searching for a treasure hidden by the Founding Fathers, using clues from historical documents like the Declaration of Independence. It's a fun and action-packed take on American history.
22. The Sandlot
This is my favorite of all the family-friendly movies to Watch for the 4th of July! Kids and adults alike love this classic American film!
This 1993 coming-of-age sports film is about a group of young boys who spend their summer playing baseball and embarking on various adventures. Its nostalgic depiction of childhood and love for the game makes it a great pick for the holiday.
23. Top Gun
Talk to me Goose! Okay, I couldn't resist that line!
This 1986 action film stars Tom Cruise as a fighter pilot at a prestigious naval aviation training school. It showcases military pride, friendship, and personal achievement.
24. Jaws
I know you may be thinking, Jaws, really? Perhaps followed by the infamous theme song playing in your head. But hear me out, this is a great one for 4th of July weekend!
This thrilling 1975 film by Steven Spielberg takes place around the 4th of July weekend in a seaside town terrorized by a great white shark. Despite its tense moments, the film's setting makes it a 4th of July staple. 

25. Rocky IV
This 1985 sports drama sees Rocky Balboa take on a formidable Soviet boxer during the height of the Cold War. It's a tale of determination and the triumph of the human spirit.
26. Captain America: The First Avenger
This 2011 superhero film introduces audiences to Steve Rogers, a frail young man turned super-soldier who becomes the embodiment of American values during World War II. It's a very Americanized super hero action movie staring Chris Evans. It's a mix of action, adventure, and nostalgia.
27. Captain America: The Winter Soldier
The sequel to The First Avenger, this 2014 superhero film sees Captain America struggling to adjust to modern life while uncovering a conspiracy within S.H.I.E.L.D. It's a mix of thrilling action and political intrigue.
28. An American Tail
This 1986 animated film follows a young Russian mouse who immigrates to the United States and must navigate the challenges of his new life. It's a heartwarming family film about the American dream.
29. The American President
This 1995 romantic comedy-drama presents a fictional U.S. president who falls in love while running for re-election. It's a charming look at personal and political battles in the White House. And it's a favorite of the movies to Watch for the 4th of July for a fun 4th of July date idea!
30. Field of Dreams
This 1989 fantasy-drama film tells the story of a farmer who builds a baseball diamond in his fields after hearing a mysterious voice. It's a heartwarming tale about faith, redemption, and the American pastime.
31. Air Force One
This 1997 action thriller features Harrison Ford as the President of the United States fighting against terrorists who have hijacked his plane. It's a tense ride filled with patriotic spirit.
32. Mr. Smith Goes to Washington
This classic 1939 political comedy-drama film follows an idealistic man who's appointed to the U.S. Senate and battles against political corruption. It's a tribute to American democracy and the power of integrity.
33. Independence Day
This 1996 science fiction film directed by Roland Emmerich is a staple of 4th of July viewings. It follows the global response to an alien invasion, with a climactic counterattack taking place on July 4th. Will Smith plays the ultimate hero, and embodies a true American hero in this blend of action and horror movies.
34. Forrest Gump
This iconic drama from 1994 stars Tom Hanks as the eponymous Forrest, a man with a low IQ and many challenges. Who nonetheless experiences and influences many historical events in 20th century America. It's a touching and often humorous exploration of American history and values. It also won Tom Hanks an Academy Award for best actor. And most will agree it is well deserved and one of the most quoted movies of all time!
35. Top Gun: Maverick
This iconic drama gets a reboot that's completely original while still honoring the characters and stories of the original Top Gun. Maverick is still pushing the limits and must train a special forces team to complete a nearly impossible mission. This was the top film of 2022, and is still going strong as a beloved modern American classic! 
Like this 4th of July idea? Be sure to check out these posts too:
4th of July I Spy Free Printable
How to Make Your Own Outdoor Movie Theater
Get 365 Date Ideas!
We want to help you have the best date nights ever! Grab this FREE printable with 365 date ideas, a date for every day of the year so you never run out of ideas!