Talk to me Goose (err…maybe Rooster)! How to pull off a Top Gun costume with links and ideas to channel your inner Maverick!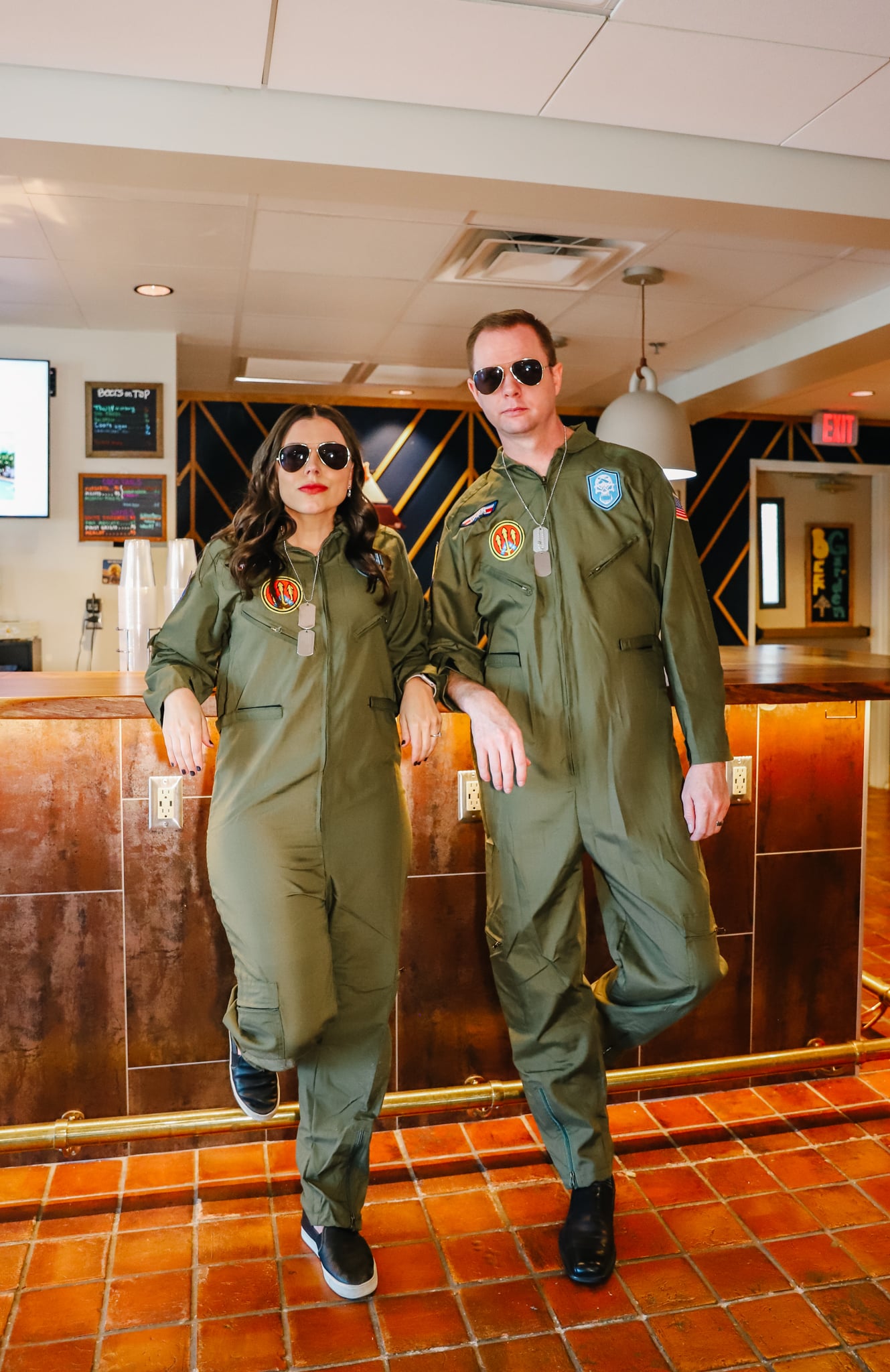 One of the most popular Halloween costumes since 1986 has been a Top Gun costume. Add in the record-shattering popularity of the 2022 movie: Top Gun Maverick and you've got a costume that's going to be a hit for another 30 years!
If you're looking to channel your inner Tom Cruise/Top Gun fighter pilot, here's how to pull off and rock a Top Gun costume for your next Halloween party!
How to Get the Top Gun Look:
You have two looks you can roll with here. Either works great as an interchangeable Maverick look.
Pilot Maverick
Here are the essentials: Grab the pilot jumpsuits, some dogtags, a pair of boots, and some aviators and you're all set!
Bomber Jacket Maverick
This consists of white shirt, aviator sunglasses, and you guessed it, bomber jackets. You get bonus points for driving in on a motorcycle.

Top Gun Couples Costume
The only thing better than an excellent Top Gun Halloween costume is pulling off a Top Gun couples costume!
We opted to go with two fighter pilots in flight suits. It's just a comfy jumpsuit with patches perfect for both of you to rock!
I mean there are tons of characters you could represent as pilots!

Here is the fighter pilot suit we used for our costumes. They were great quality and had quick shipping methods if you need a last-minute costume.
Maverick
Iceman
Rooster
Phoenix (hello female fighter pilot- I was here for this one!)
One note on this one, they make women's Top Gun costumes with a tighter cut jumpsuit. If you want to go that route, you do you! I ordered a small men's Top Gun flight suit for two reasons. One, I wasn't trying to make this a sexy Top Gun costume. Just not our vibe. But most of all, Phoenix is a pilot, and she wears the standard issue Navy's fighter pilot uniform. I wanted to be true to her look, and that means a men's flight suit was in order.

Hangman
Fanboy
Payback
Coyote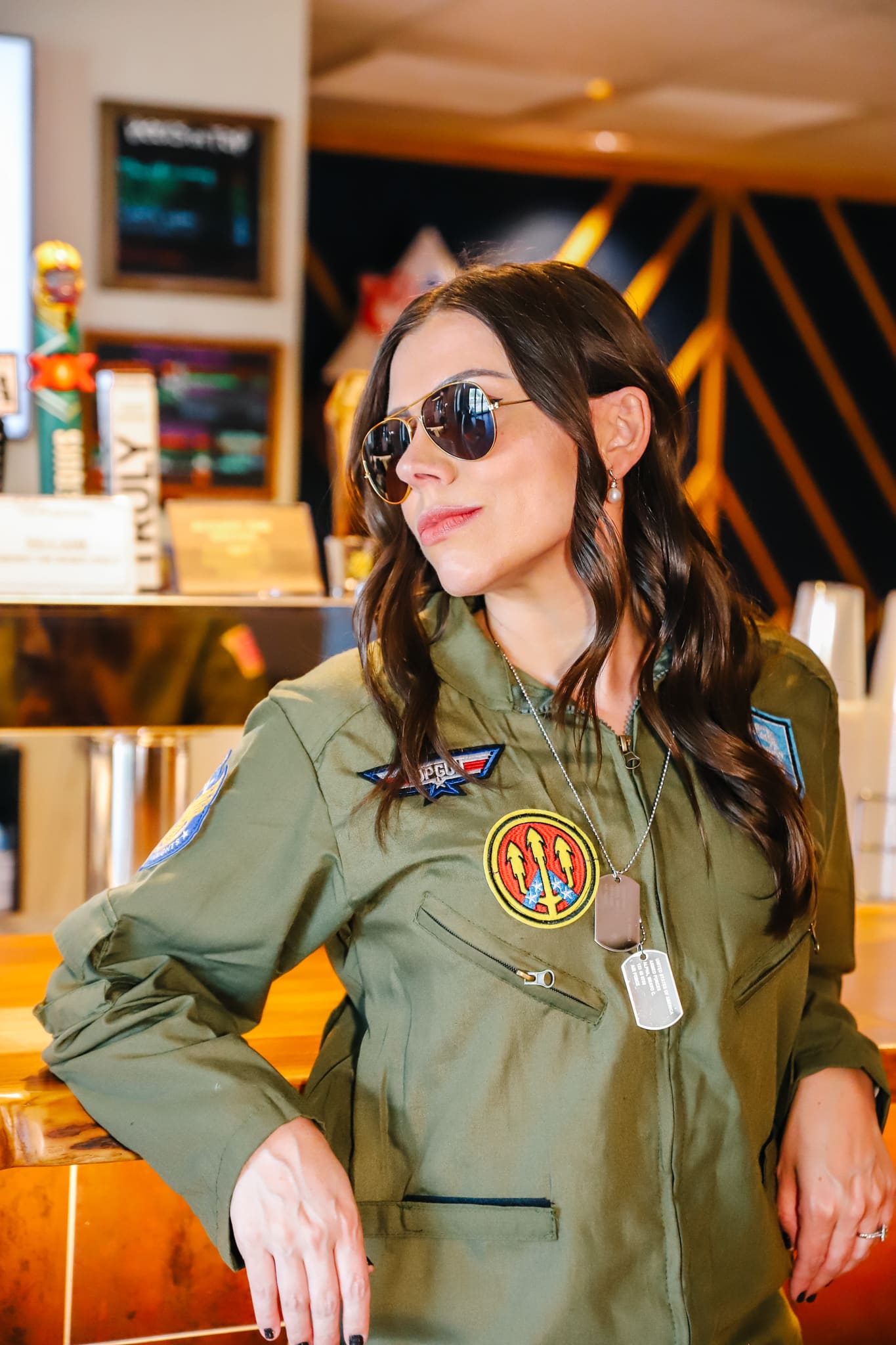 Here are a few more fun ideas to add to your Top Gun Costume DIY:
Top Gun Hat
Fight Pilot Helmet
Talk to Me Goose T-shirt
Need for Speed T-shirt
Navy's Fighter Weapons School shirt
Another fun idea is to add Goose from the original movie! Think of the Hawaiian shirt and aviators Anthony Edwards rocked in the Great Balls of Fire scene. But the coveralls and pilot's suit with a Goose name badge are a great option too!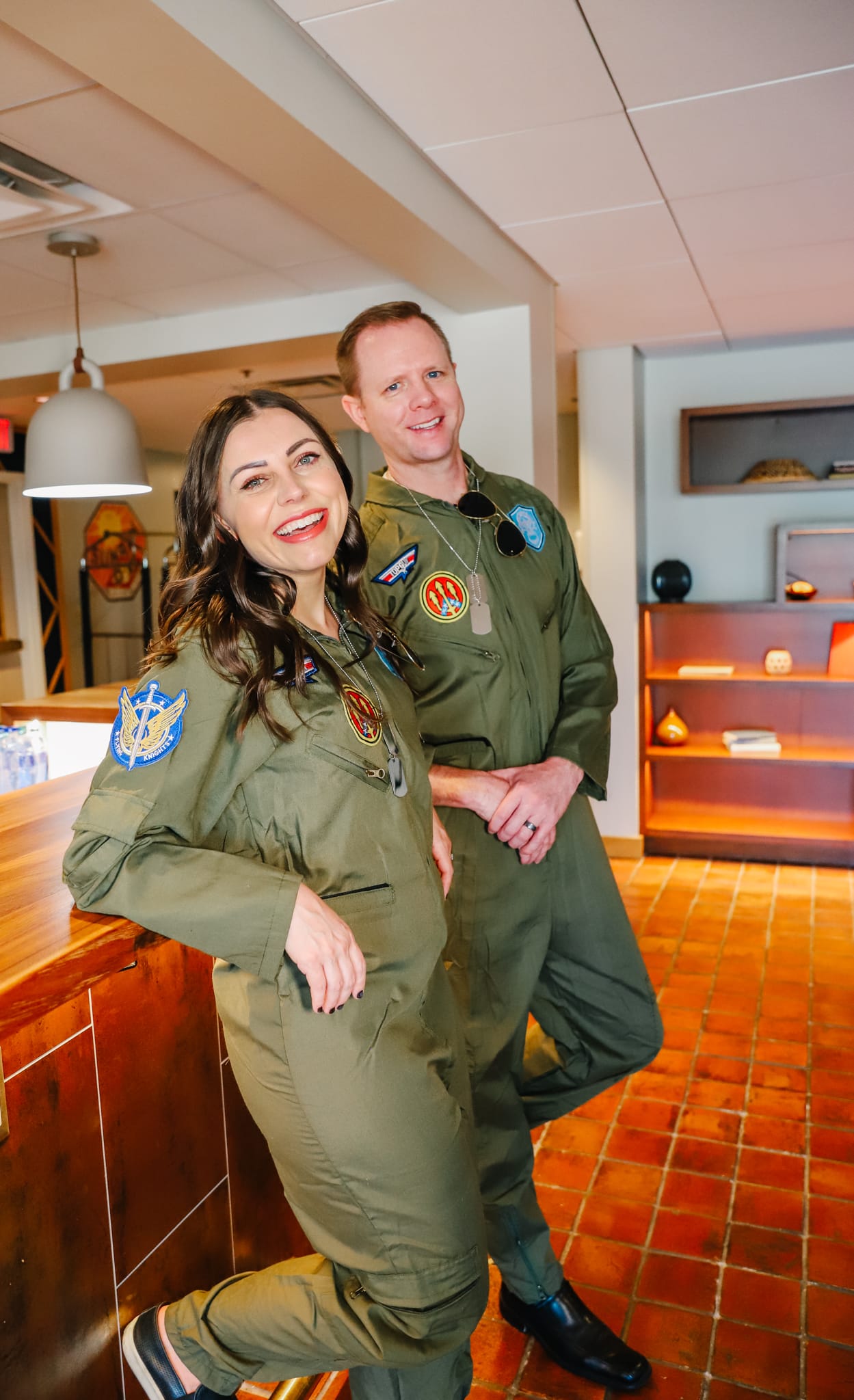 Top Gun Couples
Another fun DIY Top Gun Costume for couples would be to represent the main character and his love interest.

In Top Gun, Charlie Blackwood is the love interest. She rocks a bomber jacket with patches, a white shirt, and a black pencil skirt. Here are the pieces you need to pull off a Kelly mMcgillis top gun costume


In Top Gun Maverick, that's Penny Benjamin. A classic camel leather jacket with a zipper over a white shirt and jeans is the perfect look!
Like this fun couple's costume idea? Be sure to check out these posts too!
Carmen Sandiego and Where's Waldo Couple's Costume
100+ Disney Couple's Costume Ideas