Couple's Halloween Shirts
A roundup of cute Halloween shirts for couples: fun Halloween designs and couple's Halloween shirts you'll want to rock this spooky season!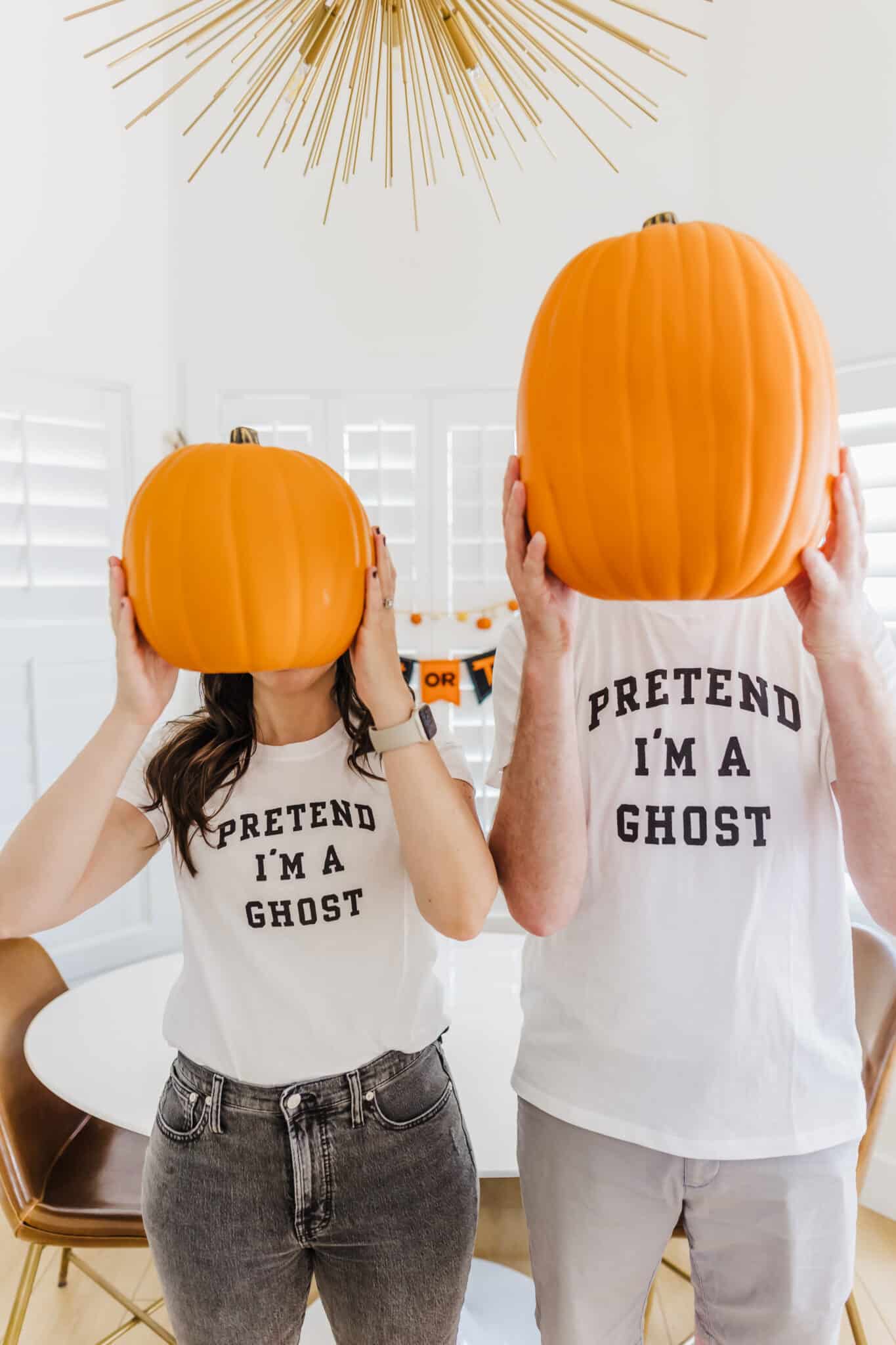 With spooky season officially in session, it's time for all the Halloween activities and events! But sometimes you need something low maintenance that screams festive fun that you can still throw on with a pair of jeans. Enter Halloween t-shirts.
Halloween Shirts for Couples
And you know what makes a Halloween t-shirt even more fun? When you match with your boo and wear couple's Halloween shirts.
Before you think this is too cheesy or your partner may never go for it, let me tell you there are tons of modern takes, funny puns, and cute ideas. Also, it's a great alternative to dressing up in a full Halloween costume.
There's definitely a place for a great couple's costume (and we have 150+ of them if you need some cute couples Halloween costumes idea!). But there's also a great place for a classic cotton t-shirt with a little festive fun!

Couple's Halloween Shirts
Here are a ton of great couple's Halloween shirts perfect for Halloween events, Halloween date nights, or a more casual Halloween party!
We've found a bunch of great options and resources you'll definitely want to checkout!
Great Couple's Halloween Shirts Easy and Affordable His and Hers Classic Halloween T's
Old Navy is rocking matching t-shirts for duos and families this year! They're also rocking size inclusion. So you and your better half can find shirts from xs-4x at the same SKU and the same price.

You'll find tons of options from different sellers. And it's hard to beat the free shipping!
The best part about Halloween shirts from Etsy is the endless options! I love that you can find a style and can customize the color. It's surprisingly great to have the option for solid colors, heather colors, and customizable sayings.

In fact, you can easily do a t-shirt costume idea where you just order a shirt with the name of your character. I mean why not make a hot pink Barbie shirt and an electric blue Ken shirt? Choose your two main characters that go together, and turn it into a great couples costume. Bless Etsy, you can find shop owners happy to help to DIY the duo shirts of your dreams!

This was a fun surprise find this year! Michael's released a line of Halloween shirts that come in a unisex sizing that works so well as couple Halloween shirts.
I hope this helps you find some great couples' Halloween shirts to rock all October! They really are such a fun and simple way to add some Halloween festivities into the month.
Like these fun couples Halloween shirts? Be sure to check out these posts too:
Where's Waldo and Where's Wenda Costume