Where's Waldo Costume DIY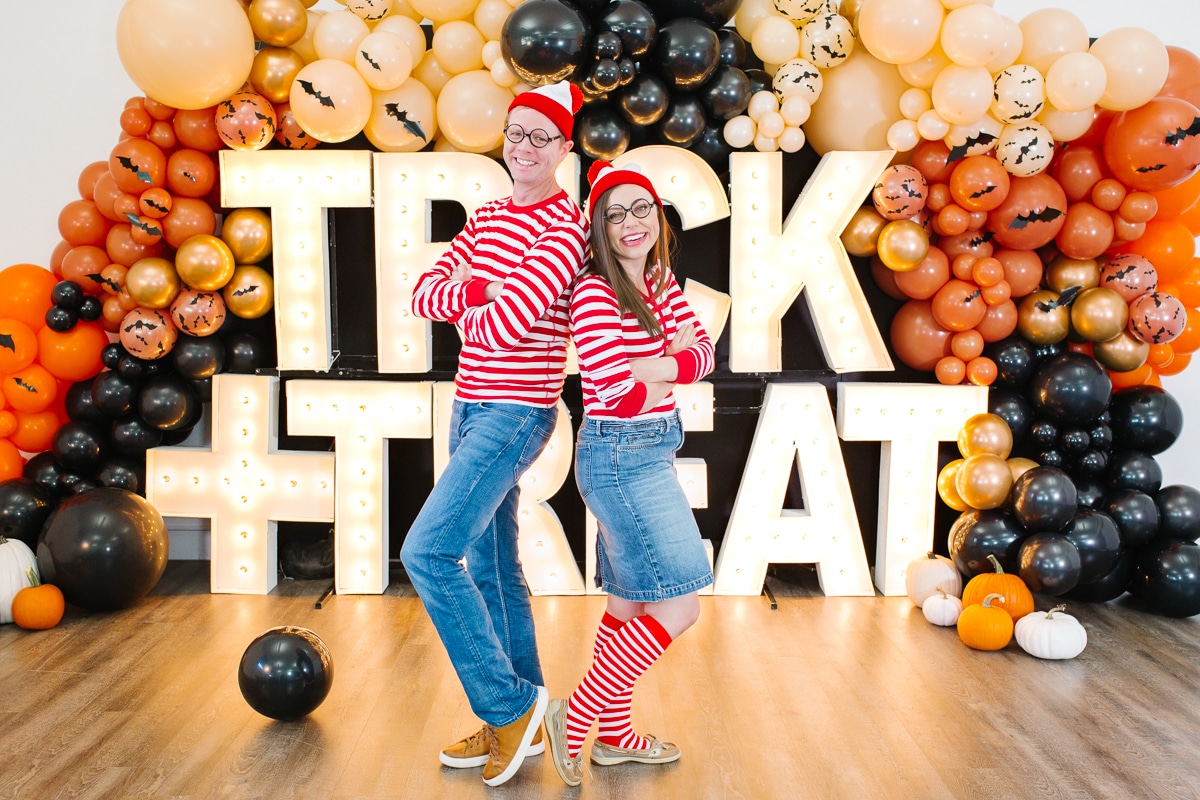 If you need a very easy, very fun, and maybe even last-minute costume idea, a Where's Waldo Costume DIY has your back! Alternatively, you can be the female lead and go for a Where's Wenda Costume too!
We were lucky enough to be invited to check out the popup Halloween backdrop at The Gray Atelier studio. We'd already shot our Guardians of the Galaxy costume for the year. But we'll never be one to pass up Vikki Colvin's offer to check out her creative genius and fun collaborations in her space!

I turned to Jacob and I knew we needed a last-minute Halloween costume fast! When I started to dig around on Amazon I realized a few key pieces were all it would take to pull off a Where's Waldo costume or a Where's Wenda costume!
Where's Waldo Costume Ideas
I love that you can easily create this costume for adults or kids. It's a fantastic group costume too! Plus, it's so easy to pull this outfit and the accessories together!
Start with a pair of jeans, brown shoes, and a striped shirt. If you need shirt ideas, check out the list below!
Where's Wenda Costume
Wenda costumes are equally easy to pull together! The base is the same with one change. Wenda wears a denim skirt. She also often carries a camera. Swap out pants for a skirt and grab some striped knee socks. Grab a camera you have on hand and follow the other must-have items from the list below.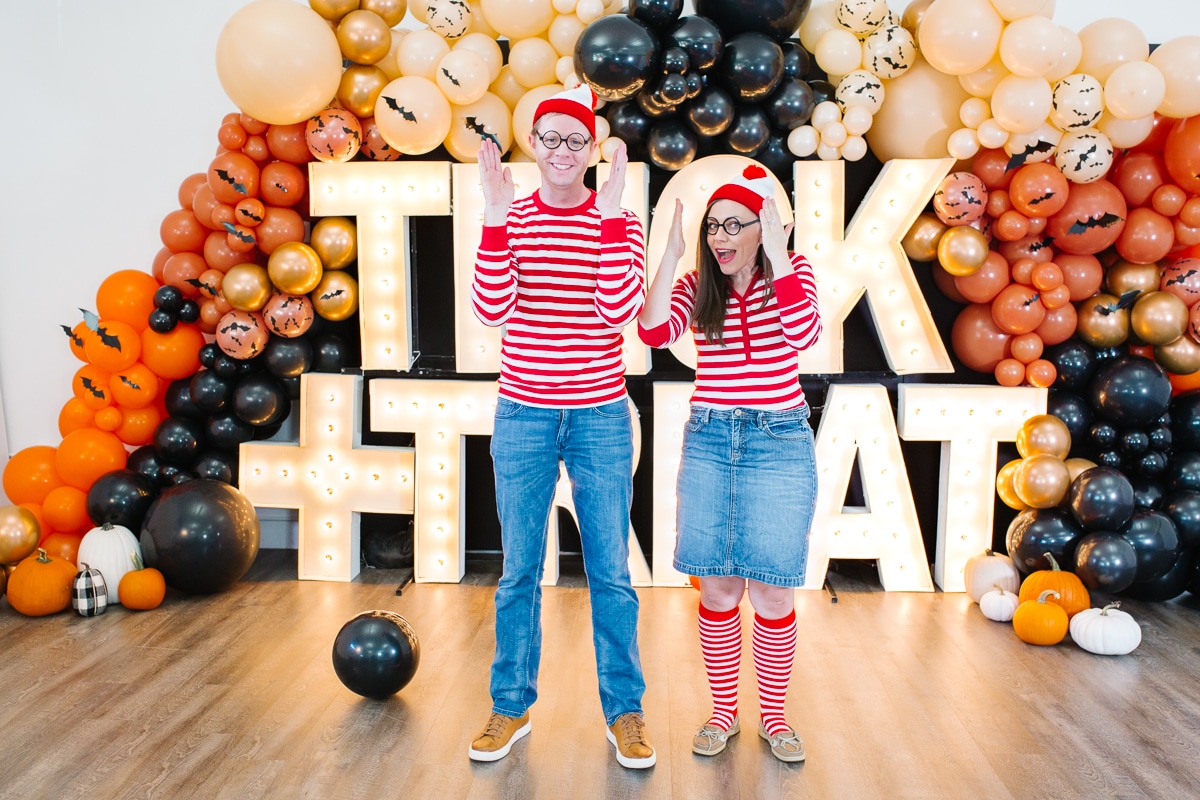 Where's Waldo Costume DIY
Here's a roundup of the items you need to pull off a Where's Waldo costume DIY! Including a Where's Wenda Costume and Where's Waldo kids costumes with complete outfits and accessories needed.

Waldo and Wenda both wear a ski style hat with a white base and red trim/red pom. We found a really inexpensive two-pack.

A round set of black glasses are perfect for a Where's Waldo costume! And this pack of two is super affordable and ships quickly!

You may have some of these are home! But here's a quick checklist of what you need to pull off a Where's Waldo Halloween Costume.
In summary, you need the following items:
A white beanie with a red stripe and a red pom-pom on top.
A red and white stripe shirt. Aim for a long sleeve shirt.
Blue jeans or a blue skirt if you're dressing as Wenda (sometimes called Wilma).
Circular frame glasses with a black rim.
Bonus costume accessories:
Waldo's magic walking stick/cane
A black camera that can be worn around the neck
A brown satchel
Bonus Character Ideas:
Include your dog and have them dress as Woof!
Waldo's nemesis Odlaw. Odlaw is the villain of Wally in the Where's Waldo tv-series, video games, and movies.
Wilma: Waldo's twin sister who dresses much like Wenda.
Bonus Waldos! He's everywhere so why not include your toddler, older kids, or turn it into a group costume?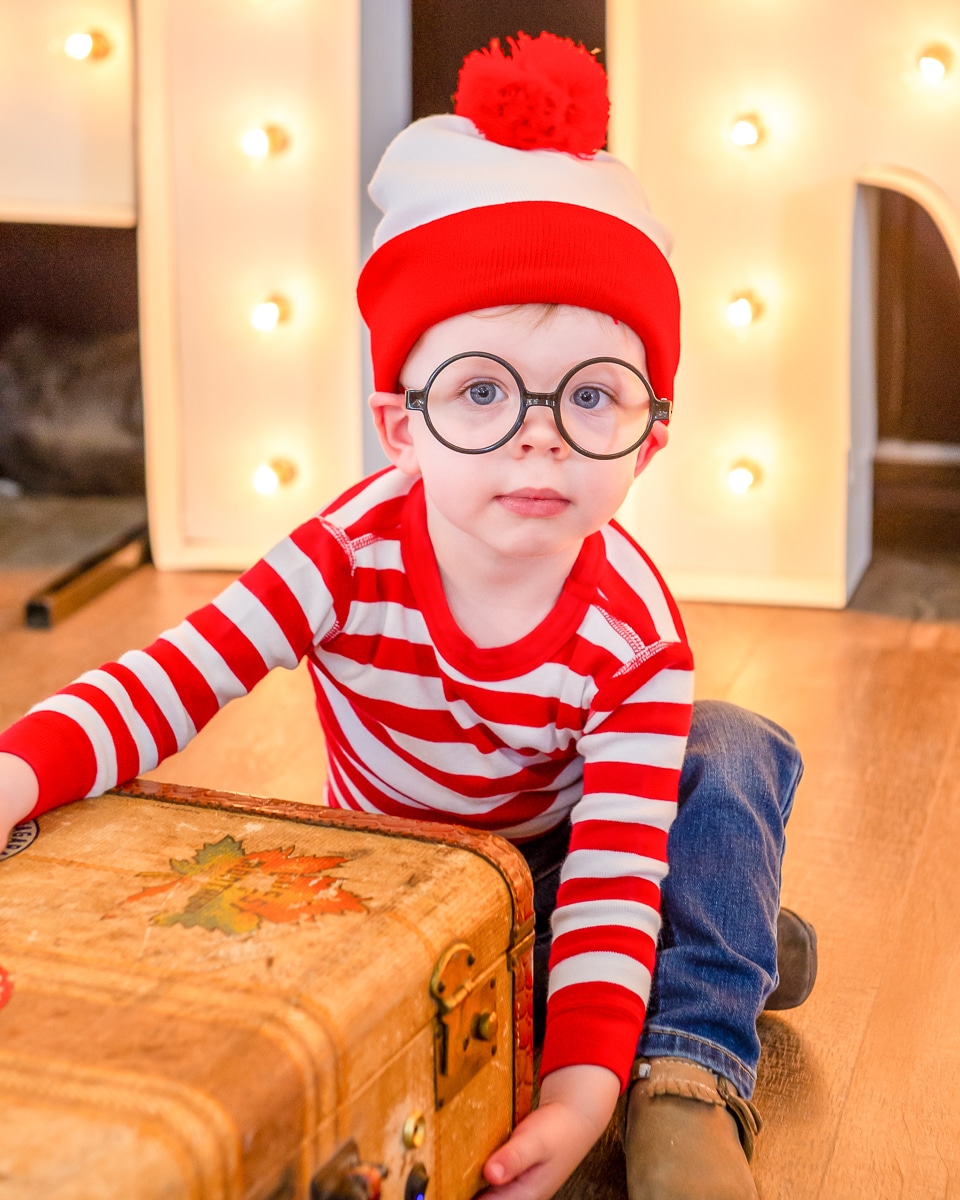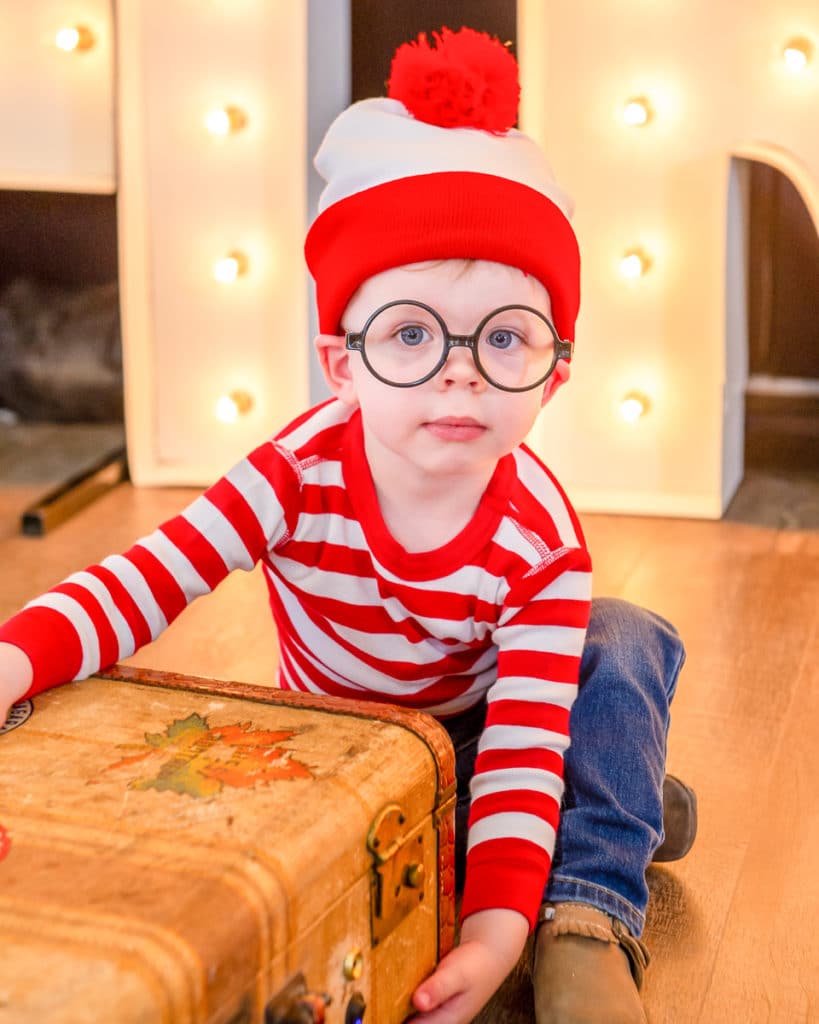 Bonus Couples Costume Idea
Where's Waldo and Carmen Sandiego make a really fun couple costume idea! They're a bit along the same theme: someone you're looking for. Plus they both give a solid nod to the 90s that 90s kids can appreciate!
We have an entire post about Waldo and Carmen Sandiego costumes. Be sure to check it out for a fun variation on the Where's Waldo Costume!
Where's Waldo Halloween Costume
That's all it takes! Feel free to mix up a few pieces or add other props and get creative! If you're lucky enough to own a striped shirt as we do, it's going to be one of the easiest and cheapest costumes you can create in no time!
It's the perfect easy costume to wear to a Halloween party, a trunk-or-treat, a Halloween date night, or any of your other Halloween adventures!
Like this post? You may like these ideas too:
Halloween Costume Pictures: Pre Trick-or-Treating {Free Halloween Printable
Extra Halloween Costumes: The Why We Go All Out