How to create your own Gamora costume. A full costume tutorial and Gamora makeup tutorial to become one of the Guardians of the Galaxy!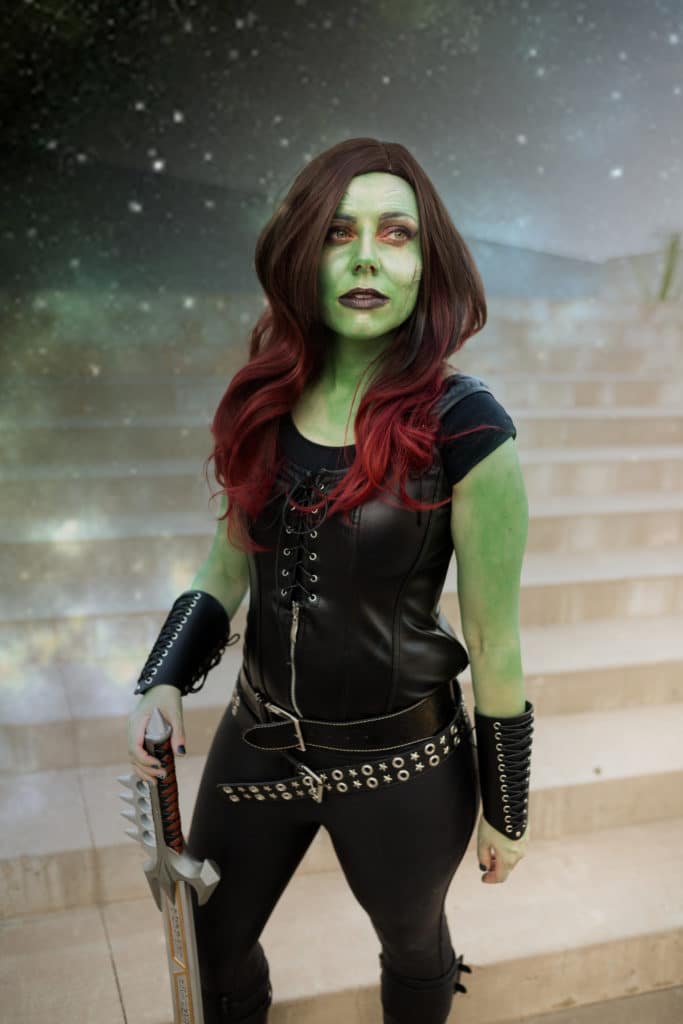 One of our favorite family Halloween costumes was dressing up as the Guardians of the Galaxy. We love to go all out, and this costume made a great group costume for a family a mom and all boys!
I have to admit, even though my boys looked great, I think Gamora stole the show! And with good reason, I was green! Everyone one else essentially got dressed. I had a small transformation with makeup and a DIY Gamora costume to pull together.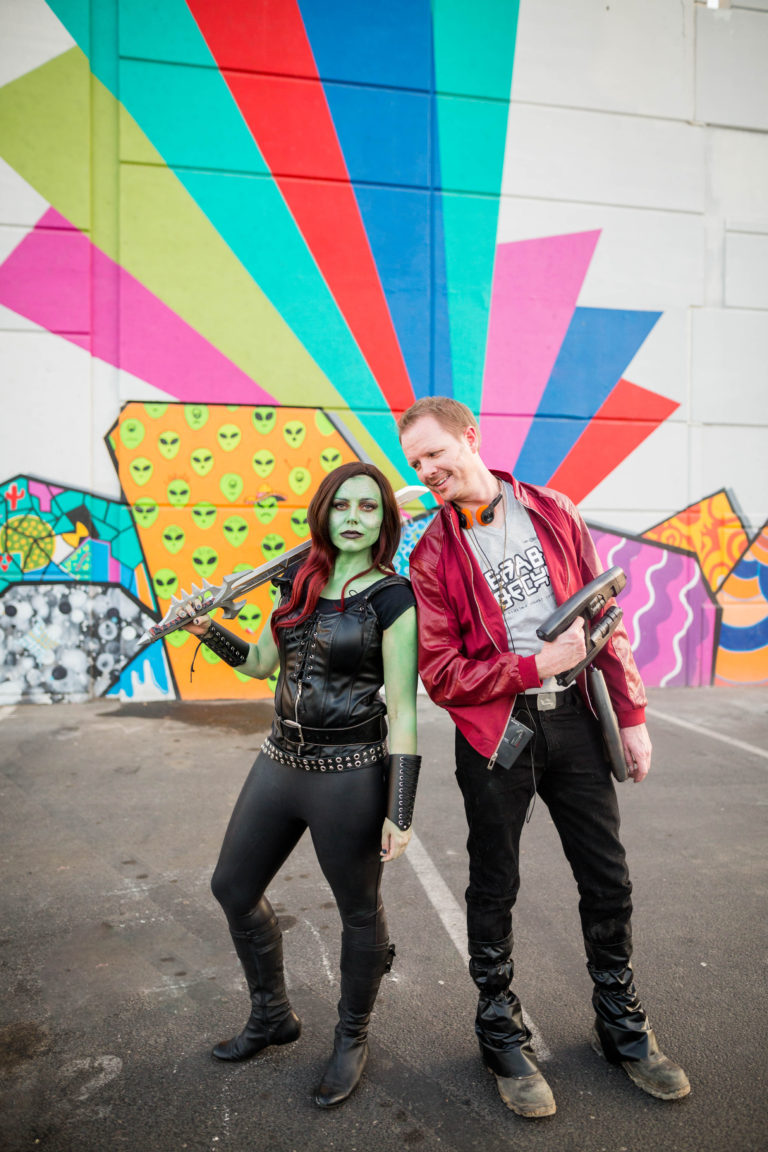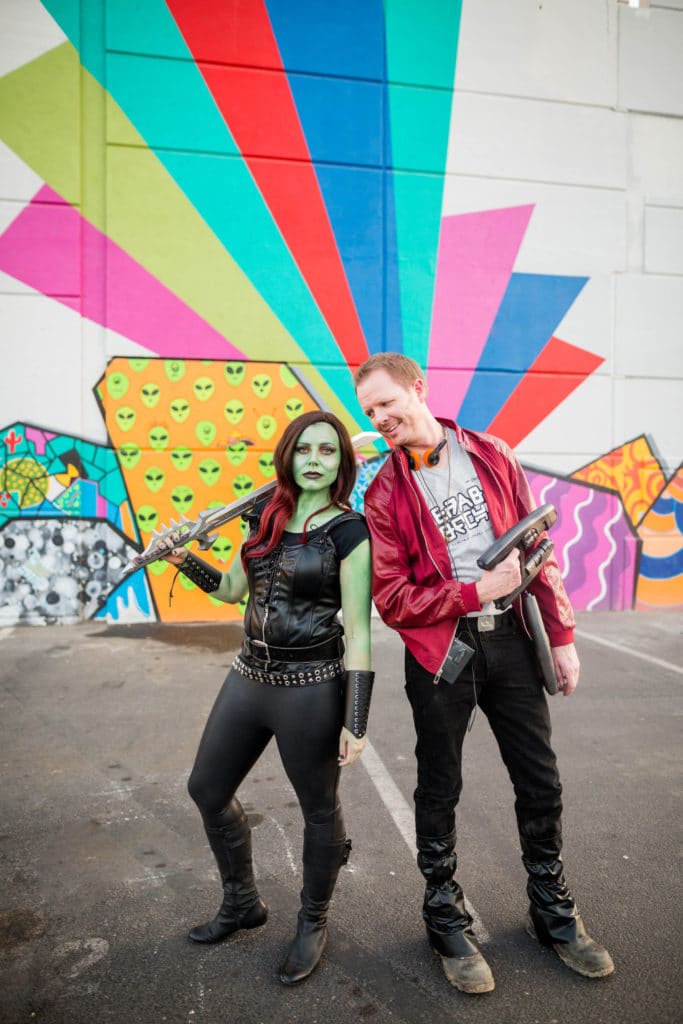 How to DIY Gamora's Costume
And if you're looking at a DIY Gamora costume for Halloween or some Gamora cosplay, let me break down how to pull a Gamora costume together.
There are two main elements to becoming Gamora:
Gamora's Outfit
Gamora's Makeup (turning yourself green)
She has a few outfits and looks, but I think her black leather outfit is the most iconic, and easiest to DIY! Instead of buying an inexpensive Gamora cosplay outfit, it was easy to pull together a few items and piece together the look.
Gamora Costume Sources:
Black pleather leggings: I took this opportunity to invest in this pair I'll wear long after Halloween! Here are some less expensive options if you only need them for the costume.
Fitted Black t-shirt: Get a fitted layering tee to make the vest look like Gamor's top.
Black pleather vest: I loved this one with lace-up details much like Gamora's original outfit has.
Black belt: I actually layered two. One black studded belt and one black waist belt. They were easy to weave together to give the look of the holsters Gamora wears. Check out thrift stores for these!
Wrist Guards: This pair matched the vest perfectly!
Gamora Wig: I looked at hair chalk and decided to go with this wig. It was easy and worked perfectly!
Knee Boots: I wore a pair I already own. Any knee boots you love that fit work perfectly!
Jacket: I opted out of this since I live in Arizona and it's just too hot to pull Gamora's jacket off. But if you want to go all in, grab Gamaora's jacket! Or opt for a cheaper version that's easy to reuse after the costume.
Sword: Gamaora's sword is called the Godslayer and has a very unique look to it with multiple prongs. It also adapts size in the movie. You can buy this custom from cosplay shops for more money than I wanted to spend. I honestly considered it though! But I found a big sword with markings on it and a unique shape on the handle at Party City (no longer linked online) and called it good!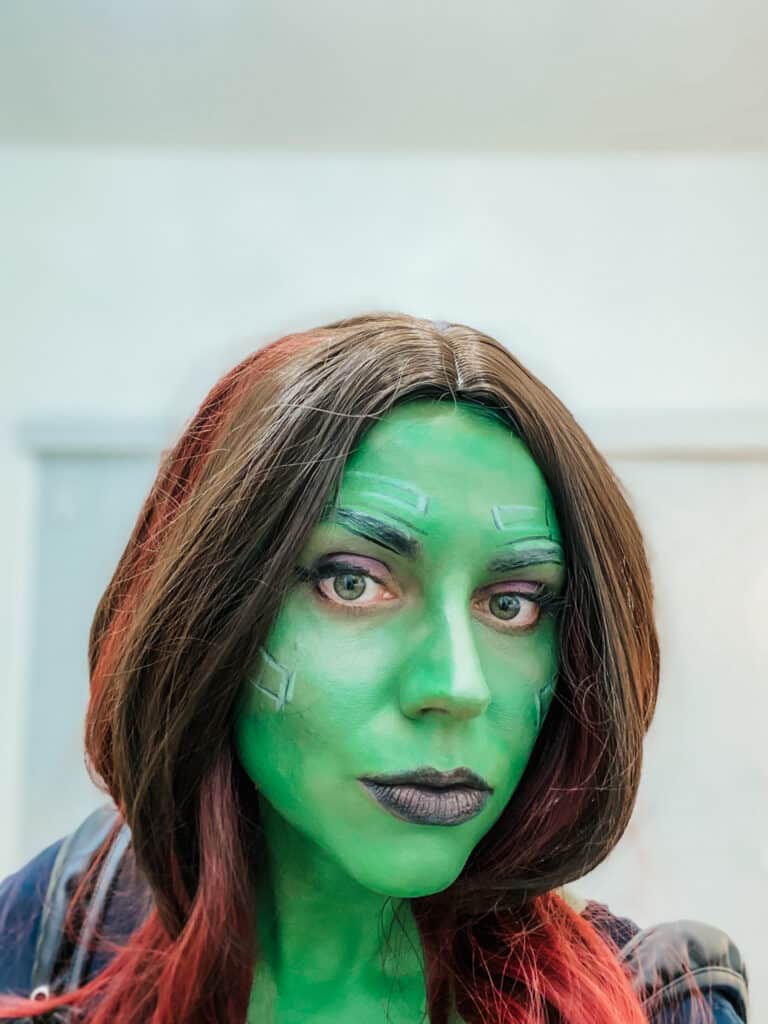 Gamora Makeup
Gamora Makeup Sources:
Makeup supplies used to create the Gamora look.
Like this costume idea? Be sure to check out these posts too:
Extra Halloween Costumes: The Why We Go All Out
Get 365 Date Ideas!
We want to help you have the best date nights ever! Grab this FREE printable with 365 date ideas, a date for every day of the year so you never run out of ideas!