Fun 4th of July Color by Number Printable! 
Get in the patriotic spirit this 4th of July with our engaging color-by-number printable activity. It's perfect for teaching number recognition and boosting fine motor skills while celebrating Independence Day.
​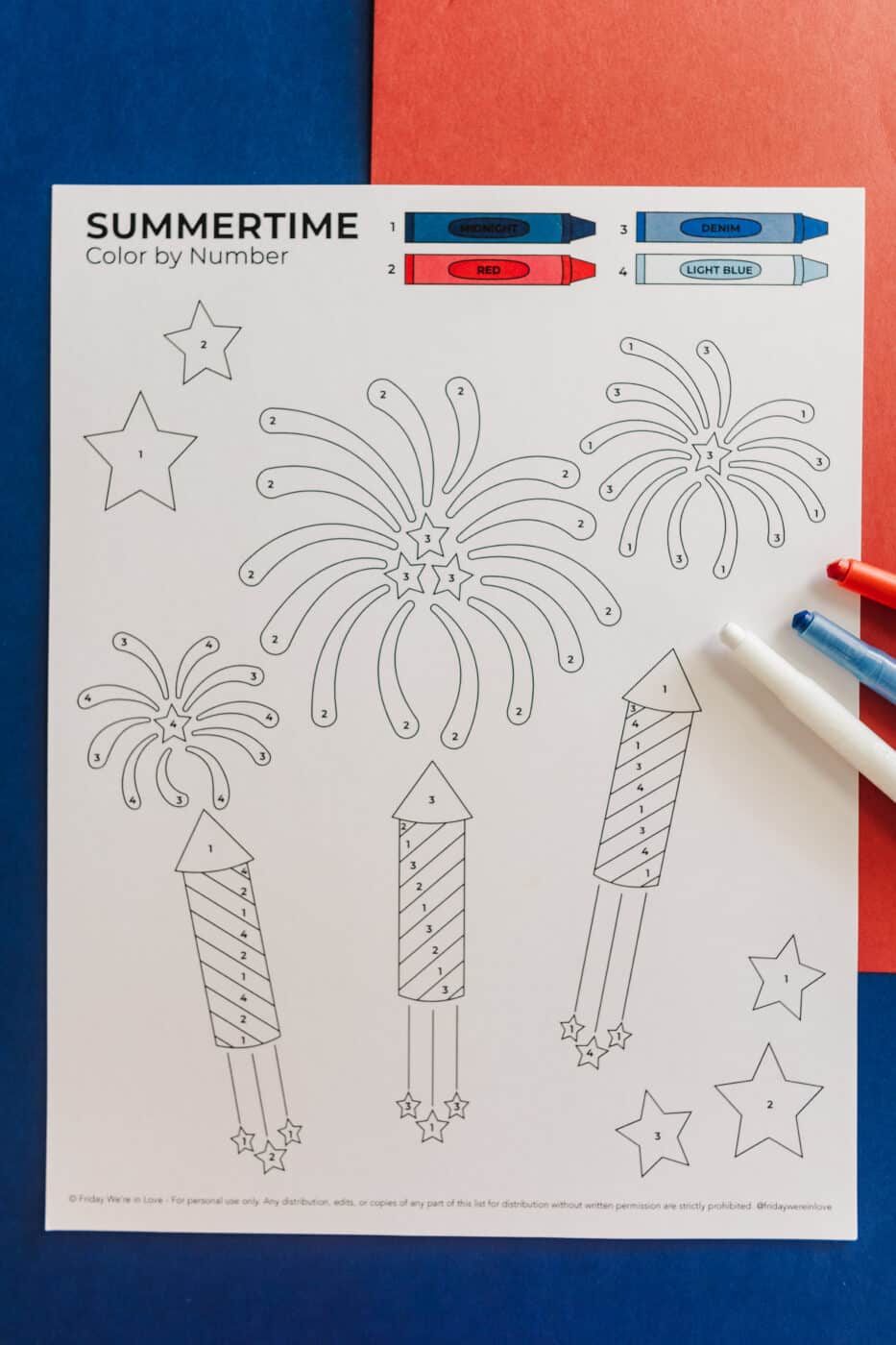 ​Get ready for a fun 4th of July activity we're giving away completely free! Our 4th of July color-by-number printable is a fun way to add a themed color-by-number activity to your 4th of July week.
These are so fun for family reunions, educational practice, or just to hook parents up with a little quiet time. Kids love using vibrant colors to decorate patriotic things for an easy and free activity you can do this Independence Day!
What Are 4th of July Color by Number Printables?
Color-by-number worksheets are free printables that can be easily downloaded, printed, and used at home for fun activities that celebrate the holiday season! They are essentially coloring pages where each area is assigned a specific number, and each number corresponds to a specific color. These pages feature patriotic images like the American flag, the Statue of Liberty, the Liberty Bell, or a cartoonish Uncle Sam, each divided into segments with code sets to indicate colors.
Our fun 4th of July-themed printable is perfect for some patriotic fun for kids of all ages and to celebrate fireworks and stars and stripes. It's a fun way to combine color recognition with number pages.
Why are they a Great Option for Kids?
Color-by-number printables are an excellent resource for parents and kids to practice number matching combined wiht patriotic coloring sheets. We love them as a fun 4th of July activity! They are a great way to enhance fine motor skills while kids practice precision in coloring within the lines.
They're also a great option because they're fun for young children just learning numbers, and older kids love them too! Young kids can usually match up the number symbols, and my child in between 1st grade and 2nd grade thinks they're a fun coloring activity too!
When is a Good Time to Use The Fourth of July Coloring Pages?
I mean when isn't a good time to help kids have some educational fun? The 4th of July is obviously a great time, but fun 4th of July printables are also a great resource for math practice or a fun activity for special days like Memorial Day or the 4th of July. We love to use them during Camp Mom July theme weeks or as a quiet time activity for kids at home.
Grab Your FREE 4th of July Color by Number Printable Right Here!
Baby, you're a firework with these fun Fourth of July coloring pages ready to download for an easy way to celebrate some fun! Grab your patriotic colors and these free resources and get ready for a fun 4th of July activity!
Just input your email and we'll send you the free Fourth of July Printables right to your inbox!
*Many email clients auto-download the file, so be sure to check your Downloads folder for the free 4th of July coloring sheets
*For personal use only
4th of July Color by Number Instructions
Download the Free 4th of July printable
Print the fun 4th of July activity download
Get crayons/markers/colored pencils out and ready to use
Have kids look at the key at the top of the number sheets and help them identify the corresponding color that goes with each number.
Example: 3 may be blue. So help young children get their blue color ready to go, and make sure they can match up the correct number with the correct color. It's a great way to practice reading, learn color words, and practice identifying numbers/number skills with a number key.
Enjoy revealing the fun July 4th pictures as you color in each of the number spots on the printable worksheets.
Notes
You can definitely create different pages with the same print by using different colors. Older children often love to take the color key and mix it up with different colors.
It's so much fun to see how the printable pages turn out differently! Just make sure to create your own code set with the new colors, and stick to them for each of the numbers on the number pages.
A Fun Way to Celebrate Independence Day
We hope you enjoy this fun 4th of July color-by-number printable as a fun way to celebrate Independence Day. It's a fun, educational activity that will keep kids entertained and learning while you get something done!
4th of July Color By Number Printable FAQs
Q1: Are these printables suitable for all ages?
Yes, these printables are designed for kids of all ages, but they are particularly beneficial for kids in 1st to 4th grades.
Q2: Are these color-by-number printables free?
Yes, we offer these 4th of July color-by-number printables for free. 
Q3: Can I use these printables beyond 4th of July?
Absolutely! While these are themed around Independence Day, they are also great for other occasions like Memorial Day or simply as a fun summer activity. You can also use them to develop math skills or for social studies lessons.
Q4: Can I use these printables in my classroom?
As a former teacher, I can't thank you enough for the work you! Yes, you may certainly use these in your classroom for educational use with math centers, for early finishers, or for some July math practice. 
Like this fun free printable for kids? Be sure to check out these posts too:
4th of July I Spy: 4th of July Activity Sheets
Color By Number Valentine's Day: Free Printables!
Summer Coloring Pages for Kids
Get 365 Date Ideas!
We want to help you have the best date nights ever! Grab this FREE printable with 365 date ideas, a date for every day of the year so you never run out of ideas!