Color By Number Valentine's Day: Free Printables!
Grab your FREE Valentine's Day Color by Number printables! They're a fun way to incorporate Valentine's Day activities kids love, and they won't cost you a penny!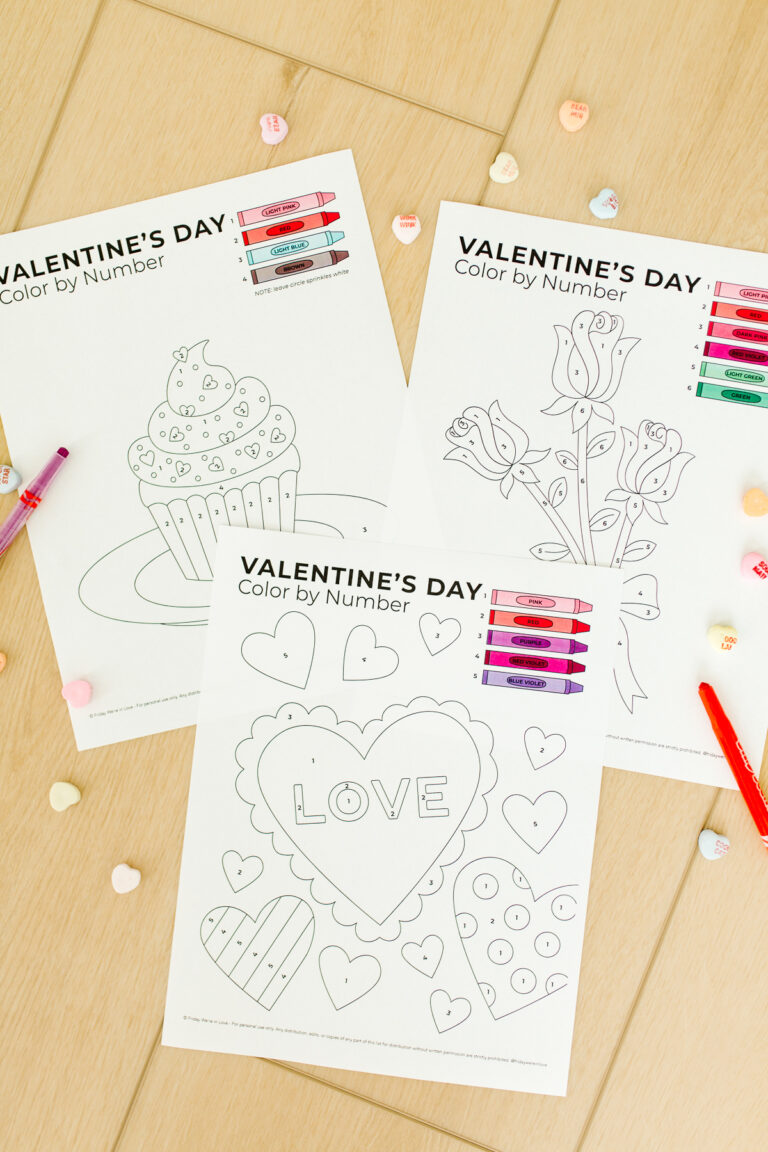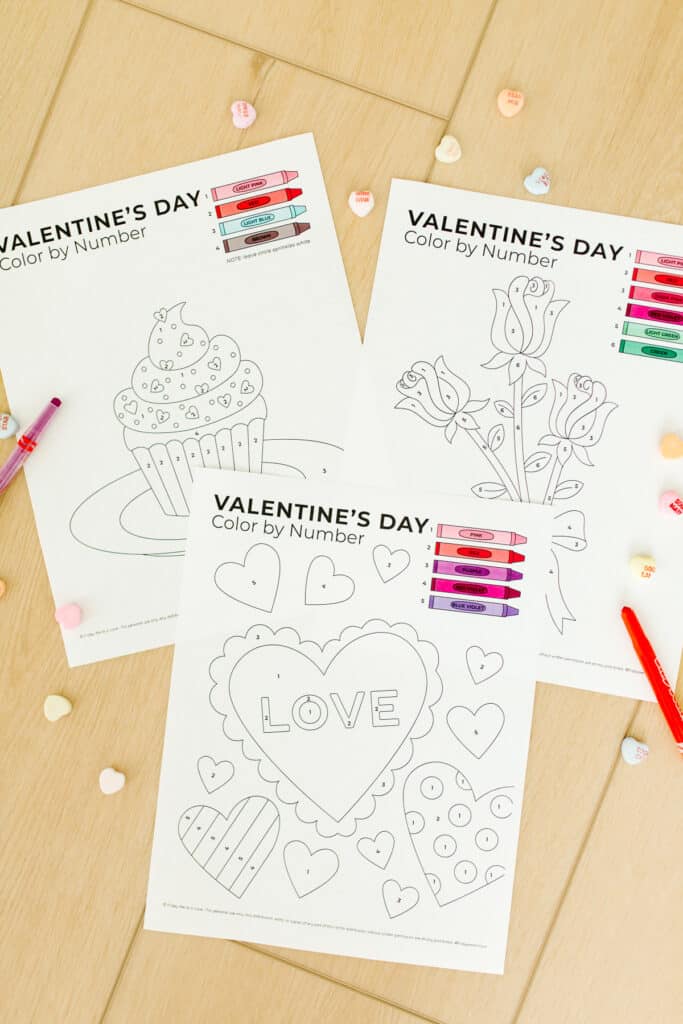 Are you ready for some easy Valentine's Day fun? One thing I love to do is find educational activities for younger kids that provides a fun way to keep their hands busy and entertained with a little festive fun! A roundup of coloring sheets and printable activities sets parents with younger children (and really older kids and adults too) up for quiet time and some festive fun!
Valentines Day Color by Number
If you haven't done a color-by-number, you're in for a treat! It's a great number activity meets fun coloring pages that kids love. And of course, for Valentine's Day, we're including the fun holiday theme. Kids love to reveal mystery pictures, and adults love number recognition skills and color recognition skills that kids of all ages enjoy!
It's one of the best ways to reinforce numbers with kindergarten students and an easy way to add in some festive fun with adorable valentine coloring pages.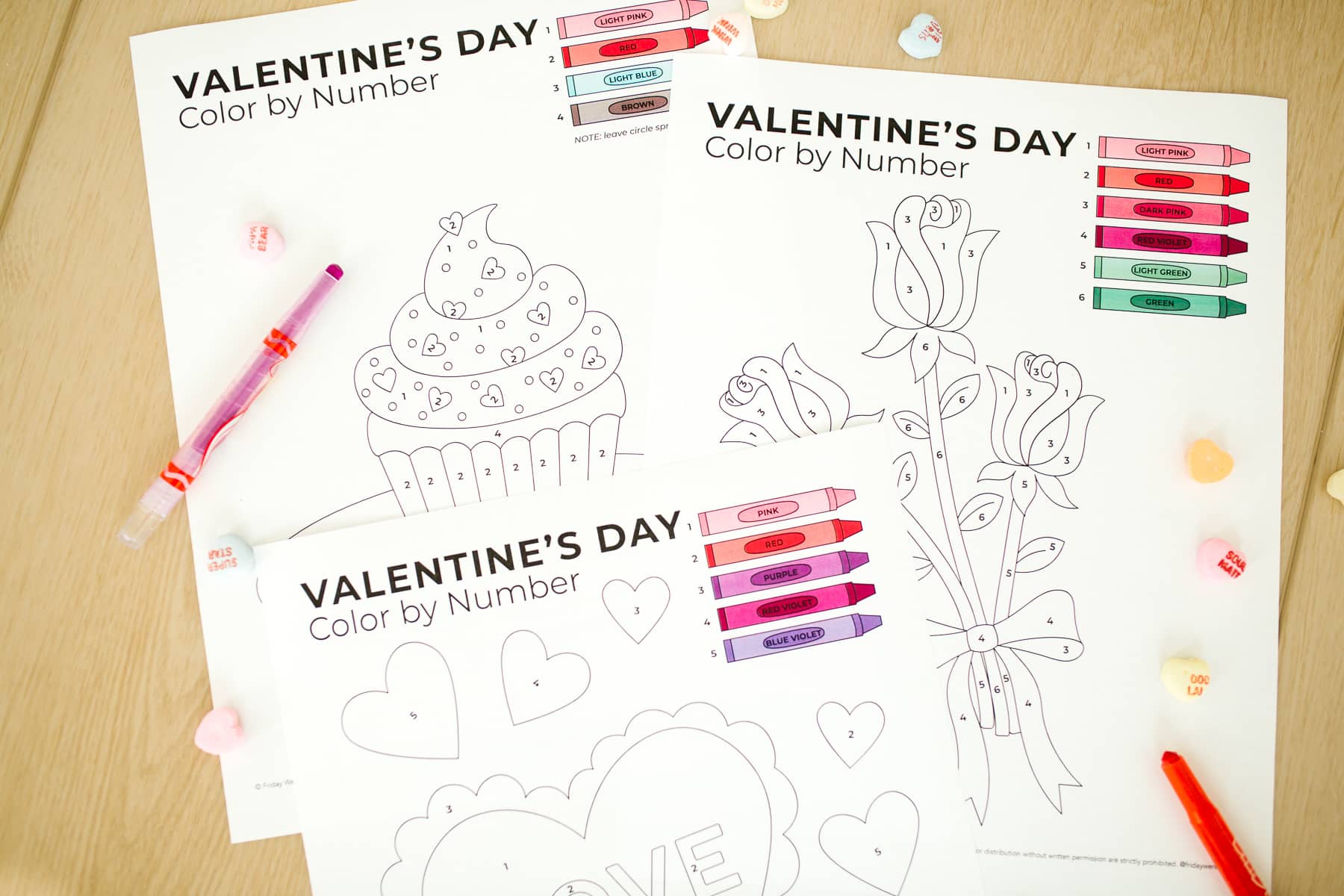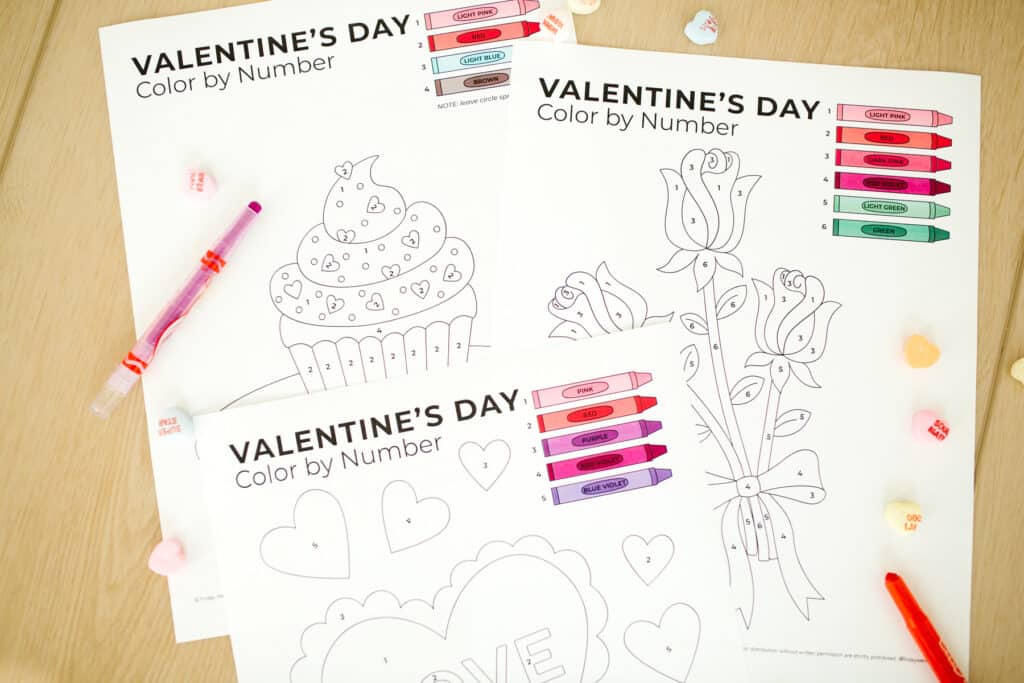 Grab the Color By Number Valentine's Day Printable Right Here!
You'll find three pages of valentine color-by-number activities in one free download! It gives some fun options and different versions of the same activity.
Just input your email address so we know where to send the free printable color-by-number pages to!
*Note: many email clients auto-download the pages after you confirm your email. Be sure to check your Downloads folder for the valentines color by number pages.
Yield: 3
Color by Number Valentines Activity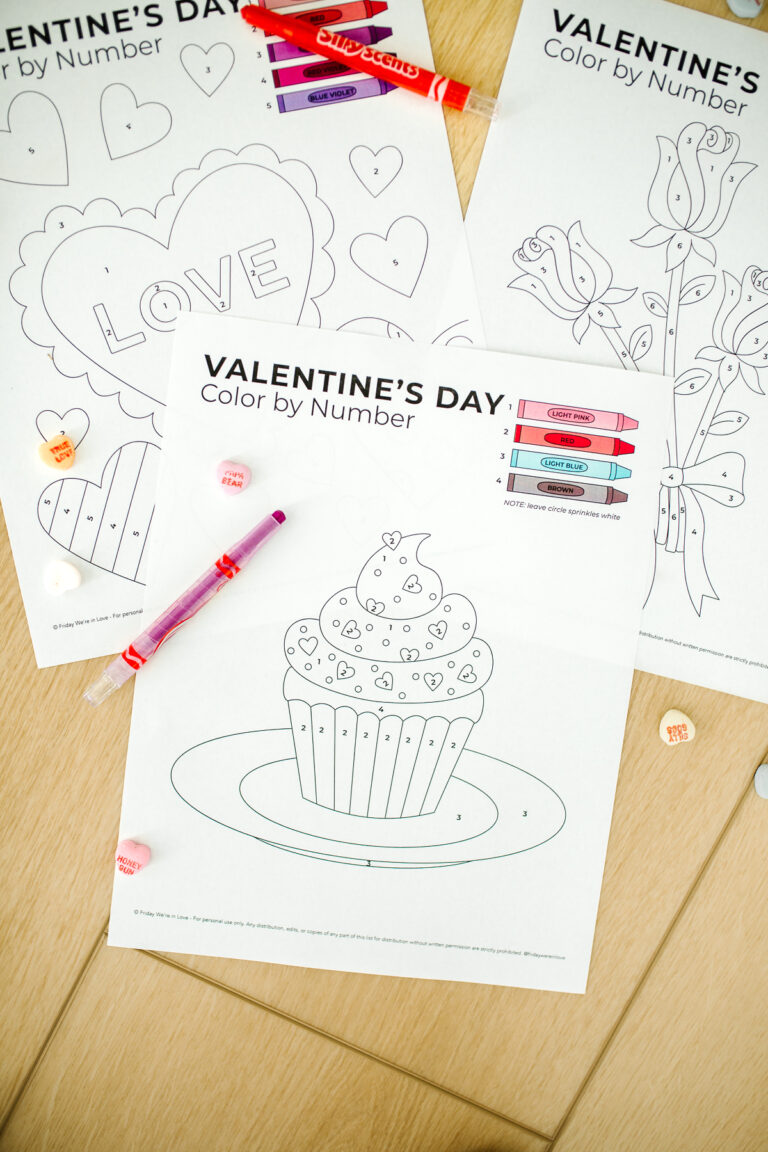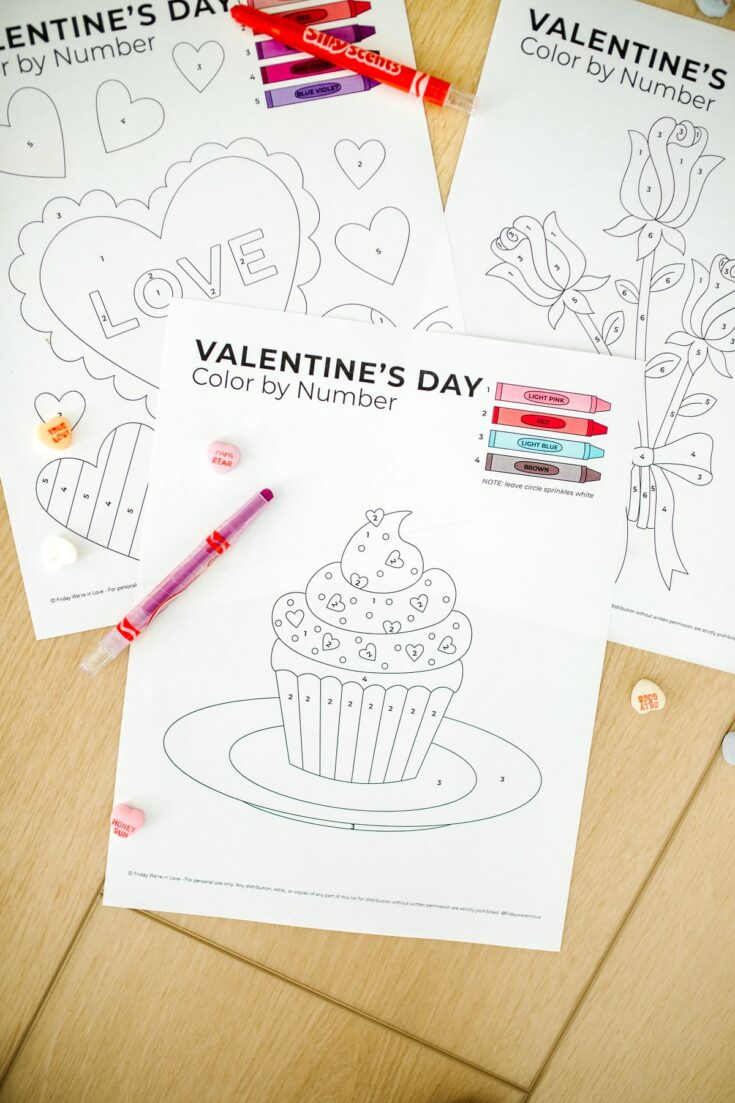 Valentine's Day color-by-number coloring page free printable download! Grab the three different Valentine's Day printables and practice number recognition and color recognition skills with this fun cute V-day printable for kids!
Materials
Free Printable Coloring Pages PDF file download
White paper or cardstock to print the number coloring pages
Crayons (or markers/colored pencils work great too!)
Tools
Instructions
Download the Free Valentine's Day printables, and no need to mention to kids that they're really Valentine's day worksheets in disguise!
Print the printable pack download, it includes three number worksheets ready to color
Get crayons/markers/colored pencils out and ready to use
Have kids look at the key at the top of the number sheets and help them identify the corresponding color that goes with each number.
Example: 3 may be red. So help young children get their red crayon ready to go, and make sure they can match up the correct number with the correct color. It's a great way to practice reading, learn color words, and practice identifying numbers/number skills with a number key.
Enjoy revealing the fun Valentine's Day pictures as you color in each of the number spots on the printable worksheets.
Notes
You can definitely create different pages with the same print by using different colors. Older children often love to take the color key and mix it up with different colors.
It's so much fun to see how the pictures turn out differently! Just make sure to create your own code set with the new colors, and stick to them for each of the numbers on the number pages.
I should also add, make sure to enjoy kids practicing fine motor skills while you smugly enjoy them doing Valentine's day math number activities disguised as themed coloring pages.
They get to spend some quality time with some number identification, and you can spend some quality time actually getting something done while they're happily occupied with a fun activity! Seriously, go look in the mirror and wink at yourself for this fun way to practice number skills with some learning fun!
Teacher Use:
I get asked often if teachers can use these for their classrooms. By all means, include them in lesson plans or math centers! They are for personal use only, but you're welcome to use them for educational purposes.
We hope this February coloring page printable pack is a great time for you and for your kids! Have fun coloring, and be sure to tag us on Instagram @Fridaywereinlove with your cute Valentine's day creations!
Like this fun free Valentine color by number printable?! Be sure to check out these posts too:
Disneyland Sweethearts' Nite: What to Expect
Get 365 Date Ideas!
We want to help you have the best date nights ever! Grab this FREE printable with 365 date ideas, a date for every day of the year so you never run out of ideas!