I Spy Valentine's Printable
Grab this fun Valentine's Day I Spy Valentine's printable for a FREE Valentine's Day activity kids of all ages love!
Free Printable Valentine's Day Game
My son fell in love with I Spy pages back in pre-k when a friend gave a group of preschoolers an I spy puzzle to complete together. I instantly saw the benefit of these amazingly fun educational worksheets for kids! They create a game where one looks for the number of hidden pictures by category in a sort of picture maze. For kids, this means about 20-45 minutes of entertainment. For parents, this means some quiet time that happens to be educational!
I Spy Valentine's Day Worksheets
I Spy activities help with so many learning concepts while kids play a game and do some coloring. It's a great way to work on fine motor skills, visual discrimination, literacy reading directions, numbers, and the basic functionalities of math, coloring, and counting. And it's all done with a fun valentine worksheet freebie!
Truly, it makes learning feel so fun! And do you know what's also fun, the bonus of all the quiet time! This is one activity that keeps kids working and playing for about 30 minutes! Naturally, I was sold in less than a minute! What mom can't use another 30-60 minutes of screen-free quiet time for their kids
I Spy Valentine's Day Printable
We love Valentine's Day in our household, I mean our site name may have given us away as big fans of love! I really love including kids and teaching them it's a day to celebrate love in all forms. A fun holiday printable game they can enjoy is one way to let them know I love them too! I'm always on the hunt for fun things to share with my kids. When it's free, it's a slam dunk!
This Valentine's Day activity for kids is full of hearts, candy, arrows, teddy bears, Valentine's Day treats (or treat-decorating items), and other graphics that give fun nods to love. It leans more cutesy, and it also would make a great Valentine's Day classroom handout! Just add a few crayons and you're set to share the I Spy fun!
Teacher Use
I often get asked if teachers are allowed to use these Valentine's Day Printables in their classrooms, and by all means, go for it! As a former teacher it's my gift to you! It's a fun activity in February and a different Valentine's Day printable worksheet than you may see elsewhere!
It works well with Kindergartners, early elementary grades, older toddlers, preschoolers, and those homeschooling too!
Alternative Ways to Use the Valentine's Day Printables
Some people have shared they printed the PDF download and used a laminator and dry erase markers so kids could reuse the I Spy Valentine's Day printables over and over again. What a fun idea and cool way to create a reusable activity for kids!
WHEN'S A GOOD TIME TO USE A Valentine I SPY?
I'd say almost any time is a great time! But it's fantastic to help hyper-excited children calm down. If you need a quiet time moment, kids can easily enjoy it in their room or at the table while you get some needed work done. Also, if there's a sugar rush from a Valentine treat, it's a great time for an I Spy Valentine game to help kids focus their energy and settle down.
If you need a little winter pick-me-up fun for kids or adults, this I Spy Printable is an easy (and currently free) option! It's one fun way to add a little more festivity and joy in a year we could all really use it!
P.S. These Twistable Crayons are perfect to use with it!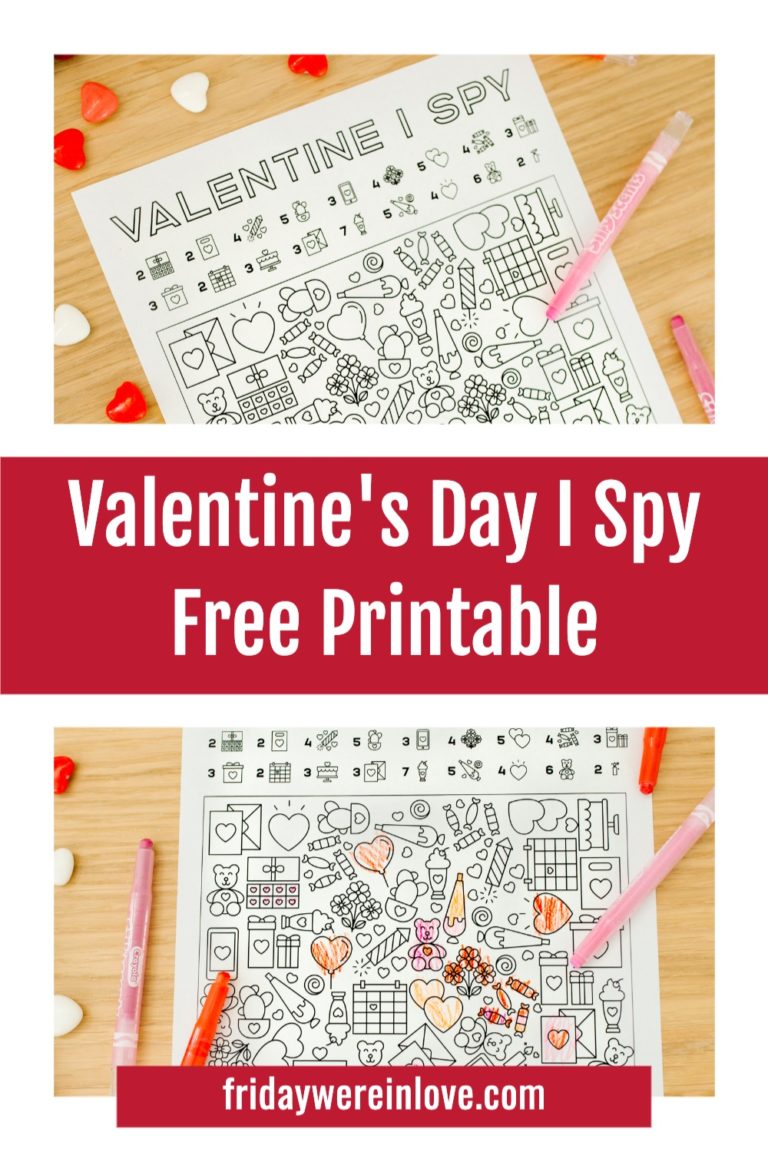 GRAB YOUR I SPY Valentines WORKSHEET HERE
For personal use and classroom use only
LIKE THIS Valentine's Day ACTIVITY FOR KIDS? YOU MAY LIKE THESE POSTS TOO:
Winter I Spy: Printable I Spy Pages to Keep Kids Busy!
Valentine's Day Date Ideas for Any Budget
Valentine's Day Gifts for Guys
Get 365 Date Ideas!
We want to help you have the best date nights ever! Grab this FREE printable with 365 date ideas, a date for every day of the year so you never run out of ideas!