Activities for Kids at Home (Quiet Time Activities so You Can Get Some Work Done!)
A huge list of activities for kids at home. Fun at-home activities for kids you can easily do indoors, with plenty of educational options to keep kids entertained!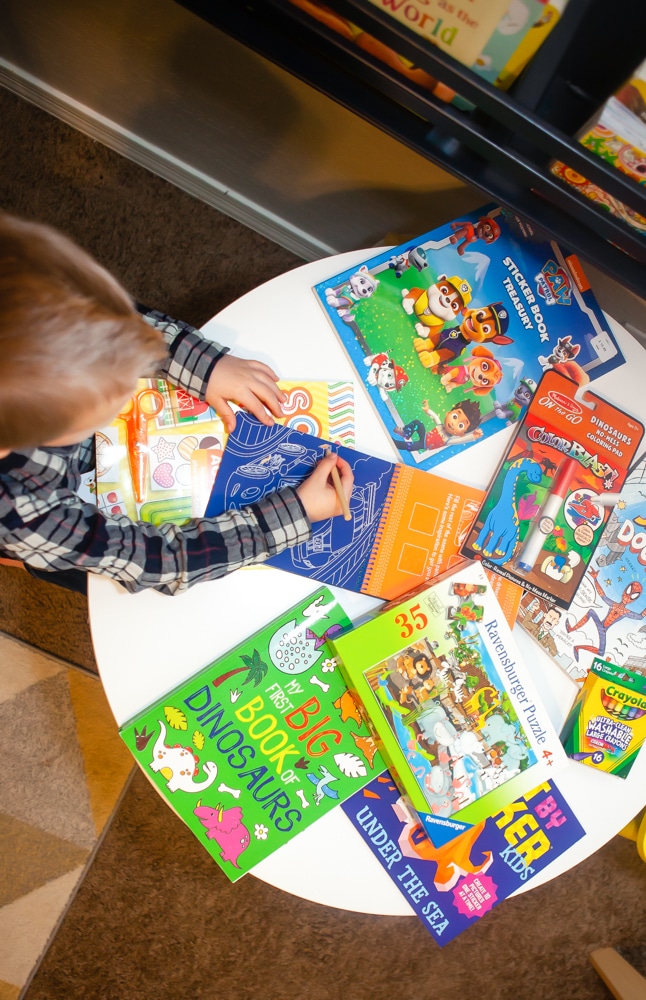 Wanna skip right to all the at-home activities and products we recommend? Click HERE
I know so many parents are finding themselves home with their children this week. For many, that's a huge blessing and a welcomed time together. But for many, homeschooling and or keeping a preschooler or toddler alive and entertained while juggling a job is very overwhelming! As a work-from-home mom, I know these pains!
I've been meaning to share how we do quiet time for two hours each day for a very long time. It's just always been bumped with seasonal content! That post is coming soon. However, In light of how many parents will be home with littles for several weeks, I knew there was no time like the present to share some of the fun activities for kids at home we do to help keep my preschooler busy, quiet, entertained, and learning for hours!
Indoor Activities for Kids at Home
Audiobooks

First and foremost, he listens to audiobooks. We acquired a kids edition Fire HD tablet with parent controls years ago. I lock it down so my son can ONLY read approved books and listen to audiobooks. It's been worth its weight in gold! I love that it's a screen that eliminates screentime for us. Only we know the passcodes, and he can only see audiobooks he's allowed to listen to. You can do gift an Audible Trial and get three books a month for three months. We look for huge anthologies (like Magic Treehouse) that he'll listen to for hours.
If you're interested in helping your reader, I highly recommend this tool! My son has learned so much and his vocabulary has grown exponentially because of this tool! I just have to keep the new audiobooks coming and he'll gladly listen while he does some activities.

Sticker Books and Sticker Pads

This was the easiest thing to start with! I'd buy a large sticker book treasury type book, and let him go to town!
If there are stickers to match on pages and you have a toddler or preschooler, I recommend cutting out the stickers and matching them with the page. That way they can spend their time matching and not confused. It's a few minutes of prep work for you, but hours of matching for them! If you have an older child, leave that level of complexity.
The Melissa and Doug sticker pads are a great way to go too! They can create an entire scene easily. Plus, they are reusable.

All Things Coloring: Crayons, Colored Pencils, or Markers

Good old fashioned coloring can go a very long way! We love educational coloring books. But, I've been known to print a Spiderman page online to keep him excited about coloring as well.
It just takes crayons, markers, or colored pencils and paper.
I love that my son loves to draw. A sketchbook and colored pencils can keep him entertained for hours! Before this was the case, a Water Wow or Color Magic coloring set would do the trick. And bonus points, they kept him from coloring on the walls when he was still so little.
You can get so creative with a billion different ways to color and so many different tools and products.Tons of our favorites are linked in our Amazon page!

More Activities for Kids to Do at Home


I gifted my son this light-up Peg Board after watching him play with one for hours a museum, and it's kept him so entertained! Magnet mazes are also a part of quiet time and help with fine motor skills.
We love scissor skill books, and tape skill books as well. Plus, how fun is this projector with washi tape? It's an older kid version of the fine motor skills you hope toddlers and preschoolers are building!
Magnetic picture building puzzles have also been a huge hit that we play with and reuse over and over again!

Reading and Writing Practice

We're in the phase of learning to read and write, and it's so fun! But prior to this phase, I still loved helping him learn to trace letters and numbers. If your child is older, workbooks for reading and writing practice are so helpful! But practicing penmanship and letters is always a good idea. Plus, older kids love to learn modern calligraphy with workbooks! Or, you can print free hand-letting pages and let your older children practice with printouts.

Puzzles and Brain Teasers

When I had a toddler, we were all about floor puzzles and wooden puzzles. He's advanced, and a child-appropriate jigsaw puzzle became his favorite thing!
Paint by Sticker puzzle books have been so fun and so good for letter and number identification. Plus, we're talking hours of fun for each picture!
The Highlands Hidden Picture sticker books are delightful and work for younger and older children.
Additionally, you can't go wrong with Where's Waldo or a Magic Eye book.

Fun Quiet Time Favorites

I try to keep it all educational as much as possible, but every now and then, we add in a fun new item that keeps little hands busy!
We just ordered Wikki Stix to make some fun pictures in the coming weeks. I often peruse the Target One Spot for small items to paint or color. They often have tiny seasonal crafts my son loves to do.
Scratch Art is always a fun add-on we often include in a toddler stocking stuffer or Easter basket. It's an exciting update to his coloring options! We really love the Melissa and Doug scratch art pads. The Scratch and Sparkle options make it extra exciting!
We also discovered Doodle books recently, and they are so much fun! They enhance imagination and give kids a starting point to doodle amazing drawings with their favorite characters.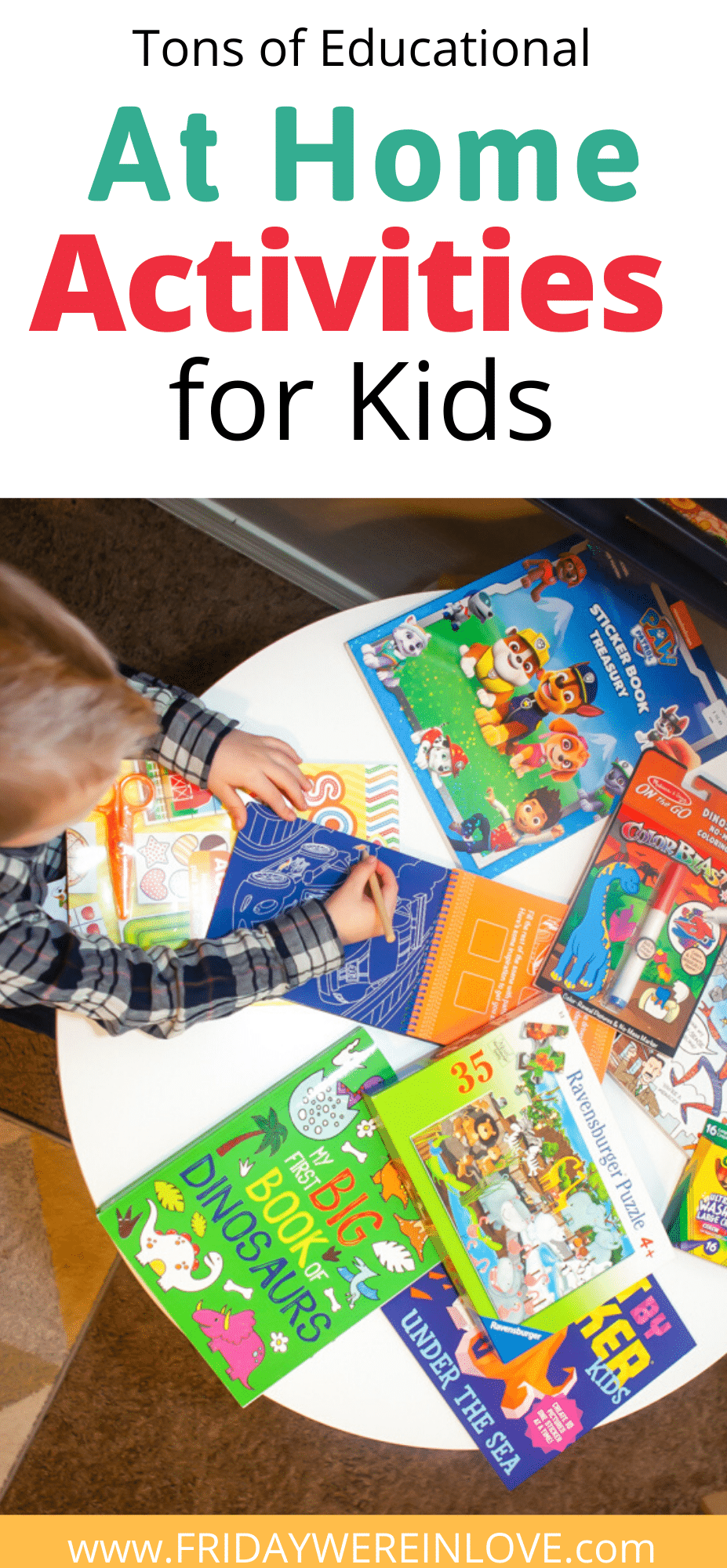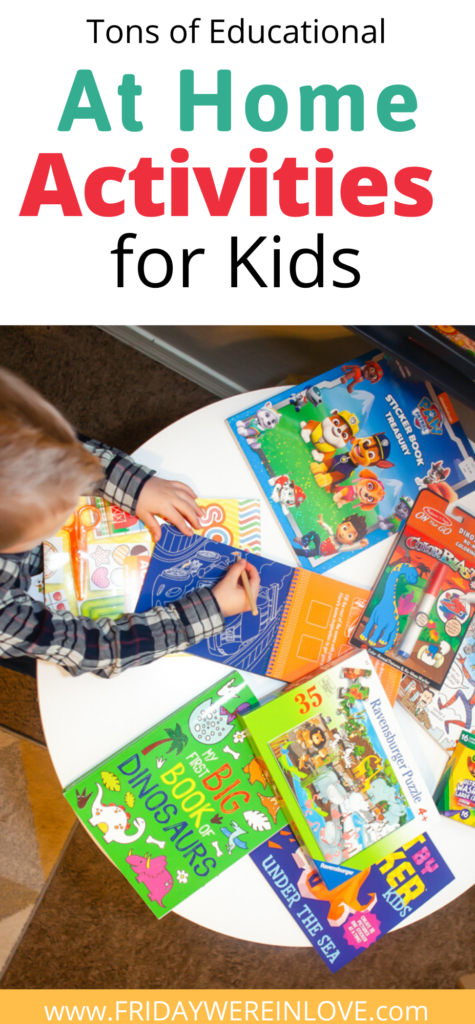 Like these activities for kids at home? You may like these posts too:
10 Mess-Free Fine Motor Skills Toys and Activities for Toddlers
Family Fun Activities: 52 Family Dates to Do This Year
Practicing Fine Motor Skills On the Go
Read-Aloud Books Online: Raising Kids Who Love to Read
Playroom Organization and Toy Storage Ideas
Get 365 Date Ideas!
We want to help you have the best date nights ever! Grab this FREE printable with 365 date ideas, a date for every day of the year so you never run out of ideas!