Best Movies to Watch on Disney Plus: Disney + Movies for Preschoolers
.If you have a preschooler in your family, chances are you have to watch which movies make their way to family movie night pretty carefully. Here's a list of the best movies to watch on Disney Plus for preschoolers and families with preschoolers.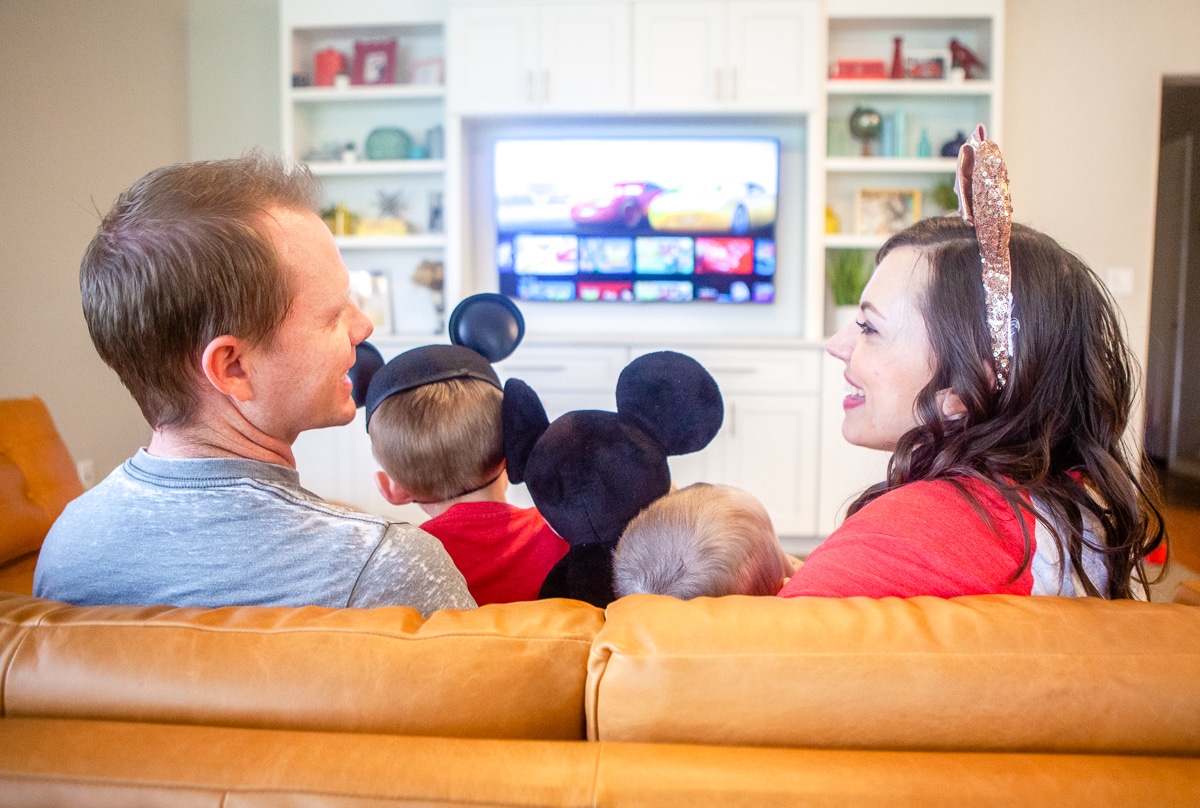 I have a fun series I've had in the works for a while. With the Corona Virus and social distancing, now is the time so many families are turning to family movie nights even more! Rightfully so, it's a fun family date together! It felt like the time to escalate this series is now!
My friend Ali is perhaps the most Disney obsessed person I know. From a fellow Disney lover, I can honestly say I haven't seen anyone match her level! She did a Disney internship in college as a cast member. Her hobbies and true joys in life all surround Disney themes. She and her mom host a Disney Adventures podcast. And when Disney + came out she was all over researching, reviewing, and consuming the best movies to watch on Disney Plus. But also the best shows too!
I reached out to her and asked if we could do a collaboration. We've shared a lot about family movie night. It's a tradition we do on our weekend nights that aren't date nights. And the moment we became Disney + subscribers (PS you can try Disney + for free for 7 days HERE if you aren't one) I was so excited to dive right in!
But I quickly felt so overwhelmed! There was so much to consume, and I felt a little lost where to start. I know I'm not alone, so many friends have told me they felt the same! Like someone should write a guide for movies and shows that are age-appropriate and fun for anyone that age an up to enjoy. And it hit me immediately, I should ask Ali!
So we've been working together for months compiling the best movies to watch on Disney Plus, and we're going to share several lists to help you plan and organize more family movie nights!
First up, is Disney + Movies for young children. These are the movies your preschoolers will love, without anything too scary. I promise the rest of the family will love them too!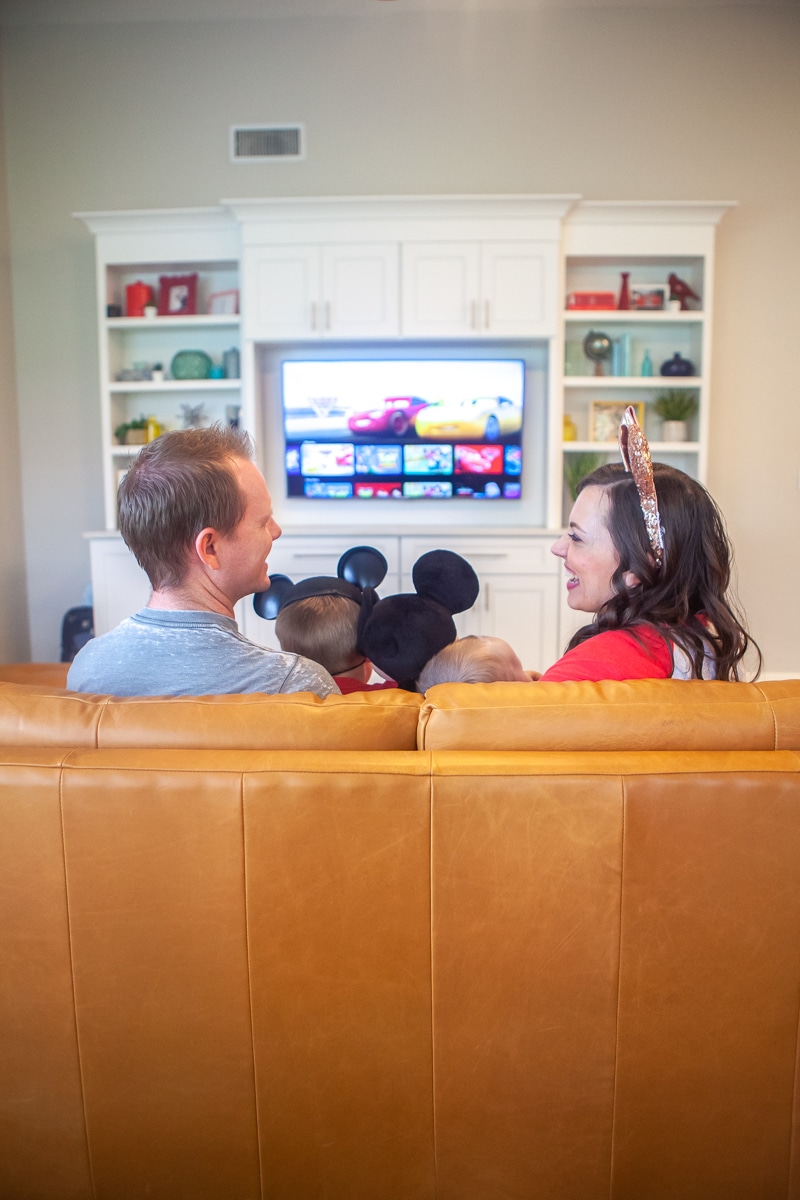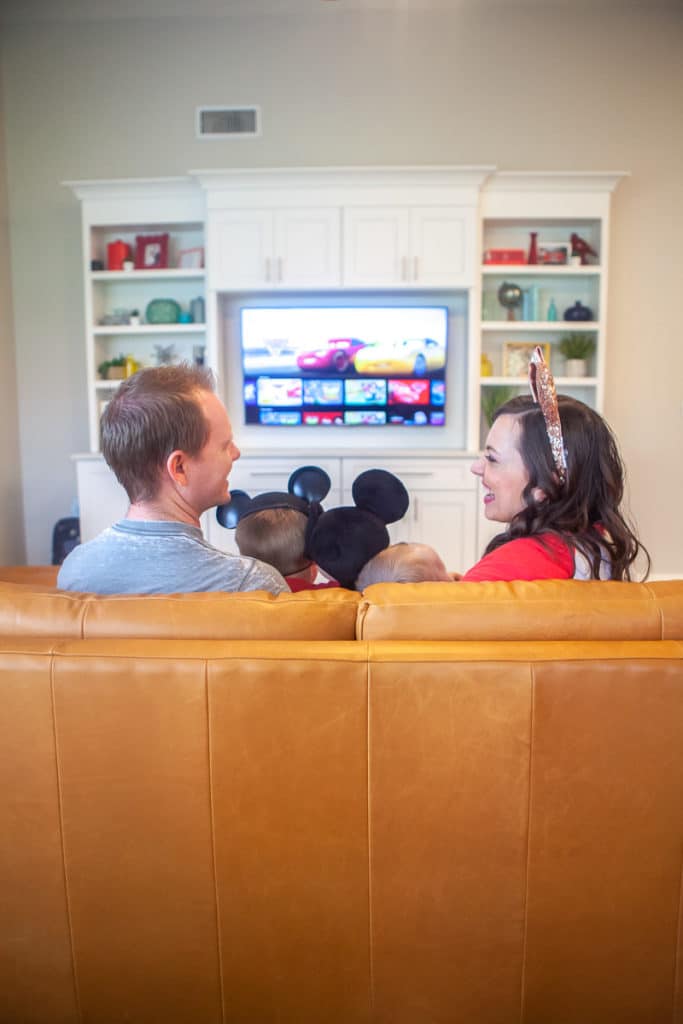 The Best Disney Plus Family Movies for Families with Preschoolers
* Inside Out – a great movie on emotions and how to go through a life change.
* Sleeping Beauty – the classic fairytale of the sleeping princess, the dragon, the prince, and true love's kiss.
* Jungle Book – a boy's coming of age story as he journeys to a village after being raised in the jungle.
* Cinderella – Walt Disney's favorite project and a great retelling of the classic Cinder Girl fairytale.
* Cars – when Lightning McQueen is stranded in a Route 66 old town, he learns it's time to slow down a bit and enjoy life.
* Cars 2 – Lightning McQueen and Mater journey to Japan for a famous race and while there Mater trips into a spy game!
* Beauty and the Beast – cursed by an enchantress for being selfish and cruel, the Beast must find someone to love him and he is. Can a prisoner set him free?
* Little Mermaid – all Ariel wants is to be part of the world above the sea. Her father, King Triton doesn't agree and tries to stop her to keep her safe. Ursula the sea witch is willing to help Ariel, but at what cost?
* Little Mermaid 2: Return to the Sea – after Ariel has her happily ever after, her daughter Melody craves an adventure of her own. But will her mother's secrets be the end of Atlantica?
* Bolt – a super dog on a TV series, Bolt is thrust into the real world and has to learn to deal with not actually having superpowers.
* Coco – After his family has forbidden music of any kind in their home, Miguel runs away to follow his dream. But will his heart or head win the fight between familia and music?
Disney Movies for Families with Young Children
* Finding Nemo – Nemo just wants to be normal and explore with the other kids. HIs dad Marlin is a bit overprotective and won't allow him to. When Nemo is taken by a diver off the coral reef, Marlin has to learn how to let go and Nemo has to learn independence.
* Finding Dory – Dory has always felt like she was missing someone. Now she knows she's missing her parents and the adventure begins with her trying to find them using the skills they gave her to handle her Short Term Memory Loss.
* Fantasia – a fun film of pictures and movies based solely on classic musical pieces.
* Fantasia 2000 – an updated Fantasia movie with new stories and new music!
* The Good Dinosaur – Arlo is a dinosaur that is scared of everything. He befriends a strange little creature and after they both get lost they work together to find their way back to Arlo's farm.
* Hercules – born to Hera and Zeus Hercules was supposed to have a golden life but after a run-in with Hades' henchmen he becomes mortal – except for his godlike strength he manages to keep. He has to find his way back to the gods of Olympus – can he go the distance?
* The Incredibles – superheroes are forced underground and are not allowed to save people anymore. Follow the Parr family as they navigate superpowers, family time, love and a mystery from Mr. Incredibles past that swallows them all!
* Lady and the Tramp – Lady is a high-end family pet and when she has a run-in with the local Tramp from the wrong side of the tracks will friendship kindle or will each be happy to go their separate ways?
* Lilo and Stitch – Lilo is a little girl in Hawaii, Stitch is an alien from outer space with a destruction complex. When Stitch finds himself in an animal shelter, Lilo adopts him and together they learn the meaning of love and Ohana.
* Lion King – Simba has a lot to learn about becoming King over the Pridelands. After his father's untimely death and his uncle's urging for him to exile himself, Simba finds family in unexpected ways. However, he cannot escape his past and when it comes for him he must decide whether or not to fight for the ones and place he loves or let it be destroyed by those who scorn The Circle of Life.
* Lion King 2: Simba's Pride – we find Simba and his daughter Kiara at odds. Simba is protective to a fault and all Kiara wants is a little freedom and to be herself. Meanwhile, a rogue group of lionesses, and a cub named Kovu, have their own plans for the royal throne of Pride Rock. Can Kiara and Simba put aside differences and save their family from being torn apart? And will Kiara and Kovu realize that love can conquer all?
* Lion King 1 ½ – in this comedy, we follow Timon as he finds Pumbaa, their friendship develops, and when Simba enters their lives. Seeing the classic story told from Timon and Pumbaa's point of view is both comical and refreshing. New music and new friends to meet make this a family classic.
* The Many Adventures of Winnie the Pooh – a collection of stories about our favorite honey-obsessed bear!
* Winnie the Pooh – another collection of stories about Winnie the Pooh.
* Wreck-It Ralph – being the villain of a classic arcade game isn't so easy, but when Ralph can visit the other games he finds friends and self in the other genres of the arcade.
* Wall-e – what would happen if the only robot left on Earth was a rolling trash compactor? Watch as Wall-e learns new things, finds friends, and saves humanity and using beeps and boops to talk.
* Born in China – we follow pandas, monkeys, and snow leopards as they navigate parenthood, childhood, growing up, and even death and survival. Heartwarming and narrated by Jonathon Krasinski this story is loved by all.
* Bambi – follow Bambi as he learns lessons on friendship, loss, love and following in his father's footsteps.
* Princess and the Frog – Tiana has always known she has to work hard for her dream of owning a restaurant to come true. Prince Naveen is a playboy that has been cut off from his parents' money in order to make him responsible. When their worlds collide an epic adventure through the New Orleans bayou ensue.
* Dumbo – **drinking and smoking is portrayed** Dumbo is born with giant ears that cause him to be shunned by all the elephants except his mother. When she's imprisoned after people try to abuse her baby he learns to fly thanks to his big ears and Timothy the mouse.
* Alice in Wonderland cartoon – Alice drops into Wonderland after following the White Rabbit who is apparently "late late for a very important date" and the adventure she has while in this kooky land where nothing makes sense.
* Monsters Inc – ever wonder where the monsters from your closet come from? Meet James P. Sullivan (Sully) and Mike Wasowski and the crew at Monsters Incorporated where children's screams are converted to power to supply the city of Monstropolis.
* Peter Pan – follow the Darling children: Wendy, John and Micheal as they journey to Neverland to meet the Lost Boys, The Indians, Mermaids and the nefarious Captain Hook! Led by Peter Pan, the boy that never grew up can they save Neverland from the pirates?!
* The Rescuers – when the orphan Penny goes missing it's up to The Rescue Aid Society agents Miss Bianca and Bernard to save her! But against the greedy Madam Medusa and her crocodile henchmen what can two little mice do?!
* The Rescuers Down Under – Bernard and Miss Bianca are back! This time they must travel to Australia to help find a missing boy return to his mom while also keeping an endangered gold eagle and her eggs out of the hands of the poacher McLeach
* Frozen – two sisters have been living apart even while in the same castle. But why?? On the day of her coronation, Queen Elsa reveals she has powers over ice and snow but she can't yet control it. Out of fear she runs away to keep everyone else safe from her. Her sister Anna runs after her to bring her back because all she wants is a sister to love and to help her. Will their sisterly love be enough to overcome Elsa's fears?
* Frozen 2 – we see Anna, Elsa, Kristoff, Sven, and Olaf about a year after the events of Frozen and Arendelle is thriving. But Elsa keeps hearing a mysterious voice calling to her. When Elsa unavoidably wakes the Enchanted Forest, the group sets out to find the answers to the past. And also, possibly the source of Elsa's magic.
* Ratatouille – "Anyone Can Cook" is the slogan Remy follows to his passionate career choice – CHEF! Only one problem – Remy isn't your normal candidate for a new employee, he's actually a RAT! Can he follow his dreams or will they be quashed??
Photos by: Mary Jordan
Like this roundup of the best Disney plus movies for younger children? You may like these posts too:
How to Make Family Movie Night a Tradition You'll Love!
Fun Family Activities: 52 Family Date Ideas to Do This Year
52 Movies the Entire Family Will Enjoy for Family Movie Night
Get 365 Date Ideas!
We want to help you have the best date nights ever! Grab this FREE printable with 365 date ideas, a date for every day of the year so you never run out of ideas!