What to Wear to Disneyland
Heading to Disneyland and wondering what to wear to Disneyland? Looking for the perfect Disney family shirts as part of your trip? Here are tips on what to wear to Disneyland and some of our favorite places to find Disney shirts for the whole family!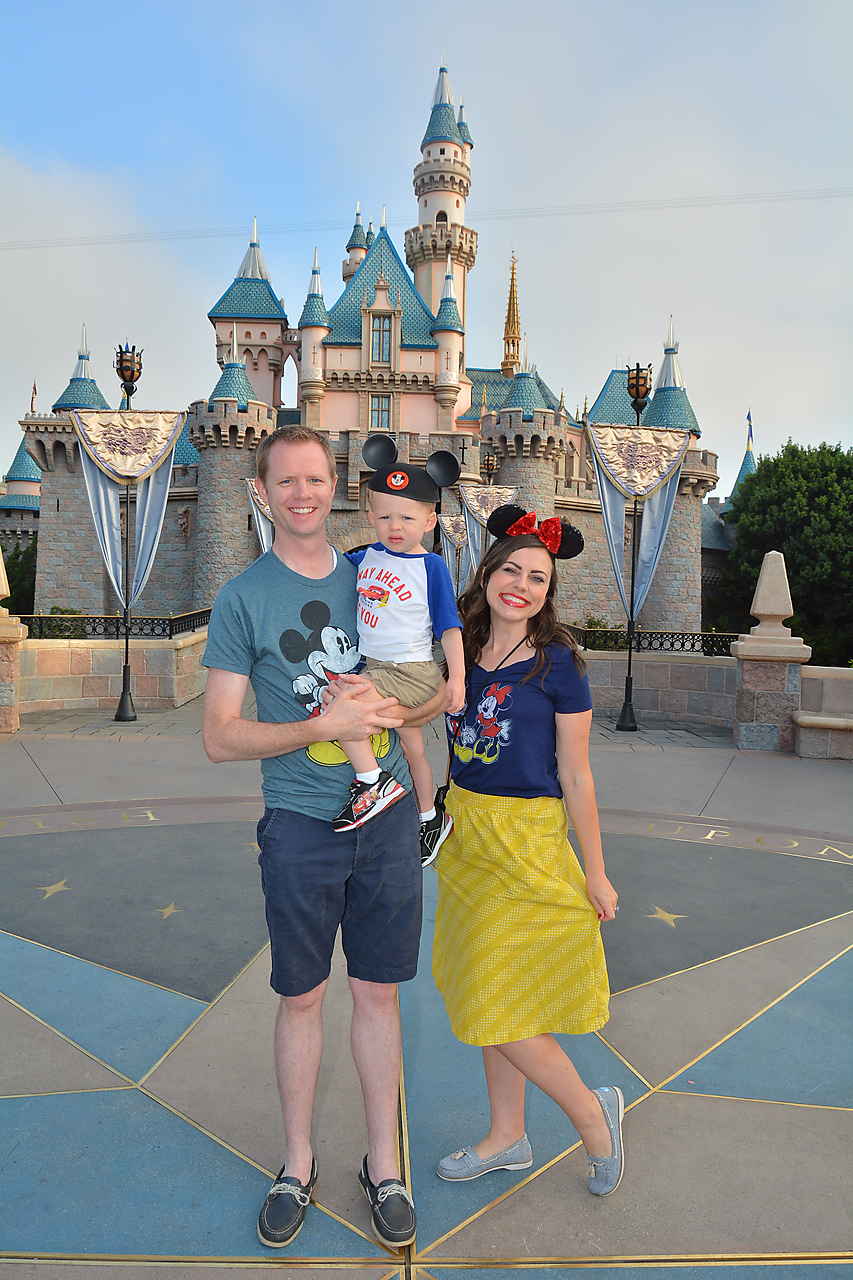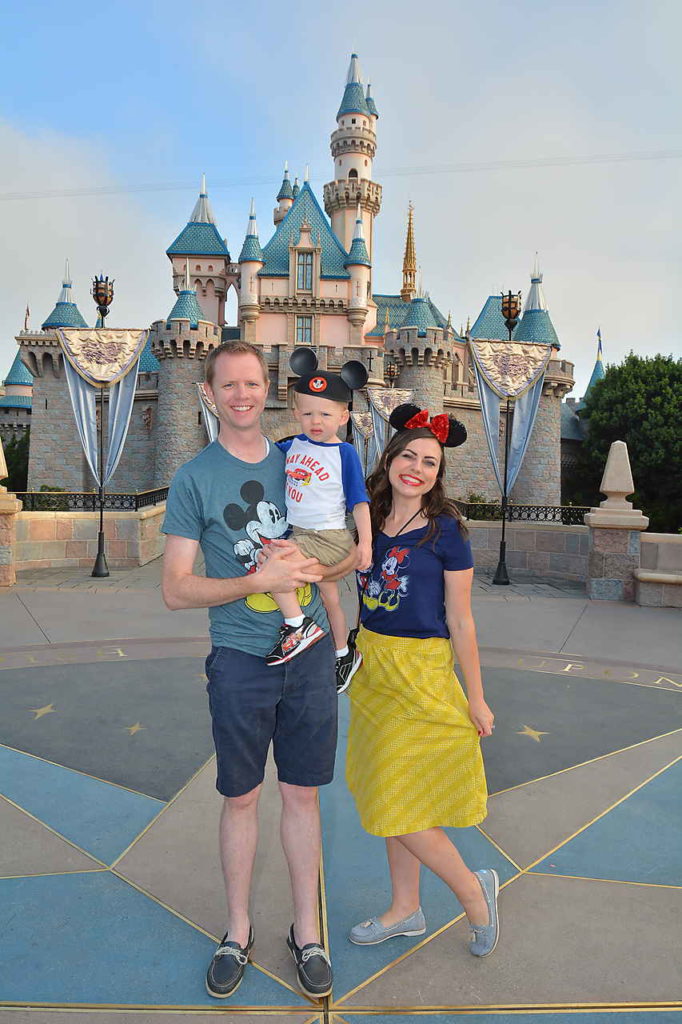 A few years ago we decided to head to Disneyland for the first time together as an adult married couple. We went right as summer was winding down and it was becoming fall. My biggest concern for the trip was what to wear Disneyland. It had been so long since I had been, what was even appropriate for the big day?
What to Wear to Disneyland
We've now been several times in our married life, and I think I've learned a lot about Disneyland attire and what to wear to Disneyland. I thought I'd share some of my favorite ideas, a few tips, a guide for anyone planning an upcoming Disney vacation and wondering what to wear.
I'll give the straightforward answer first: you can wear pretty much anything you're comfortable in! I was nervous about wearing a dress or skirt, my personal favorites. But I realized after our first trip there wasn't a single ride I wouldn't have been just fine in a dress or skirt. I've seen people really go all out with character outfits, I've seen the most casual and the most formal. You'll be able to get away with what you really want!
I used to not be a character person or even a screen-print t-shirt type person. But one trip to Disneyland later I changed my tune! It's a place you get to feel the magic and act like a kid again. So as you think about what to wear for Disneyland, go ahead and indulge in your favorite character shirt or Disney saying. I promise over half the park is doing it and you'll fit right in!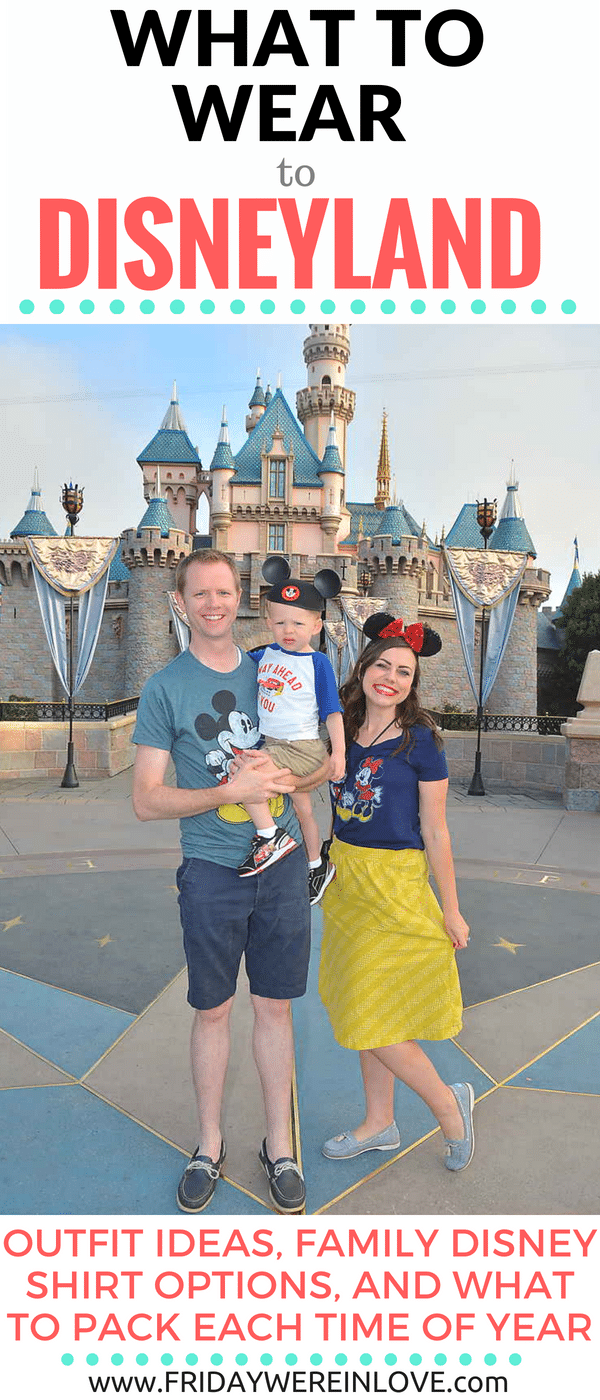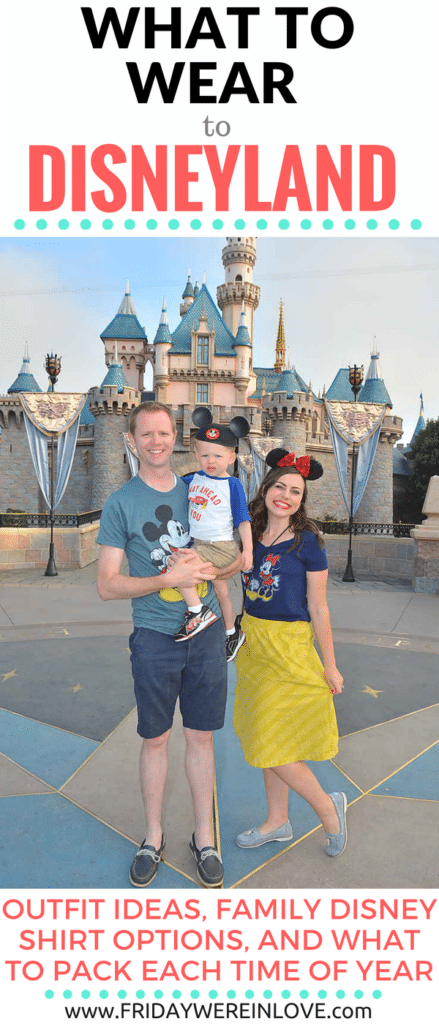 Disney Family Shirts
The great thing is these are really easy to find! We bought shirts for the entire family at Target for our first trip. And we've also had a lot of luck at Kohl's finding cute and inexpensive Disney shirts for Disneyland. But just in case you're looking for Disney family shirts to get everyone into character, here's a list of our favorite places to find them: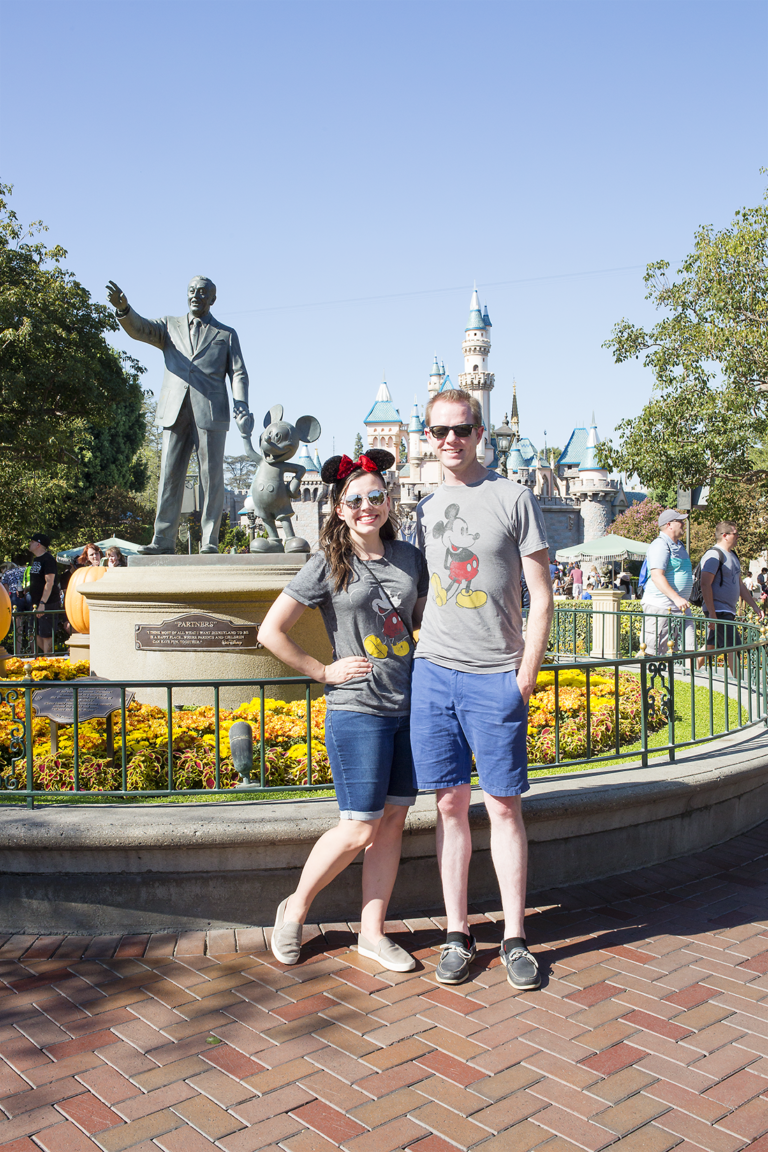 What to Wear for Disneyland- My Recommendations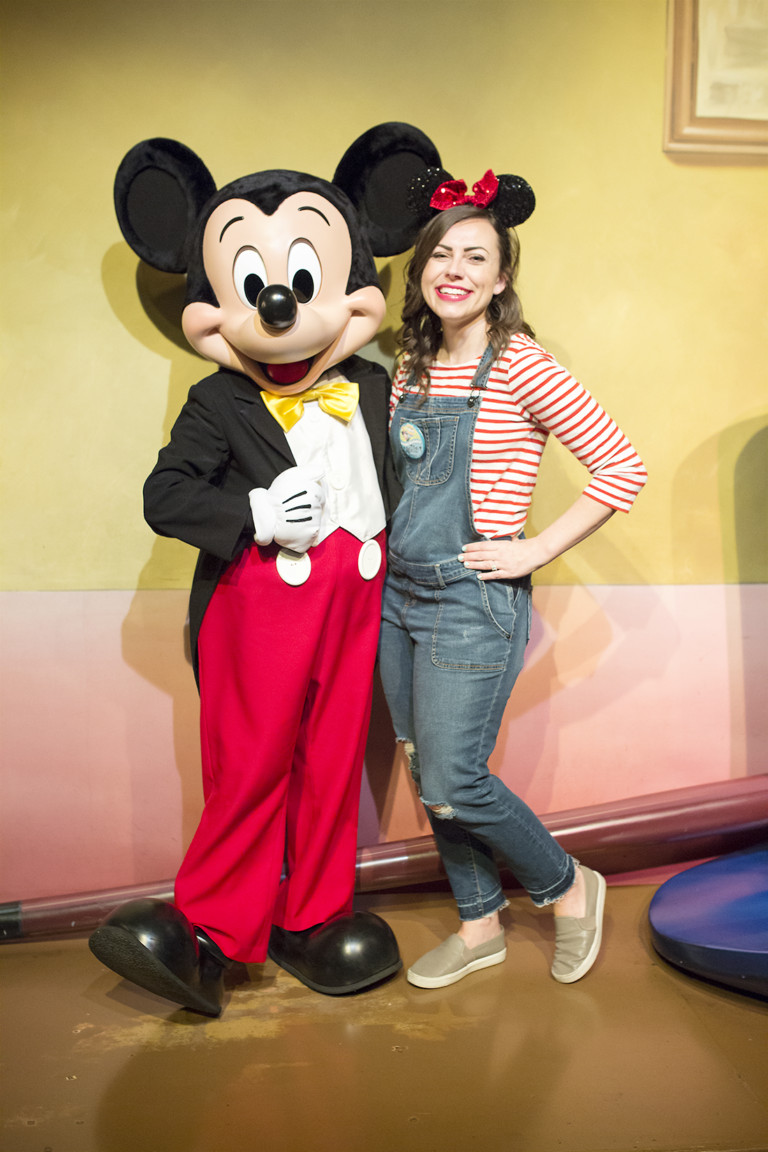 Outside of fun family Disney shirts, here are a few other guidelines for what to wear to Disneyland.
It gets hot in the summer. Walking all day and being in the sun make what may seem temperate pretty warm. I'd plan for lightweight, breathable fabrics. Shorts and skirts are ideal, and a t-shirt or lightweight top are excellent. Make sure you feel comfortable moving around, getting wet on certain rides, and maybe even being sweaty in your outfit. Also, don't forget the sunscreen! Related: Supergoop Mineral Sunscreen Review
Bring a jacket! Even on those hot days, it often cools down significantly at night. Unless you want to buy a sweatshirt for a souvenir, you may want to bring your own. Particularly if you have kids.
In the winter, check the forecast and prep for either. We've had days where we happily wore summer clothes. We had a trip in January of this year where we were cold most of the time. Sweaters, long-sleeves, and even a blanket purchase were in the cards. It really can vary, and you'll be shocked by how much it can change even day-to-day!
Wear comfortable shoes. I've written a whole post on the best walking shoes for women, with tons of options linked at various price points. Disneyland is my ultimate test! My Fitbit tells me I walk 10-13 miles a day there, so good shoes are a must!
And If You're Still in the Market for Cheap Disney Tickets
I always have to add this part, for anyone still looking into booking their trip.
We're really into getting a good deal on Disney tickets and hotels so we can go more often- we can also justify spending money on new family Disney shirts for our trips! We've booked all our trips the past two years with Getaway Today. They are one of the only discount Disneyland and Disneyworld ticket providers out there.
Vacation packages so easy, and so much more affordable than anywhere else we've found! Also if you're still dreaming of your trip, putting the $175 down and locking in the current prices and booking our trip on layaway is a great option. It doesn't cost any more to do. It just gets our foot in the door while we come up with the rest of the trip.
Seriously, if you're looking into an upcoming Disneyland trip, you should look into a Getaway Today package and use code: FridayLove for an extra $10 off your package!
Like this Disneyland post? You may love these posts too:
Must Take Disneyland Picture Ideas: The Most Instagramable Disneyland Spots
The Best Time to Go to Disneyland
Disneyland Discount Tickets: Disneyland Ticket Deals
Get 365 Date Ideas!
We want to help you have the best date nights ever! Grab this FREE printable with 365 date ideas, a date for every day of the year so you never run out of ideas!