How to Do Disneyland Pregnant
Can I go to Disneyland pregnant? Will I have any fun? What rides can you ride at Disneyland while pregnant? All these questions answered and tips for making the most out of Disneyland when you're visiting pregnant!

Can I Do Disneyland Pregnant?
That was my first thought the moment my husband told me he had big plans to take the family to Disneyland for my birthday.
"Yikes, I'll be 14 weeks, can I even do Disneyland Pregnant?"
After a little bit of research, a little bit of prep, and a lot of pregnant at Disneyland determination later, I told him to book the trip and decided to answer my own question. Yes, you can do Disneyland while pregnant!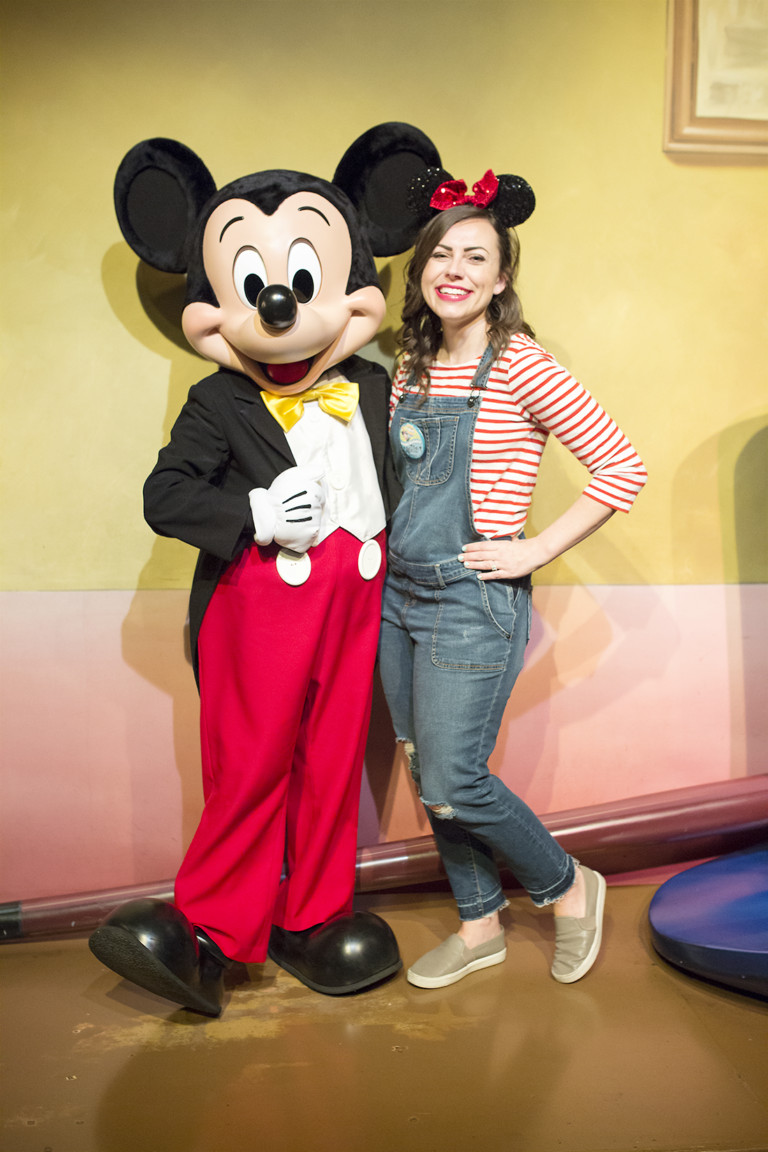 Disneyland While Pregnant
When I did some research online I was pretty disappointed in the recommendations I read. The top search yielded a girl saying you just avoid all rides and decide to enjoy parades. She also mentioned plan at least one nap. While naps are always great when you're pregnant, I really kept thinking, honestly, will I have any fun at Disneyland while pregnant?
When it comes to the expense (even with our favorite discount tickets trick or doing a Get Away Today discount package), I like to make sure it's worth it! For me, a few parades and a nap weren't going to justify paying for and doing Disneyland pregnant.
I decided to read what Disney had to say and to think logically through my own park plan. I was still feeling so queasy (let's be honest, this whole pregnancy I really struggled). What would actually be fun, and doable, and how could I make the most of Disneyland pregnant?
The Best Time to Go to Disneyland While Pregnant
I took a breath of relief when we hopped on our first ride, Pirates of the Caribbean, and found another family with a toddler the same age as ours in front of us. The ride was stopped for about 15 minutes for some reason, so we started to chat. This other pregnant mom was eight months pregnant (in her third trimester)! I was impressed! I told her I was 14 weeks (freshly in my second trimester), and we talked a bit about the best time to go to Disneyland while pregnant.
She and I had the same philosophy: if my two-year-old can ride it, I should be good too! I have a few exceptions to this, but I'll address those separately.
We talked a lot about the timing of pregnancy. She was a bit concerned that she would swell and have a hard time walking the park. I was concerned I may ruin a child's day should they see me throwing up in the bushes with morning sickness. We both agreed if you can get out of the higher-risk time of those first 12 weeks of development (aka your first trimester), but not quite be in your third trimester, that's a great time.
I felt really safe being 14 weeks pregnant. Although I was still queasy, I was getting more energy and was up to walking the park! I think early in the second trimester is your best time to go to Disneyland when you're pregnant.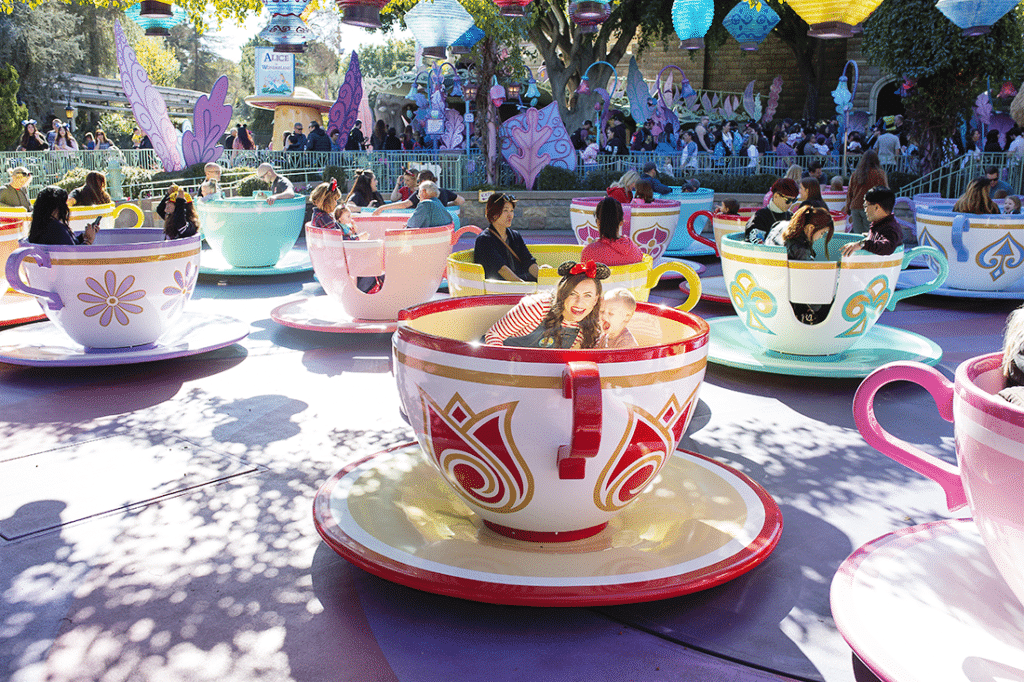 What Disneyland rides are safe during pregnancy?
I have to give the full disclaimer that I'm not a doctor, you should talk to your doctor, and there is always a risk going on any ride. Please note I'm just one mom speaking to another expecting mom here.
But basically, this theory held true and worked well for me. If my toddler can ride it, I should be good too! Now, this also included a bit of common sense. We got on Autotopia while dad enjoyed Space Mountain (my favorite!) for me. I watched a kid rear-end another car while we were starting and panic struck! I knew instantly this wasn't a good choice! Luckily we made it through without any collisions or bumping, but I noted that's one to avoid while pregnant.
I also avoided the roller coaster in Toon Town, any bumper cars in California Adventure, and of course, all the fun rides my toddler wasn't tall enough to go on.
I made three personal exceptions. 1. I went on Star Tours. I have been on it enough I knew where to brace myself for a jerk and I felt like I'd be okay at those couple spots. That was totally a personal choice that may not be for everyone! I also went on Soarin' and Radiator Springs Racers. I once again felt I knew them well, they were fairly smooth and I did need a little speed to feel the thrill of a ride to help me really enjoy Disneyland pregnant.
Disneyland Park Rides and Attractions without Restrictions
Jungle Cruise
Finding Nemo Submarine Voyage
Dumbo Flying Elephant
Peter Pan's flight
Snow White's Enchanted Wish
Teacups
Small World or Small World Holiday
The Haunted Mansion/Holiday Haunted Mansion
Pirates of the Caribbean
Buzz Lightyear Astro Blasters
Astro Orbiters
Alice in Wonderland
Disneyland Railroad
Minnie and Mickey's Runaway Railroad
Disney's California Adventure Park Rides without Ride Restrictions
The Little Mermaid: Ariel's Undersea Adventure
Inside Out Emotional Whirlwind
Monster's Inc: Mike and Sulley to the Rescue
Spider-Man
Rides Disneyland/Disney California Adventure Advises Avoiding When Pregnant:
Matterhorn Bobsleds
Space Mountain
Splash Mountain
Big Thunder Mountain Railroad
Mickey's Runaway Railroad
Autopia
Star Wars Star Tours
Smuggler's Run (by the Millennium Falcon)
Rise of the Resistance
Indiana Jones
Rise of the Resistance
Guardians of the Galaxy: Mission Breakout
Incredicoaster
Goofy's Sky School
Jumpin Jellyfish
Soarin' (But this is one I may personally make an exception if you don't have a large baby bump)
Silly Symphony Swings (another I personally may do)
Grizzly River Run
Mater's Junkyard Jamboree
Luigi's
Radiator Springs Racers
Clearly by this list, one can conclude there's a lot more for expectant mothers to do at Disneyland than at California Adventure. So if you're visiting the Disneyland Resort while pregnant, I'd take that into account as you plan your Disneyland Vacation.
And although I'm talking Disneyland from personal experience, I think it's safe to plan a similar philosophy of rides and caution for any Disney vacation at Walt Disney World, Disneyland Paris, etc.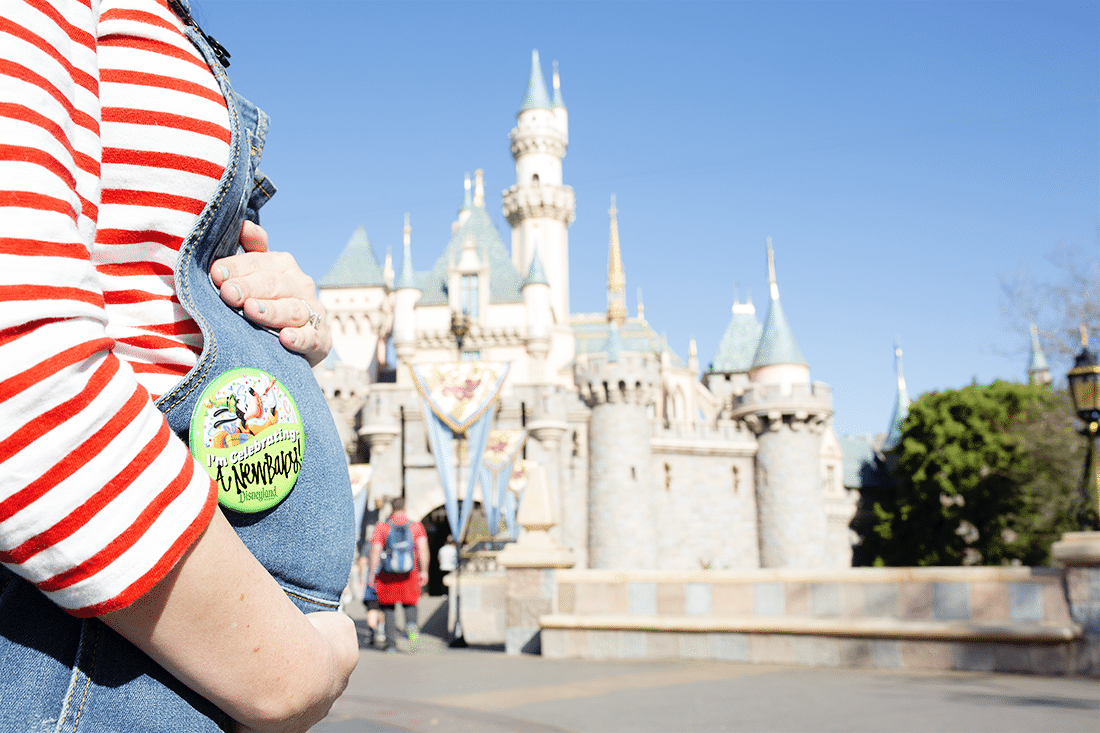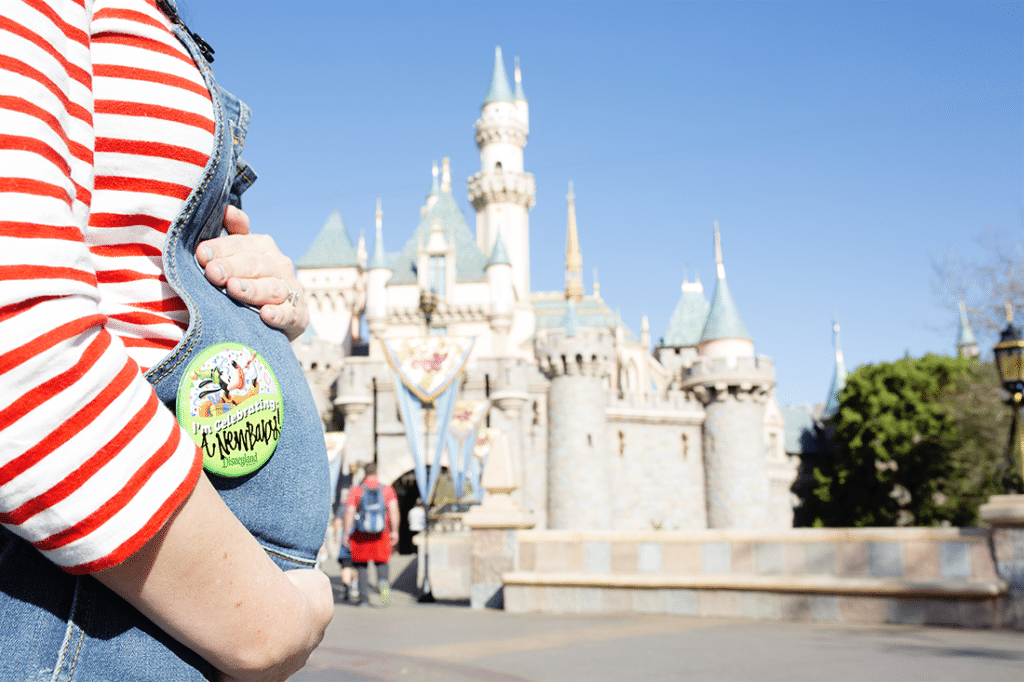 Other Visiting Disneyland Pregnant Tips
Keep yourself hydrated! It's so easy even when it's cold to get distracted. Make sure you have plenty of water and you plan plenty of bathroom breaks.
Plan some rest and breaks. We didn't go during parade season- darn it! I would have loved sitting and watching. But we did plan to go places we could sit. The Tikki Room felt great, plus hey, Dole Whips! We enjoyed watching a few more shows. I planned to sit on the benches while dad and our toddler rode a few rides. We did go back to the hotel for naps most days. A little rest went a long way!
Also, know where the First Aid Centers are before you go, just in case you need them. And don't be afraid to ask a cast member for advice and help. They're there to make your day magical, and they can give any advice you need so you can create some magic and still have great moments even when you're doing Disneyland pregnant!
Bonus Disneyland Pregnant Tips
Get the best walking shoes you can! I've written a post about my favorite travel shoes, let me tell you Disneyland is my favorite place to wear great shoes! I do the most walking those days. Disneyland pregnant is the perfect excuse!
If you can book character dining, do! Enjoy a really good meal and sitting down relaxing for part of the day. We like to do Goofy's Kitchen for lunch or dinner to get a true break and some rest. It was excellent to eat a lot of healthy foods and enjoy the salad bar. The baby loved it too! It's fun for everyone and your pregnant feet and back will thank you.
And I have to add, we love booking our trips through Getaway Today. We're always shocked by the deals they find us, and they make Disneyland trips so affordable we often get to go twice a year instead of once! Be sure to check them out if you have any Disney trips planned, they are one of the only ways to get discount tickets!
Like these Disneyland travel tips? You may love these posts:
Most Instagramable Spots at Disneyland: Disneyland Picture Ideas
Get 365 Date Ideas!
We want to help you have the best date nights ever! Grab this FREE printable with 365 date ideas, a date for every day of the year so you never run out of ideas!