The Best Star Wars Books for Kids
Star Wars lovers rejoice: there are a ton of great Star Wars Books for Kids from baby years to pre-teen! Here's a roundup of Star Wars Books kids will love!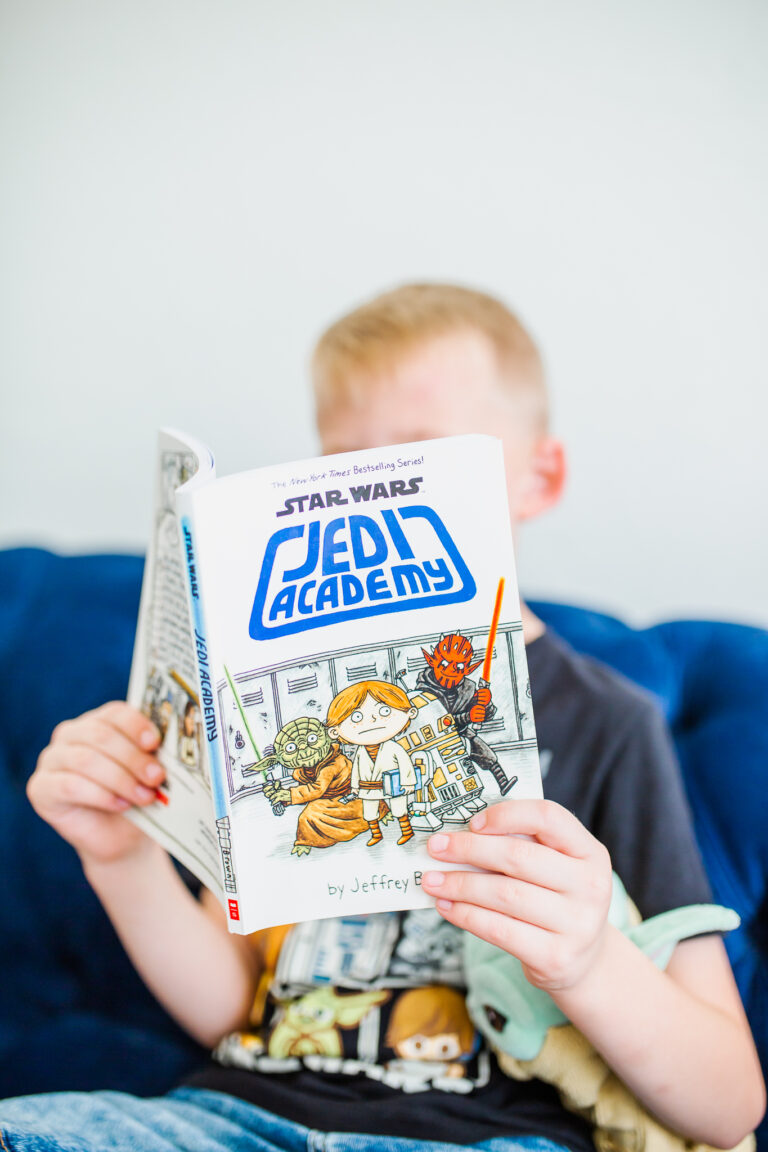 Baby Star Wars Books: Ages 0-3
Are you looking to grab that first Star Wars book and start your baby off with a love of the Star Wars series? Try these Star Wars books for babies!
Star Wars Books for Babies
Star Wars books for babies. Grab these baby Star Wars books to start your littlest Jedi fan off right!
This is a cute way to introduce ABCs with some of the cutest Star Wars Characters!
I mean why not learn your numbers with Obi-Wan?
This is a sweet book making the aliens of space into very cute creatures.
Hello, emotional intelligence aid! I mean truly the Luke Skywalker and Darth Vader story deserves to have some early emotional exploration!
Every baby needs a color primer. Naturally, a Star Wars baby book is a great way to help them learn!
This is great for babies through older kids, so it's a book that will grow with them!
Star Wars Children's Books: Pre-K (Ages 3-5)
If you love to sit and read to your kids, and also want them to love Star Wars stories, don't miss out on these children's Star Wars books!
Star Wars Books for Kids: Pre-K
Excellent Star Wars Books for Kids. Books to read to your pre-k-aged children (ages 3-5).
You know those inspirational books that remind kids great things are in store for them in life? Welcome to the very cute Star Version! It's the perfect bedtime story and confidence boost kids will love!
We love the 5-minute story hardcover book. It's fantastic for even the littlest star wars lover. My kids have loved hearing these stories as bedtime stories.
Another excellent bedtime story collection!
This series helps introduce characters and it's so fun to have them in a boxed set!
If you love introducing the plot of the Star Wars Saga, this is a great place to start for younger kids!
Little Star Wars lovers aren't ready for the movies, but you can help them feel like they understand the characters and movies through books. This series is a great one to cover many of the Star Wars movies at an age-appropriate level.
If your kids have fallen hard for Grogu (aka Baby Yoda) they're going to love feeling in the loop about him through this Star Wars book for kids!
Jeffery Brown will crack parents up and delight children with his Darth Vader series. This is a bit of a Goodnight Moon parody with all things Star Wars.
Has my son said "Goodnight, don't let the space slugs bite" every night for the past year of owning this book? You bet he has! It's a favorite in our household!
Even though it's a children's book, I think most dads would love to own a copy to read to their kids. The humor pokes fun at many of the parenting struggles (aka bedtime) that any dad who also happens to love Star Wars stuff would appreciate!
If you have a daughter, you need this book to read together! It's a funny take on parenting cliches and problems through of scope of Star Wars.
Jeffery Brown gets children's books, and this darling take reminds you what friendships can look like.
One of the most beloved Star Wars characters gets his own tale kids will adore!
Star Wars Early Readers
If you have someone just learning to read and practicing the basics, these are for you! One way to help spark a love of reading and a desire to practice is through a set of readers with a subject they're interested in. I'm betting if you're reading this post, Stars Wars is one of those things for your kids!

I owe several of these series some major credit for helping my son move from an emerging reader to a chapter book lover! I hope they do the same for your early reader too!
Star Wars Reader Books for Kids Learning to Read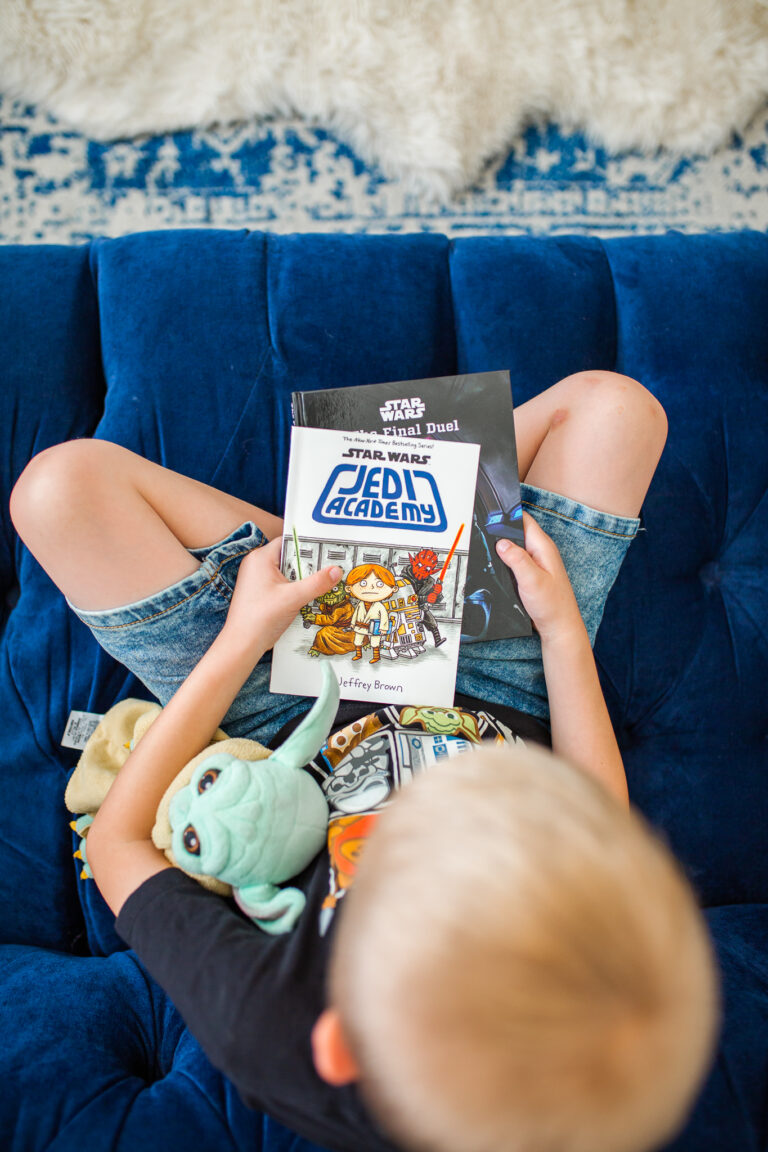 Children's Star Wars Books for Emerging Readers: 5-8
When they're ready to graduate from early readers and start reading more independently, these children's Star Wars Books for early readers are a great place to start!
This roundup includes easy-to-read books, Star Wars comics for kids, and plenty of Star Wars Graphic Novels for kids.
Star Wars Books for Kids: Emerging Readers Age 5-8
When kids are graduating from readers, but still not quite ready for full chapter books, these Star Wars Books for kids are the way to go!
The Star Wars Jedi Academy books are fantastic! They're more of a Star Wars Graphic novel, done in a Star Wars comic books style. But they're a great way to help kids prepare for chapter books!
But don't let the Star Wars Jedi Academy book's age range fool you (8-12), they're enjoyable for kids and adults of all ages! My six-year-old has whipped through them and loved them!
Fair warning, kids love them so much, you may have to remove them from their bedroom so they don't stay up all night reading (not that we face this problem every night- wink)
Star Wars Jedi Academy Books Age range
This combines beautiful imagery in a graphic novel style with plenty of almost chapter book-length text. It also happens to feature more Star Wars fans favorite characters.
This is a great mix of a Star Wars picture book and a longer reader. Kids can tackle individual stories with the perfect blend of image and text to help them stay interested and keep progressing in reading.
The entire book at once may feel a little overwhelming, but if you have your emerging reader take it a page at a time, it's perfect! They can focus on one ship, the details, and practice bigger words. Plus, you'll learn a lot of interesting facts and details you may not have known before!
Once again, this may be a lot all at once. But each individual page is great for kids to focus on and expand their reading skills! Plus, if they already know some Star Wars characters (like most Star Wars loving kids do), they'll build off prior knowledge and have a great start while they sound out bigger words.
This is another great balance of picture and text! Kids can read the details of the objects and character images and make a lot of new connections while practicing sounding out bigger words.
Star Wars fans everywhere are loving Ahsoka Tano, and of course, loving a great Star Wars Ahsoka book! This is the perfect one for young readers!
This is three books in one, with a really fun Star Wars graphic novel that covers the original movie series.
We're just keeping the graphic novels coming with more movie adaptations that are age-appropriate and really fun for early readers to read!
Learn fun facts and explore the galaxy with Grogu!
Six movies into six graphic novels; all bundled in one set!
This graphic novel is a great one-off story if your kid isn't ready to commit to reading every Star Wars graphic novel in the traditional saga.
Hooray for celebrating the female heroes of Star Wars! Plus, who doesn't love an Ahsoka Star Wars Book? There's an entire Star Wars Forces of Destiny series
Star Wars Chapter Books for Kids: Ages 8-12
Welcome to chapter books, and stories that Star Wars lovers will enjoy! Here are a bunch of great age-appropriate books as well as Star Wars chapter books series to check out!
Star Wars Chapter Books
Once you have a reader on your hands, you know the joy and struggle of finding great books for them to enjoy! For all the Star Wars loving kids who are reading for chapter books, here's a round-up of excellent Star Wars Chapter Books
Star Wars Activity Books
We do quiet time daily in our home. One of the big secrets to making this work has been having at-home activities for kids on hand.
Because my kids love Star Wars so much, Star Wars activities and Star Wars activity books have helped keep their interest! They also make the perfect consumable gift for holidays and birthdays!
Star Wars Activity Books for Kids
Keep Star Wars loving kids entertained with these fun Star Wars Activity books for kids!
Easy Add to Cart
If you're ready to snag a few of the best Star Wars books, this shopping tool makes it easy! Add the ones you'd like to purchase to your cart all at once, and when you click checkout, they'll be automatically added to your Amazon cart. You can review and complete checkout on Amazon.
Like These Star Wars Books for Kids? Be Sure to Check Out These Posts Too!
Star Wars Gifts for Star Wars Lovers
How to Get Disneyland Discount Tickets (to See Star Wars Galaxy's Edge!)
Christmas Picture Books for Kids
Get 365 Date Ideas!
We want to help you have the best date nights ever! Grab this FREE printable with 365 date ideas, a date for every day of the year so you never run out of ideas!