Luke Skywalker Costume (DIY)
Create a Luke Skywalker costume with a few key pieces with this easy and affordable Luke Skywalker Costume DIY tutorial!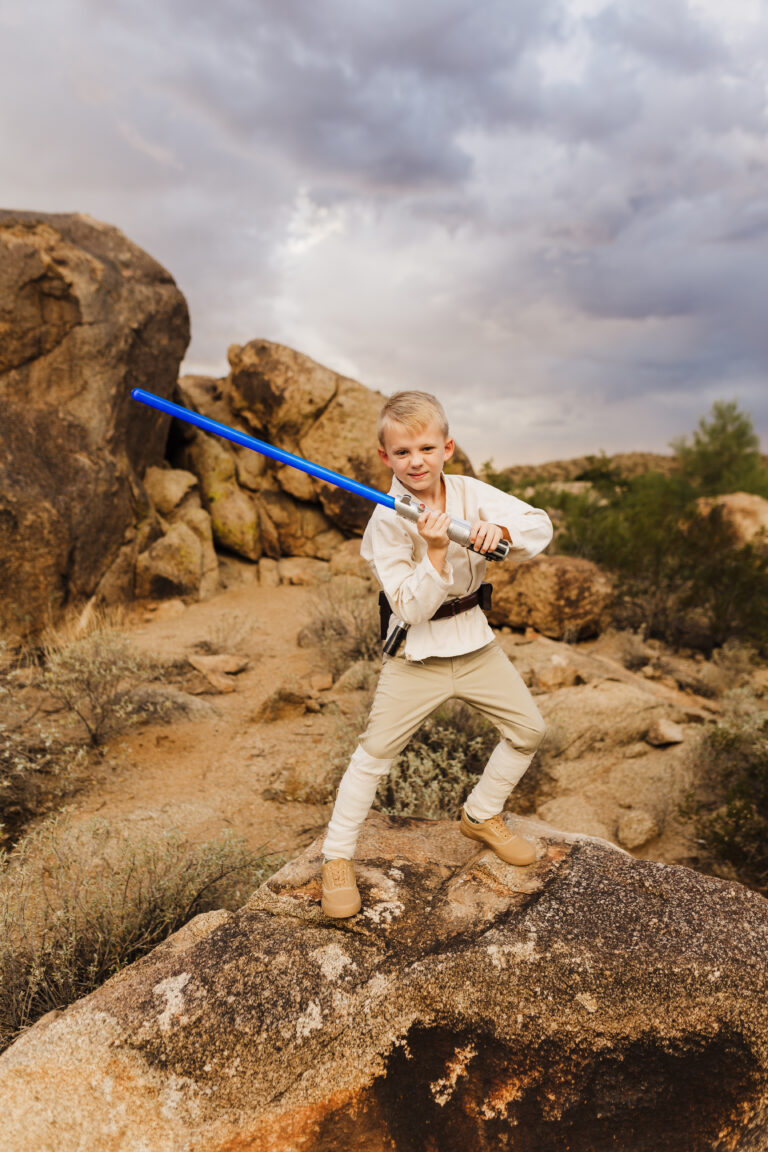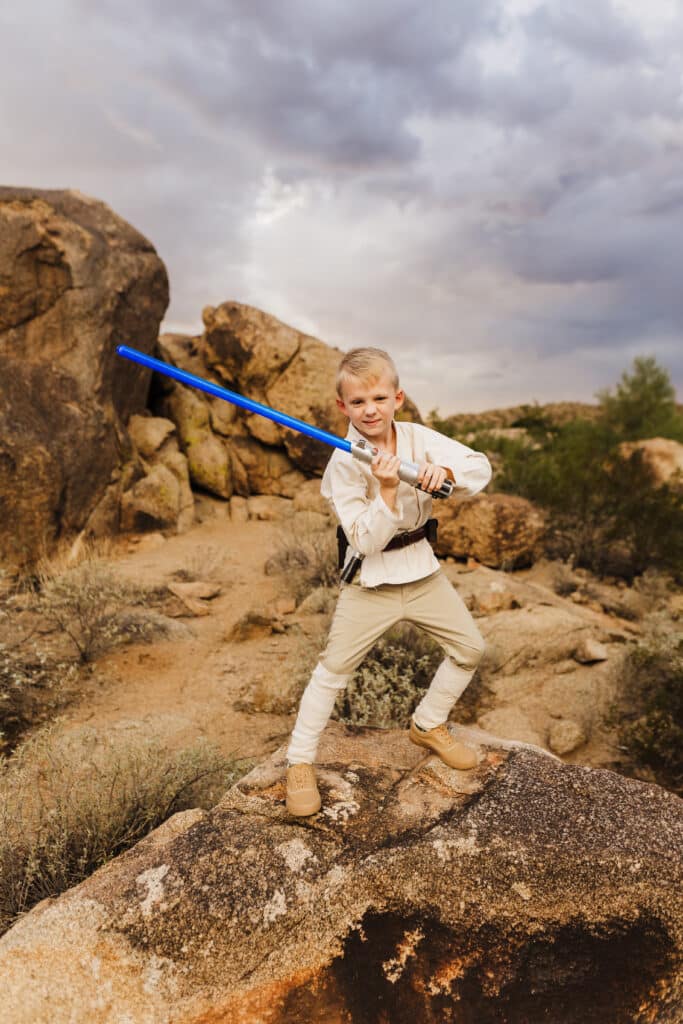 Our family headed to a long time ago in a galaxy far far away for a Star Wars family Halloween costume this year. We chose a fun theme within a theme, we were each a Jedi Knight with a fun Jedi costume photo shoot on a makeshift Tatooine! And the key person was our resident Star Wars lover who told us it was his dream to wear a Luke Skywalker costume.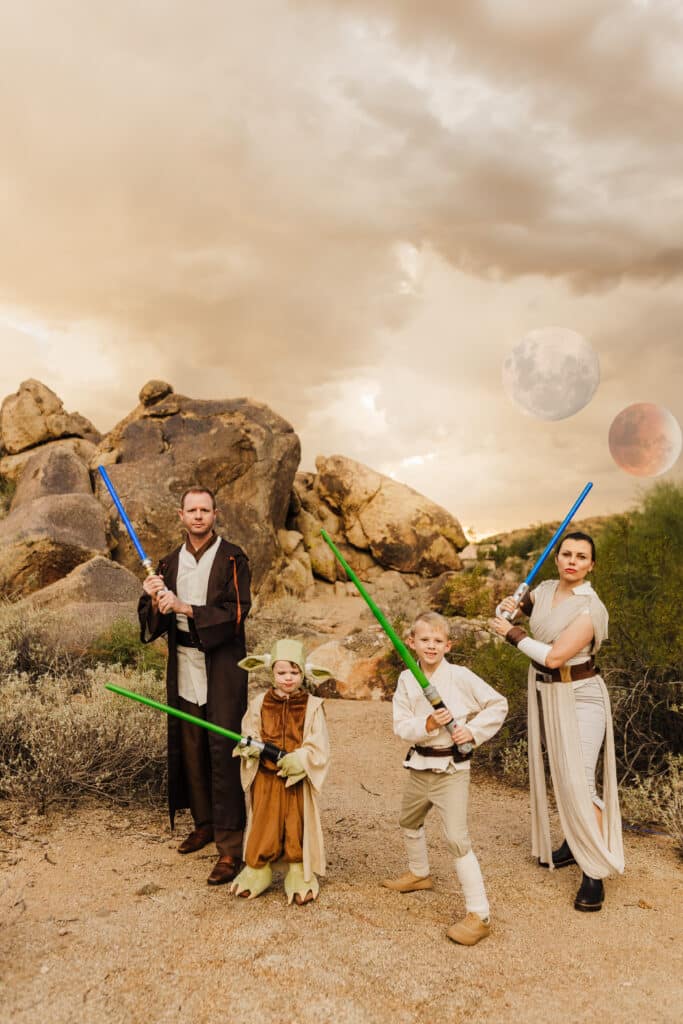 I will DIY if it saves a lot of money, or is out of necessity. Surprisingly, it was difficult to find a Luke Skywalker costume for kids I could easily add to cart. Once purchases were out of the question, we set out to create a DIY Luke Skywalker costume.
We clearly made a Luke Skywalker costume for kids, but you can easily create one for adults with this tutorial too!
I can't believe how cheap and how easy it was to pull this iconic costume together! We're going with the classic Luke from the first movie, Star Wars: A New Hope.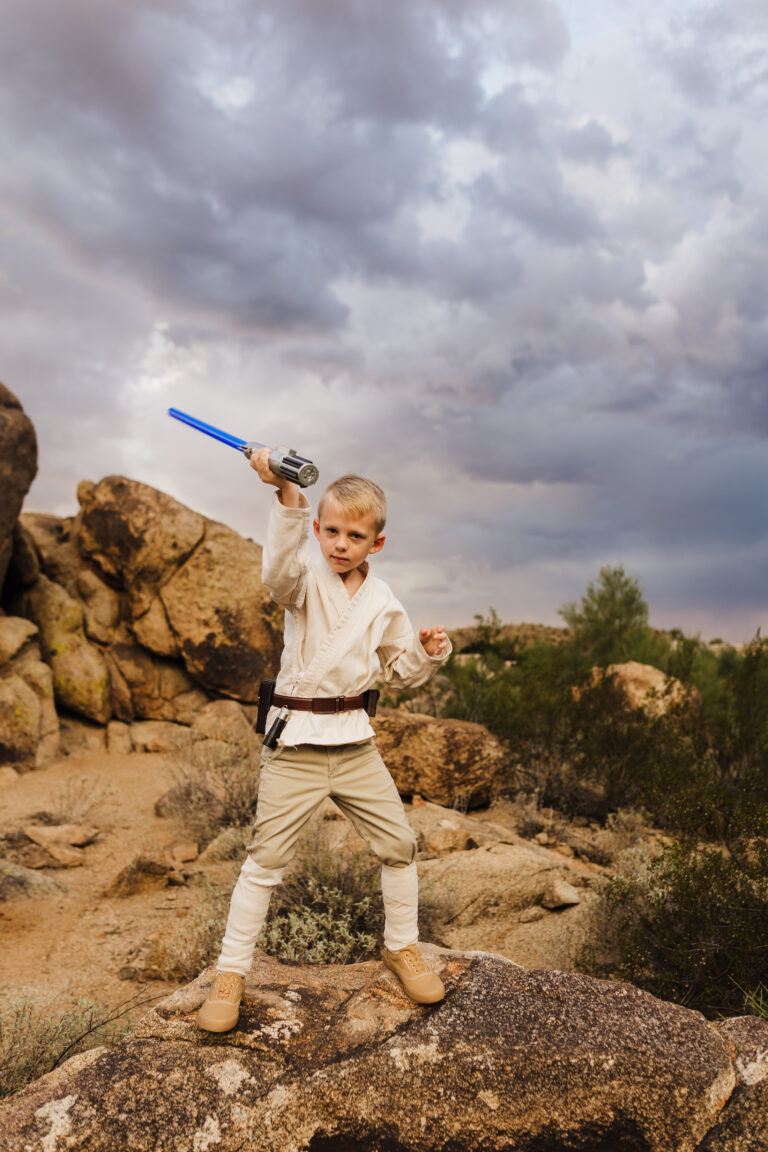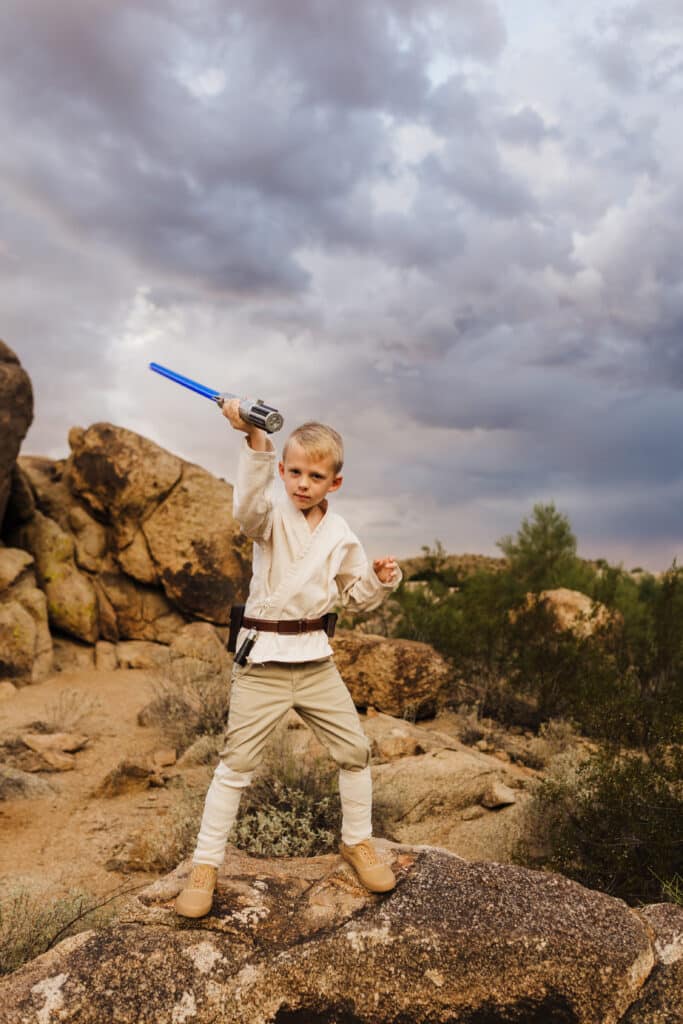 Here's what you'll need to recreate a Luke Skywalker outfit:
Tunic Top (We used a karate uniform top)
Tan pants
Brown shoes
Fabric bandages
A brown belt
A lightsaber in blue or green
DIY Luke Skywalker Top:
We grabbed a karate uniform top from the thrift store. But they're really easy to order on Amazon and get a free one or two-day shipping. If you're in a last-minute pinch, call your local sporting goods stores or karate teachers to see if you can buy one.
Dye Top with Coffee Grinds
We purchased some instant coffee grinds and added a cup to a gallon of water. Stir them in well so you don't get a splotchy stain. Simmer on low for about 30-45 minutes. Go ahead and toss it right in the wash after.
You should have the perfect Luke that matches his iconic look from his humble beginnings in A New Hope.
Luke Skywalker Costume Pants:
This is the easiest item: buy some khaki pants in their size! I'd lean towards a more fitted cut. You could even go down a size on the size chart since length doesn't matter much. However, I wouldn't stress too much, you can really make any dress pants or uniform pants work.
Luke's Boots
If you want an exact replica, you would like need to hire a cosplay seamstress! But luckily you can easily grab some deep tan or brown shoes as the base. We bought 4 fabric bandage wraps. You could get away with two (one per leg), but the four gave us a lot more freedom to recreate the wraps that look like Luke's boot tops.
If you already own some brown boots or black boots that would work, they look great with a Luke Skywalker DIY costume too!
The Brown Utility Belt
Let me start by saying you can easily grab a brown leather belt with a flat front and call it a day! We turned this into a deluxe Luke Skywalker costume thanks to my husband's crafty ways of trying to recreate the perfect tribute to Luke since it's our son's greatest wish list item for his costume.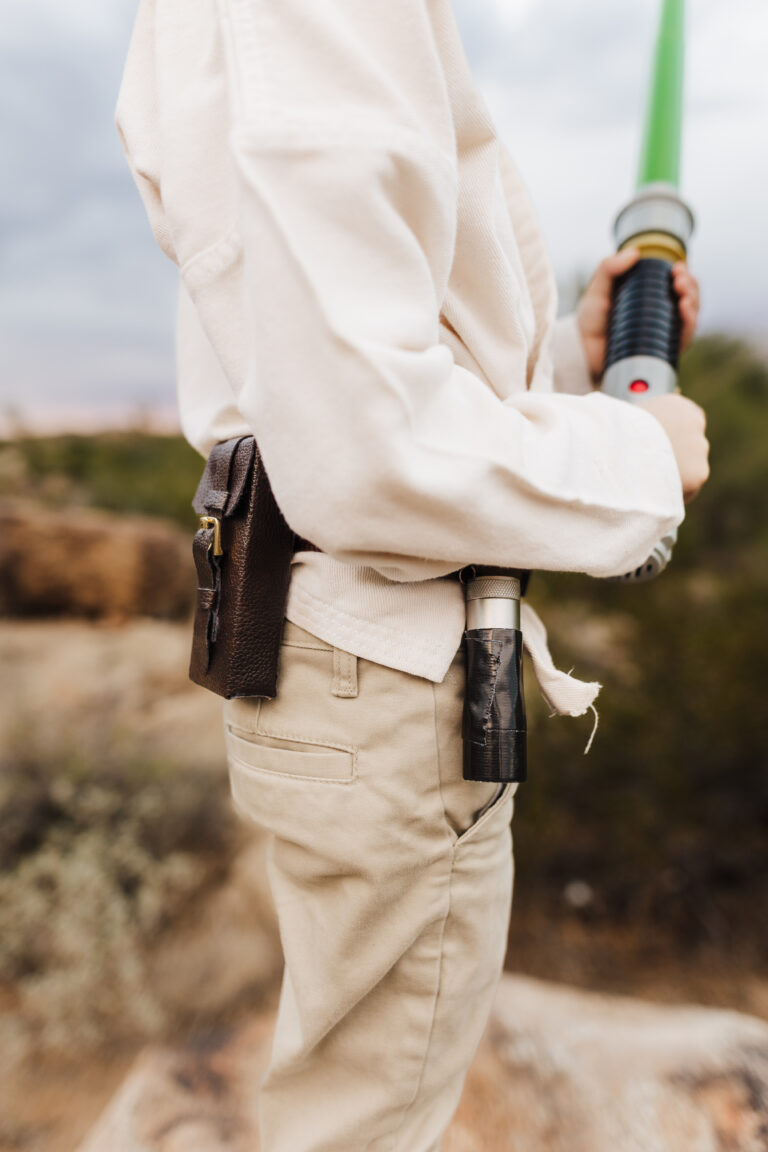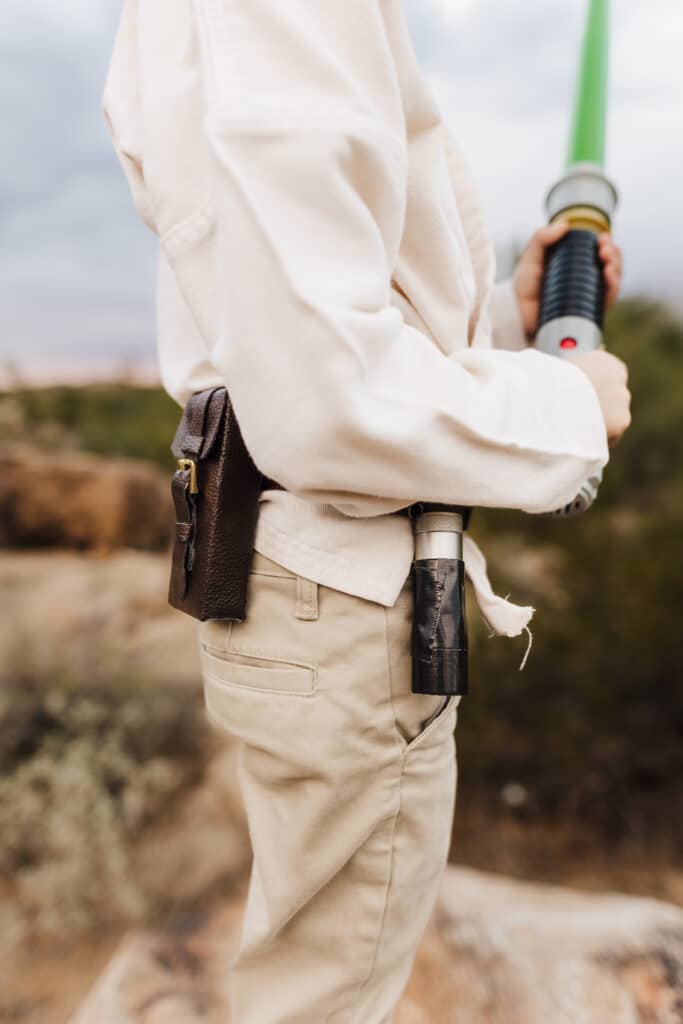 Here's what we did:
Start with a brown belt that can fit just below the waist.
Get a mini flashlight to mimic Luke's droid caller. We wrapped a silver one with some black electrical tape. It did the trick perfectly!
Create pouches that look like luke's by covering wood scraps/thick cardboard/small wooden blocks. Jacob used some small and thin blocks and wrapped them in pleather fabric. He made sure to cut the flaps and add some buttons with a hot glue gun.
For the long skinny pouch in the back, we grabbed an old skinny belt and glued the buckle piece to the top. It worked perfectly!
The belt really made the costume shine!
Lightsaber
These are pretty easy to find if you don't want to spend a lot of money. However, I'd highly recommend grabbing one from Shop Disney. These light up perfectly, make fun sounds, and are exact replicas. They didn't have an exact Luke Lightsaber, but Rey uses a blue one that's almost identical. And they also have an Obi-Wan Kenobi lightsaber that would work just fine as well!
We happen to have a green one from a trip to Disneyland, and since Luke uses one of those as well, we figured it fit great too!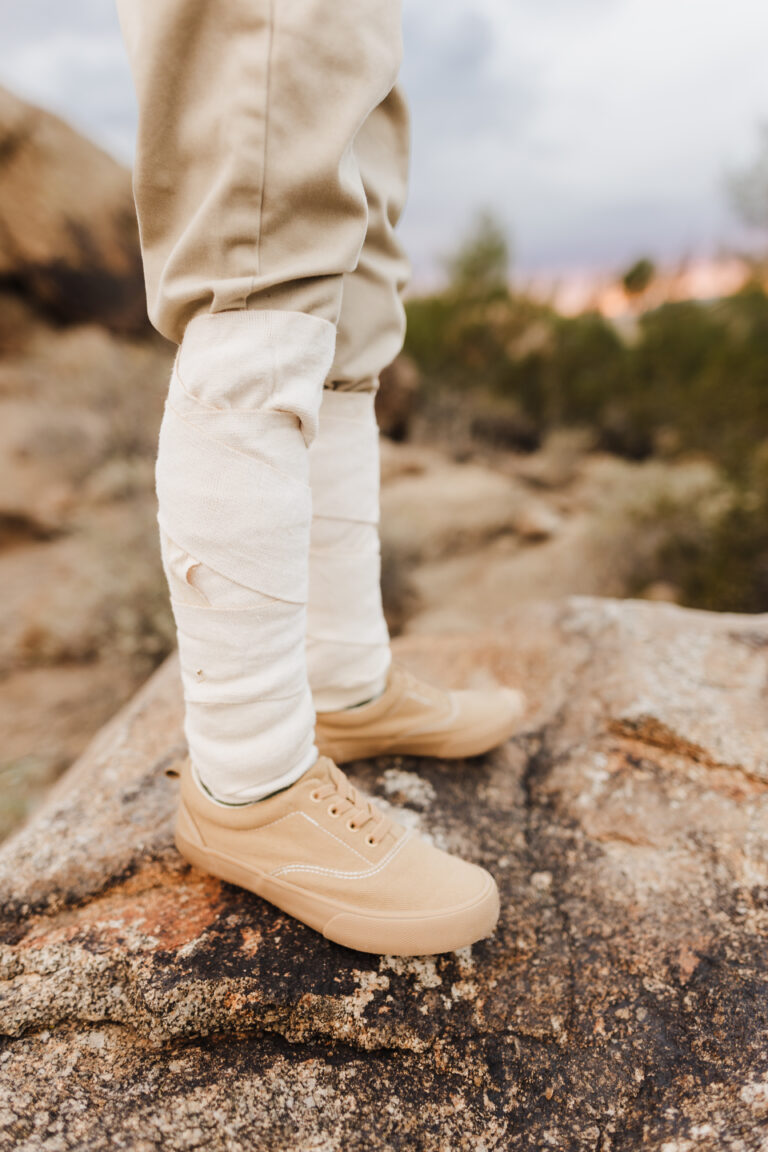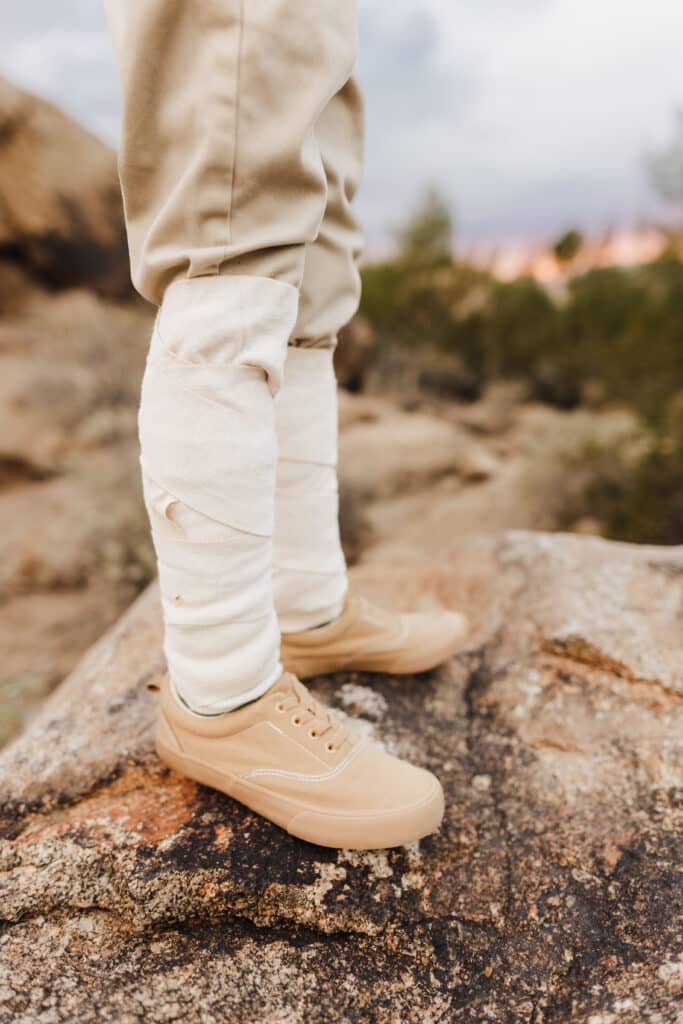 Optional Items:
Cloak. Luke wears a brown Jedi master-style cloak to disguise himself. It's a great jacket alternative
Swap the colors for a Return of the Jedi look! Go with a black shirt, black pants, and a black belt for an easy change! Be sure to grab a green lightsaber for this look! You can also add a black coak to fit the

New Jedi Order

Luke look.
Opt for a Luke Skywalker pilot uniform. I mean the moment he fights the Dark side and blows up the first Death Star is incredibly iconic! An orange jumpsuit and pilot helmet is also a great look!
The best part of all is the ability to pivot with friend, sibling, or family costumes! You could easily add in the following characters to pal around with Luke:
Han Solo
Chewbacca
Yoda
Grogu
The Mandalorian
Obi-Wan Kenobi
Darth Vader
Emperor Palpatine
Princess Leia
Poe Dameron
This is always a hit at costume parties, school costume days, and Halloween. It's a great costume people of all ages recognize and compliment, which is extra fun for kids!
And of course, it feels only right to end this tutorial wishing you the best in making your own, and may the force be with you!
Luke Skywalker Costume Frequently Asked Questions
Why is Luke Skywalker dressed in black?
In Return of the Jedi Luke wears black robes, and it was a strategic choice to lead viewers to believe he may join the dark side.
But also, it seems so fitting as the outfit to wear when you go to convince your father to leave the dark side.
What kind of clothes does Luke Skywalker wear?
Luke has two main looks. One is more rugged with browns, tans, and off-white to blend in as a farm hand on Tattooine. His other look is his Jedi Knight look. He wears black pants, a black shirt, black boots, and a black belt. His signature green lightsaber completes this look.
Also of note, Luke wears: A Rebel outfit, his Hoth outfit, and an X-wing pilot, to name a few other signature looks.
Are Jedi allowed to wear black?
There's actually no formal dress code for Jedis! Luke wears Black in Return of the Jedi, an Anakin wears black robes (alluding to the dark side). But most Jedis wear brown, white, or gray robes. The color isn't formally regimented.
Like this costume tutorial? Be sure to check out these posts:
Guardians of the Galaxy Costume
Disney Up Costume! Halloween Costume Reveal
Family Halloween Costume Reveal: Jurassic Park Costume