Halloween Handprint Crafts
Grab these fun FREE printable Halloween Handprint crafts for kids! They're cute Halloween crafts perfect for a Halloween party!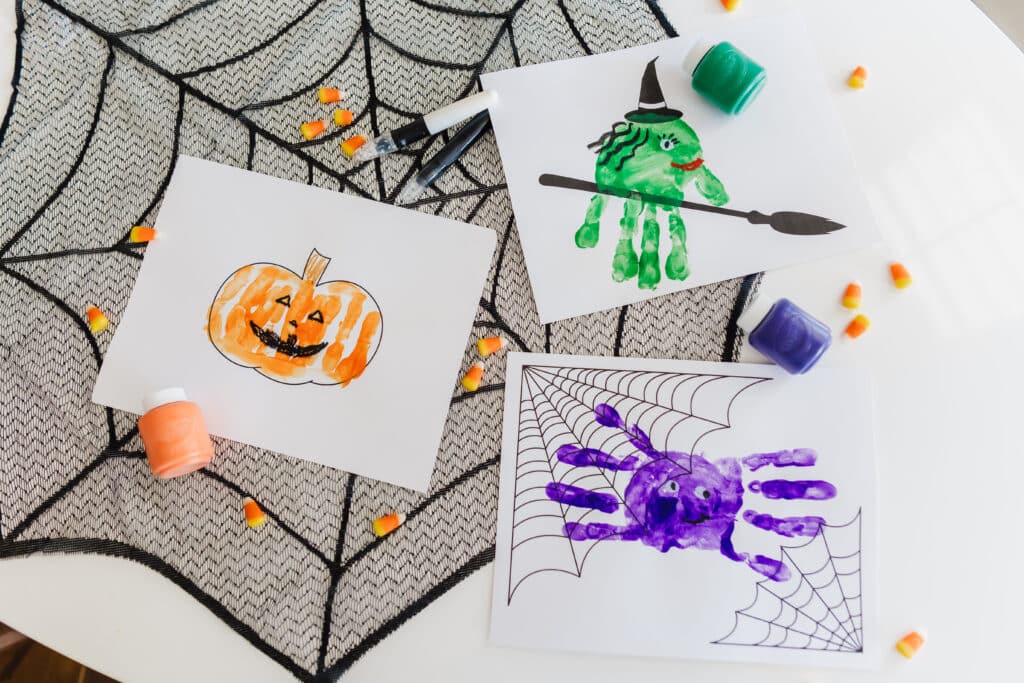 Who doesn't love an easy, fun, festive craft for kids? These Halloween handprint crafts fit the bill and may just create a keepsake forever documenting your little one's little hands.
We're minimizing the mess, maximizing the time kids spend being creative, and helping you make some adorable Halloween handprints in this fun Halloween activity!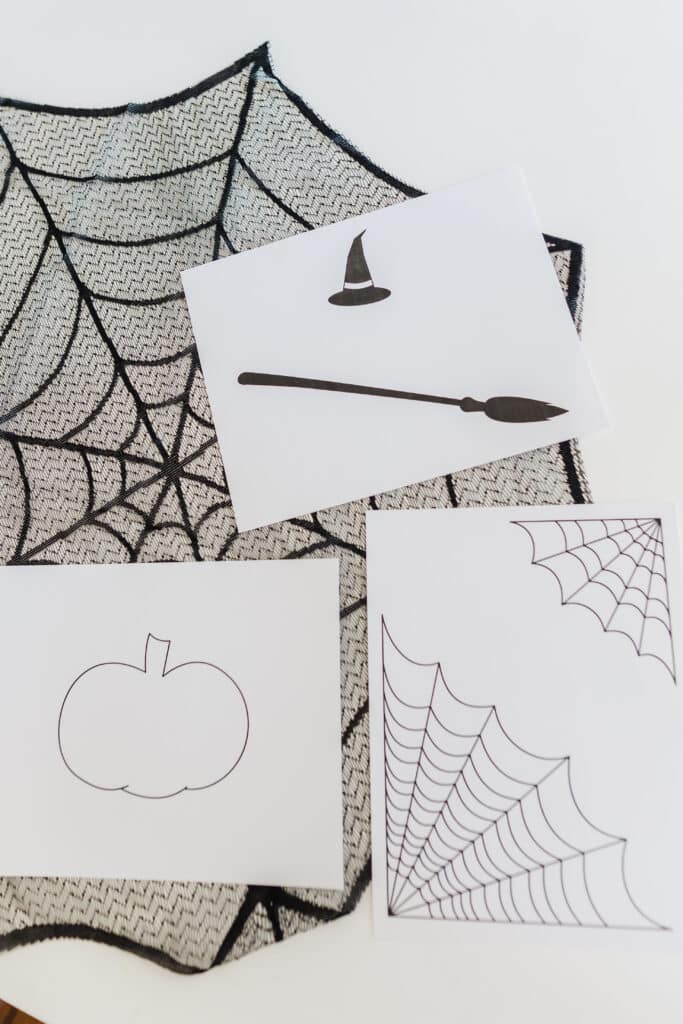 There are three free printables:
Witch Handprint
Spider Handprint
Pumpkin Handprint
Supplies Needed:
Paint.
I recommend washable paint, but you can use acrylic paint if that's what you have on hand!
Paintbrush.
A thicker paintbrush or craft brush works best!
Cardstock.
You'll have less mess and more solid handprints/footprints with thicker paper.
Black marker
A Sharpie works best, but if you don't want to hand a permanent marker to preschoolers at home or in a classroom, a washable black marker will do the trick too!
Googly eyes
These are an inexpensive way to add a lot of fun to your pictures! I love this multicolor variety pack.
Glue
A small child's hand ready to get crafty with paint!
Printable Handprint Halloween craft templates
Grab your FREE Halloween Handprint Craft Download Right Here!
Directions:
Download the Free Handprint Halloween craft printables. Print your favorites on cardstock.
2. Grab a paintbrush and your bottle of paint. I'd also have a sink nearby for little ones to wash their hands all prepped and ready before you get started with the paint. We love using washable paint for easy cleanup.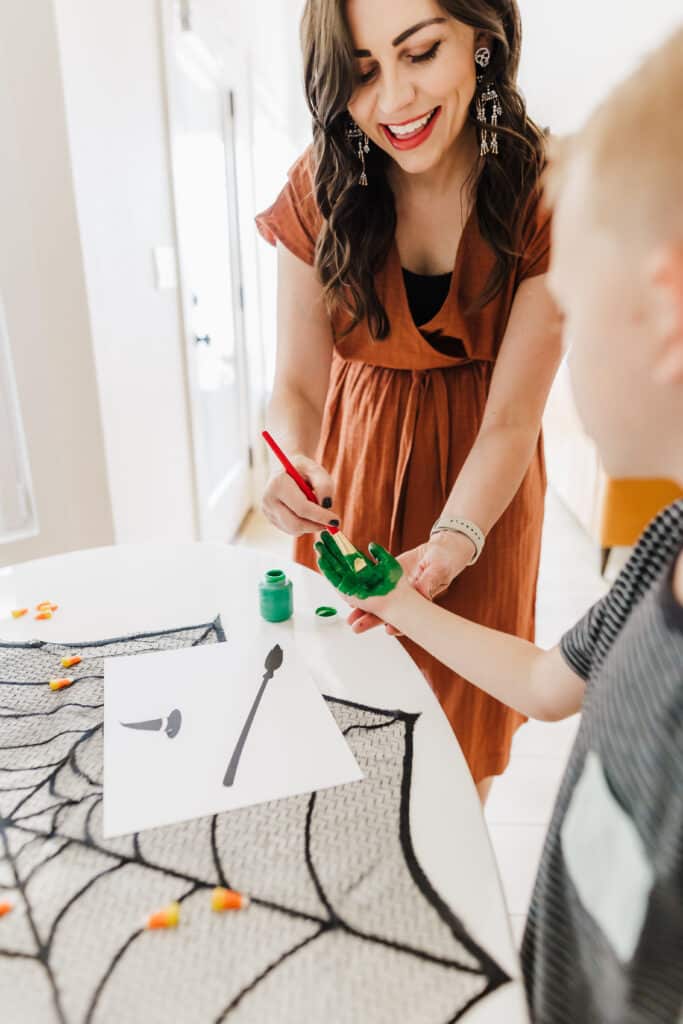 3. Paint the kid's hands! You can get away with painting only one. Just make sure you get the palm down to the fingerprint covered in paint! For the witch, the thumb is really important so don't skimp on paint there!
4. Place your handprint on the template to create a picture. Don't be afraid to firmly press, or to have kids wiggle fingers or roll fingers slightly to get a solid print. Be sure to see our tips for each of the pictures to help make crafting easier!
5. After you place the handprint paint on the printable, allow it to dry. I'd say a half-hour is excellent for these handprint Halloween crafts, but you can always speed up the process by placing them in the sun or safely using a hair dryer.
6. After the paint has fully dried, spend some time adding to the picture. You can draw on a face, hair, and eyes with a marker or with gel crayons. Googly eyes are always fun to glue on the picture.
But kids can also get creative drawing a front porch for the pumpkin, the night sky for the witch, or smaller spider friends for the spider.
It makes the pictures more unique, and it creates a great keepsake to document their art skills right now, in addition to their little handprints.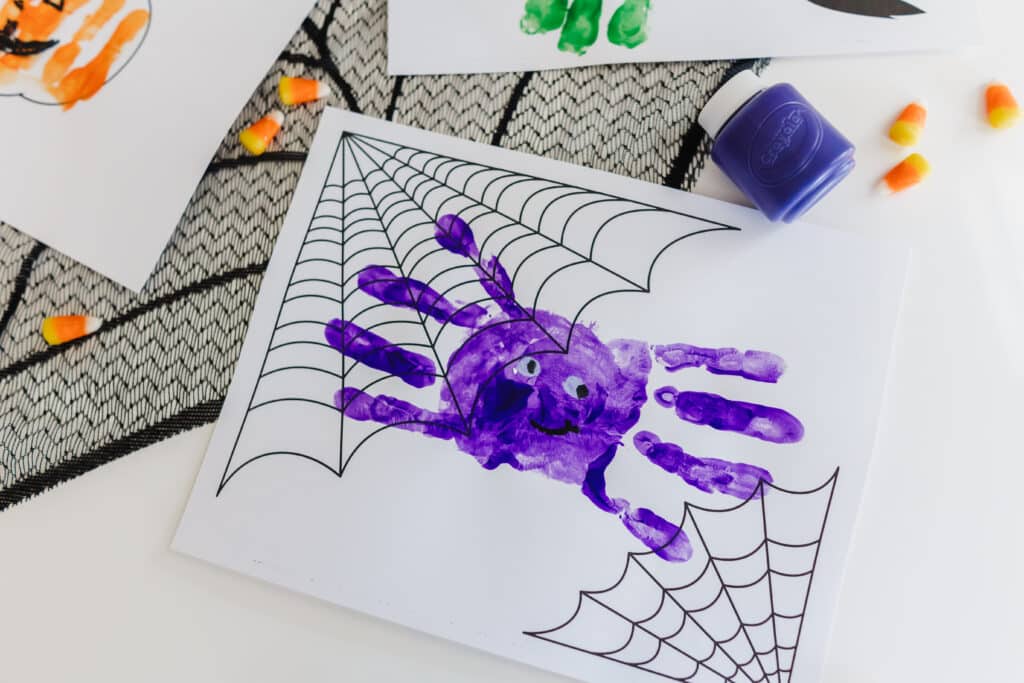 Tips:
For the spider:
You can avoid the thumb, and also use the same hand. Twist the painting upside down after the first print and have them place the second right on top. It gives the perfect 8-leg spider Halloween handprint art!
Also, black paint is always fun, but you could also try white paint on black paper. Feel free to get creative with any color the kids like. I mean a sweet pink paint spider is completely acceptable!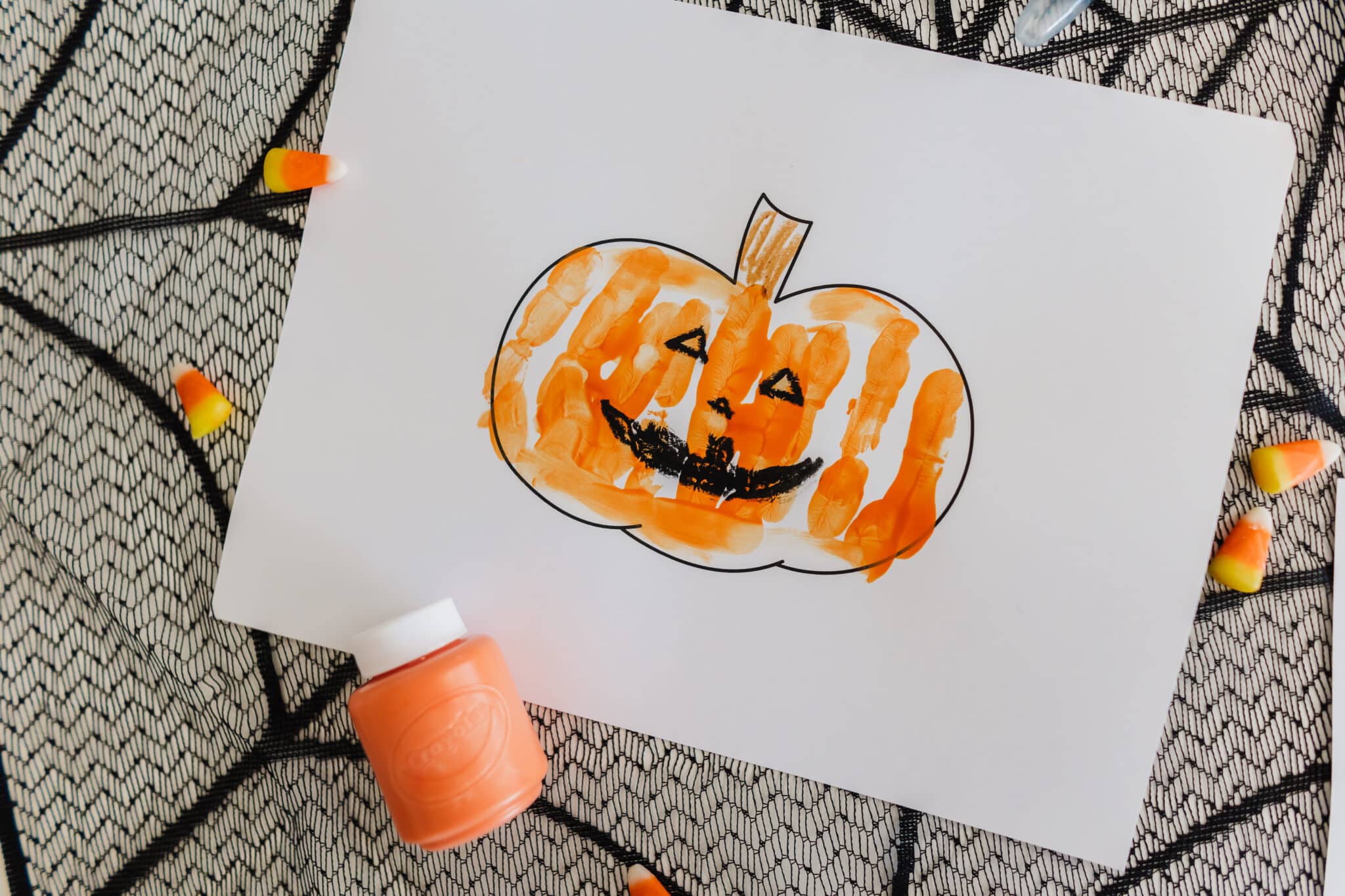 For the pumpkin:
Layers work great to create a pumpkin texture on your canvas. Feel free to go over the download a few times. You can even add in different oranges or some yellow for a fun effect!
For the witch:
We love the witch with green paint, but feel free to mix it up! A purple witch or a black paint spooky witch is perfectly fun!
Try to place the thumbprint first so it looks like the witch is holding her broomstick. You'll want the full handprint to show. Kids can also wiggle their fingers to make it look more like a witch's dress.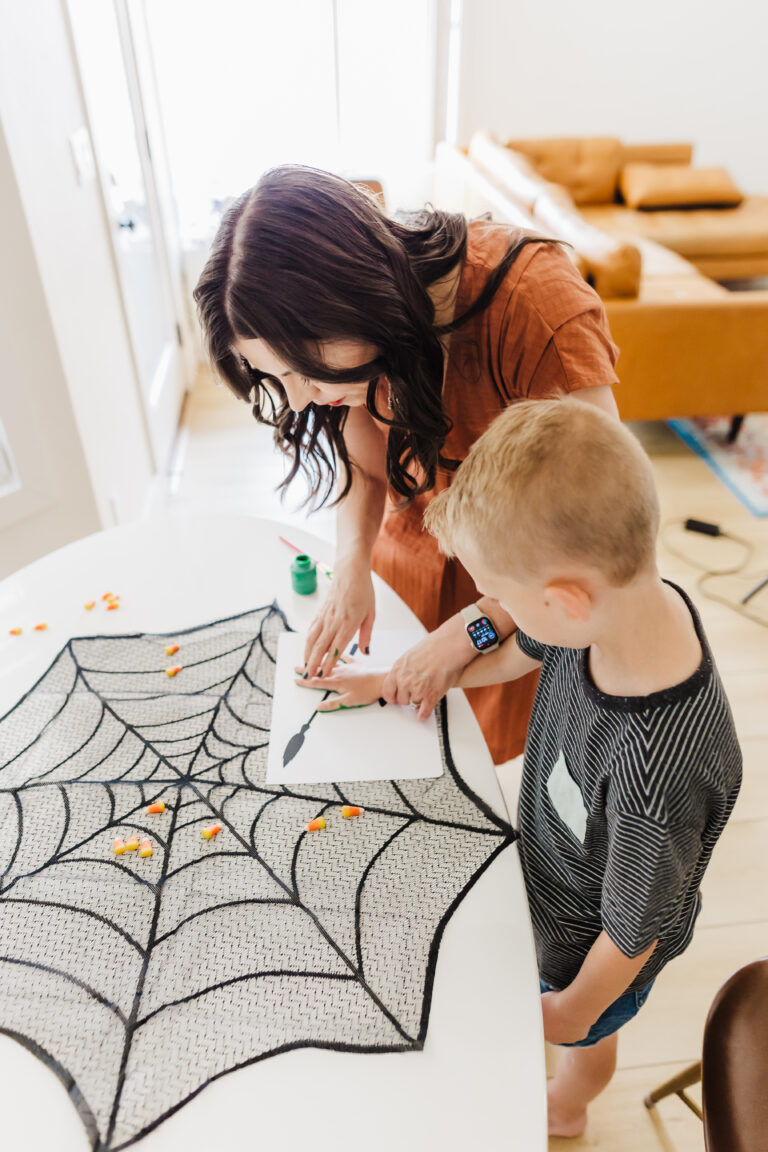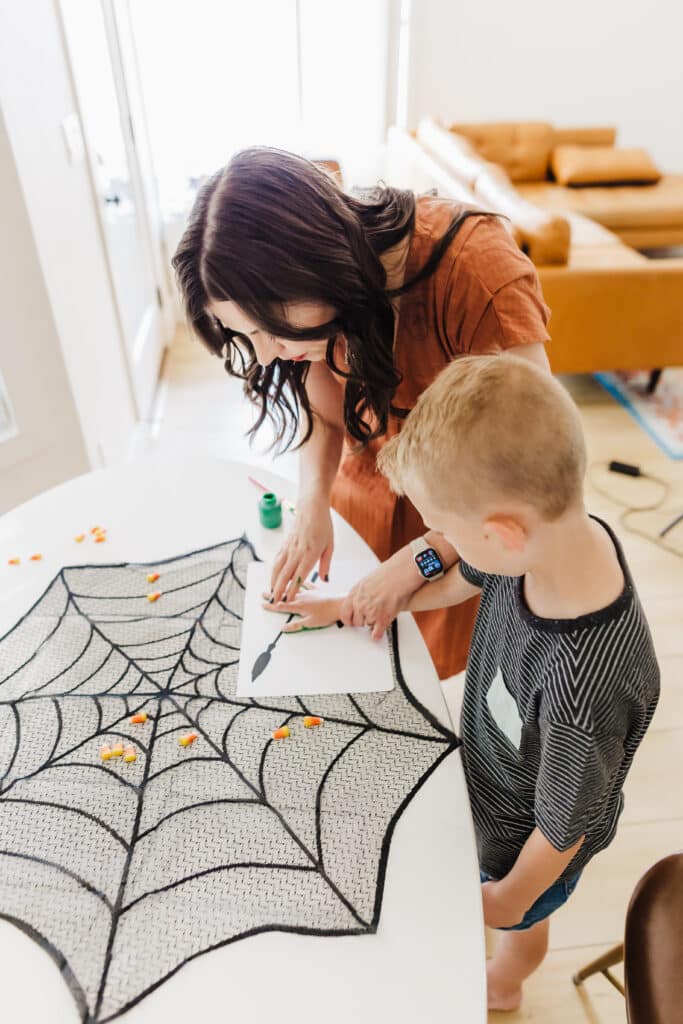 Halloween Handprint Craft Variations:
Use different colors to create fun Halloween craft looks
Do a monster handprint and add more googly eyes
Use green paint and create a Frankenstein handprint with the fingers as the top of Frankenstein's head.
Put fingers closer together in the spider print, and create a bat handprint picture. You can do several on one page for some fun bat crafts with this project!
Alternate handprints with footprints. A footprint Frankenstein, footprint ghosts, or other footprint crafts create a fun variation!
Grab scissors and glue and let kids cut out their handprints to place on the printable templates. That way you can do this as a multi-day craft and put more emphasis on decorating the prints.
Glue more items onto the pictures. Grab some plastic spiders, candy corn, pom poms, or paper scraps for fun variations.
Whatever you choose to do, we hope you have a lot of fun with this handprint Halloween craft, and that you have a very happy Halloween!
Like this fun craft idea for kids? Be sure to check out these posts too:
Q Tip Skeleton: An Easy Halloween Craft for Kids
I Spy Halloween Free Printable
50 Fun Halloween Activities for Kids