Color By Number Dinosaur Printable
Get ready for a fun coloring activity with the FREE color-by-number dinosaur printable. It's perfect for teaching number recognition and boosting fine motor skills perfect for dinosaur fans!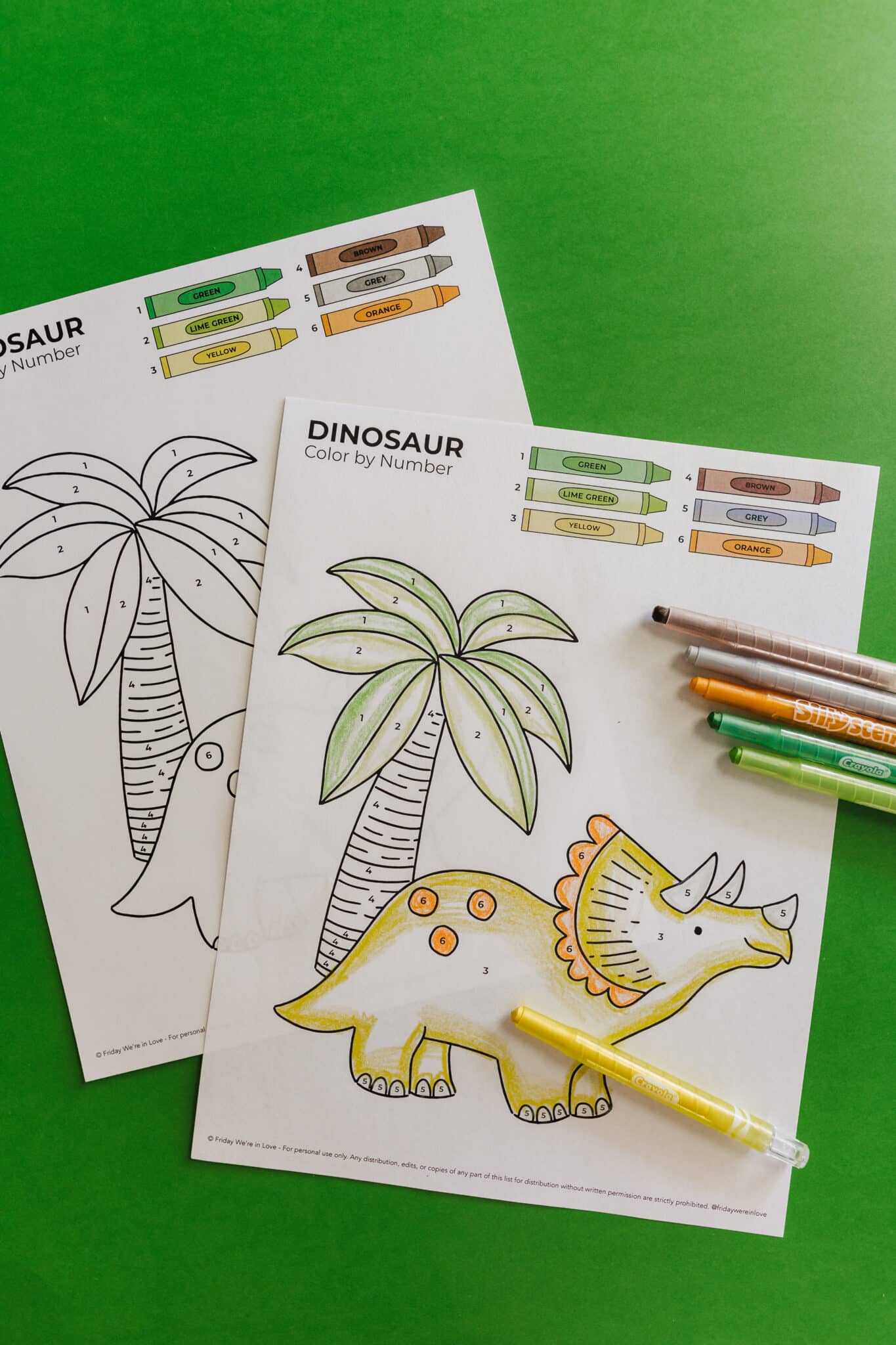 If you're in search of an engaging and educational activity for children, then you've come to the right place! Dinosaur Color by Number Printable pages are a great way to combine learning with fun. With a dinosaur theme that children love, these number coloring pages offer an exciting experience for little ones from 1st grade to 5th grade.
From rainy day indoor activities to a dinosaur birthday party, these printables are the perfect addition. In this comprehensive guide, we'll explore everything you need to know about these printable worksheets.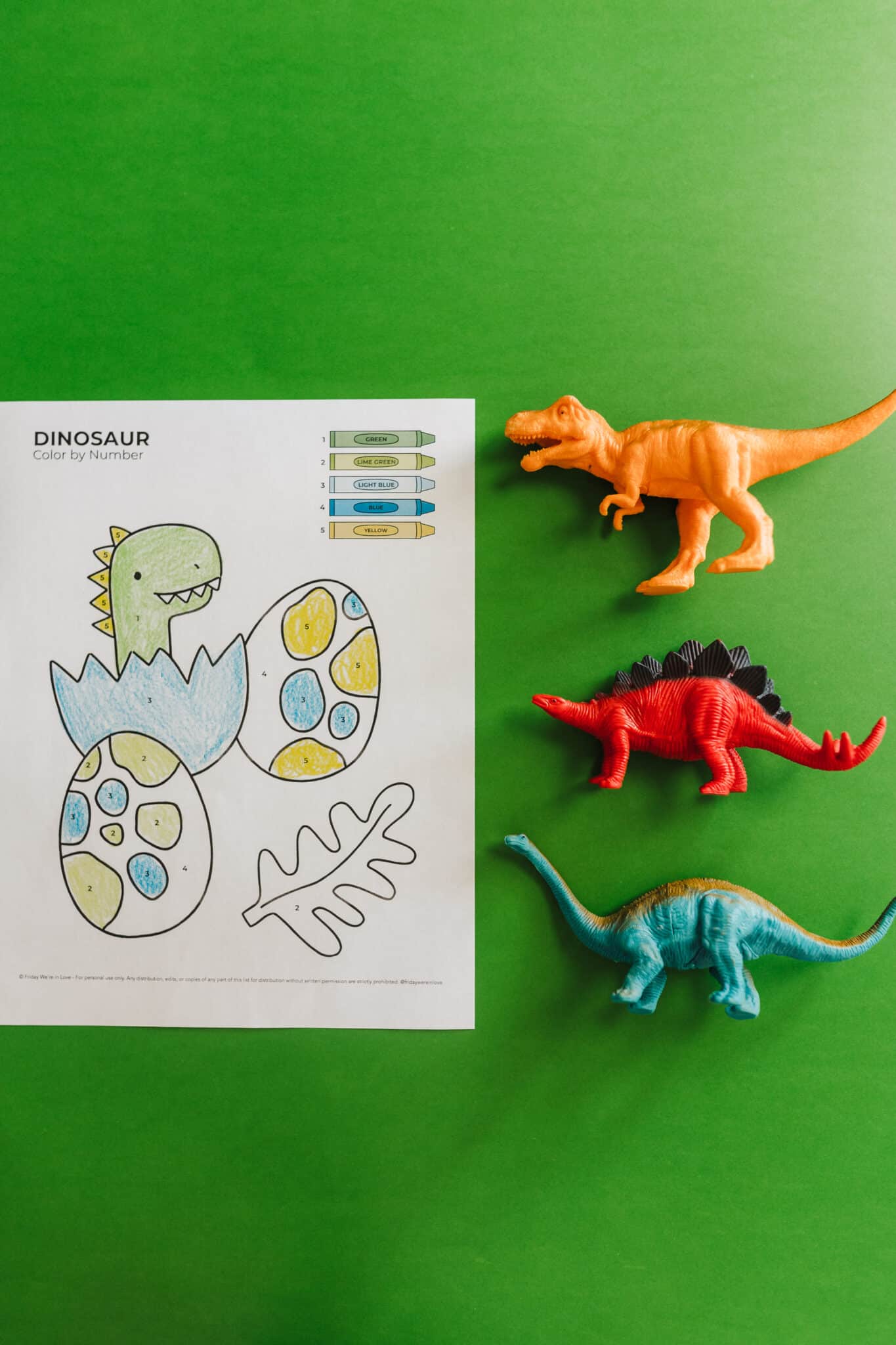 What Are Color by Numbers Printables?
Color-by-number worksheets are free printables that can be easily downloaded, printed, and used at home for fun activities that help kids practice numbers and use of the correct color! They are essentially coloring pages where each area is assigned a specific number, and each number corresponds to a specific color. These pages feature favorite dinosaurs, with each dinosaur picture divided into segments with code sets to indicate colors.
Our fun dinosaur-themed printable is perfect for some prehistoric fun for kids of all ages. It's a fun way to combine color recognition with number pages.
Number Worksheets – Making Learning Fun
Number worksheets can make learning multiplication facts, sight words, complex code worksheets, and addition color more engaging. 2nd-grade and 3rd-grade students will find them as great activity sheets, adding a fun way to their educational activities.
We kept this printable a little bit more simple with just number recognition and coloring practice so little ones can get in on the prehistoric fun too! But trust me, my second-grade child loves them too. So, they're also great for bigger kids! They're truly a great option for all ages!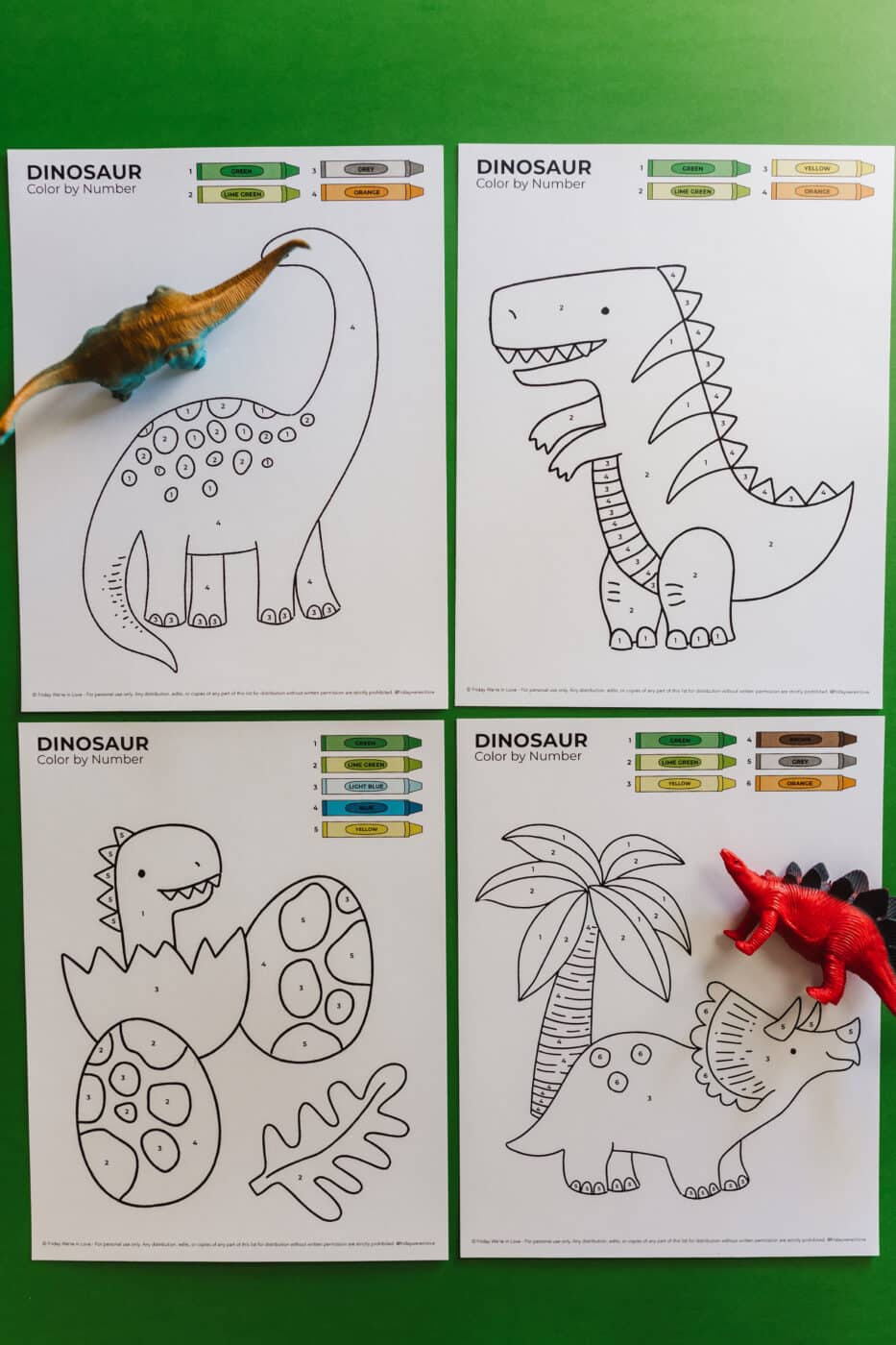 Get Your Free Printable Dinosaur Coloring Pages Here!
Get ready for a RAWRsome time with these fun dinosaur coloring pages ready to download for an easy way to entertain kids and have some fun! Grab these free resources and get ready for a fun coloring book-style activity!
We have four fun printables to color, featuring a T-rex, a baby dinosaur hatching out of a dinosaur egg, a triceratops, a triceratops, and a brontosaurus.
Just input your email and we'll send you the free dinosaur coloring printables right to your inbox!
Dinosaur Color by Numer Instructions:
Download the Free dinosaur printable
Print the fun dinosaur activity download. We love to use card stock so we can use any coloring medium or craft supplies without bleed through.
Get crayons/markers/colored pencils/watercolor paints out and ready to use
Have kids look at the key at the top of the number sheets and help them identify the corresponding color that goes with each number.
Example: 3 may be yellow. So help young children get their yellow color ready to go, and make sure they can match up the correct number with the correct color. It's a great way to practice reading, learn color words, and practice identifying numbers/number skills with a number key.
Enjoy revealing the fun dino coloring pictures as you color in each of the number spots on the printable worksheets.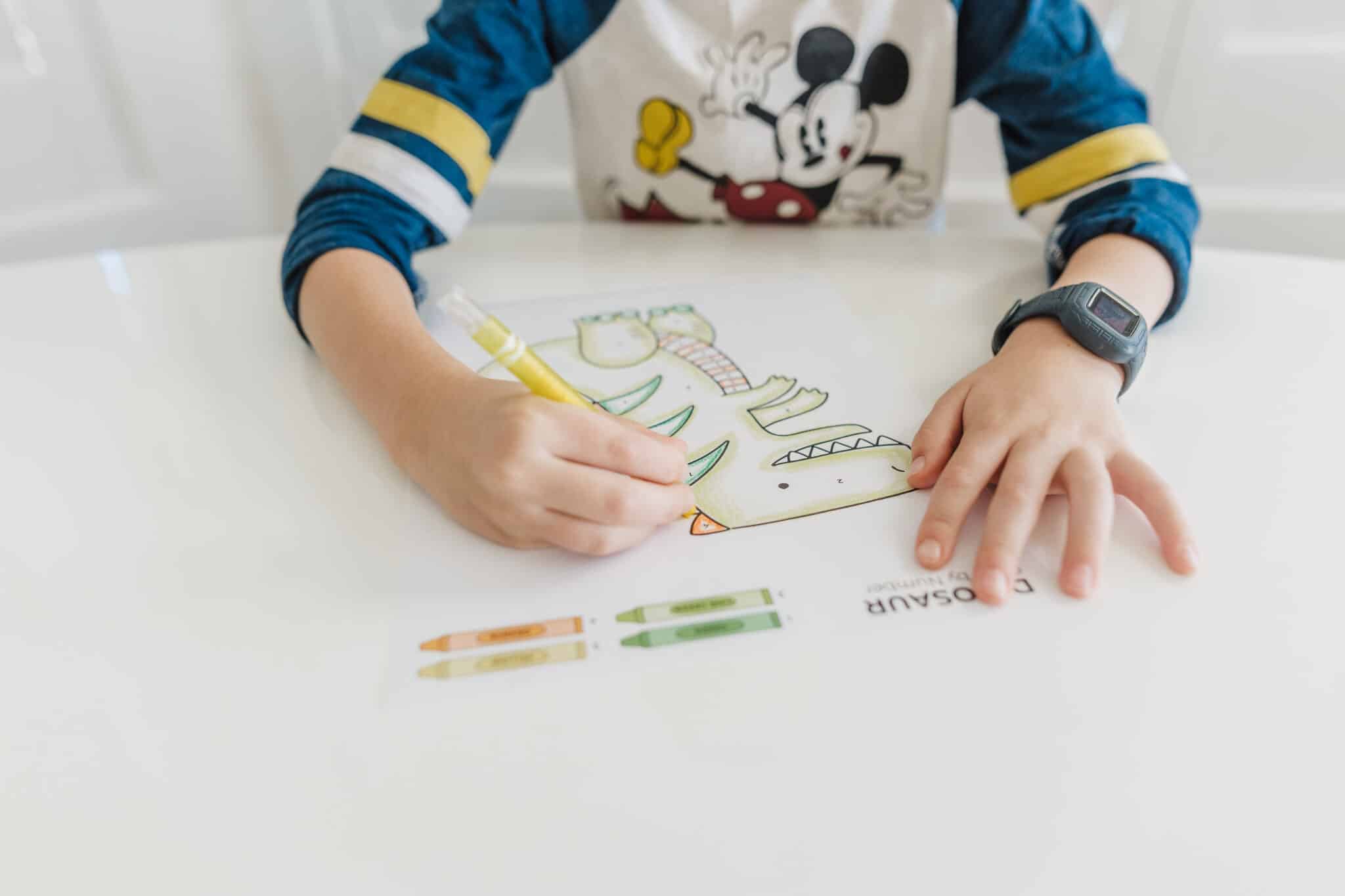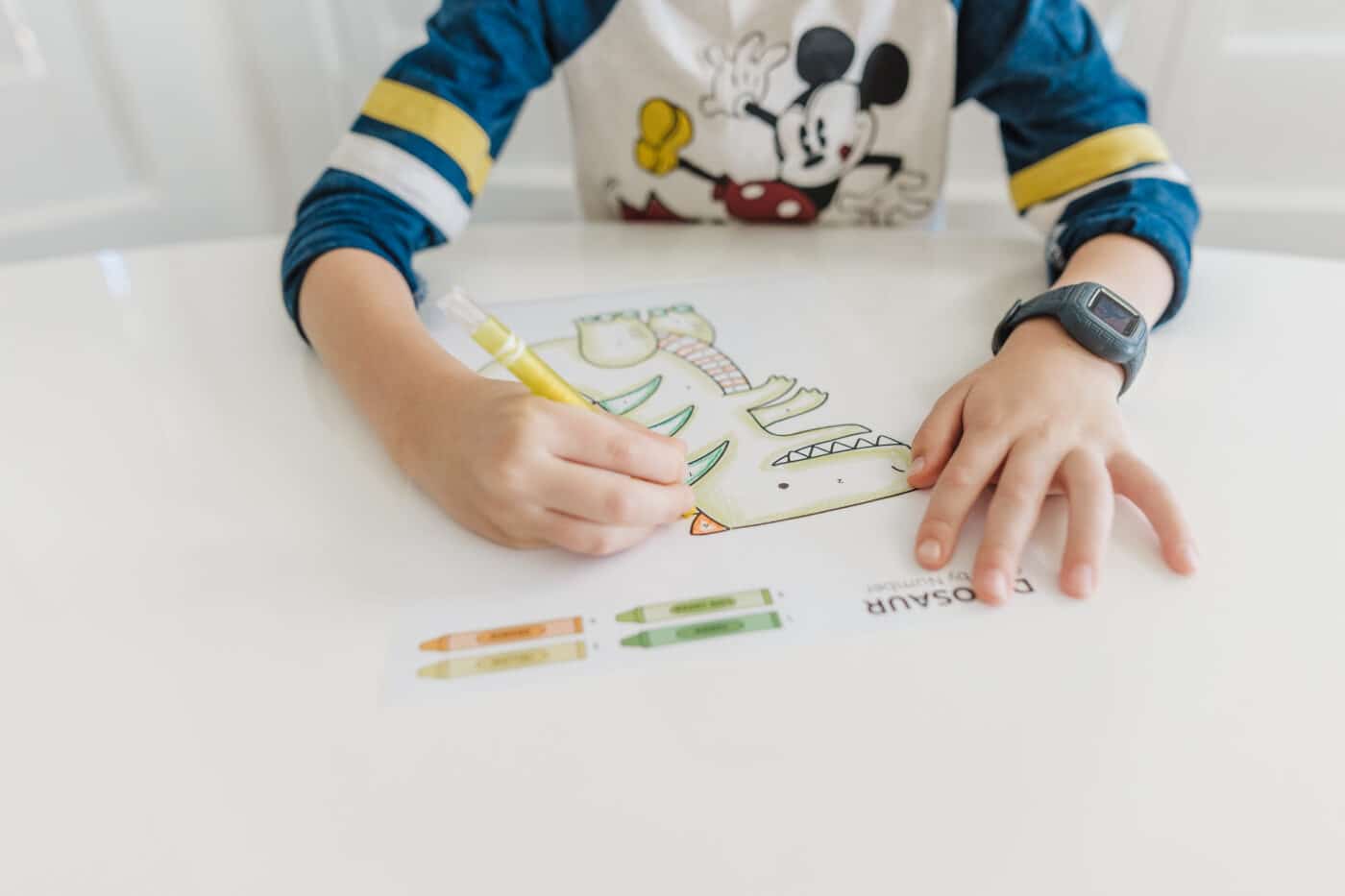 When's a Good Time to Use a Color by Number Dinosaur Printable?
I'd argue anytime but when kids are sleeping is a fantastic time! But here are a few ideas when these free printable color code pages are extra great!
– A Perfect Addition to a Dinosaur Birthday Party
Planning a dinosaur-themed birthday party? These coloring pages and themed activities make for a roaring good time for all the little guests!
– Quiet Time
We do regular quiet time so my kids can get a little downtime in their day, and mom can get some work done. Every time I need them to stay focused and in their rooms, an audiobook for kids and some coloring sheets are in order. These are fun novel activities when you need to get something done!
– Rainy Day
Any parent/caregiver knows the woes of being stuck inside and feeling a little bored. Naturally, these are fun to pull out for a rainy day activity.
– Theme Week
My sister used our Camp Mom planner to plan themed weeks for her toddlers this year. And guess what, one was dino week! She check out books from the library, planned a trip to the Museum of Natural History, and printed some fun dino-themed activity pages for kids. They loved it! Let this be your sign to follow her brilliant lead!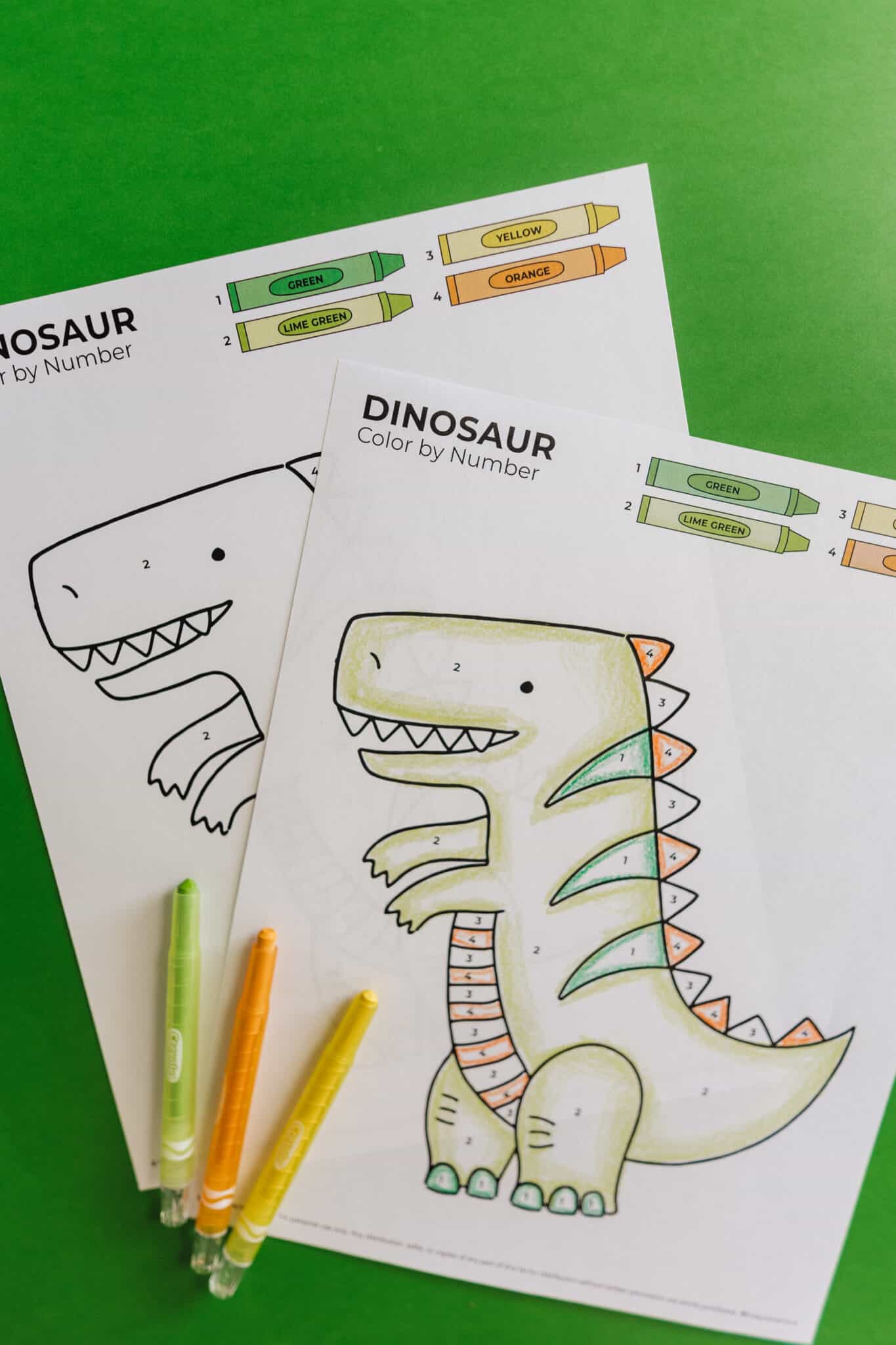 Dinosaur Color By Number FAQs
Q: Where can I find free dinosaur coloring pages?
A: Right here! We have four different dinosaur color-by-number options ready for you to use! 
Q: Are these suitable for different grades?
A: Absolutely! From basic color word activities for younger children to math center worksheets for 4th grade and 5th grade, there's something for everyone.
Q: Can I use these for educational purposes? 
A: We love teachers (I used to be one!) and give permission for teachers to use in lesson plans and for personal use, non-commercial use, and educational use only. 
Easy Dino Fun
Dinosaur Color by Number Printable pages are a versatile and engaging way to provide children with a creative outlet as well as some educational fun. From number worksheets and math worksheets to dinosaur activities and party entertainment, these printables are perfect for any dino lover!
Happy coloring, and enjoy a roaring good time with these delightful dinosaur-themed activities!
Like this fun resource for kids? Be sure to check out these posts too:
Dinosaur Coloring Pages You Can Print From Home!
Dinosaur Valentines Day Cards: Easy Last-Minute, Free Printable Valentines
Color By Number Valentine's Day: Free Printables!
Get 365 Date Ideas!
We want to help you have the best date nights ever! Grab this FREE printable with 365 date ideas, a date for every day of the year so you never run out of ideas!