Arts and Craft Supplies for Kids
A roundup and list of arts and craft supplies for kids to help build creativity and fun for little learners.
Arts and Craft Supplies for Kids
I have to admit that as a boy mom I never anticipated I would need a bunch of arts and craft supplies for kids. Lightsabers, ninja swords, stain removing laundry detergent yes, but craft supplies, not as much.
It only took sending my son to preschool early to realize I was so wrong and boys love crafting too! I feel foolish for not planning arts and crafts for kids into our schedule earlier.
This summer as we've launched camp mom and come up with 150 summer activities for kids, it felt so natural to include plenty of arts and crafts time! After all, if you send your kid to a real-life summer camp, they also have arts and crafts time!
This goes far beyond summer, having a stash of a few basic Arts and craft supplies for kids makes for a lot of fun, easy, and creative play for kids!
For those ready to grab a few art supplies for kids for Camp Mom, or just set up a creativity corner for kids to use all year, here's our list of must-have arts and crafts supplies for kids. I tried to find the cheapest place to get each online, so we can help with your summer budget too!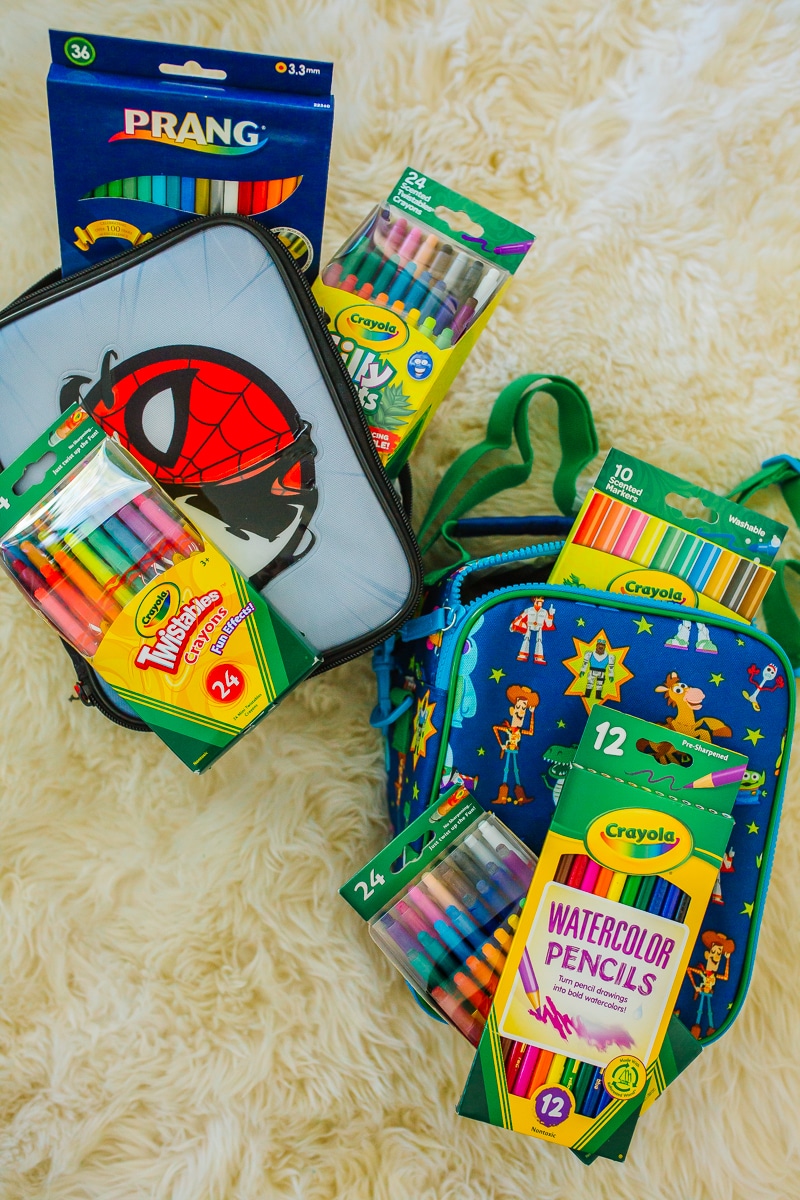 List Arts and crafts supplies for kids
Crayons

We like this set since they're larger for little hands and washable. But we also love Twistables since they don't break and last us far longer than a traditional crayon!

Washable markers

The classic washable set is perfect! But we really love the fine line since they're a bit more versatile. We bought this 40 set for Christmas and it's been used and loved every day.

Pencil with eraser

Nothing fancy needed here! Just grab what you have on hand.

We think this super affordable set is the bee's knees!

This set will last you through so many projects! If you have more than one kid, you may want to get two and you'll be set for easy cleanup with painting this summer.

Paintbrushes

This set has been perfect for us! And both my kids one set, which works great for the budget!

Nice to Have Art Supplies

If you have a little paint phobia like I do, taping down a paper bag on your surface and utilizing a painting smock will be a game-changer!

You can make printer paper work for this, but we've found buying an inexpensive sketchbook has been amazing for promoting creativity! The paper is a thicker weight and works well for watercolor projects too.

They go on like a crayon, and a little water and a paintbrush turn them into a pain medium.
Craft supplies for kids
These work for about a million crafts! Get a few to have on hand.

Glue

Sometimes a glue stick isn't enough, and we love a cheap washable classic glue in our craft supplies closet.

I'd make sure you have one per kid!

When all else fails, I pull this out with scissors and my kids have a creative heyday!

We're going to do tons of Camp Mom: Summer Activities at Home with these this summer!

Cotton balls

These are perfect for so many projects! If you don't already have some on hand, pick up a bag!

Pom Pom

I can't get over how much kids love these things for any creative project. They ad a lot of fun to any creation they make and they're super cheap.

See note above, because these are another fun-to-have inexpensive item that promotes a ton of creativity!

We use these for so many things and they're not only fun, but great for eye-hand coordination.

These work for so many STEM projects, and you can often find them at the dollar store if you're on a tight budget.

Nice to Have Craft Supplies for Kids

This one isn't for the little ones, but often a parent will need it to fix a project that won't' work with a glue stick. I'd make sure you have a glue gun on hand to help with projects and frustration when kids can't make something work.

I love pulling out all the supplies in one bin and having a place for each item to live. Find a shelf you can store supplies, and pull out the bin on arts and crafts day (see our post about summer routines to help set a day and time).
Be sure to check out what you already have. Also, dollar stores and clearance racks can be a great place to find discounted items. I promise once you have a good set of art and craft supplies creativity just soars! It's worth the investment to get some art and craft supplies for kids set up in your home for hours of brain development and fun!
photos: Chrissy Blake
Like this list of arts and craft supplies for kids? You may like these posts too:
School Supply List: The Supplies You Should Stock Up On!
Playroom Organization and Toy Storage Ideas
Get 365 Date Ideas!
We want to help you have the best date nights ever! Grab this FREE printable with 365 date ideas, a date for every day of the year so you never run out of ideas!