Let's plan all the summertime fun! Here are tips and strategies for budgeting and making sure you don't blow your budget with your fun summer plans.

The number one thing I hear from parents trying to plan and do all the summertime fun:
"I burnt out after a week."
But a close second?
"Summer break is expensive! After a week of summertime fun we're feeling broke!"
Sound familiar? I love being a fun mom and doing all the summer activities for kids, and as much as I wish I could take my kids to Disneyland every other week, it just isn't always in the budget.
This is why today I felt like a part of our Camp Mom series deserved an honest discussion about budget.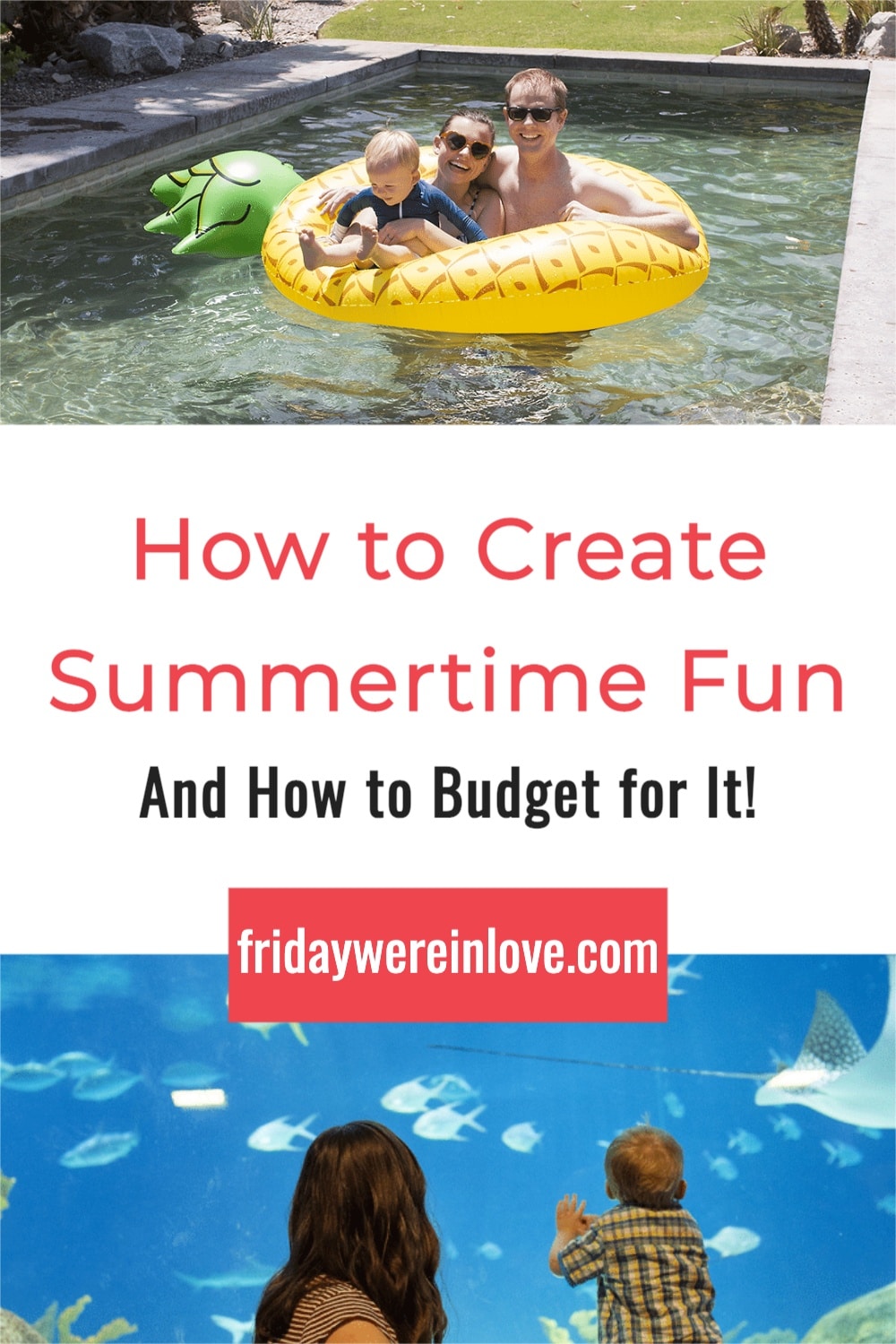 Tips for Budgeting Summertime Fun
Plan for the Big Things

Last week I shared a Summer Plan template to help you get the big things on the calendar. Much like you save for a summer vacation or trip, you may need to save for a few big fun days. Prep them, plan them, and budget for them.

Fit in Plenty of Free Fun

Did you know there are literally hundreds of free things to do with kids this summer? With libraries reopening, you're set with about a dozen in one location!
But most museums have free days, parks and recreation services offer so many free activities, and your local parks and splash pads can happen on repeat all summer. Utilize all the free things you can!

Invest in a Pass or Membership

Last month, I took my kids to a jump hour at our local trampoline park. I realized the price had increased since the last time went, and also noticed a big flashy sign advertising a summer pass.
I did the math, a summer pass would pay for itself in four trips. That means one outing every month of summer covers the cost. Hello, summertime fun that is all set for us!
But I also know my nanny will take my kids at least a few times. And Jacob will likely take the boys on a night they're extra restless. So guess what, I went ahead and spent a big chunk of our summer budget on that pass.
We also have a museum pass and an aquarium membership.
Yes, they can be a lot of money upfront. But if you buy early in the summer and make actual plans to go, they truly pay for themselves!
And as a bonus, in a month I won't feel broke. I'll just keep working that pass!

This deserved its own post with more info! So be sure to check out 10 Reasons to Get a Family Pass/Summer Pass.


Utilize Group Rates

Do you have friends who would love to do this activity too? You can almost always find group discounts if you have 10 or more people. We've found inviting two other families usually does the trick to help us all save a lot of cash. And as a bonus, my kids learn more social skills and feel like they're at a party with friends.

Have Kids Earn Activities

We currently don't do an allowance system with our young children, but we do incentivize fun. Like everyone cleans their room all week, we'll go ahead and splurge for the fun center.
Instead of double-paying allowance and fun, let your kids pitch in one or the other to help earn some fun. It will be even more meaningful to them this way!

Encourage Entrepreneurialism in Older Kids

I've been floored by older kids who have earned expensive experiences just by hosting a summer camp or selling a food item! I know older kids often have an older taste for summertime fun, which usually means a lot more cash. Have them help earn it to inflate your budget. There are a lot of neighbors and friends who love supporting their efforts!

Be Intentional With Your Budget

Make a plan and a set amount you can spend, and stick to it! It's very easy to want to "pick up lunch" after an outing even if you haven't planned for it. Sometimes it's easy to let things creep in and burn through the budget quickly. Be a protector of your intentional plans so you can make them all happen!
On the inverse, give yourself some actual budget to work with! So many moms feel bad spending even a penny on fun experiences. Consider this your permission to figure out even a small amount to allow for some fun.

Space Out Expenses

There's nothing like doing all the fun, costly plans in a few weeks and then not feeling like you have a lot to look forward to. Of all our 150 Summer Activities, I'll tell you right now my kids will love the expensive fun center and amusement park we have planned the most.
That means we'll space those two plans out several weeks apart with plenty of free activities mixed in between.
Look up the actual costs of what you really want to do most, and space out those experiences and your budget. It makes everything feel more doable and gives you a full summer of fun to look forward to!
Like this summertime fun post? You may like these posts too:
Summer Camp Ideas At Home: Camp Mom Series
Family Camping Trip Made Easy
25 Beat the Heat Summer Activities to Do with Your Kids
Get 365 Date Ideas!
We want to help you have the best date nights ever! Grab this FREE printable with 365 date ideas, a date for every day of the year so you never run out of ideas!