Crafting Mat: How to Make a Mess Mat Inspired by The Gathre Mat
How to make a crafting mat that's an easy Gathre Mat dupe. These mats for crafting (mess mats) are perfect for easy clean up and kid's art projects.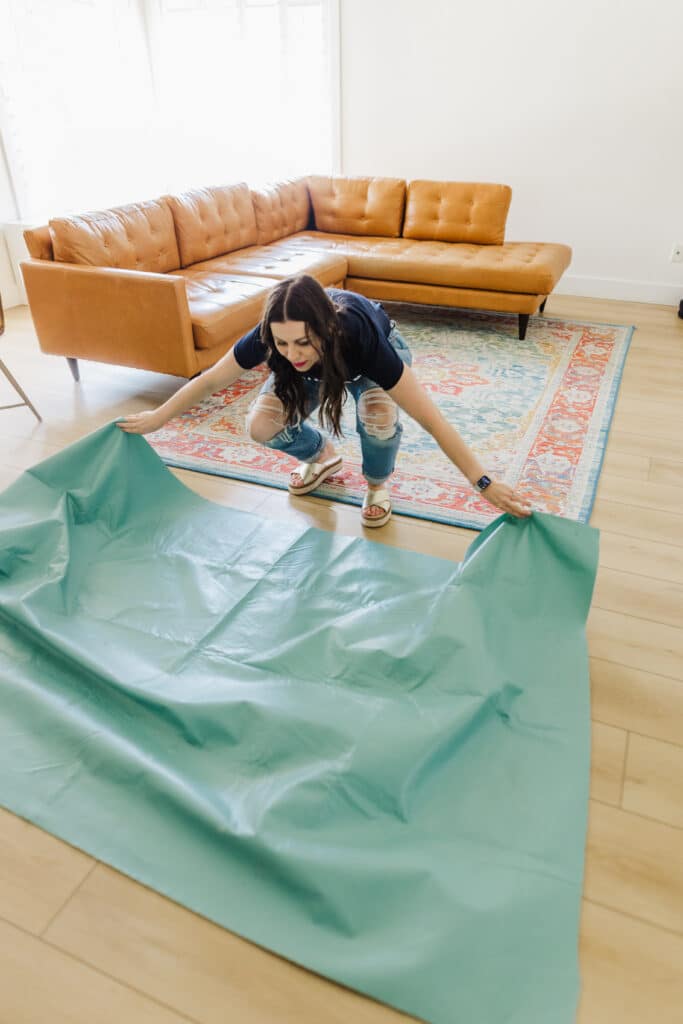 If arts and crafts with kids make you quiver, it may be time to make a mess mat! Just shake it off, wipe it down, and fold it up ready to catch the next mess! It's about the easiest thing to help catch any mess and keep art time and crafts contained. It's also about the easiest thing to make!
Make Your Own Vinyl Mat Inspired by a Gathre Mat
First of all, I have to announce I deserve zero credit for this brilliant idea. My friend Elise decided coming up with a leather crafting mat for kids would enable a lot more art projects and creativity in her home. She looked at buying a Gathre Mat and felt the price was steep.
As one of the most crafty people I know, she looked at the leather play mat and learned it's actually a faux leather mat: aka a vinyl playmat. That's what gives it its easy to clean, easy-to-use properties. And did I mention easy to fold up and store?
She realized how easy it would be to order vinyl material and make her own. I watched from afar, and then watched another friend duplicate her efforts. And pretty soon I was ready to make my own version of a Gathre Mat too! I could not believe how cheap and easy it is to make!
I also can't believe how much more we craft and do art projects that would have terrified me prior to creating what I now call our "Mess Mat."
How to Create Your Own Crafting Mat
Yield: 1 Mat
How to Make Your Own Crafting Mat (Mess Mat) for Kids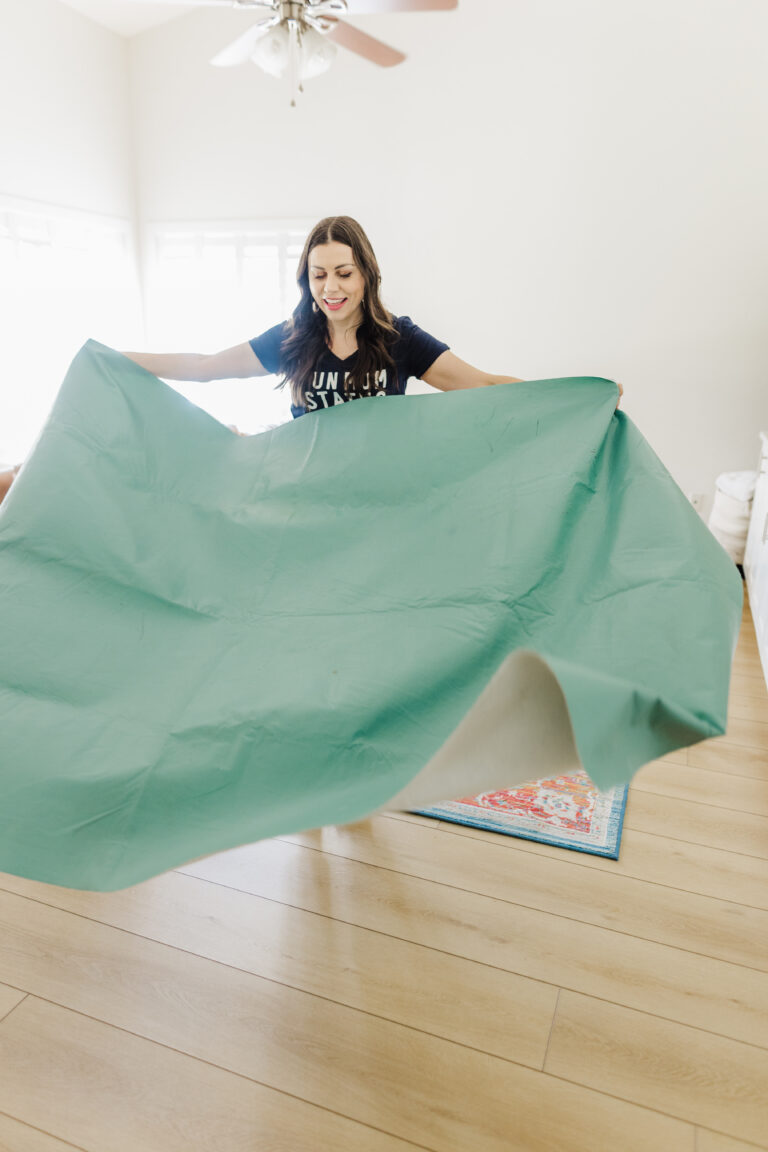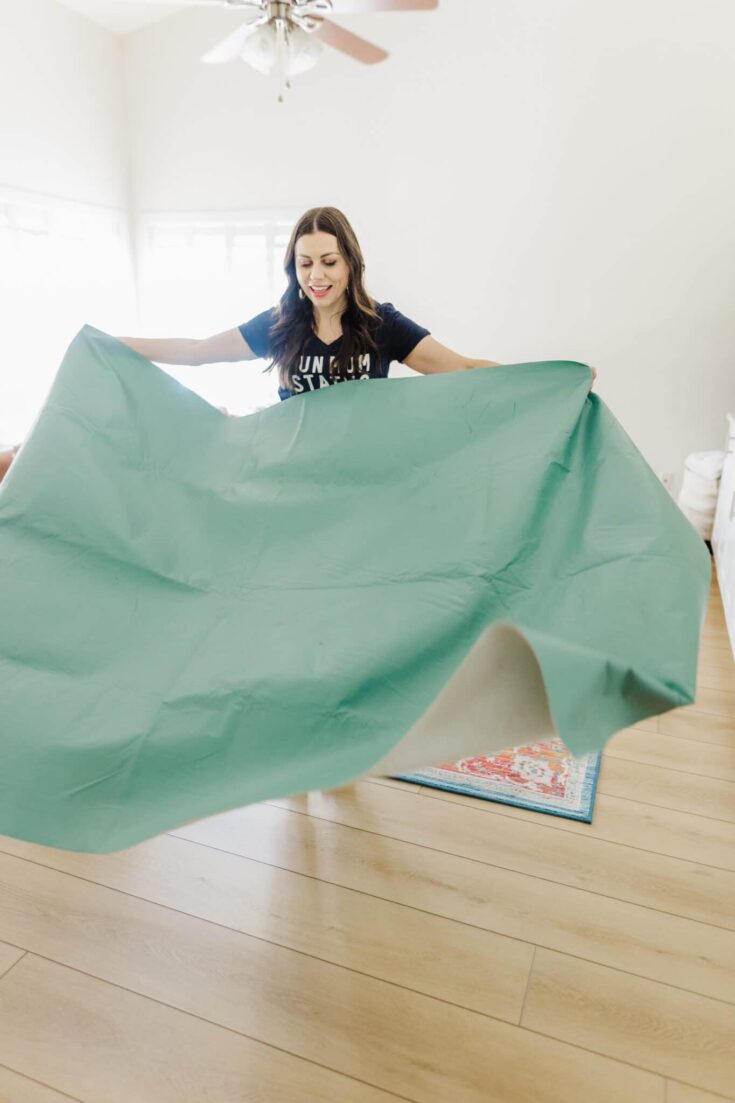 Create your own crafting mat to catch messes from arts and crafts when doing art projects or crafting with your kids. This is a great DIY vinyl play mat in a Gathre Mat style you can make yourself for a fraction of the cost with some vinyl fabric.
Materials
1.5 yards of vinyl material. See notes on material options below.
Tools
Fabric scissors or a rotary cutter
(optional) Rotary cutting mat
Bowl with rounded corners
Pencil or washable marker
Instructions
Choose your favorite color of vinyl! We own two, and I love having a darker wash and a lighter wash option!
Order 1.5 yards. This will ensure your fabric arrives in a square shape with minimal cutting for you.
When the fabric arrives, inspect corners and trim off any fraying or uneven edges.
If you ordered two yards, you can either choose to cut down to 1.5 yards for a square shape or leave it as a rectangle shape for a bigger crafting mat.


Optional: Round the corners

You certainly don't have to round your corners. But If you want to make your crafting mat look more like a Gathre mat , it's an easy touch to add!
Grab your bowl to use for rounded corners.
Place the bowl on one of the edges, and arrange it so you can trace a rounded corner.
Grab the pencil/marker and trace the bowl.
Cut out the excess fabric slowly, with gradual angles to get a smooth and rounded line.
Repeat on the three other corners.

Enjoy the crafting mat keeping the vinyl side up and letting your little ones make all the messes with this easy-clean surface.
Notes
* Fabric Note
*If you want to make a double-sided mat like a Gathre mats have, double the fabric and repeat the instructions twice. Place the vinyl side facing out, and match them together. Using a leather needle, sew the edges together.
Recommended Products
As an Amazon Associate and member of other affiliate programs, I earn from qualifying purchases.
I've actually made two of these! One is a square that we use more like a vinyl tablecloth for crafting. The other is two feet of fabric with a rounded edge. I love this turquoise one to use on the floor.
It's the easiest thing to let my kids go at crafting and art projects with a crafting mat! We call it the mess mat, and my boys know it's fine to craft and create their hearts out on this mat! I only wish I'd made one sooner!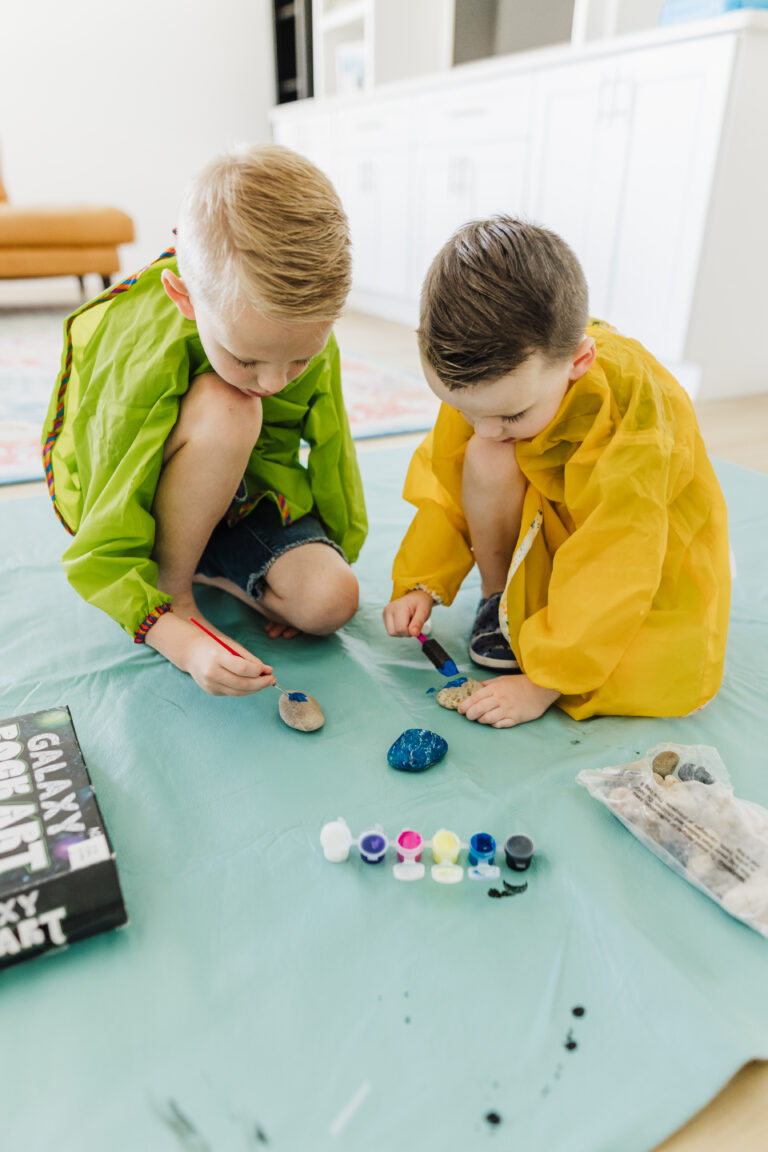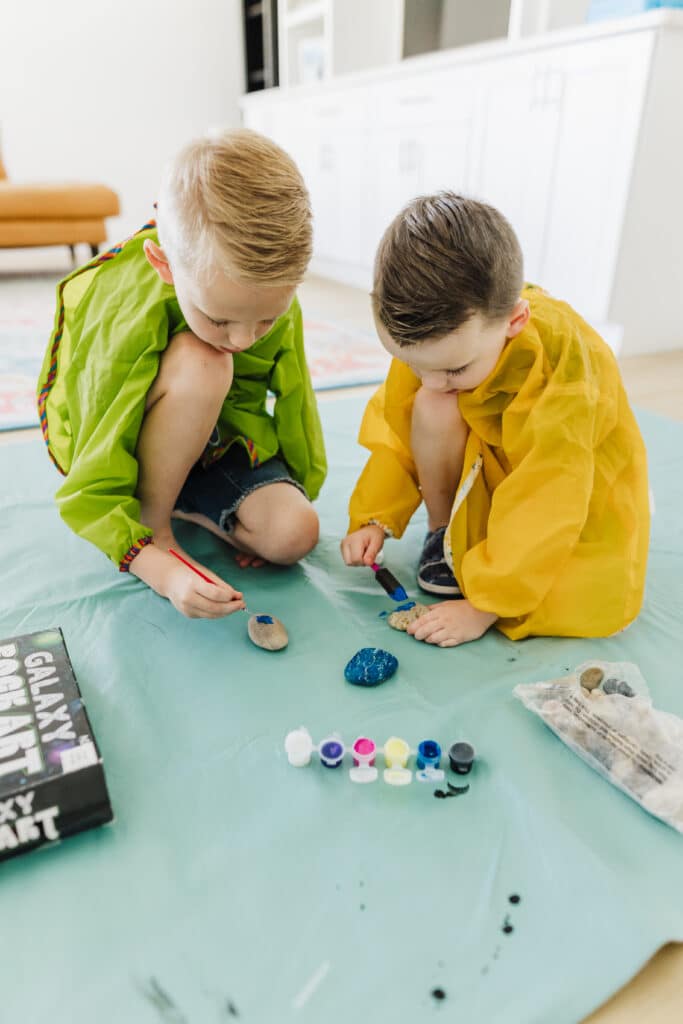 And if they get a little stained or ruined, I'm only out about the $14 I paid for fabric. But so far, there's minimal staining on one, and the other crafting mat looks like new!
Trust me, your cleaner house and happier little crafteres will thank you for it!
Like this crafting mat tutorial? Be sure to check out these posts too:
Arts and Craft Supplies for Kids
150+ Summer Activities for Kids with Free Activity List Download!
Summer Camp Activities for Kids
Get 365 Date Ideas!
We want to help you have the best date nights ever! Grab this FREE printable with 365 date ideas, a date for every day of the year so you never run out of ideas!