Thanksgiving Color By Number
Grab your FREE Thanksgiving Color by Number printable for a fun Thanksgiving activity for kids! Kids love this free Printable Thanksgiving coloring page!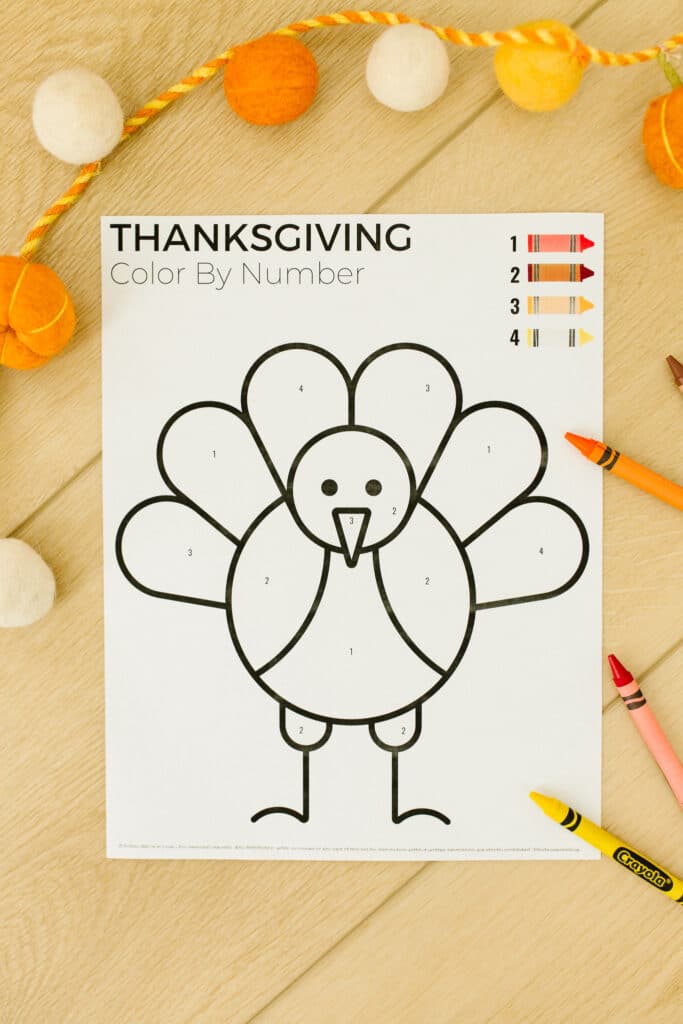 Happy Thanksgiving week! Our family is finalizing all the plans, making the pumpkin pie, and getting ready for all our extended family to come to town! One thing I love to do during the holiday season is to make sure the kid's table for the younger kids in the family has a fun way to keep their hands busy and enjoy a big family dinner.
My mom just asked if I know of any Thanksgiving coloring pages for some fun coloring at the kid's table. My kids have been really into color by number worksheet printables, so I decided to go ahead and create some color-by-number Thanksgiving printables for our family to use this Thanksgiving holiday.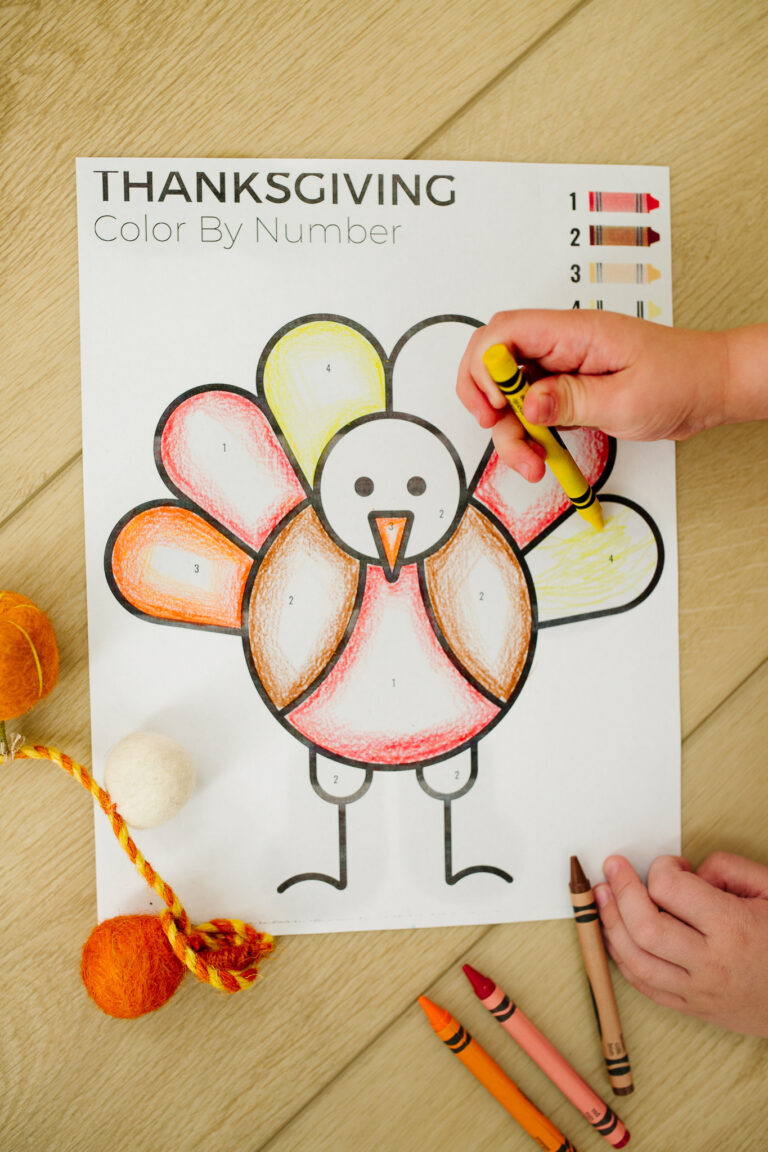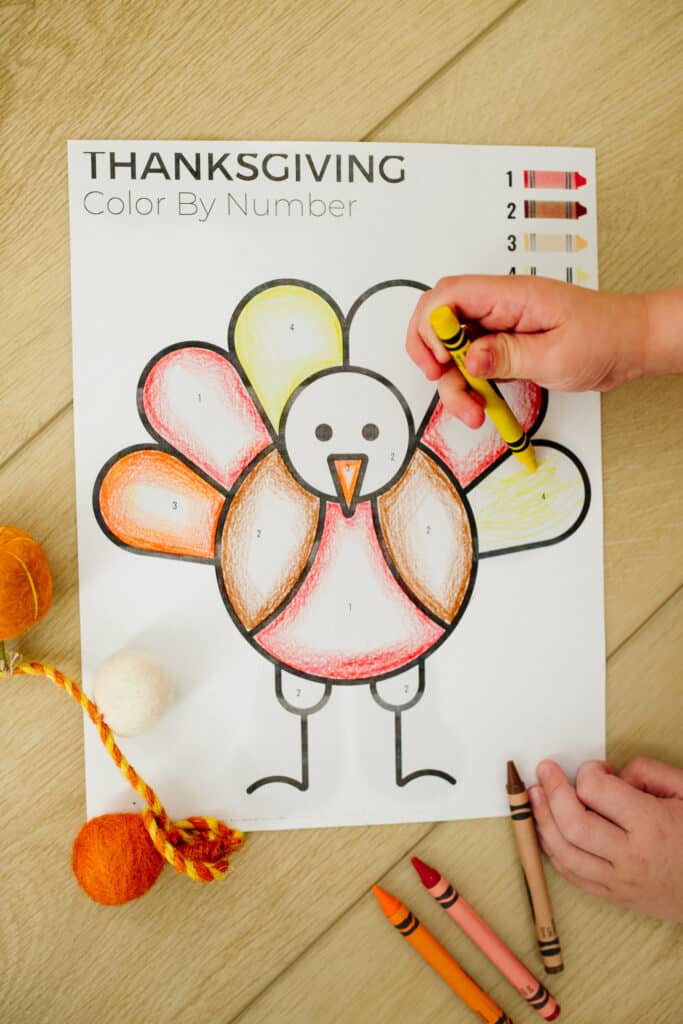 And you know I'm all about hooking up other families with free printables that double as educational activities kids of all ages actually have so much fun doing! And a Thanksgiving color by number is just that!
So get ready to grab this FREE download to add to your cute turkey coloring pages for Thanksgiving.
Grab The FREE Color By Number PDF Download HERE!
Here's What you Need:
The Free printable Thanksgiving color by number (it will come in PDF download straight to your inbox- grab it above)
Paper to print out the free Thanksgiving worksheets
Coloring supplies! We love to use crayons, but you can certainly grab markers, gel crayons, or colored pencils.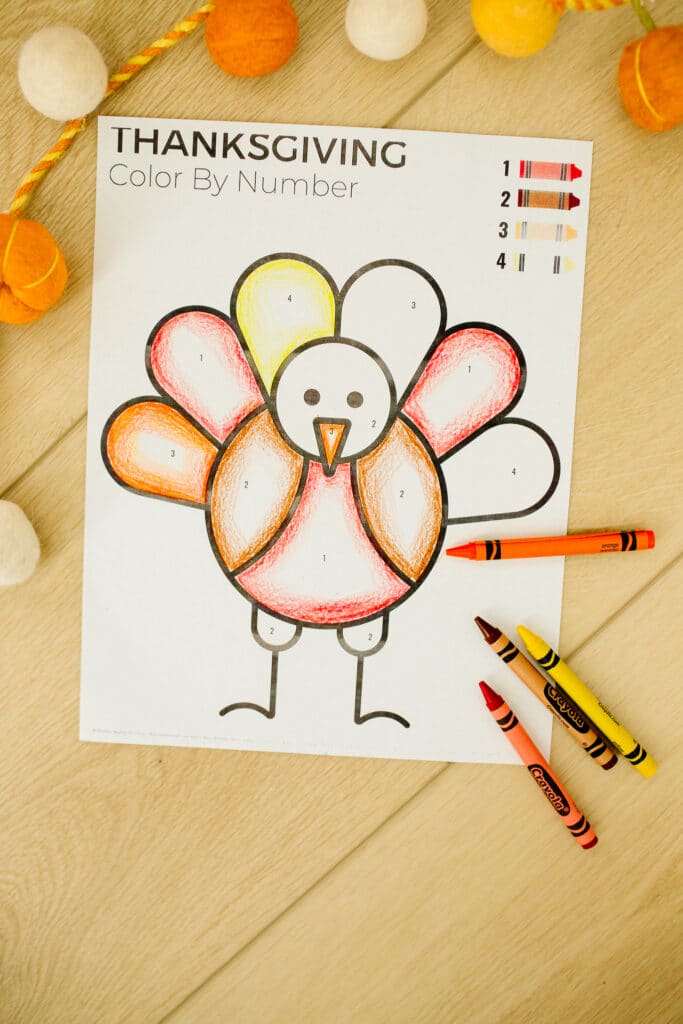 Here are a few great reasons why you'll love having these color by number printables on hand!
Hello number recognition/color recognition, and even letter recognition while kids have fun. It's a fun way to practice number identification, but they work on colors and letters as well identifying crayon uses.
Fine motor skills practice for kids. If you have young preschoolers like I do, they are not only creating number turkeys, they're really learing to color withing the lines and practice fine motor skills coloring. You could pass out each turkey color to a toddler and let them learn some great lessons in holding a crayon and coloring!
Fun Thanksgiving theme. It's fantastic for the kids' table, but it also works great for a fun activity to do at home, or even for quiet time during November. Most kids really appreciate when you lean into a theme and this makes it easy!
A great classroom activity. If you're helping chaperone a classroom party, you teach kindergarten/first grade/younger students, or you homeschool, it's the perfect activity to use the week of Thanksgiving!
It's great practice! Many teachers use this model to practice numbers, sight words, multiplication facts, and other math problems. It's a fun foundation to start with number pages so kids are ready for future assignments in school.
Kids love number coloring pages! Think how many adults love adult coloring books! And how many kids love paint by sticker books! IT's an easy way help kids relax and focus.
Like this fun Thanksgiving coloring page for kids? We have several more Thanksgiving activites we think you'll love! Grab them here:
Thanksgiving Activities: 25 Fun Thanksgiving Ideas with Free Printable
I Spy Thanksgiving Free Printable Download
Get 365 Date Ideas!
We want to help you have the best date nights ever! Grab this FREE printable with 365 date ideas, a date for every day of the year so you never run out of ideas!