Thanksgiving Activities: 25 Fun Thanksgiving Ideas with Free Printable
25+ Thanksgiving Activities to celebrate the week of Thanksgiving or enjoy during the month of November. Perfect for Thanksgiving family fun!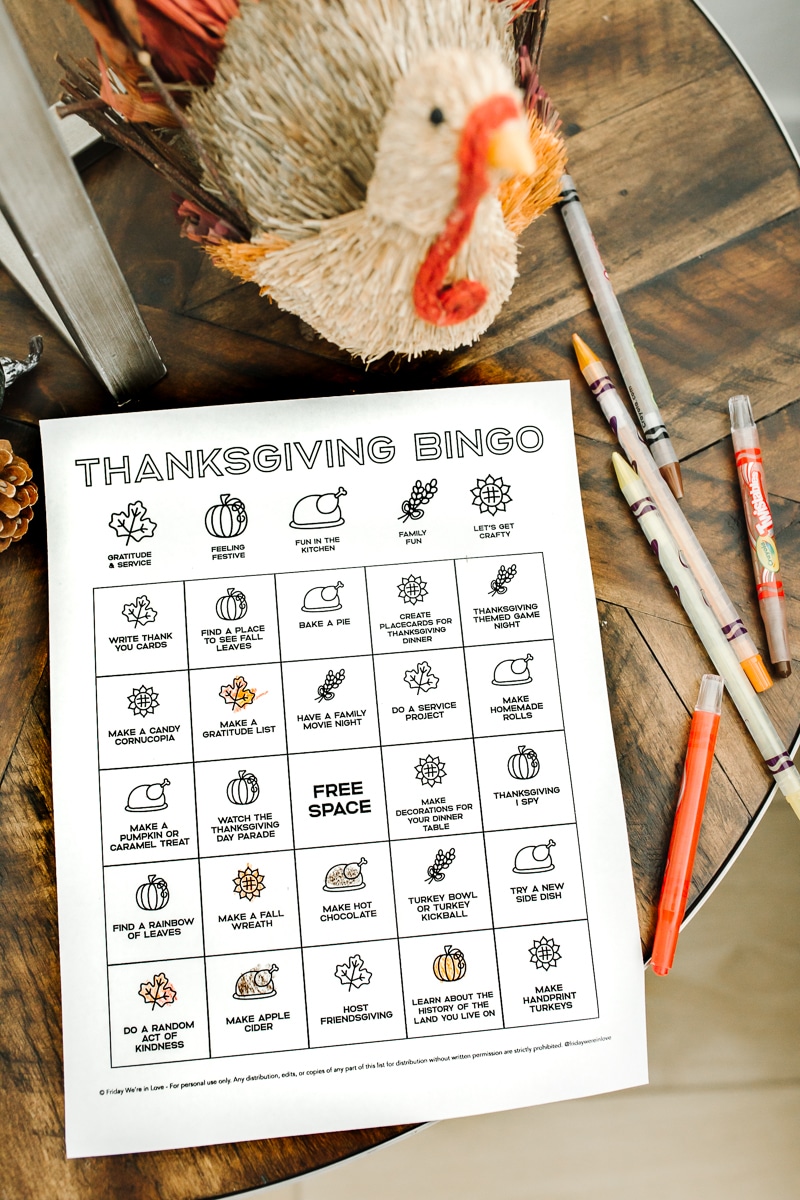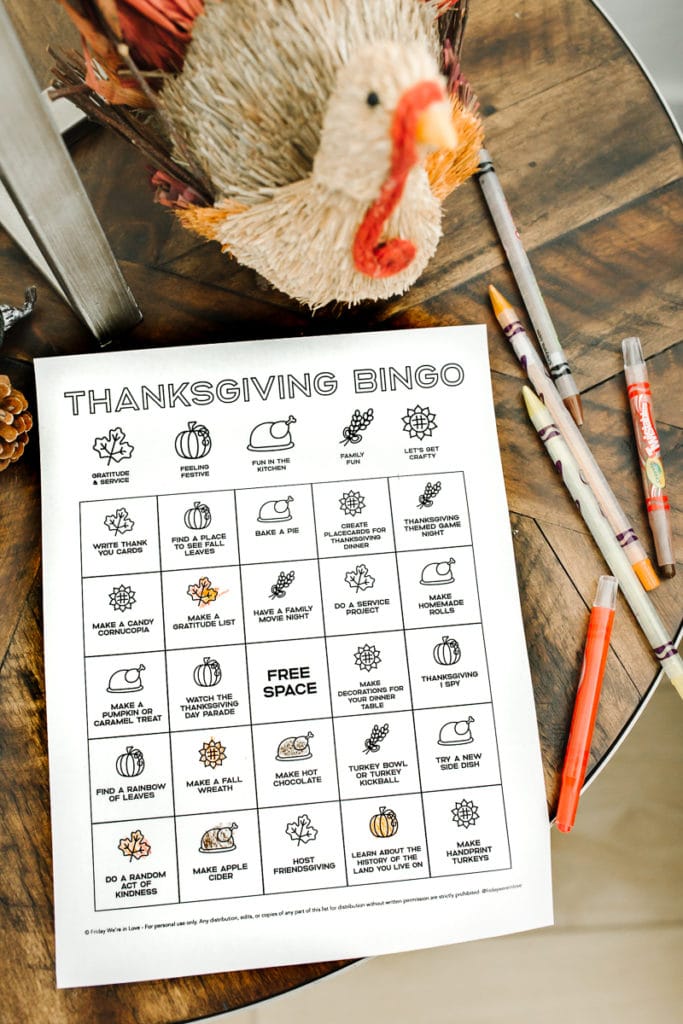 Thanksgiving may only be one day of the year, but the Thanksgiving season is worth celebrating all week or all month of November!
If you're looking for fun Thanksgiving activities you can do as a family, a couple, or with friends, this roundup of fun things to do on Thanksgiving is for you!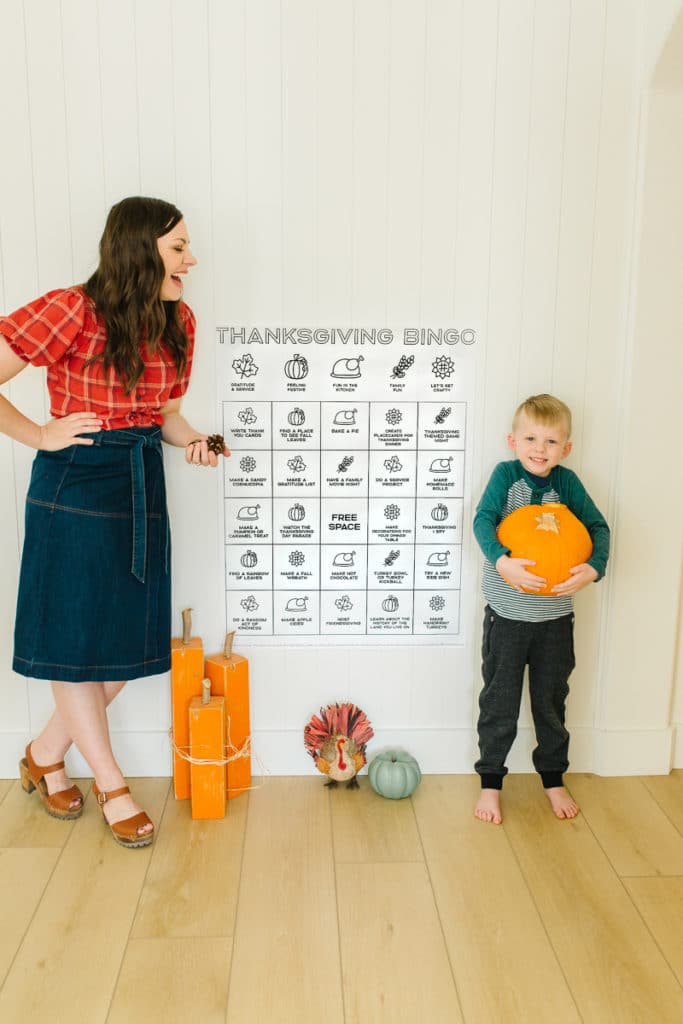 25 Fun Thanksgiving Activities
Keep the Thanksgiving fun going all month with these 25 fun Thanksgiving activities!
Write a Gratitude List
Come up with a detailed list of things you're thankful for.
Bake a Pie
Don't be intimidated if you've never done this! We have an easy no-fail pie crust recipe that's perfect for Thanksgiving prep, or for a practice run.
Make Candy Cornucopia
Grab an ice cream cone and your favorite fall candy and put together this fun place setting. It's also a great thing for a fun pre-Thanksgiving craft you can do with kids.
Make Place-cards for Thanksgiving Dinner
Plan your table settings and spend some time with custom place cards for an extra special touch.
Make Handprint Turkeys
This classic preschool craft is super easy, and kids of all ages love it!
Find a Place to See Fall Leaves
Plan a scenic drive or walk with prime fall leaf viewing.
Make Hot Chocolate
It's the perfect time to make some hot chocolate and find your favorite flavors.
Make Apple Cider
Tis' the season and apple cider is great hot or cold. Go enjoy a cup!
Make a Fall Wreath
This can be a professional craft, or a simple project for kids. Get creative! Find some fall-themed items (like fallen leaves) and get a little crafty!
Make Homemade Rolls 
It's always a good idea to do a practice run before the big day. We have our famous family rolls that we're asked to bring every year we highly recommend!
Watch the Thanksgiving Parade
This year it will be a virtual broadcast, but you can always watch past years on YouTube. Feel free to enjoy the fun Thanksgiving Day, or enjoy a past year's parade during a viewing any time this month!
Make Decorations for the Thanksgiving Table
Get crafty or plan a dedicated shopping trip. It doesn't take a lot of money to pull together a great festive tablescape!
Find a Rainbow of Leaves
Leaves fall in so many colors. Go on a leaf hunt and see if you can pull together all the colors of the rainbow.
Do a Service Project
It's a great time to give back! Find a service opportunity to do together.
Make a Seasonal Treat
Hello, pumpkin and hello salted caramel fall flavors! Find your favorite treat and make a seasonal recipe!
Learn About the History of the Land You Live On
I'm grateful for the shift in greater cultural respect for indigenous people. Spend some time learning about your region. A quick Google search will lead you to lots of great educational resources.
Do a Random Act of Kindness
Try a New Side Dish
I heard a professional chef recommend sticking to classic main dish recipes for Thanksgiving. But he highly recommended adding a new side dish to impress your family. Have a fun evening with a test run to choose your favorite.
Do a Thanksgiving Craft
It's really easy to order a Thanksgiving craft kit from Amazon. It's equally easy to find something on Pinterest either for kids, or one adults will love for a craft night.
Movie Night
It's blockbuster season, and there's almost always a great new movie to see! Alternately, The Great Pumpkin Charlie Brown is always a fun family movie night view!
I Spy Thanksgiving 
I Spy activity sheets are so fun for kids! We have a Thanksgiving printable being released next week, so stay tuned for a free download!
Thanksgiving Game Night
It's easy to create a Thanksgiving minute to win it themed night. But if you're feeling less ambitious, a regular game night that promotes quality time works well too! Check out our couple's games list of 100+ fun games for two or more if you need a new game idea!
Turkey Bowl/Turkey Kickball
Throw in some outdoor activity with an organized Turkey bowl or Turkey kickball tournament.
Have a Friendsgiving
We have so many friends who swear they love Friendsgiving more than Thanksgiving! It's easy to have a less pressure meal enjoying each other. Plus, this is one you can easily do virtually and enjoy each other's company even when you can't be close together.
We've created a fun Thanksgiving BINGO printable to help you plan some Thanksgiving fun. You can print it large for only a few dollars (instructions on how to create an Engineer print) or print it on a standard printer at home.
Grab your free Thanksgiving Activities Printable

Like this post? You may like these fun ideas too:
Best Family Movies to Watch for Family Movie Night
Get 365 Date Ideas!
We want to help you have the best date nights ever! Grab this FREE printable with 365 date ideas, a date for every day of the year so you never run out of ideas!