Movie Night Gift Basket Ideas: Everything You Need for Movie Lovers Movie Gift Basket
A complete guide to creating a movie night gift basket with tons of movie night gift basket ideas plus tips and resources to help you make the ultimate movie night basket!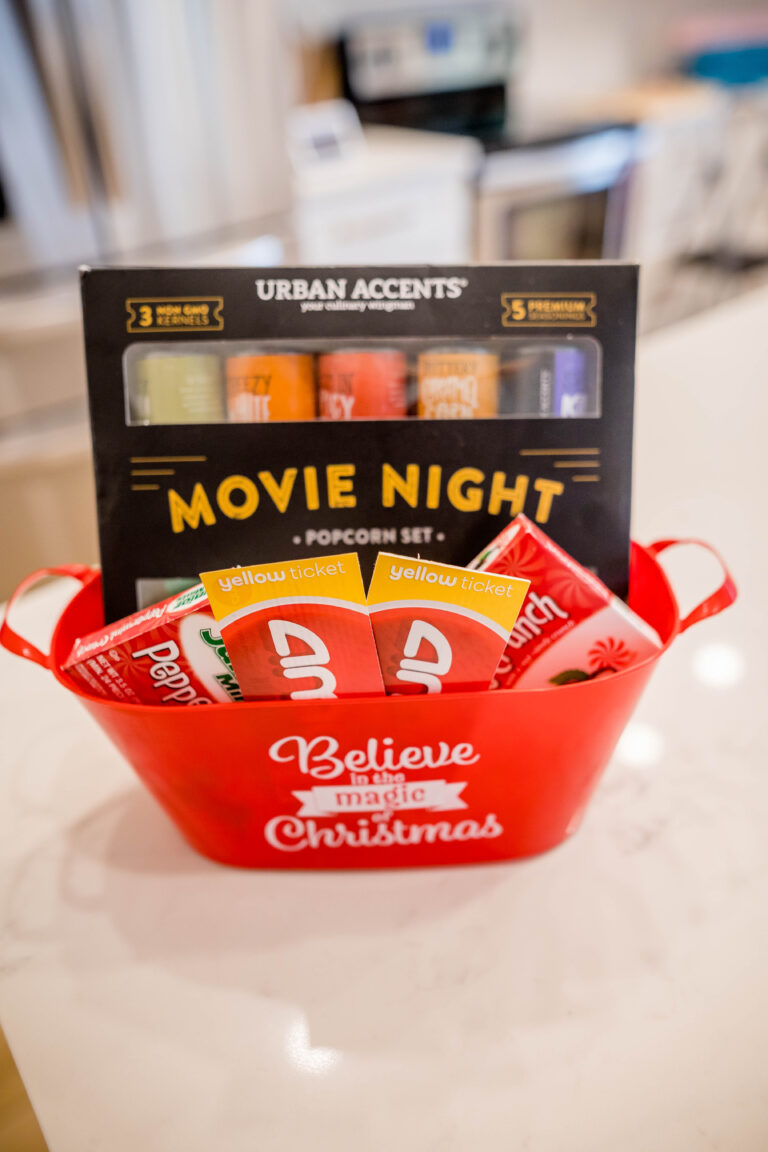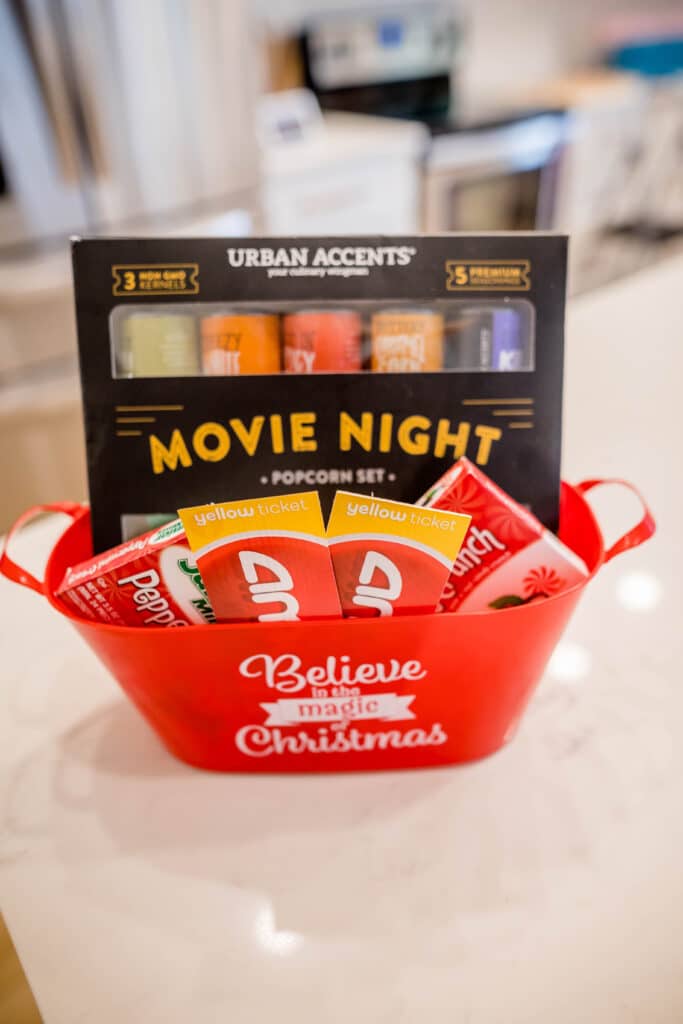 Do you need a perfect gift that everyone loves? A movie night gift basket truly is the ideal gift! A movie night gift basket is perfect to give your best friends, not as best friends, couples, and large families, and it's even a great teacher gift! It really is the perfect way to gift a cozy night and plenty of fun with a movie care package full of fun items they'll use! 
This is one of our favorite late-night date ideas, and favorite gifts to give others!

With a little creativity and some simple items, you can create a gift basket that will make any movie night a memorable one! We have tons of ideas for what to include in your movie night gift basket, as well as some tips on how to put it all together. 
Movie Night Snacks
Before we get into the fun stuff, let's start with the basics. Every movie night gift basket should include the following items:
1. Popcorn
No movie night is complete without popcorn! You could include bags of popcorn, cracker jacks, or microwave popcorn in individual pouches to make your own popcorn. Or, you can go with our favorite and gift popcorn kernels and a popcorn maker. We love our silicone popcorn popper, it tastes the closest to movie theater popcorn but is far better for you! This product is so used and loved and makes a great gift! It only takes butter-flavored coconut oil and salt. Check out our full post on how to use a silicone popcorn popper to see why this makes everyone's favorite snacks so easy and delicious!
If you want to get really creative, you can include different seasonings and flavors of popcorn like caramel, cheddar, or kettle corn. We love these popcorn seasoning packs. And also this gourmet popcorn gift set is about the perfect movie night gift basket filler!
Oh, and if you want to get creative, you can add popcorn bowls or use a popcorn bucket at the movie night basket base!
2. Candy
Movie theater candy is always a hit! If you know their favorite treats, grab those! But if you don't, you can't go wrong with fun theater treats in the movie theater candy boxes with a mix of chocolate and fruity to please any taste buds is a great gift idea. But also, you can always include other types of candy like a chocolate bar or a pack of gummy bears for delicious treats to enjoy during movie night.
3. Drinks
Don't forget the drinks! You can include soda, juice, or even adult beverages (like a bottle of wine) if you're giving the gift to adults who would enjoy them. If you're looking for fun movie night gift basket ideas around the holiday season, hot chocolate and some mugs with a movie night are a great way to say Merry Christmas with a movie-themed gift basket.
4. Dinner and a Movie
​Pairing dinner with a movie is a great addition to the night and a great addition to your movie night gift basket! You could include a physical gift card to order takeout. Or, pizza and a movie are always a great choice! You can keep costs low with a Dominos gift card or Little Ceasar's gift card, or you can find a favorite pizza place in their area to try. Or, you can find a Groupon deal for dinner!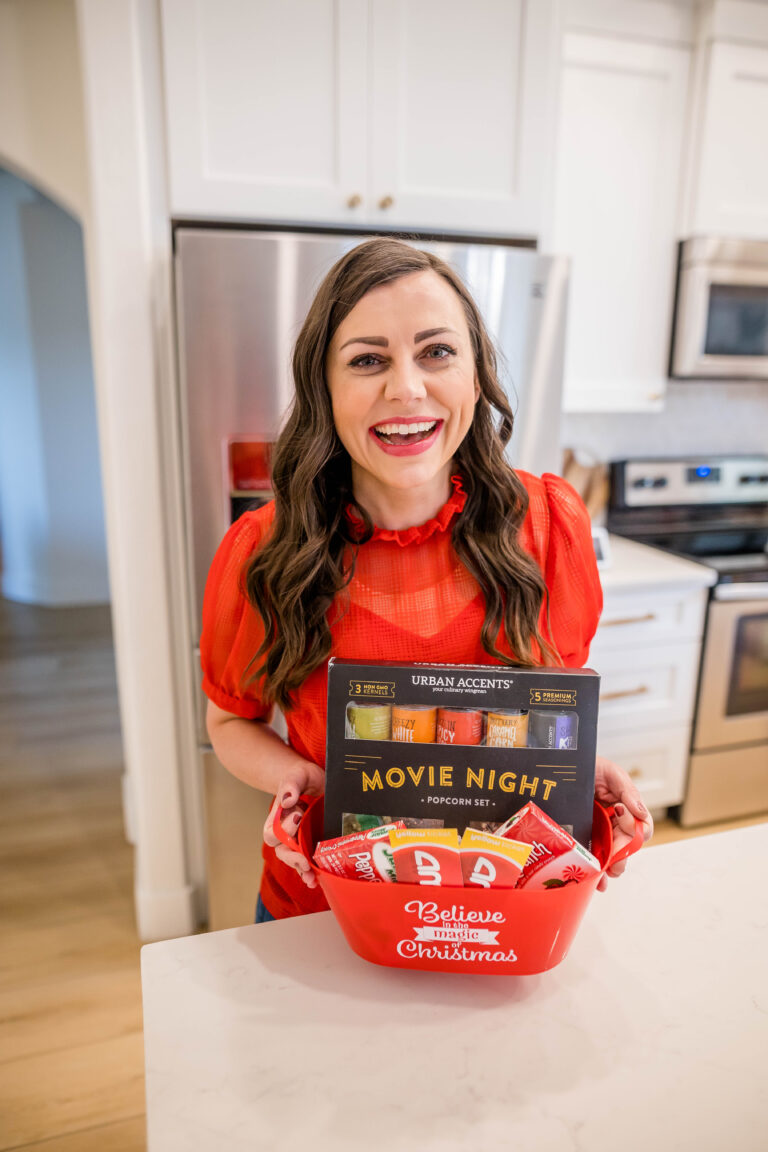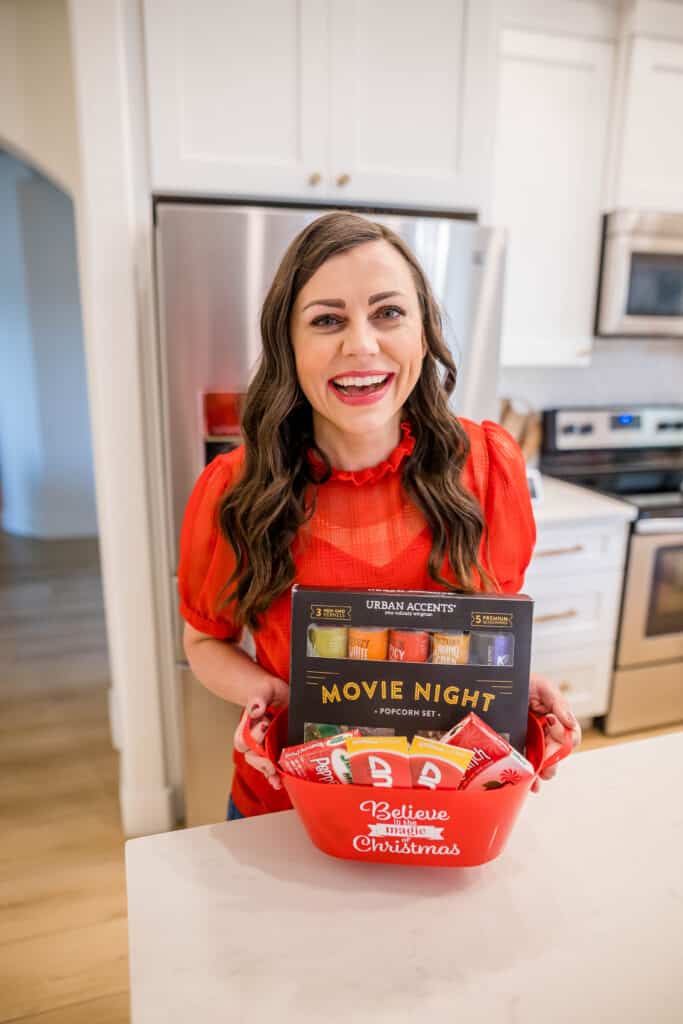 The Extras
Now that we've covered the basics (aka FOOD!), let's get into the fun stuff. Here are some extra items you can include in your movie night gift basket:
A cozy blanket is a must for a movie night in. It's an absolute must for a movie date night movie basket! But I know our whole family loves to have their own blanket for movie night. You can usually find inexpensive ones on Amazon, or even Dollar Tree to include in a gift box. The best part is each family member feels included and noticed for a family movie night gift basket.
You really can't go wrong whether you choose a simple fleece blanket or a more luxurious option like a weighted blanket.
Pillows are another way to add some comfort to your movie night! Grab some fluffy pillows for extra comfort in the living room! You can include decorative pillows or simple throw pillows– they're all great ideas!
7. Snack bowls
Snack bowls are a fun way to serve your popcorn and candy. You can include plastic or ceramic bowls in different shapes and sizes. These snack trays are also fantastic! We love these BPA-free plastic bowls for kids to use. But these popcorn buckets would be a fun extra in a movie night kit!
8. Movie tickets
If you really want to go all out, you can include movie tickets in your gift basket. This is one of our favorite things to gift an entire family when we do family gifts at Christmas. And of course, we love to gift this to couples so they can go catch a new romantic movie in the theater for date night!
9. Movie trivia game
A movie trivia game is a fun way to add some entertainment to your movie night. You can find movie trivia board games online or make your own. Adding a game night to a movie night is a great option for a movie buff, a family night, or to extend a fun night another hour or two!
10. Coasters
Coasters are a practical way to keep your drinks from leaving rings on your furniture. You can include coasters with a movie theme or simple cork coasters.
Movie-themed socks are a fun way to add some personality to your gift basket. You can find socks with quotes from popular movies or socks with images of movie characters.
12. The Cost of a Movie
A movie gift card is a great way to let them choose any movie, and know it won't cost them any extra! You could grab a Redbox gift card or buy a promo code for an easy way to stream movie rentals.
An Amazon gift card works too- they allow movie purchases and digital streaming rentals on any streaming device. This is often a better way to give the actual quality time of movie night. Let them find their own main feature or favorite movies to rent or stream!
And if it's difficult to secure an optional gift card, you can always give cash or even purchase a month of streaming (or take over a few monthly payments) so they can enjoy several of the best movies from the streaming provider!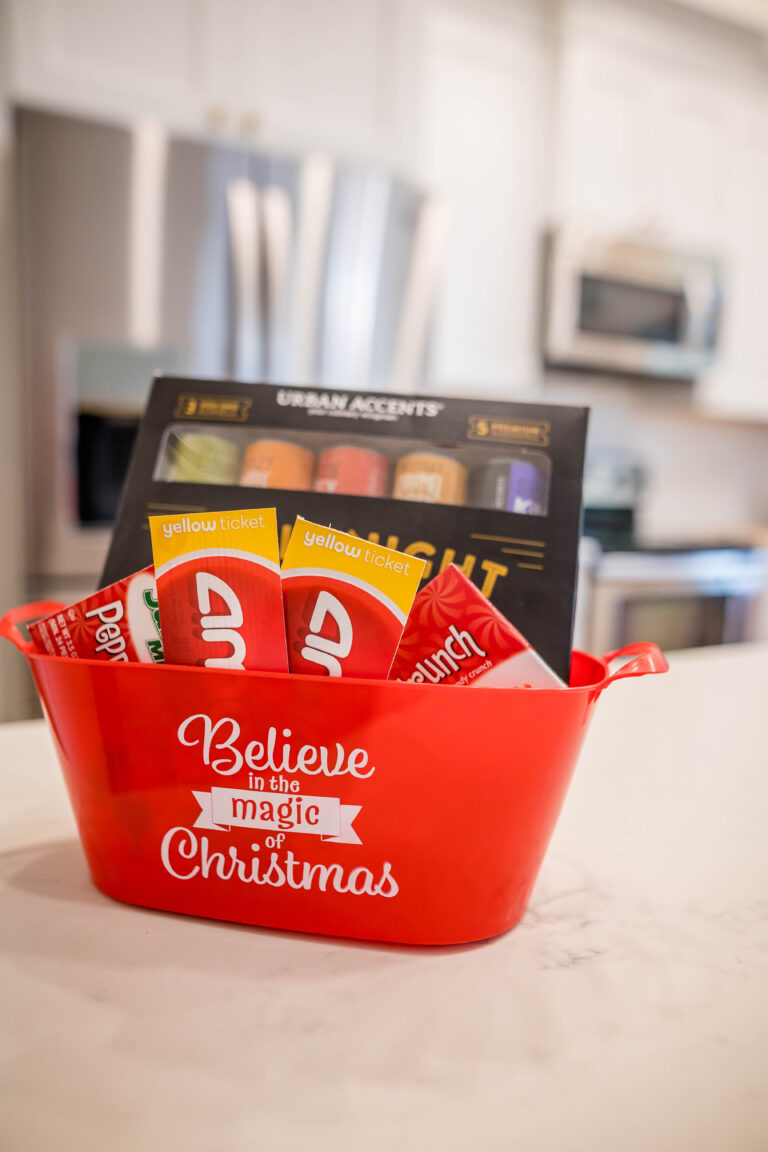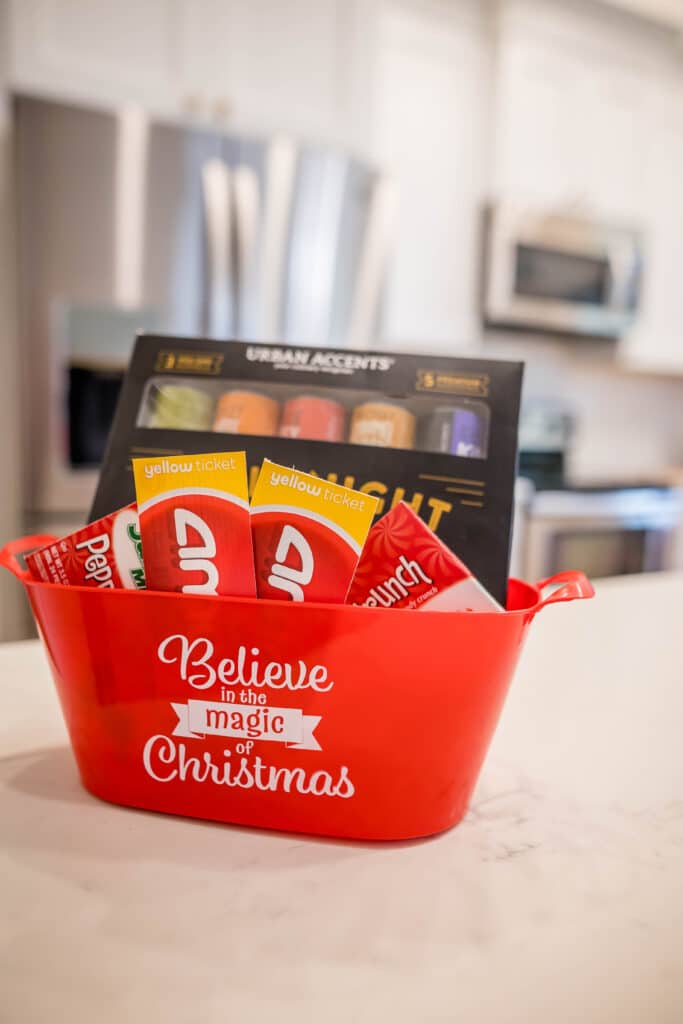 Putting It All Together
Now that you have some ideas for what to include in your movie night gift basket, it's time to put it all together. Here are some tips for creating a gift basket that will impress:
– Choose a theme
Choose a theme for your gift basket to make it more cohesive. For example, you could choose a specific movie genre like horror or romance. You could also theme it around their favorite film. Also, you could choose a specific color scheme like red carpet red.
– Use a basket
Use a basket to hold all of your items. You can choose a simple wicker basket or a more decorative option like a metal wire basket. It doesn't have to cost a lot of money, you can even check thrift stores for cute baskets with a very small additional cost to the actual gift!
– Arrange It
To make your gift basket look full and complete, add the larger items first, and then fill in with smaller items towards the front. You can even want to add some filler at the bottom of the basket. You can use a blanket, tissue paper, shredded paper, or even popcorn to fill the empty space.
– (Optional)Wrap it up
Once you've filled your basket, wrap it up with cellophane or a clear gift bag. You can add a bow or ribbon for a finishing touch.
– Personalize it
To make your gift basket even more special, add a personal touch. You can include a handwritten note or a movie gift tag. You can also add a special item that relates to the person you're giving the gift to, like a mug with their favorite movie quote.
Easy DIY Gift!
A movie night gift basket is one of those great DIY gifts most people really love! With a little creativity and some simple items, you can create a gift basket that will make any movie lover's night a memorable one. From popcorn to candy to cozy blankets, there are so many items you can include to make your gift basket unique. So next time you're planning a movie night for yourself or for someone else to enjoy, consider creating a gift basket that will take the experience to the next level.
Like this Movie Night Gift Basket Ideas roundup? Be sure to check out these posts too:
10 Perfect Items For Your Husband's Easter Basket
Best Family Christmas Movies + Christmas Movie List Printable
How to Create Your Own Outdoor Movie Theater for Backyard Movie Nights
How Make Family Movie Night a Tradition You'll All Love
Get 365 Date Ideas!
We want to help you have the best date nights ever! Grab this FREE printable with 365 date ideas, a date for every day of the year so you never run out of ideas!