Summer Date Ideas for Teens
Plan a great summer date night with these 50 fantastic summer date ideas for teens.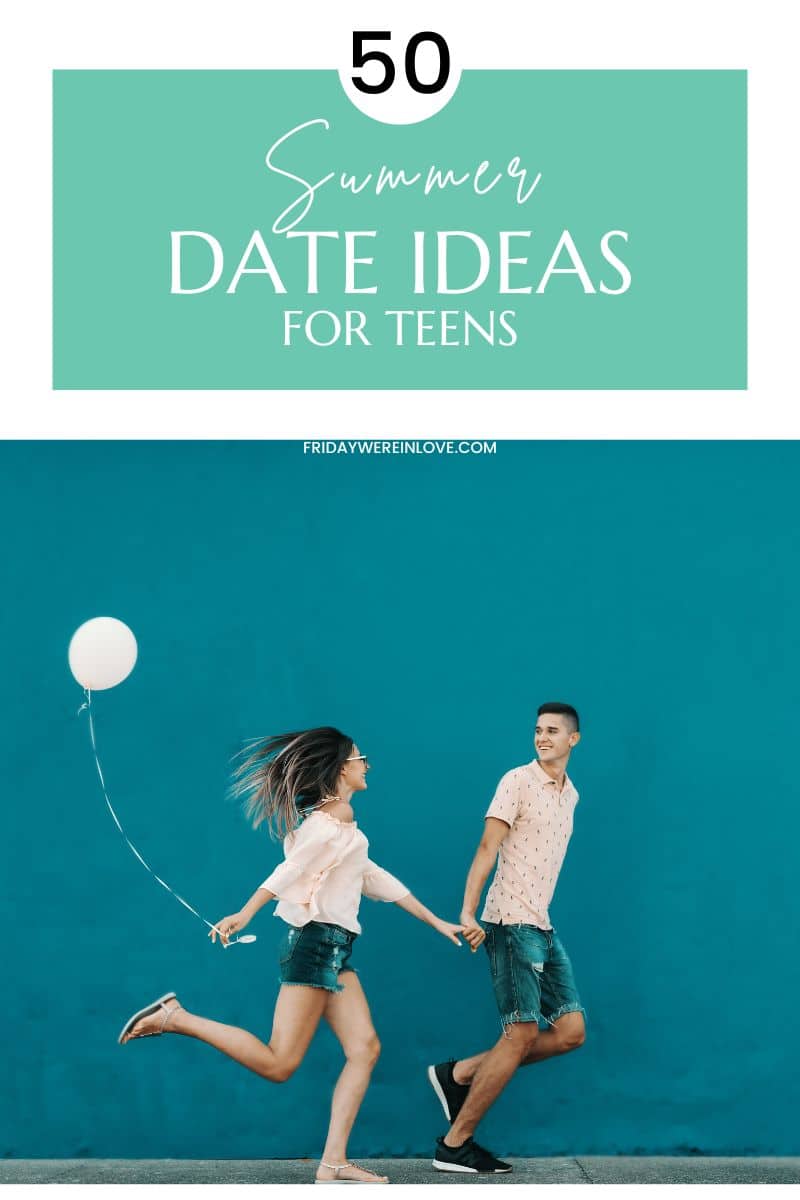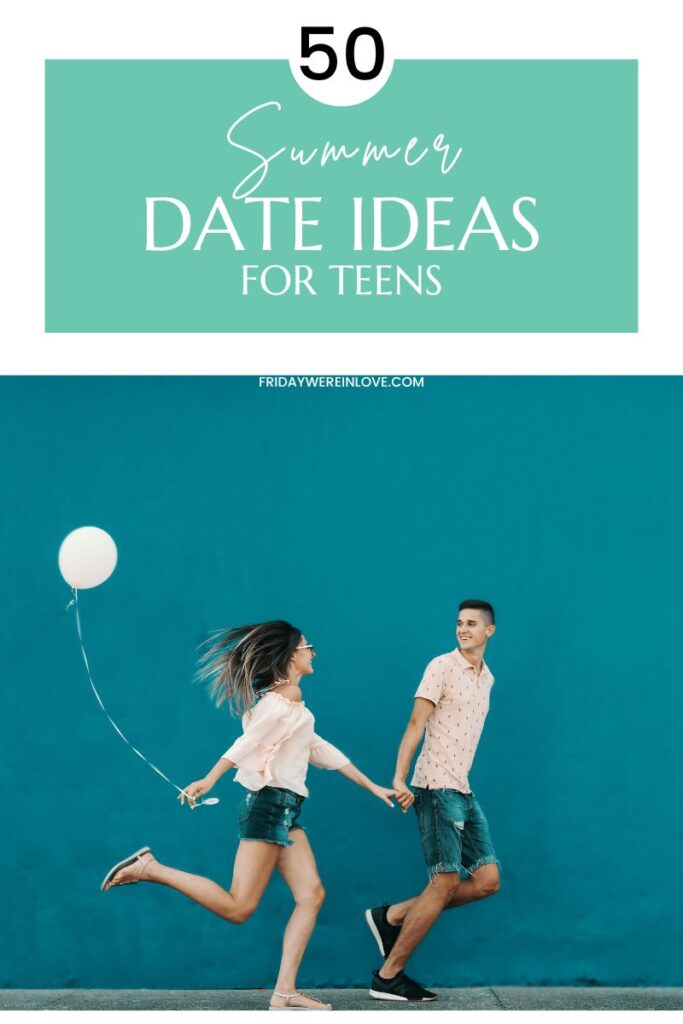 Summer is almost here, and it's the perfect time to start planning some summer date ideas! And that also includes some fun and exciting date ideas for teens.

Whether you're looking to spend time with your significant other, or just looking for some fun things to do with your friends, there are plenty of options to choose from. Be sure to check out our date ideas for teens you can do all year round. But we're here to hook you up with some of the 50 best summer date ideas for teens that are sure to create memories that will last a lifetime.
50 Summer Date Ideas for Teens
What better way to enjoy the warm summer evenings than by attending an outdoor concert? Many cities offer free or low-cost outdoor concerts throughout the summer, so be sure to check out what's available in your area. Not only will you get to enjoy some great music, but you'll also have the opportunity to spend time with your date in a fun and relaxed environment.
Beach Day
There's nothing quite like spending a day at the beach with your date. Whether you're looking to relax and soak up the sun, or participate in some fun beach activities like volleyball or paddleboarding, the beach is a great place to spend a summer day. Don't forget to pack some snacks and plenty of sunscreen!
Related: Supergoop Mineral Sunscreen Review
If you're looking for a more adventurous date idea, consider visiting an amusement park. Whether you're into roller coasters or water rides, there's something for everyone at an amusement park. Plus, many parks offer special summer discounts or promotions, so be sure to check out what's available.
Water Park
On a hot day, the perfect date idea truly is the water park! It's a fun way to cool off, experience some thrills, and have a great time! And bonus, they often offer high school student discounts, so be sure to look into them!
Picnic in the Park
Sometimes the simplest dates are the most romantic. Consider packing a picnic and heading to your local park for a relaxing afternoon with your date. Don't forget to bring a frisbee or other fun outdoor games to keep you both entertained. Check out our picnic date ideas for tons of tips to pull of this perfect summer date!
Grab some of your favorite board games, card games, or games you could play with a group for a group date. Get ready for a little friendly competition and a great chance to see how you work as a team! If you need some game ideas, be sure to check out our couple games post with plenty of games that work as good date ideas.
Many cities offer outdoor movie screenings during the summer months. Grab a blanket and some snacks, and enjoy a classic movie under the stars with your date. Not only is this a fun and unique date idea, but it's also a great way to enjoy the warm summer evenings.
Volunteer Together
Looking for a date idea that also gives back to your community? Consider volunteering together for a local charity or non-profit organization. Whether it's volunteering at a local animal shelter or participating in a beach cleanup, volunteering is a great way to bond with your date while also making a positive impact.
Attend a Sporting Event
A sports game is a great time to have a lot of fun cheering on a team, while still getting plenty of time to talk. Even if you aren't a huge sports person, it's still a fun time and a perfect way to enjoy some quality time!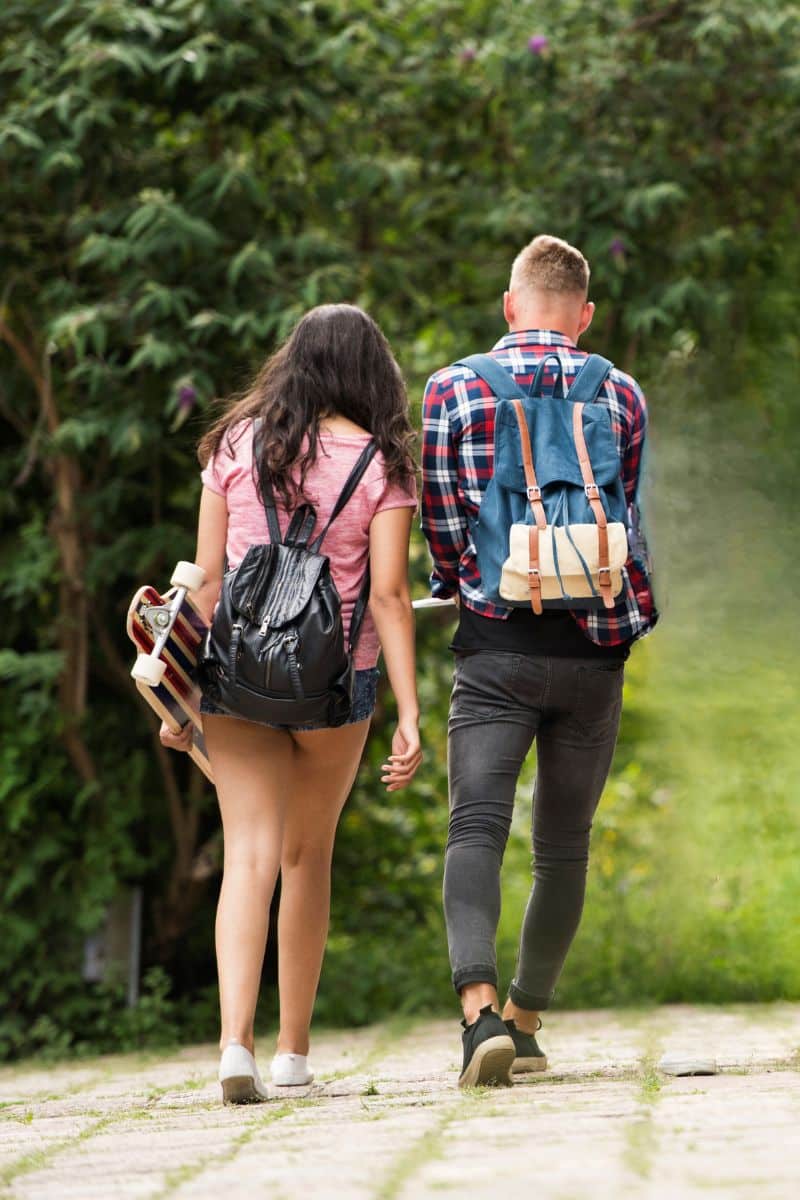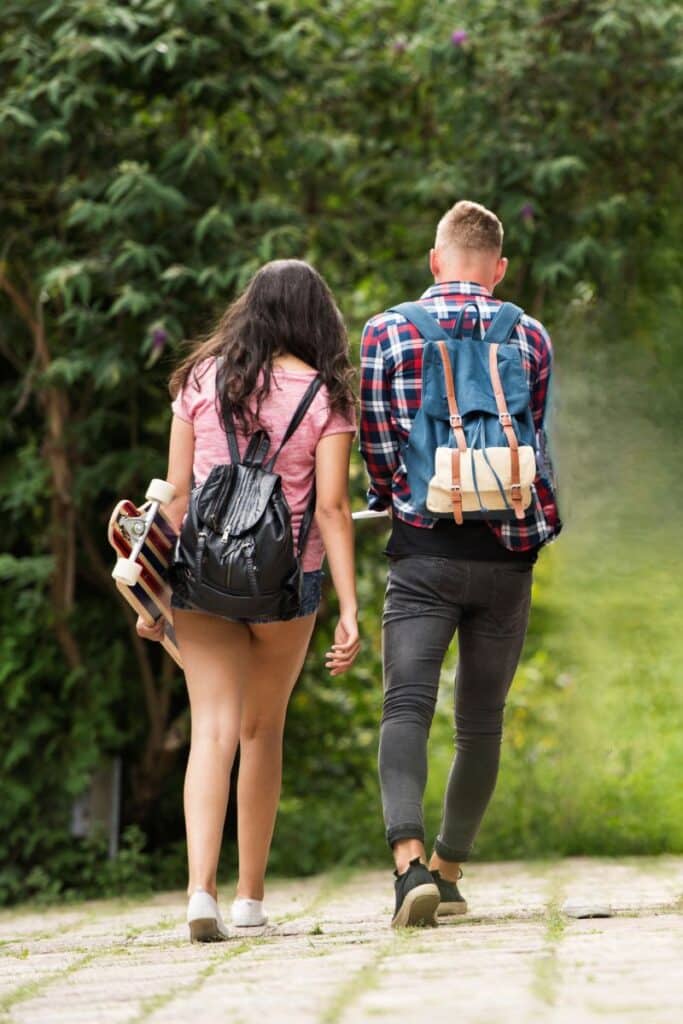 Hiking or Biking
If you and your date are outdoorsy types, consider going for a hike or bike ride together. Not only will you get to enjoy some beautiful scenery, but you'll also get in some exercise and fresh air. Be sure to pack plenty of water and snacks, and don't forget to wear appropriate footwear and clothing.
The rock gym is one of the best first date ideas, but seasoned couples will tell you they still think it's one of the best dates out there! You can have so much fun challenging yourself mentally and physically in a really safe, air-conditioned environment. Check your local area for rock gyms and deal days so you don't have to spend so much money.
If you're looking for a unique and fun date idea, consider visiting your local farmer's market. Not only will you get to explore all of the fresh and delicious produce, but you'll also have the opportunity to sample some tasty treats and support local farmers.
Food Festival
If you're a foodie at heart, consider attending a local food festival with your date. From BBQ to food trucks to dessert, there are plenty of festivals to choose from. And each celebrates different types of cuisine. Don't forget to bring your appetite!
Looking for a fun and lighthearted date idea? Consider hitting up your local mini golf course. Not only is mini-golf a great way to show off your competitive side, but it's also a great opportunity for some friendly banter and laughter.
In conclusion, there are plenty of fun and exciting summer date ideas for teens. Whether you're looking for a romantic evening with your significant other or a fun day out with your friends, there's something for everyone to enjoy. So get out
Bowling Date
Head to the bowling alley and enjoy a game of bowling. Or, you can mix it up a little bit with bowling with a twist. A lot of young couples like to invite another couple for a double date, or a few couples to make it a group date. Which can be the best way to ease some nerves and enjoy some extra social time.
Mall Date
Get ready for a vintage date night high school and middle school couples in the 90s loved to do. Find a local mall and plan a hang-out night mall date. Walk around and look at shops. Try to find different items that start with each letter of the alphabet. Go get food at the food court. And one extra cute date idea for a mall date: find a photo booth and get some snapshots together. Also, bonus points if you can enjoy a lot of fun walking around without spending a ton of money.
Most comedy clubs are for 21 and older, but improv shows welcome people of all ages. Consequently, that means teenage couples are welcome for date night! It's one of those fun date ideas you're sure to have a good time! Get ready for a good laugh, and heaps of fun while you enjoy a date perfect for teens.
Ice Skating
When it's super hot out, an ice skating date is such a great date idea! It's our favorite place to cool off and enjoy some hand-holding around the ice rink. You may even want hot chocolate at the end!
Visit the Botanical Garden
Did you know most botanical gardens offer a free night every month? It's a great idea for a free date night that would normally cost you quite a bit otherwise. It's also the perfect place to snap a few pictures in a gorgeous setting.
Make Dinner Together
Plan a menu, head to the grocery store, and make the whole thing happen together! I'd recommend checking to make sure your parents are okay with using the kitchen and possibly vacating the premise for one of the best date ideas!
Thrift Store Date
Hit up your local thrift stores and pick out outfits for each other to try on. The goofier, the better! you can have a good laugh modeling outfits for each other. This is one of the highest-rated teen date ideas, most report this to be even more fun than they imagined! And best of all, it's either a cheap date idea or can be a free date idea for teens!
Dig up all the quarters and dollar bills in your couch and bags and take it to your local arcade with your date. Vintage video games are always a good idea.
Host a Group Game Night.
Group dates are so much fun as a teenager because it involves your friends and keeps the pace of the date interesting and fun. Finding good icebreaker games or ridiculous games will keep you and your friends laughing for weeks to follow.
Coffee Shop Date
Even if you don't drink coffee, there's a really cool vibe that makes coffee shops a great place for a casual date. There's a reason college students and adults often "meet for coffee" for their quick dates. Find a local coffee shop, and order a few pastries or drinks together. If Starbucks if the place you end up at, try a Vanilla Bean Frappuccino, it's caffeine-free and tastes like a gourmet milkshake!
Would You Rather Date
Grab our FREE printable Would You Rather Dating Questions for Couples. You can download it to your phone, or print it out and take turns drawing questions from a bowl. It's a personal favorite of all the creative date ideas, and it won't cost you a penny.
Visit a Haunted House
Sometimes these are only around for Halloween date ideas, but you can often find one open in the summer months too. If nothing else, you can look up urban legends in your area and go visit the "haunted" places in your area.
Ghost Hunting
Are you into paranormal activity? Are you not really but you're into original ideas for summer dates? Check out a ghost tour in your area. Or, you can download paranormal activity apps and have a good time exploring your area.
Catch a Discount Movie
Did you know you can almost always find a discount night at the movie theater? It may be every Tuesday, before 4:00, or on a set discount day each month. It's a great way to turn a normally somewhat pricey date into cute cheap date ideas you can repeat all summer! And bonus, bring a few cheap snacks with you to enjoy during movie time!
Do an Escape Room
Get ready to use your wits during your next date, and book an escape room date night! You can also do an escape room at home!
Visit a Museum or Art Gallery
Find a night when your local art museum does free admission, and enjoy a classy date night looking at art together.
If you have an animal lover this is the right place to take them! A zoo date is one of those awesome date ideas because it keeps you moving, and learning, and there's plenty of time to talk and connect while you enjoy animals together.
Sometimes the best dates are the simple ones. If you want to go out but not spend a lot of money, try an ice cream date! You can go big at a cute ice cream shop, or go cheap and grab a cone at a fast food store.
Make a Time Capsule
Grab a bunch of items that scream this year. They can be newspaper clippings (or printouts), trendy items, pop culture references, etc. Just grab a bunch of stuff that feels really in the moment now, and pull it together for a physical or digital time capsule box.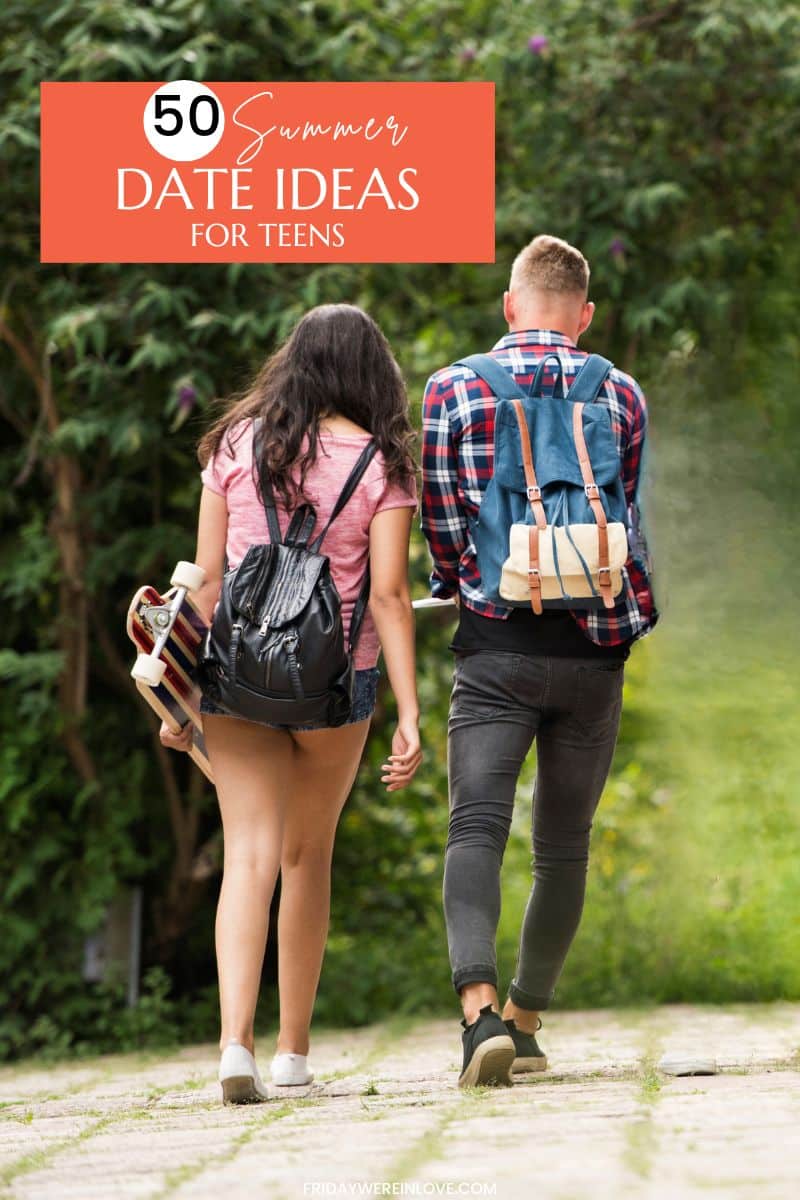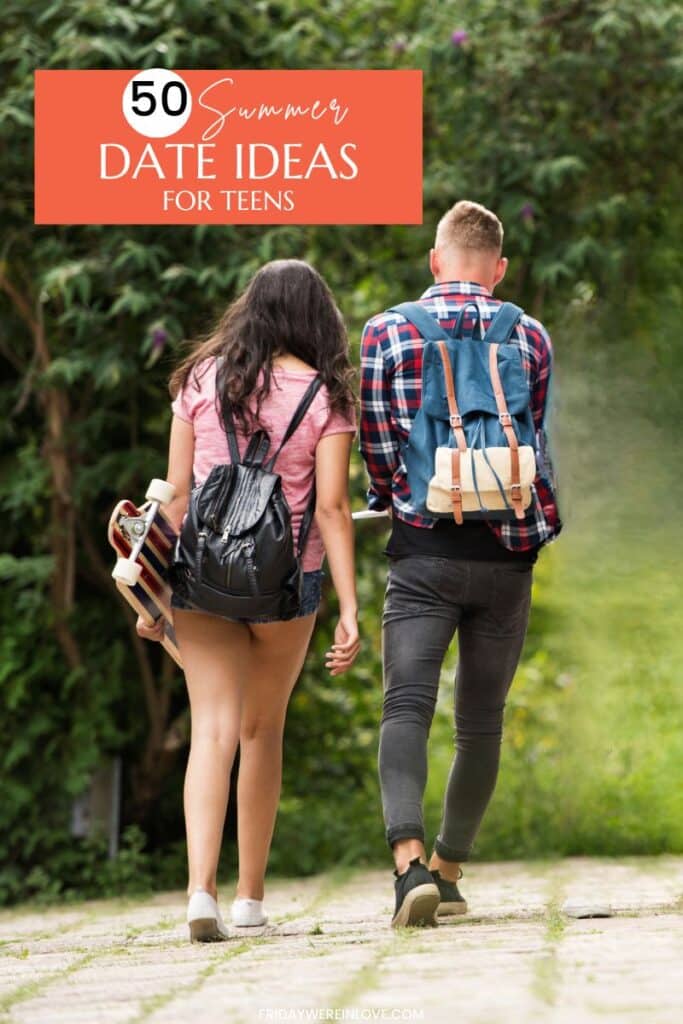 Visit the Flea Market
You can find some of the most interesting things at a flea market! Make if your mission to see how can find the most unusual item, and have fun exploring a flea market together!
YouTube Date
Before there were every other social media, there was YouTube busting out the memes and funny clips. Check out our Funny YouTube videos date night, and sit back and enjoy the free laughs!
TikTok Date
We know you have a collection of TikTok videos that have made you laugh so hard that you cried! And if you don't, find some, and great ready to share for date night! Take turns sharing your sense of humor with your date with this free date night!
Photo Scavenger Hunt
Head to a public place with a lot of things to see and do. A mall, Target, Walmart, or a big public park are all great ideas! Go through each letter of the alphabet and find an item that starts with each letter. Be sure to snap a picture with yourself in it for photographic evidence! If you want to kick it up a notch in the cute ideas department, find another couple to race and see who can finish first. Then, have fun sharing your pictures from your photo scavenger hunt date.
Karaoke Night
You can head to a karaoke place, but you can also find video game systems and even YouTube videos with karaoke songs. So get ready to sing your heart out! I promise it's fun whether you're a fantastic singer, terrible at singing, or anywhere in between! Maybe skip this one for a first date, but it's a great second date or any number thereafter!
Make S'mores
Set up a bonfire, enjoy an open grill, or find a backyard firepit and set yourself up for a s'mores night. Grab some graham crackers, marshmallows, roasting sticks, and chocolate. But if you want to take it up a notch, grab various chocolate candy bars like Reeses, Cookies and Cream Bar, or Almond Joy for a fun gourmet sampling.
Bake Cookies Together
One of my favorite date ideas for new couples is a date night baking cookies together. I mean they're a favorite dessert for a reason! But a cooking-baking session often brings up a lot of childhood nostalgia. It's also a great way to connect, talk, and have fun working as a team.
Play a Sport Together
You could pick up basketball, play catch, try pickleball, or channel your favorite team and pretend you're a part of them! You may need to start with a study date to learn the rules for a new sport. But you can always learn together, and that makes it even more fun! Have fun with this active date idea!
Paddle Boat Date
We had a paddle boat date years ago for a date night, and it still remains one of my favorite things we've ever done!
Dinner Date
Head out for a classic dinner date! Book a reservation at a restaurant. Dress up for a dinner date. And enjoy a romantic date night out.
Attend a Play
Find a local community theater performing in the summer, and go support the show! You can also search for outdoor theater under the stars. It's a unique experience and cool date!
Visit an Animal Shelter
This free date idea will warm the heart of any animal lover! Call ahead and make sure visitors are welcome. But many shelters are happy to welcome volunteers to help care for animals.
Do Goat Yoga
There's yoga, and then there's yoga with goats. This trend started years ago, and it's still going strong! Look for a local venue that offers a yoga class with baby goat participants. It's as silly as it sounds! But a few goats who are only one-year olds jumping on you is a surprisingly funny and fun date!
Binge a Netflix Show
Choose a new show you're both interested in and plan a night around it! Pop the popcorn (try our favorite silicon popcorn popper), grab some snacks, and get ready for a fun night of binge-watching.
Stargaze
A stargazing date is fun from almost anywhere, but the prettiest views come from getting out of cities and viewing from a more remote location. Download Google Earth and learn about the stars and constellations all around you.
Go to a bookstore and share your favorite books with each other. You can even read your favorite children's books to each other, and some excerpts from your favorite novels.
Tie-Dye Together
Grab a tie-dye kit and some t-shirts or favorite items with cotton blends and try your hand at tie-dye. It's a great way to get artistic, learn some science, and make something you can wear that reminds you of your date.
Rent or borrow a 4 Wheeler and enjoy exploring some trails in a fun new way!
And if you need some inspiration what to wear on a first date, check out or guide to help you look and feel confident!
Like these summer date ideas for teens? Be sure to check out these date ideas lists:
Get 365 Date Ideas!
We want to help you have the best date nights ever! Grab this FREE printable with 365 date ideas, a date for every day of the year so you never run out of ideas!