Pool Noodle Obstacle Course
Create a fun backyard obstacle course for kids using pool noodles. Everything you need to know to make a DIY Pool Noodle Obstacle Course.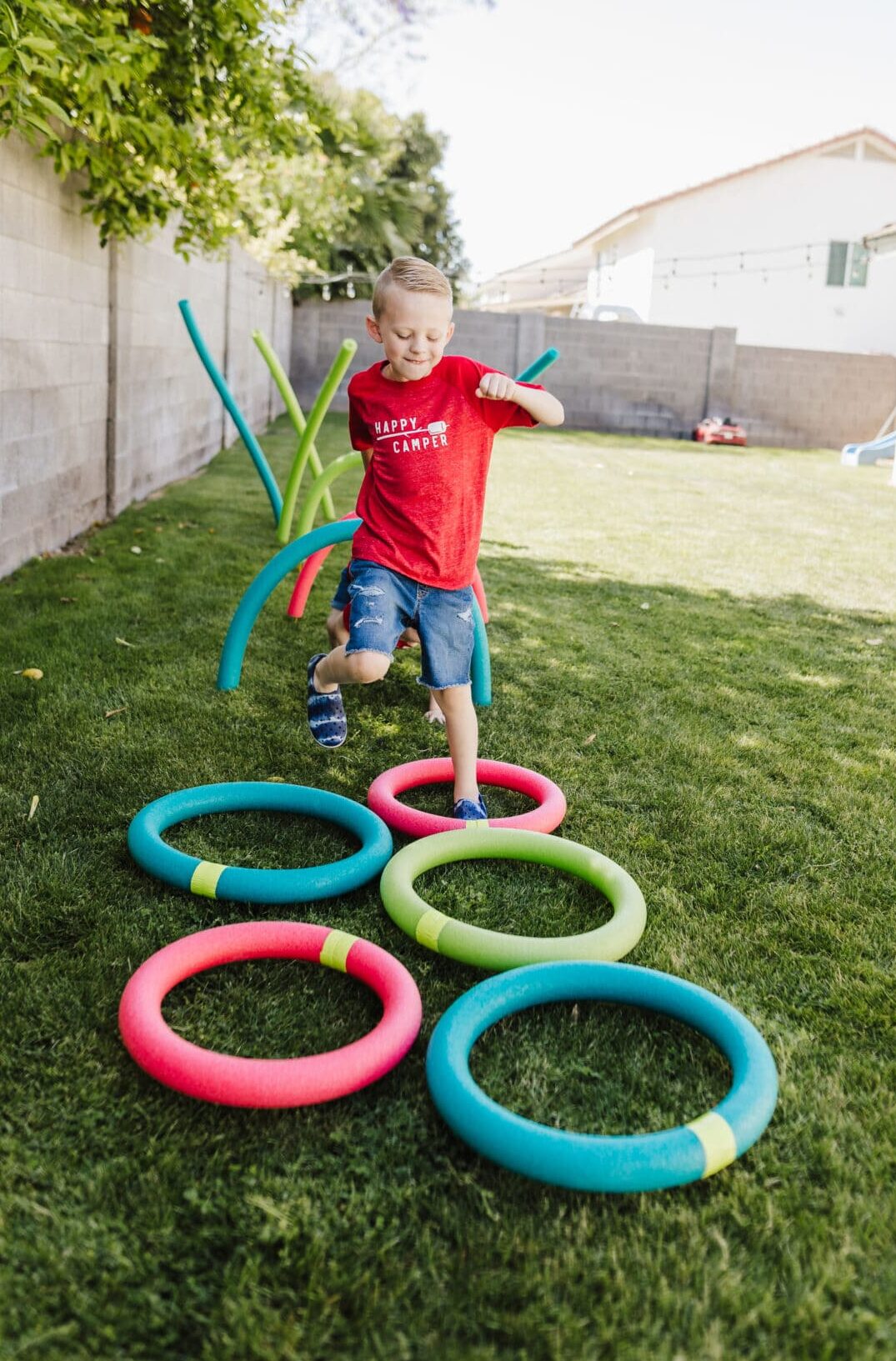 If you have busy body kids bouncing off the walls, here's an easy and fun way to take the party outside and channel some energy. Make a fun backyard obstacle course for kids! It's great for a kid's play date, some family time, and for having so much fun on a boring day!

Here's how to make a pool noodle obstacle course. It's incredibly easy, cheap, and fun!
Yield: 1
How to Make a Pool Noodle Obstacle Course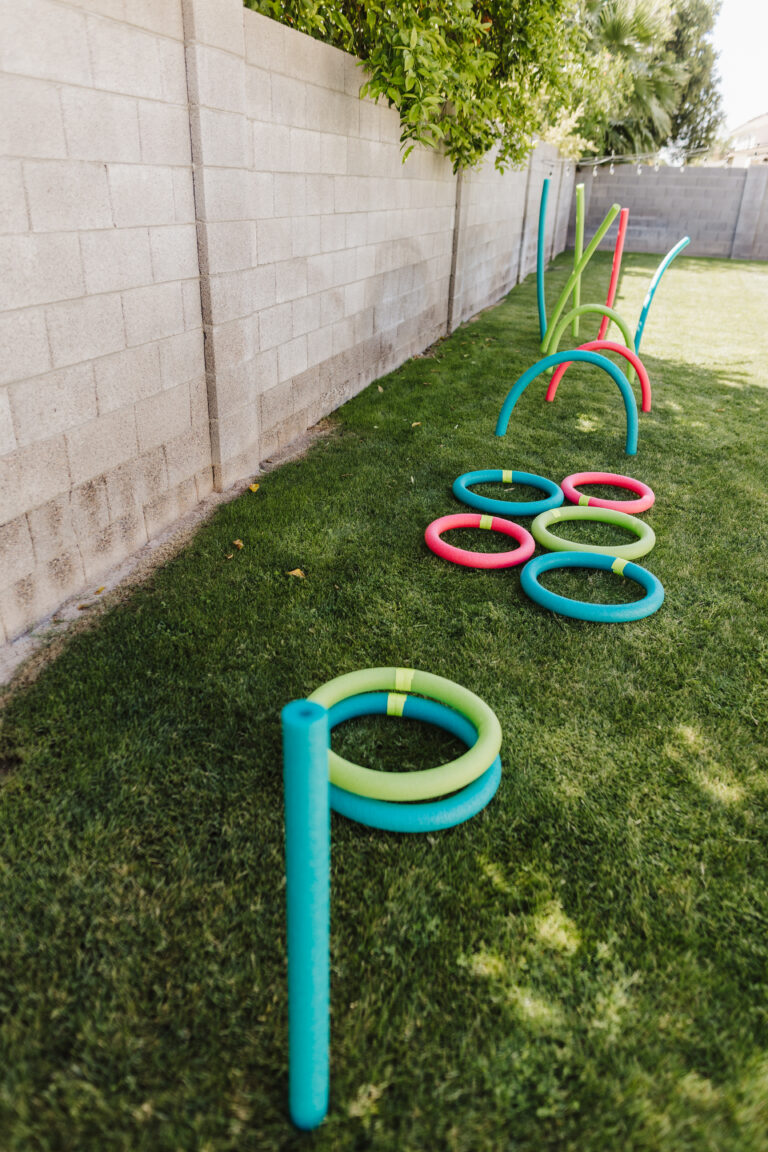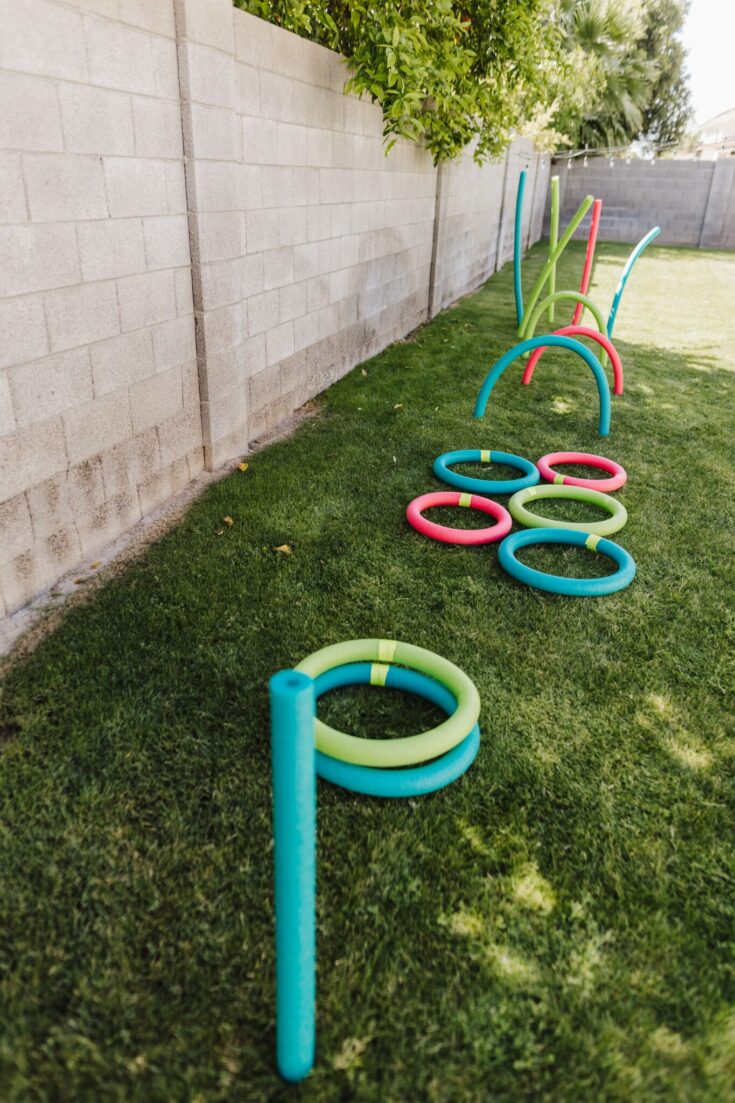 Create a fun outdoor obstacle course using pool noodles. It only takes a few supplies, a some backyard obstacle course plans, and a few minutes to make your own pool noodle obstacle course.
Materials
15-25 Pool noodles (Find them at dollar stores and 5 Below for a great price)
A box of pencils
Duct tape
Tools
- Scissors
- (Optional) a razer blade
Instructions
Start by making a run-through area that looks like a coral reef. Pool noodles will be placed in the ground straight up, about 1-2 feet apart.
Determine where each of the vertical noodles will go, and place a pencil about 2" into the ground. Place the hole of one side of a pool noodle on top of the pencil. It should stand straight up!
Continue placing several pool noodles into the ground in this group until you have a run-through coral reef to your satisfaction. We found 7-8 work well, but you can certainly add more.

Grab 3-4 pool noodles and 6-8 pencils (2 per noodle) to create the crawl through semi circle arch section.
Grab your first pool noodle and determine where the arch should go. Make sure it's wide enough and tall enough for kids to climb through.
Place two pencils in the ground to hold the ends of the first pool noodle. Place the pool noodle ends over the pencils.
Repeat with the remaining pool noodles and pencils.

To create the ring hopscotch area, grab three pool noodles and cut them into 1/3rds.
Take each 1/3rd piece and mold it into a smaller circle. Using duct tape, tape off each circle and secure tightly.
Arrange the circles in a hopscotch-style placement on the ground for kids to jump through.

Create a ring toss area using 3 pool noodles and duct tape.
Start by cutting one pool noodle in half. These will become the poles to toss the rings onto.
Attach the pool noodle halves into the desired spot on the ground using pencils, and leave them upright as poles.
Take the remaining two pool noodles (I'd recommend using different colors if possible) and cut them into 1/3rds. Turn each 1/3rd into a circle and secure using duct tape.
Leave these circles in a pile ready to be tossed onto the poles as part of the obstacle course.
Notes
- Grab colorful duct tape to make it feel more fun and inviting
- You can find pool noodles for $1 - $1.50 at most stores.
- Thicker/longer pool noodles are ideal!
Recommended Products
As an Amazon Associate and member of other affiliate programs, I earn from qualifying purchases.
Recommended Products: Add to Cart
If you're ready to make your own pool noodle obstacle course, this easy shopping tool lets you add everything you need to cart at once for easy checkout on Amazon/Walmart.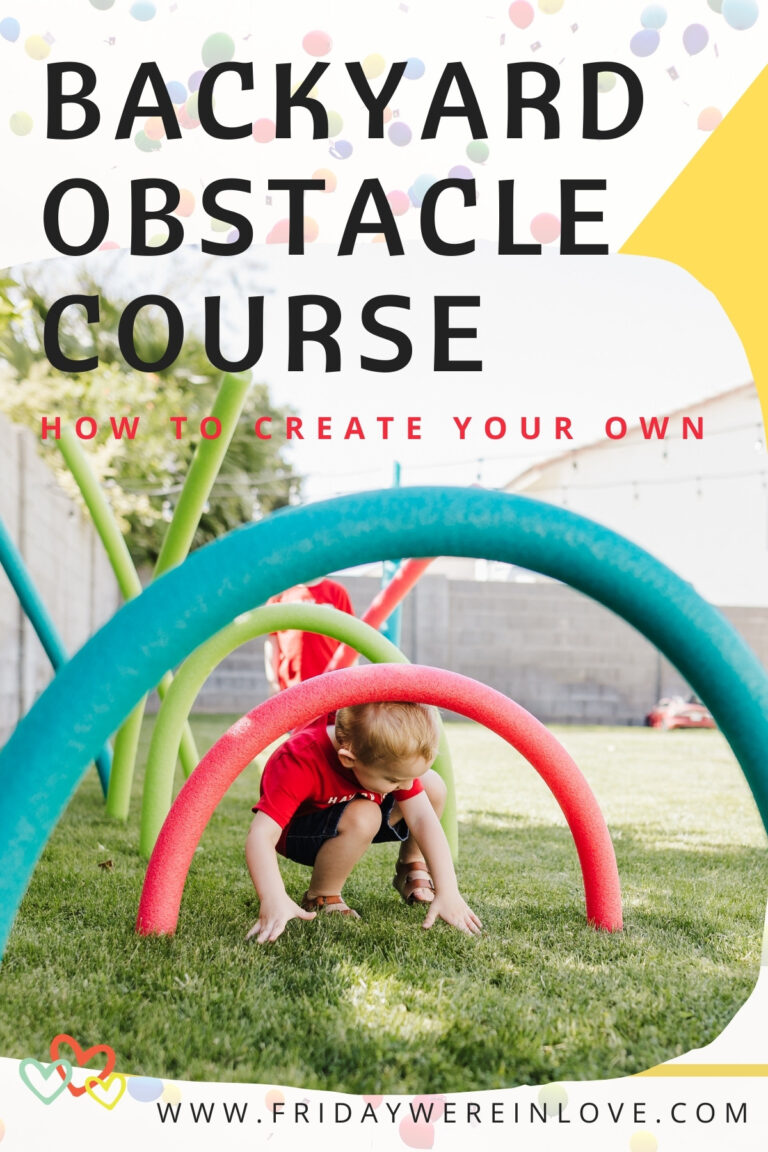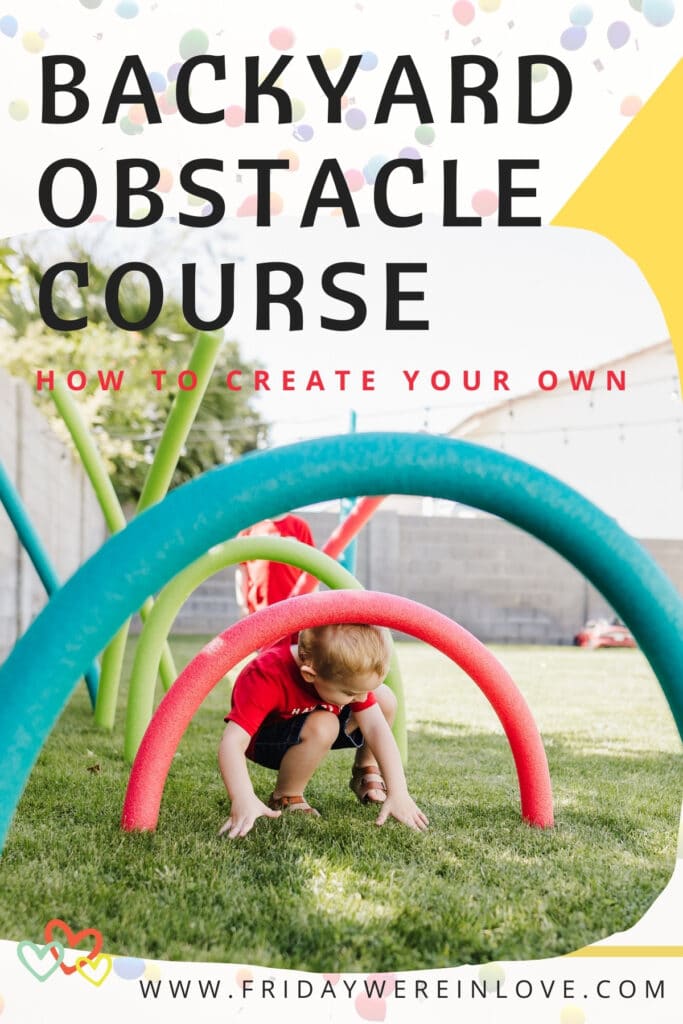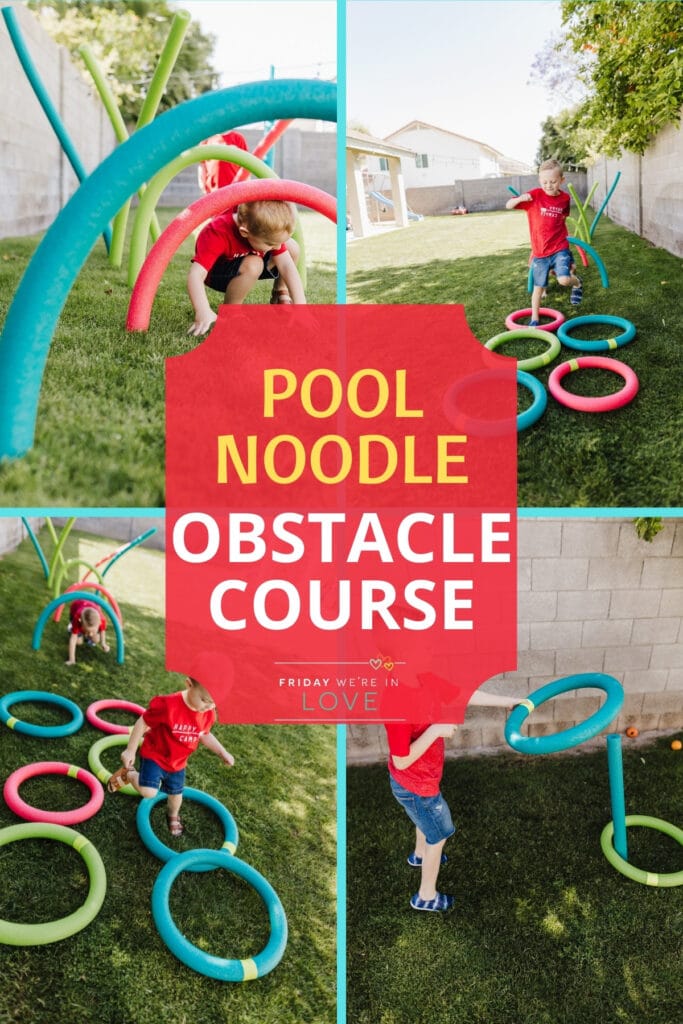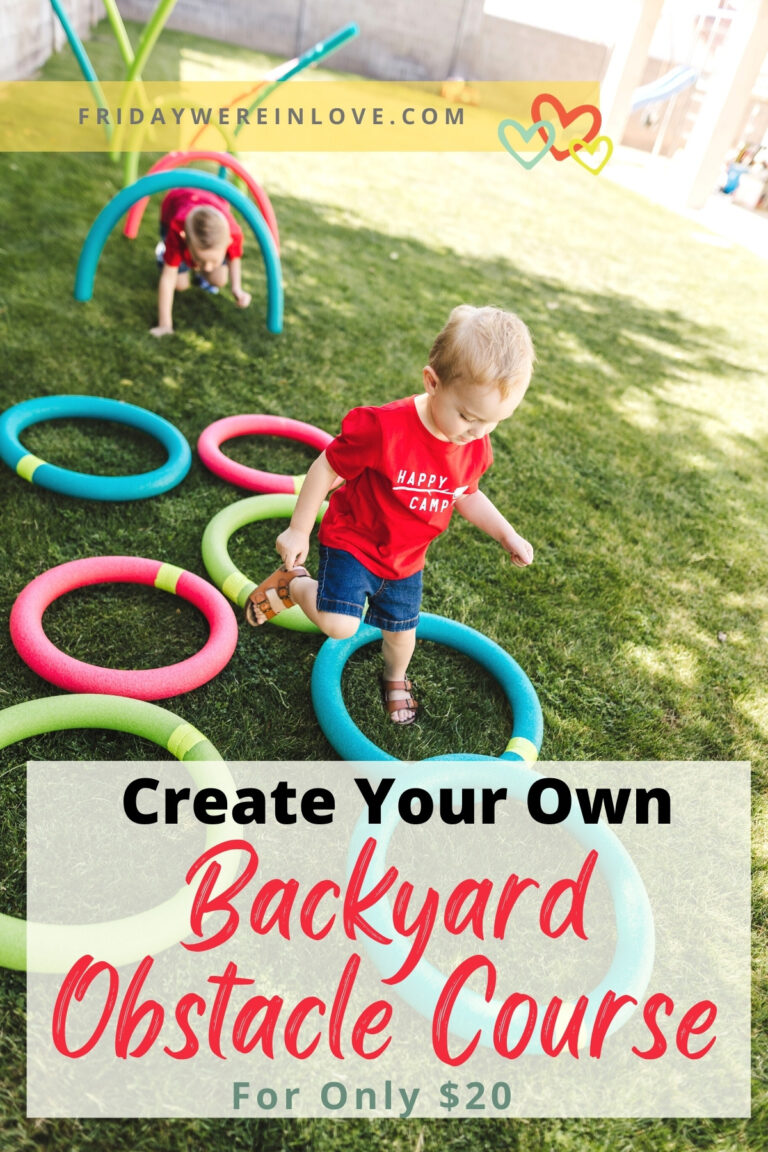 Additional Pool Noodle Games:
– Soccer Practice
Grab a soccer ball and use the obstacle course as reinforcement to practice dribbling and general soccer skills using soccer balls throughout the course. It's a great way to boost athletic skills and awareness.
– Football Toss
Use a foam football and the circular pool noodle rings as a football toss. You can also use bean bags too!
– Have kids complete the course jumping on one foot.
When they are ground crawling, they need to perform every other obstacle until the end of the course on one foot. It's a great way to practice gross motor skills and coordination for little kids!
– Turn on sprinklers!
They are extra fun on a warm day, and an easy way to cool down. Turn on a sprinkler and turn the obstacle course into a splash pad. You can even grab an extra straight noodle and poke holes in the noodle to create a sprinkler. Just be sure to seal off the end of the pool noodle so the sprinkler hack has pressure to work!
Like this pool noodle obstacle course tutorial? Be sure to check out these posts too:
Nature Scavenger Hunt + Free Printable!
Summer Plans: Tips for Scheduling and Planning with Free Printable
Get 365 Date Ideas!
We want to help you have the best date nights ever! Grab this FREE printable with 365 date ideas, a date for every day of the year so you never run out of ideas!