That Time Splash Mountain Made Me Cry
That moment of realizing achieving a dream is coming true! A look at big dreams and the time and moments that make them happen.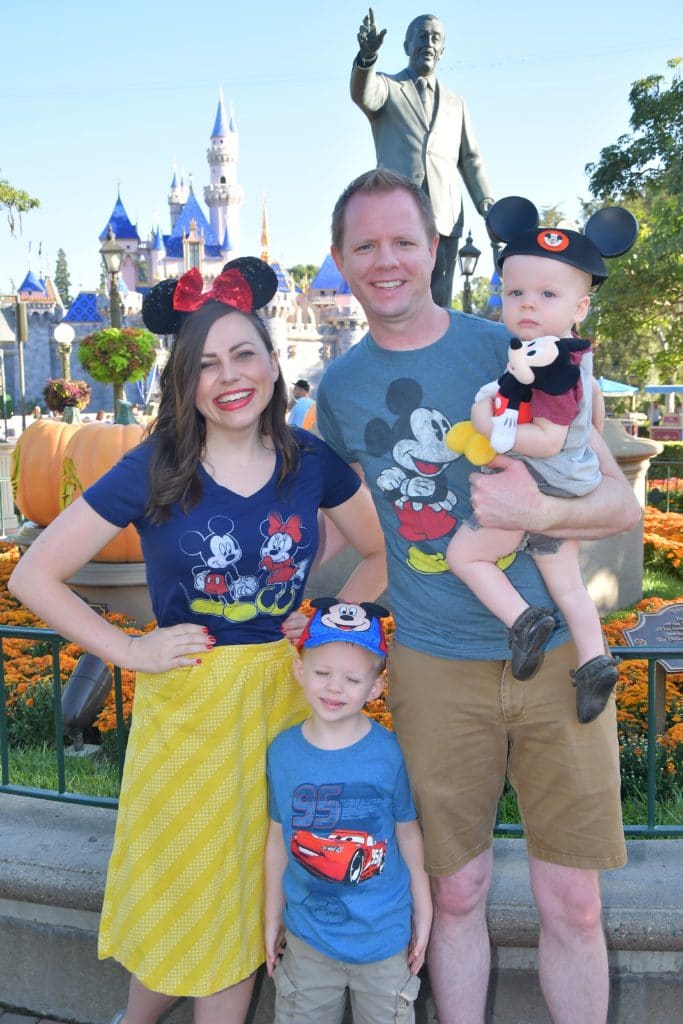 A few weeks ago I was talking to my friend Michelle at Weekend Craft. She told me how excited she was to own a J. Crew sweater, she'd just purchased a few for fall. She's a very successful amazing woman, and I smiled hearing how she'd wanted one since her teen years and was just buying a dream clothing piece now.
I smiled thinking of a moment I felt buying something at a certain store felt like achieving a dream. It's one of those things you think about as a broke teenager/college student. You label something as "someday" I'll do this. For many, it's a store you hope to afford. For some, it's a career moment. And for all of us, it's something that you know will take time and work to achieve.
That Time Splash Mountain Made Me Cry
This last week we took our two boys to Disneyland. It's not the first time we've done this, but it's the first time walking by Splash Mountain that I started to choke up. I had a very sentimental moment and a deep realization. As I looked at my husband and two kids, all of us smiling and so happy, it hit me hard. This was a moment of realizing a dream. In fact, it was a moment of realizing several dreams.
If you're new around here, you may not know why I love Jacob Whiting with all my heart. But I have a background of being in an abusive marriage that robbed me of a lot of my 20's. I don't share tons of information here, because I believe people can change I believe in the high road. But in this phase of my life I was working two jobs to support a student husband with a lot of addictions. Often, without enough money to buy food for most weeks.
My ex-in-laws took us to Disneyland one time, which was so kind of them. And it hit me, without a parent offering to pay for the trip, I'd never have the opportunity to go to Disneyland or take my children. It was a very sad moment.
Realizing and Achieving a Dream
And right there, in the midsts of the place that tells you to dream, I made a wish that one day I'd get to bring my own children on my own dime. I wished it hard, but it felt like something that was never going to be achievable in my lifetime in the horrendous circumstances I was living in.
I was freed from the relationship, and I'm so lucky to be alive and have the life I have now. Jacob came along and truly was like a romantic comedy character who shocked me and made me believe in love again. He's been loving and supportive and made me believe in marriage and love all over again. Looking at him at Disneyland just made my heart swell and reminded me I do believe in fairy tales.
We spent so many years and so much of our budget on infertility treatments. I always hoped one day there would be a child in our lives we could spoil and take to Disneyland. I hoped I prayed, and miracle babies came out way.
I looked at those two happy little people and thought how lucky I am at achieving a dream! I have kids to take and enjoy Disneyland with! Two years ago we took our oldest for the first time, and it was truly one of the happiest weeks of my life! I didn't realize it right now, but my dream was coming true! But this trip, seeing two of them smiling and enjoying our family vacation together just melted me.
Somehow we've been blessed enough to afford the opportunity to go every year with our children the past three years. I'm humbled often, I know it's a huge blessing. We love finding discount Disneyland tickets to make it doable, but I'm still humbled we have made it happen financially!
I actually paid for this whole trip from my own savings, and I think it hit me even more how incredible that is! I went from wondering if I'd be able to eat all three meals each day to be able to have savings and have some really amazing life experiences.
A Humbling Moment of Realization
When I look at where I've been and where I am now, I'm often humbled how achieving a dream happens so slowly. But friends, it does happen! You work, you keep on trying, you stay optimistic, you remove the bad pieces from your life and seek out the good.
And one day, you realize you somehow escaped abuse! You somehow ended up with your own family you weren't sure you'd ever have. Infertility becomes a close memory instead of a painful reality.
And Splash Mountain apparently has a way of bringing this all to light and making one cry.
This last week I got to go to Disneyland. There are children to take. There's a husband who loves and adores his kids. And somehow, achieving a dream that felt so big and impossible at one time of life, came true!
Like this post? You may like these posts too:
When You've Been Infertile for Years and Find Our You're Pregnant
Get 365 Date Ideas!
We want to help you have the best date nights ever! Grab this FREE printable with 365 date ideas, a date for every day of the year so you never run out of ideas!