Car Valentine Free Printable: The Perfect Valentine for Preschoolers!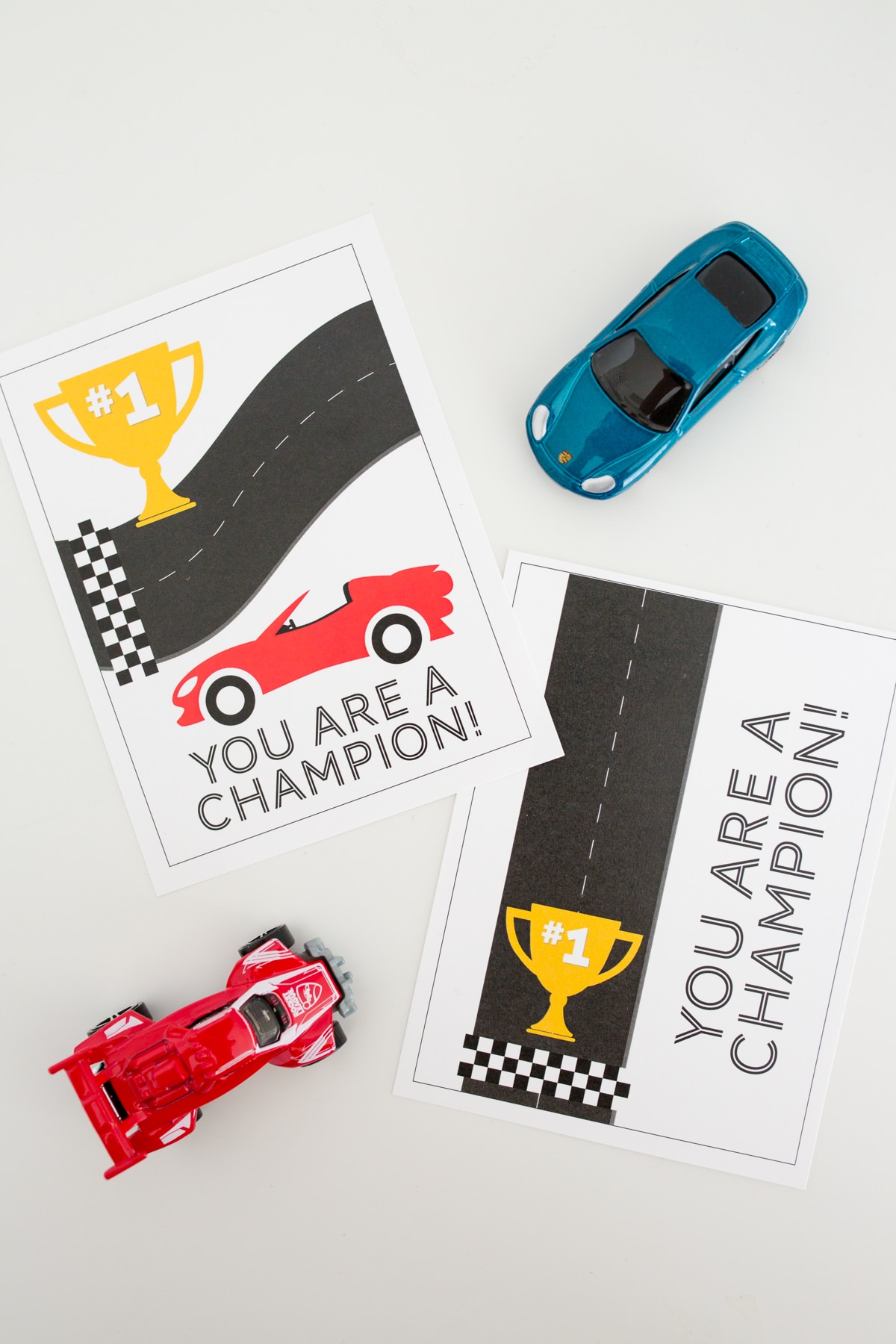 "You're a Champion!" Car Valentine free printable. Give this candy-free Valentine's Day card that is a smash hit at every preschool Valentine's Day party!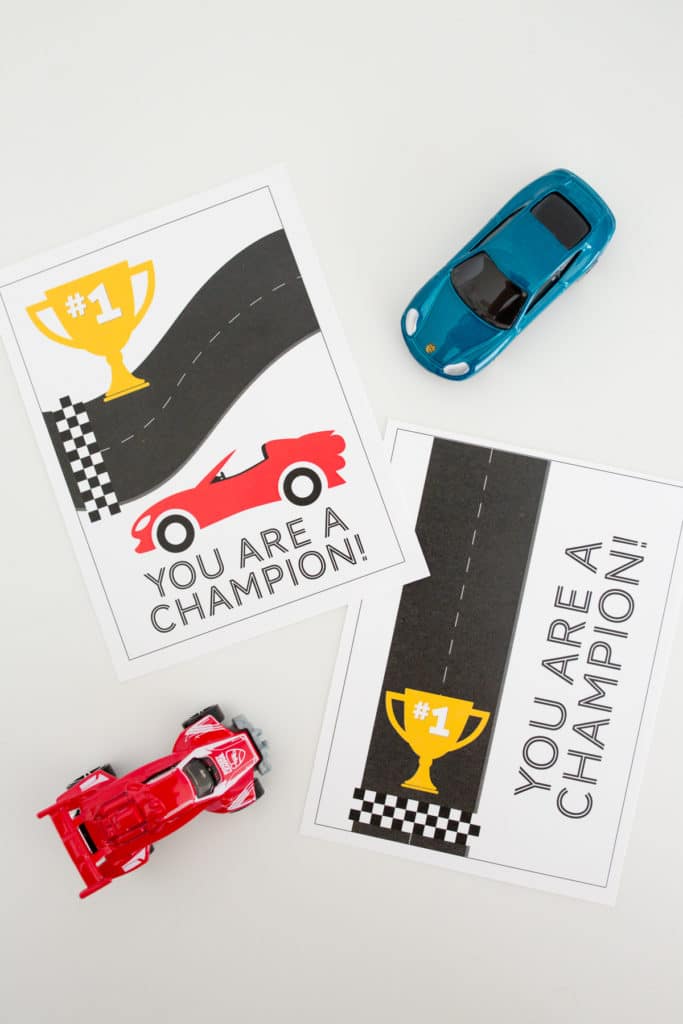 We survived January friends, which means it's officially Valentine's season! For as long as January can feel, the two weeks to prep for Valentine's Day class parties can feel like a blink. I just read a study that said almost everyone feels like Valentine's Day creeps upon them! I couldn't agree more before you know it it's time for Valentine's Day parties and cards.
Preparing for Valentine's Day Class Parties
In fear that I'll blink and tomorrow will be Valentine's Day, I wanted to make sure we're getting prepared early. There's nothing like staying up until midnight putting together Valentines for preschoolers on the 13th! I may or may not have learned that baptism by fire last year. Class Valentine's cards always take a little more time than expected, so starting early is always a great idea!
Last year I had inspiration strike last minute, and my designer created the perfect Valentine for my dino-loving little man. If you want easy cute dinosaur Valentine's Day cards, you won't want to miss this free dinosaur valentine download!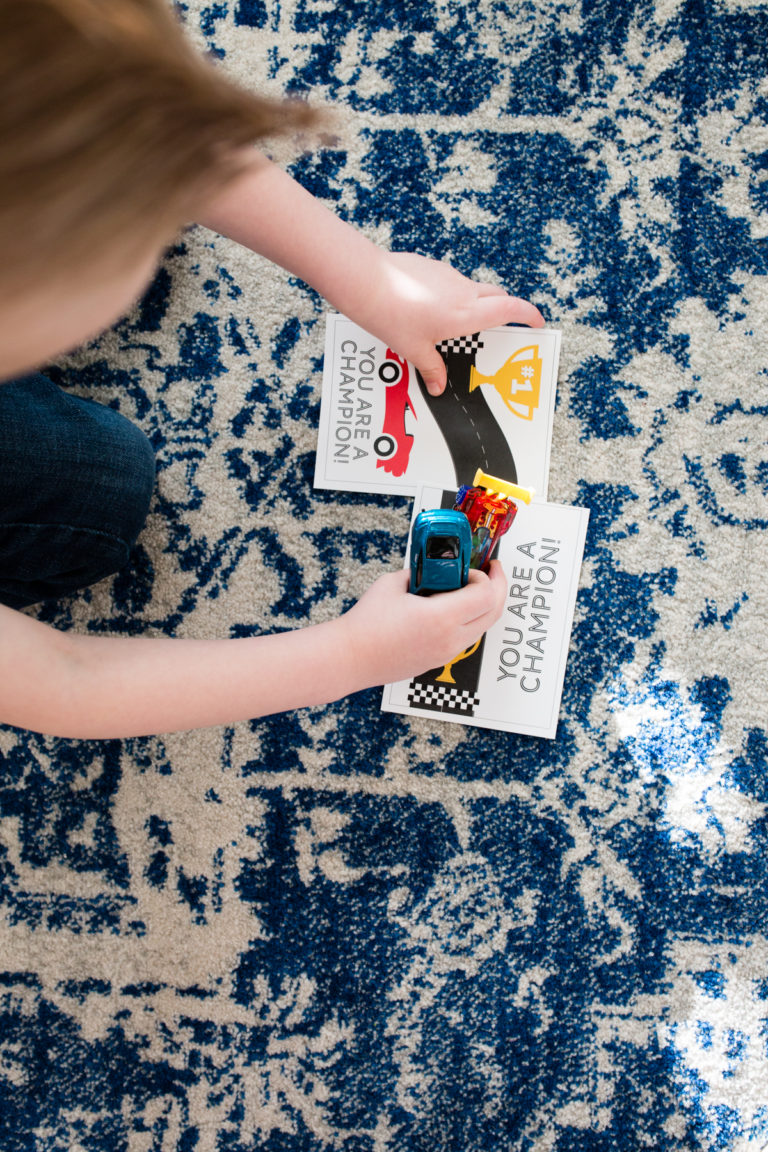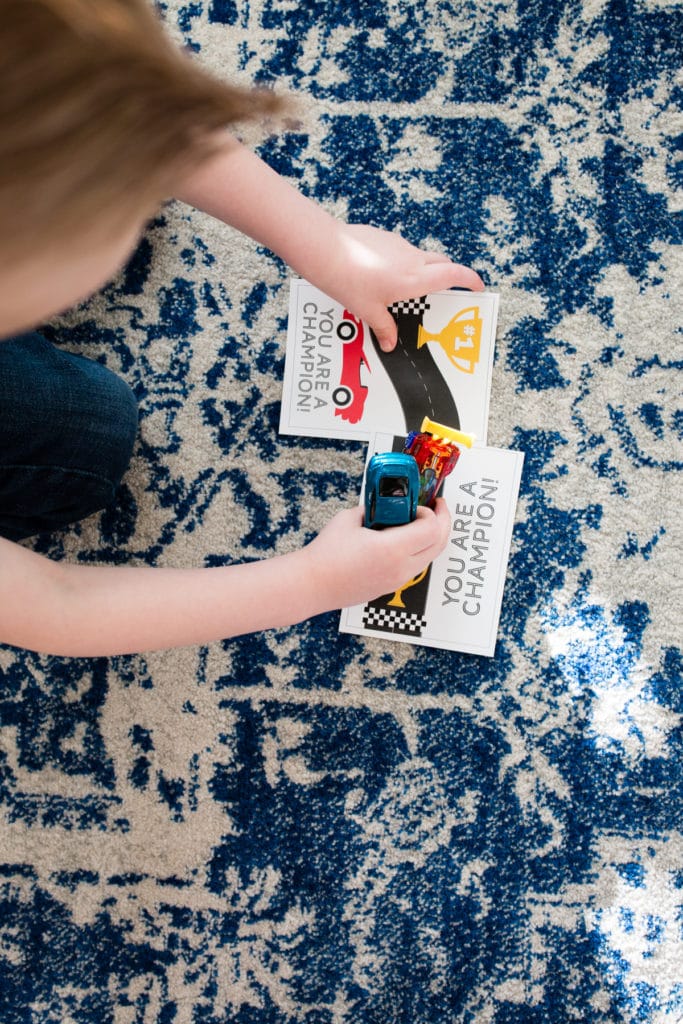 My son is at a new school this year and I figured we'd do the same thing this year. However, he did the cutest thing last week that once again, prompted a stroke of inspiration! I'm a big "words of affirmation" girl, and I believe in telling my kids how much I love them daily. I try to compliment specific things, and I usually tell my kids something nice I love about them daily. It's rubbing off on my preschooler! He says the sweetest things to me out of nowhere!
Racecar Valentine's Day Idea
While playing with his beloved racecars he turned to me and out of the blue said, "Hey Mom! You're a champion!" My heart melted! This may be the only guy I've ever enjoyed pick-up-lines from- HA!
And I looked at those cars and thought how every kid who has ever been in my home, boy or girl, has played with his collection of race cars. They are such a hit for younger kids! That's when I knew, it was time to make a new Valentine card for preschool parties, and this year it needed to be a racecar Valentine with his cute line!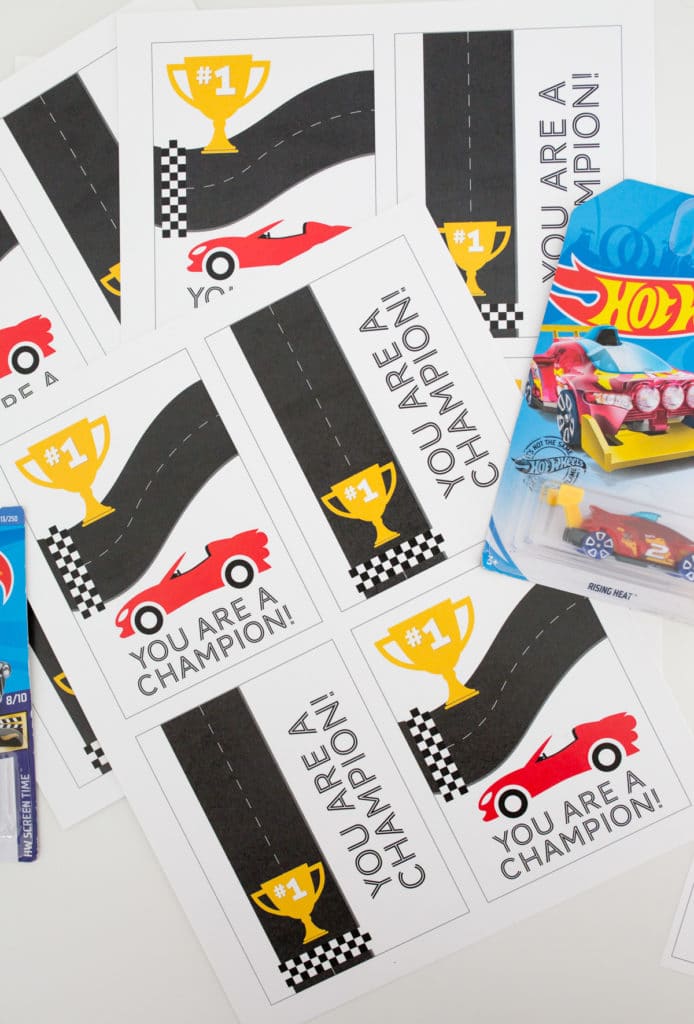 I absolutely love finding non-candy Valentine's Day cards for kids. So anytime I can pass over a freebie to help parents hook up kids with allergies and dietary restrictions, I'm all over it!
Free Car Valentine
Yield: 4 Cards
Car Valentine Free Printable: How to Create The Perfect Valentine for Preschoolers!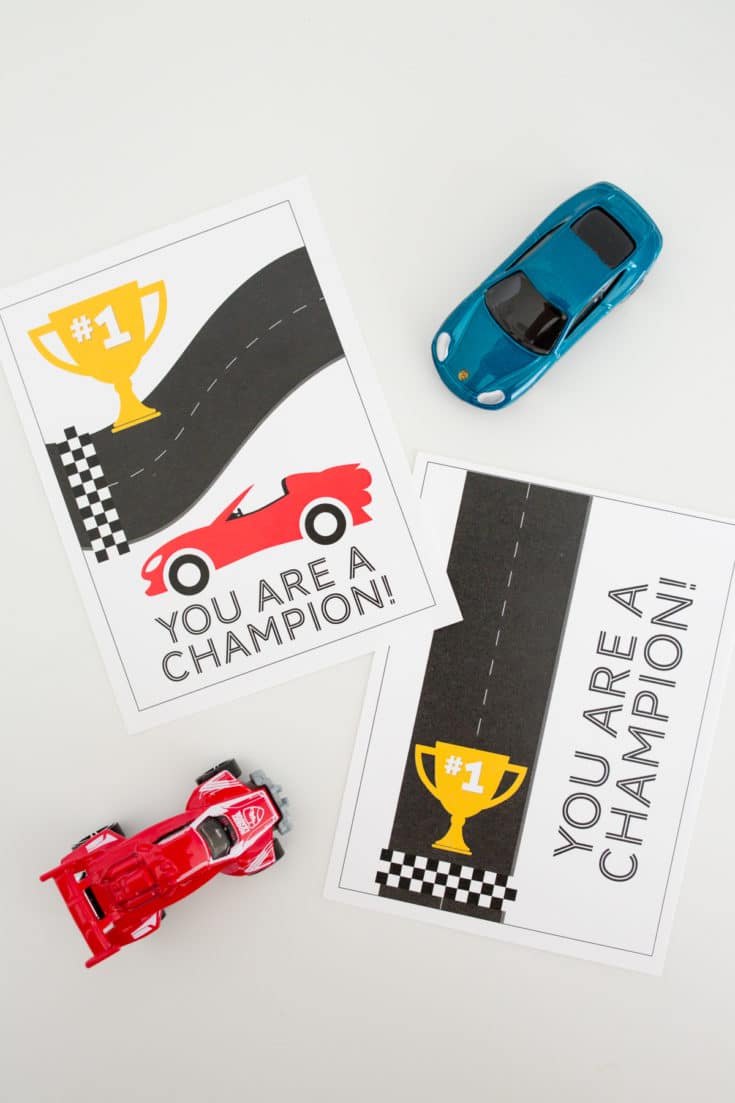 How to make your own car Valentine's card.
Create this cute, non-candy car Valentine card for your kid's Valentine's Day class party.
Additional Time
5 minutes
Materials
- Free Racecar Valentine Printable
- Cardstock
- Die-cast cars
- Adhesive (double-sided tape, washi tape, or string)
- Pen for signing
Tools
- Scissors or a paper cutter
Instructions
Download your free Racecar Valentine's Day Printable
Print on cardstock
Cut out Valentine's Day Cards
Attach a racecar toy to each card
Have your child sign their name
Notes
You'll get four cards per sheet of paper, so plan accordingly if you're going to have them sent to a printing service!
It's easy to get a bulk set of die-cast race cars to keep this super affordable.
We're printing these out, and getting our cards together this week! Clearly I'll need to reserve my midnight Valentine's Day preparations for my husband's card or putting together a
last-minute Valentine's Day date idea
!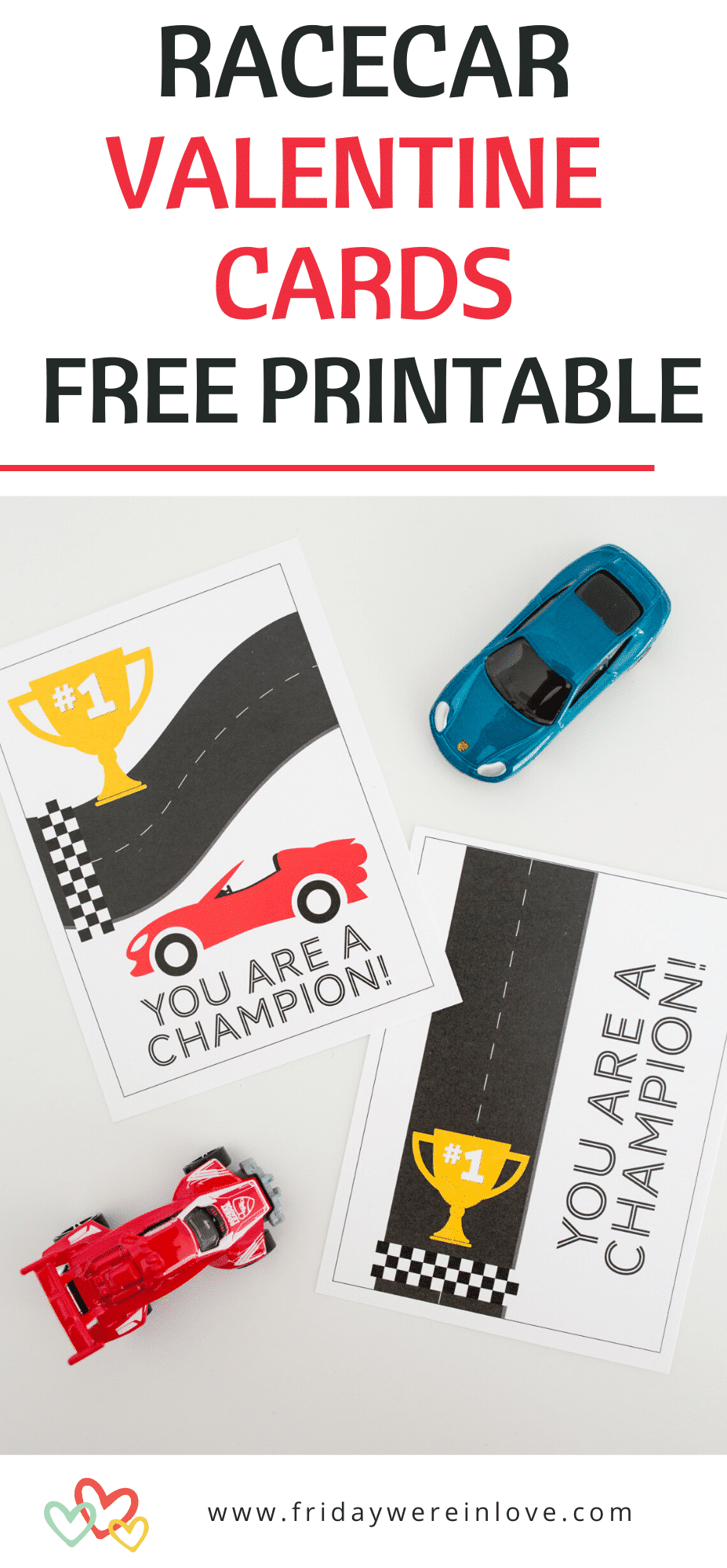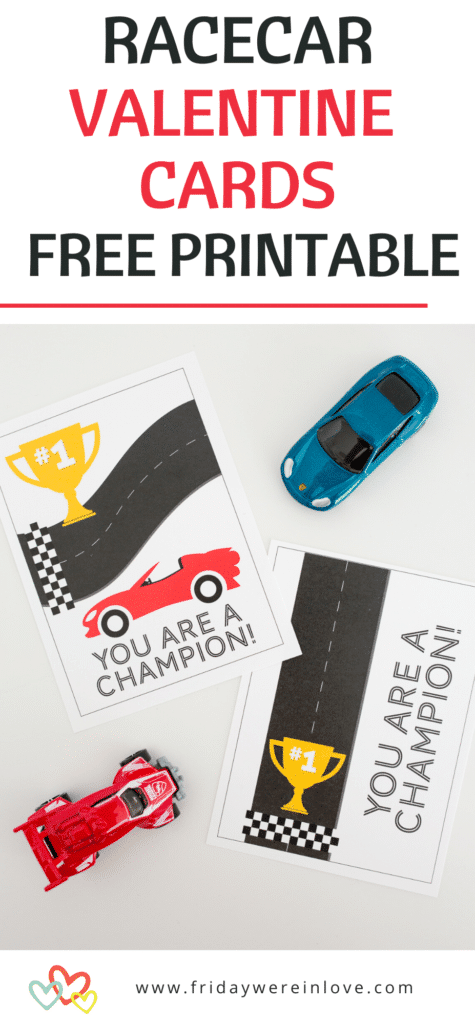 Like this Valentine's Day idea? You may like these posts too:
Easy Ways to Show Your Child Love on Valentine's Day
What to Get a Guy for Valentine's Day
Experience Gifts for Kids: A Year of Experiences Free Printable
Get 365 Date Ideas!
We want to help you have the best date nights ever! Grab this FREE printable with 365 date ideas, a date for every day of the year so you never run out of ideas!