Valentine's Gift Ideas for Men
A roundup of the best Valentine's Day gifts for him! Find the perfect gift for your Valentine with these Valentine's gift ideas for men!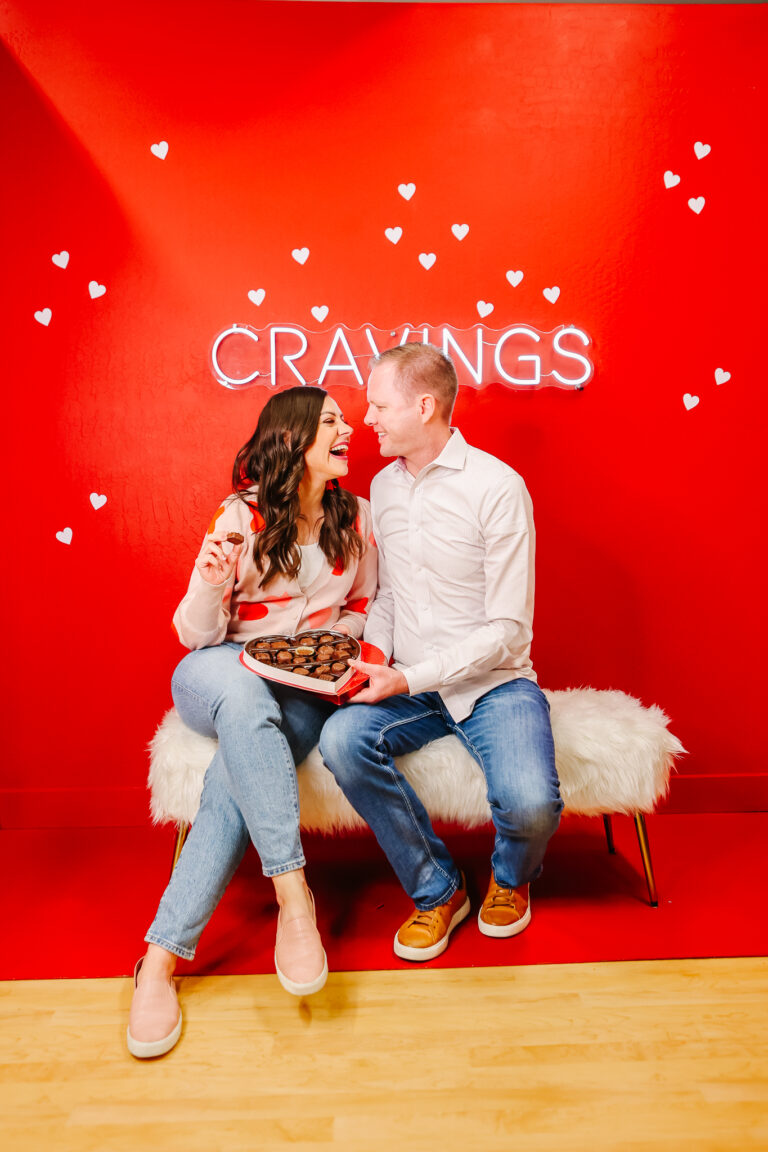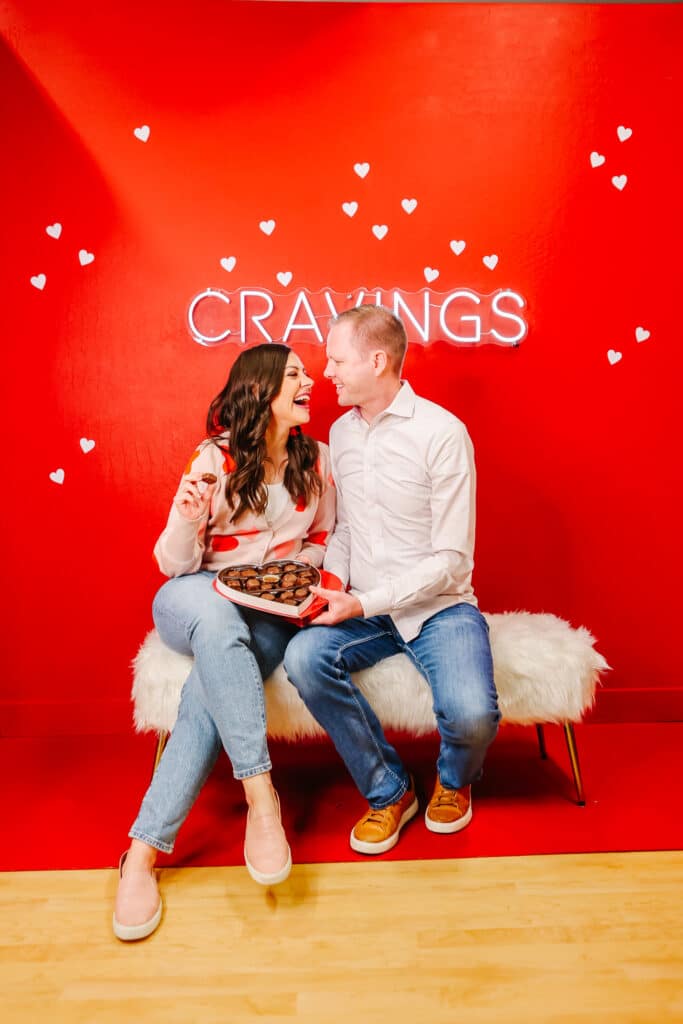 One may argue men have it easy on Valentine's Day, buy some flowers and a great date night and you're set! But I'll never forget a male best friend in college who let me know how much guys appreciate a thoughtful gift. He surprised me when he told me they actually appreciate chocolates and fresh flowers too.
Maybe every guy wouldn't agree on the part about the flowers, but I think most men in a committed relationship would agree they really appreciate the effort to find the perfect Valentine's gifts. Gifts happen to be one of the love languages, and finding a romantic gift for guys is a great way to say I love you and I appreciate you on Valentine's Day!
We've got a list of gift ideas at all price points that make the best Valentines Day gifts whether you've been married for decades, or you're spending your first Valentine's Day with a new boyfriend. I've sorted them by price so you can find the perfect gift that fits in your budget.
High Ticket Items
I know I'm biased, but I think this is the perfect gift for any couple! I gave my husband a year of pre-planned, pre-paid date ideas our first year married- and blogged about it here. That post went so viral, and thousands upon thousands of couples have downloaded our free Year of Dates printable that works as a template to give this perfect present to connect with your significant other all year!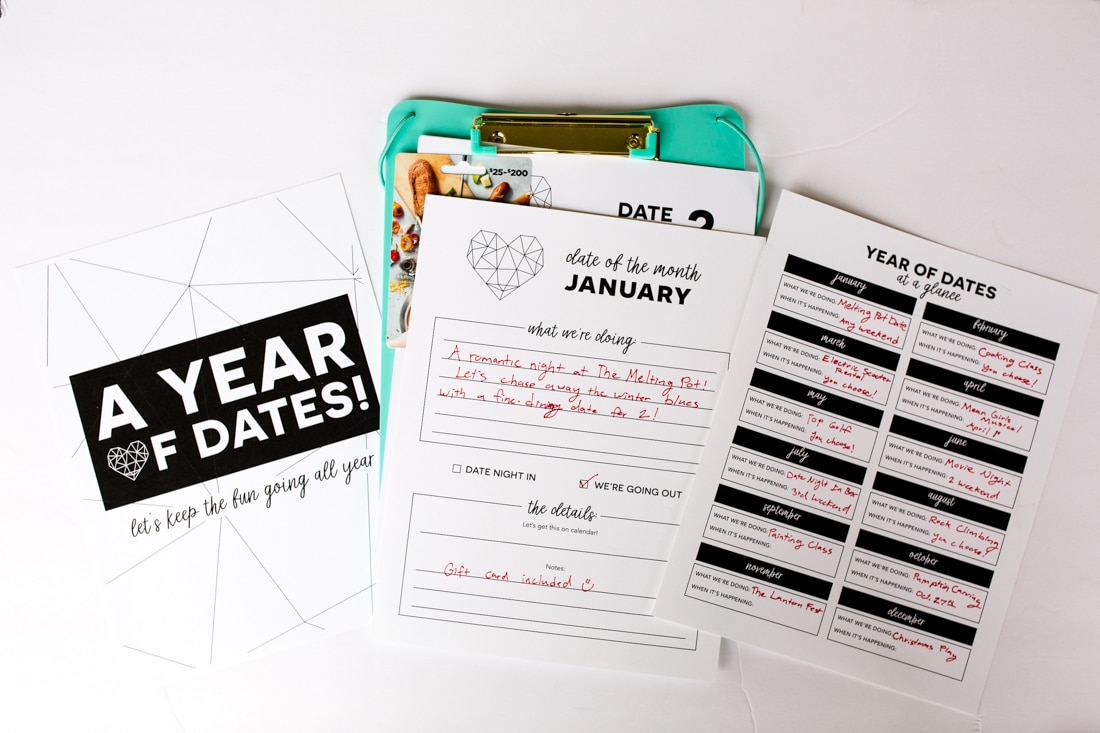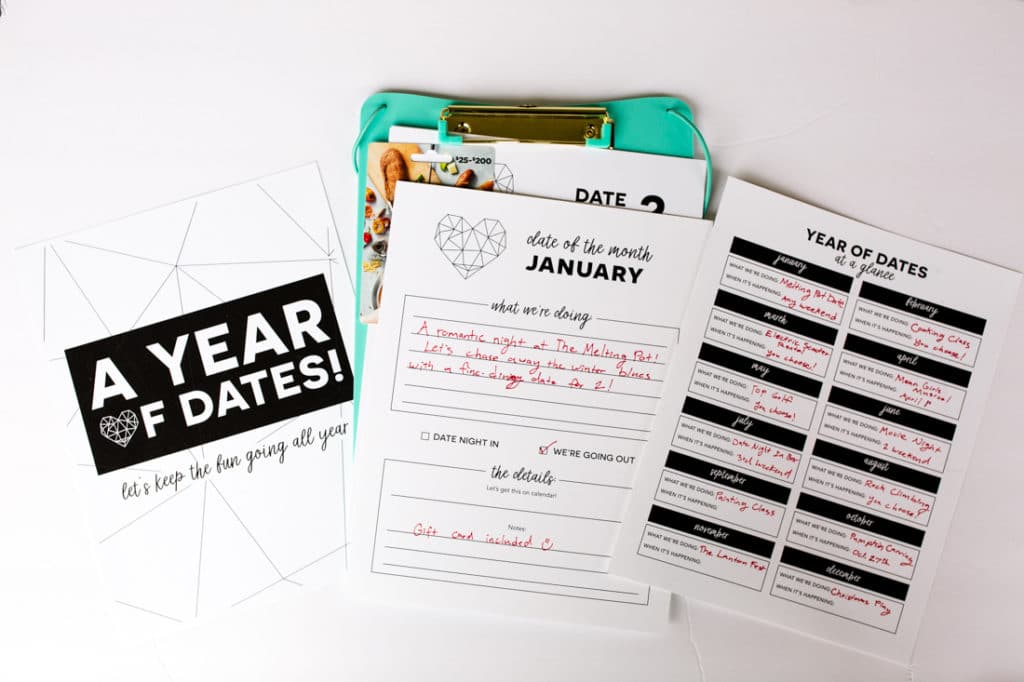 This is one of those great gift ideas people have no idea how much they'll love until they receive one and use it! It's the best gift for people who love to be active, love to keep track of details, or want to be less tethered to their phones. I can attest I never thought I needed one, but it's been the best gift I use daily!
And if you want an Apple Watch to feel a bit more personal, you can get a custom watch box with a custom message for a personal touch.
TSA Precheck/Global Select
This almost belongs on a practical list, but if you plan to travel at all in the next five years you're going to want to get TSA Prechecked and/or Global Select approved. It's about $100 to do it, but it enables you to bypass long TSA lines at airports. We hop right on flights and get to skip huge lines with international travel. If he travels at all this is a must! If you want to plan a fun trip, this is a great gift to get you set up for an even smoother dream vacation! Check out the TSA website for details.
Best Valentines Gift Options on the Cheap
On a budget? Don't let that stop you from giving a thoughtful gift! Here are plenty of cheap, and even free, gifts for men on Valentine's Day.
You can go high quality, go cheap, go big, or go small with a classic chocolate box. I love to find a variety pack with specialty chocolates for a "special man" because we all need some cheesy lines for Valentine's Day. There's a reason this cliche exists: it's about the best option to say you love someone with a small gift.
Maybe the cliche box of chocolates isn't at the of his list of the best Valentine's sweets. And that's where another sweet treat will gladly take its place! Help him satiate that sweet tooth with a sweet treat. You can get gourmet gummies, an item from his favorite bakery, or simply give his favorite candy bar or bag of candy. You get bonus points for doing the easy task of finding a cheesy saying about love being sweet to go with the gift!
Framed Favorite Photo
Can I tell you how often I've been in someone's office and commented on their cute family only to hear, "Oh boy, these pictures are about five years old!" They often turn to social media to show me their significant other and kids. Hook them up with an updated couple picture or family picture in a nice simple frame to take to the office. Even if they work from home, it's still a lovely gift pretty much the whole world can enjoy and appreciate!
Would You Rather for Couples Game
We have you covered with a FREE fun game you can print and include for a date night. Grab our would you rather couples' questions right here!
Experience Gifts That Make a Great Valentine's Day Gift
Why save date nights and special moments for Valentine's Day only? Give a fun experience, a big day, and/or something to look forward to. The best part, these work great as last-minute gifts if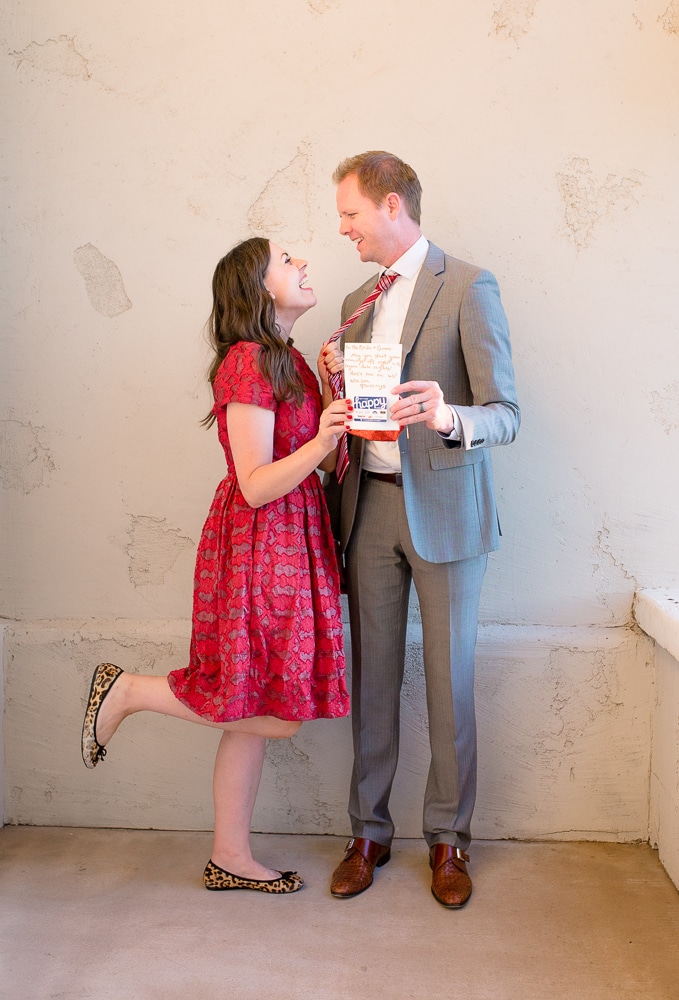 Date Nights
Do I have an entire post on Date Night Gifts, you know I do! Give the gift of fun together, and grab a fun date night or two for a really perfect gift idea for couples.
And check out our 101 date ideas list or our 50 Cute Date Ideas posts for lots of inspiration!
Concert Tickets
If you have a music fan, concert tickets are such a great gift idea! Find a favorite artist or band who is touring, and help them create one of their favorite memories of seeing them live! It's such a special gift, and one you can experience together, or let them enjoy the experience with friends. Guaranteed good times and a really great gift either way!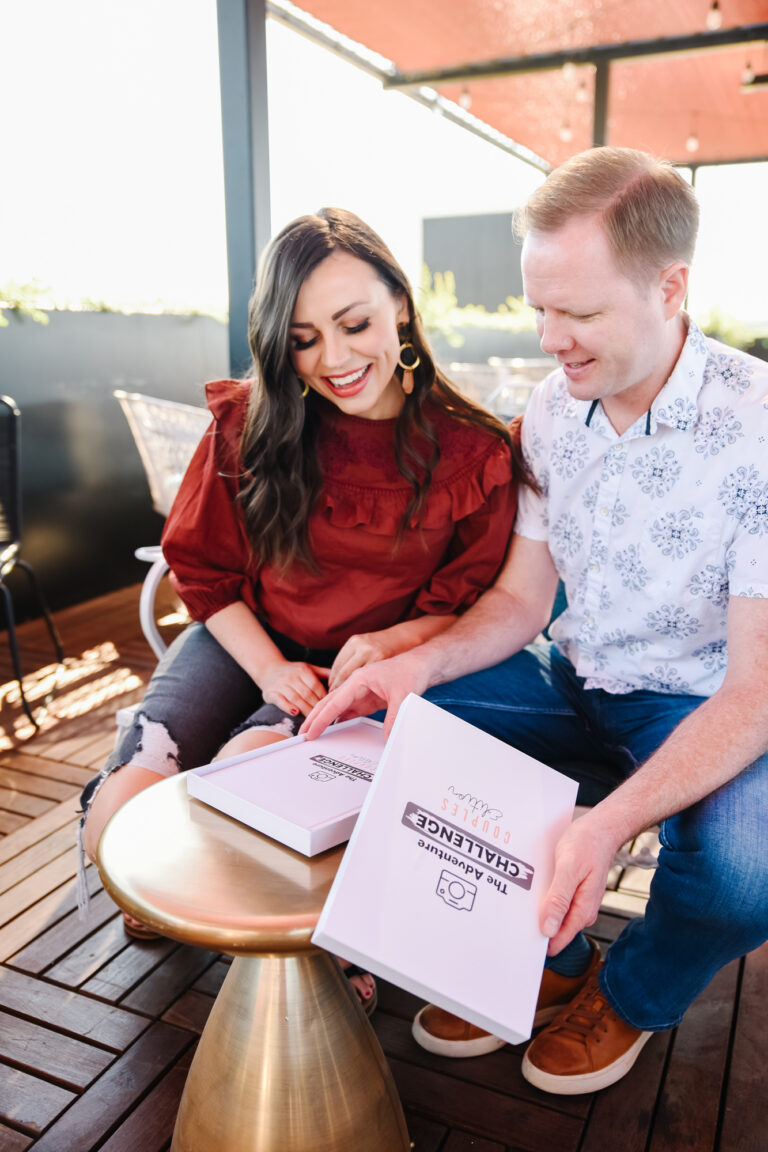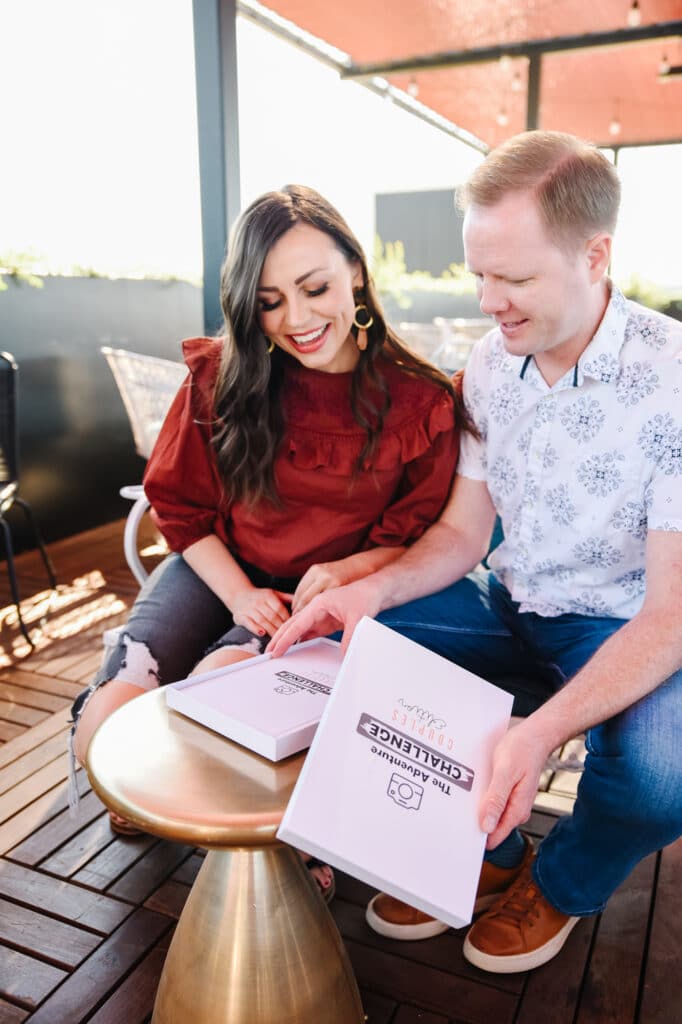 Read all the details and see examples in our Adventure Challenge review post!
I love this scratch-off date book that puts the fun and thrill of a new experience into a very affordable, tangible book you can enjoy all year! The dates are excellent! We've loved owning this book! And also, did we mention we can get you a discount?
Get a bonus 10% off any order with the Adventure Challenge Promo Code: INLOVE10
If you're a big true crime tv or podcast fan, you're going to love this date! Hunt a Killer sends you a case file and turns you into a detective to solve the clues and the crime. Their writers are fantastic, and you can do a one-off date or sign up for a series to solve. They make an unforgettable date night you can do from anywhere, including your home!
Happily Datebox Subscription/ Date Night in a Box
A fun way to mix up a date night at home is with a Date Night Subscription Box. I love that you can do only one date night in, get three months, six months, or a year. They make it super easy to gift date nights, and we have a roundup of the best date night boxes reviewing the top options on the market. I am so excited to share I have a half-off Happily date box promo code for you! Use this link and be sure to use the Happily promo code: FRIDAYWEREINLOVE to get 50% off your next box!
You can read our full review and see an example in our Happily Datebox Review post!
Broadway Show Tickets
A Broadway show purchase is what started The Year of Dates gift, and I'll forever be thankful it did! We have loved going to see Hamilton, Dear Evan Hanson, and a few other modern musicals together. It's a great way to take date night to the next level, and there's something about dressing up a little fancy and feeling like you're James Bond for a night out together.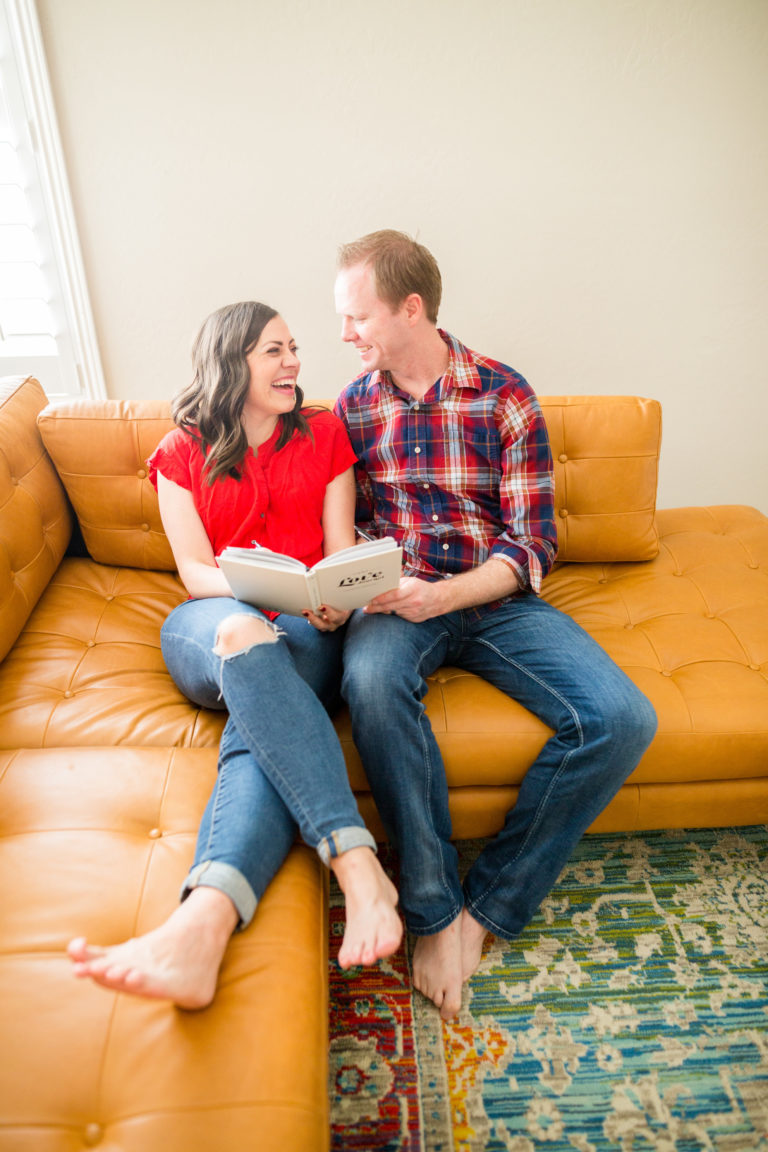 One of my favorite gifts we've used for a date night is the Loom Connecting Couples Journal. These are so amazing that we have a huge post about couples' journals! They are a truly great way to open up communication and start a conversation. Each journal gives hundreds of prompts with two sides, one for each person to fill out. They are a great starting point for couples to really share thoughts, concerns, and document feelings.
A Gift Card to Their Favorite Lunch Spot
I have been giving my husband this gift every holiday/birthday for over a decade! He has his favorite lunch spot around the office, and it's a useful gift to give him lunch on me. I wrap up a gift card with a note letting him know I hope his favorite lunch makes him smile and think of me. He always remarks this is one of those great ideas I had years ago that he hopes I continue to repeat every year.
Sexy Valentine's Day Gift Ideas for Men
If you're looking to spice things up in bed, this book is a different take with a lot to offer! It explores habits and connections outside the bedroom to add more passion in the bedroom. The reviews are amazing, and it's been a hot new product they can barely keep in stock! Also don't forget you can get 10% off with the Adventure Challenge promo code INLOVE10
*We love everything The Adventure Challenge release! Check out our Adventure Challenge for Couples unpaid review here!
Grab an Intimacy Deck with plenty of fun conversation starters and truth or dares to spice things up. They're tastefully done, and a fun way to add a little more intimacy and conversation about intimacy and romance to your relationship!
This may sound like a gift for her, but trust me, it's really one of the most excellent Valentine gift ideas for men! I love that Mentionables offers model-free shopping and really pretty pieces! Their goal to make everyone feel beautiful and sexy no matter what their size or body type is such a great message! And this is one gift that can tune up the romance all year long. Plus you can enjoy the shock and delight when he opens that gift box!
Check our our full Mentionables lingerie review for more info and a discount code!
Who said the lingerie is only for her? Choose a pair of silky boxers you know he'll love (and you'll love too) and give this steamy gift.
Practical Gifts for Men
If you have a practical man in your life, lean into giving some of the basics an upgrade with these practical Valentine's Day gift ideas.
Stanley Tumbler
I gave this to my husband two years ago, and guess what he takes to work every day! I'm a firm believer in reducing waste/your carbon footprint and leveling up your water intake. We love having one tumbler at home, and one at the office. In fact, I just gifted him an upgraded model with a handle for his birthday and he loves it even more! It's often sold out, but if you can snag one, a Stanely cup is so worth it! Plus, they really are the gold standard for stainless steel tumblers that last with their lifetime warranty!
If you need further convincing, check out my full Stanely Tumbler Review.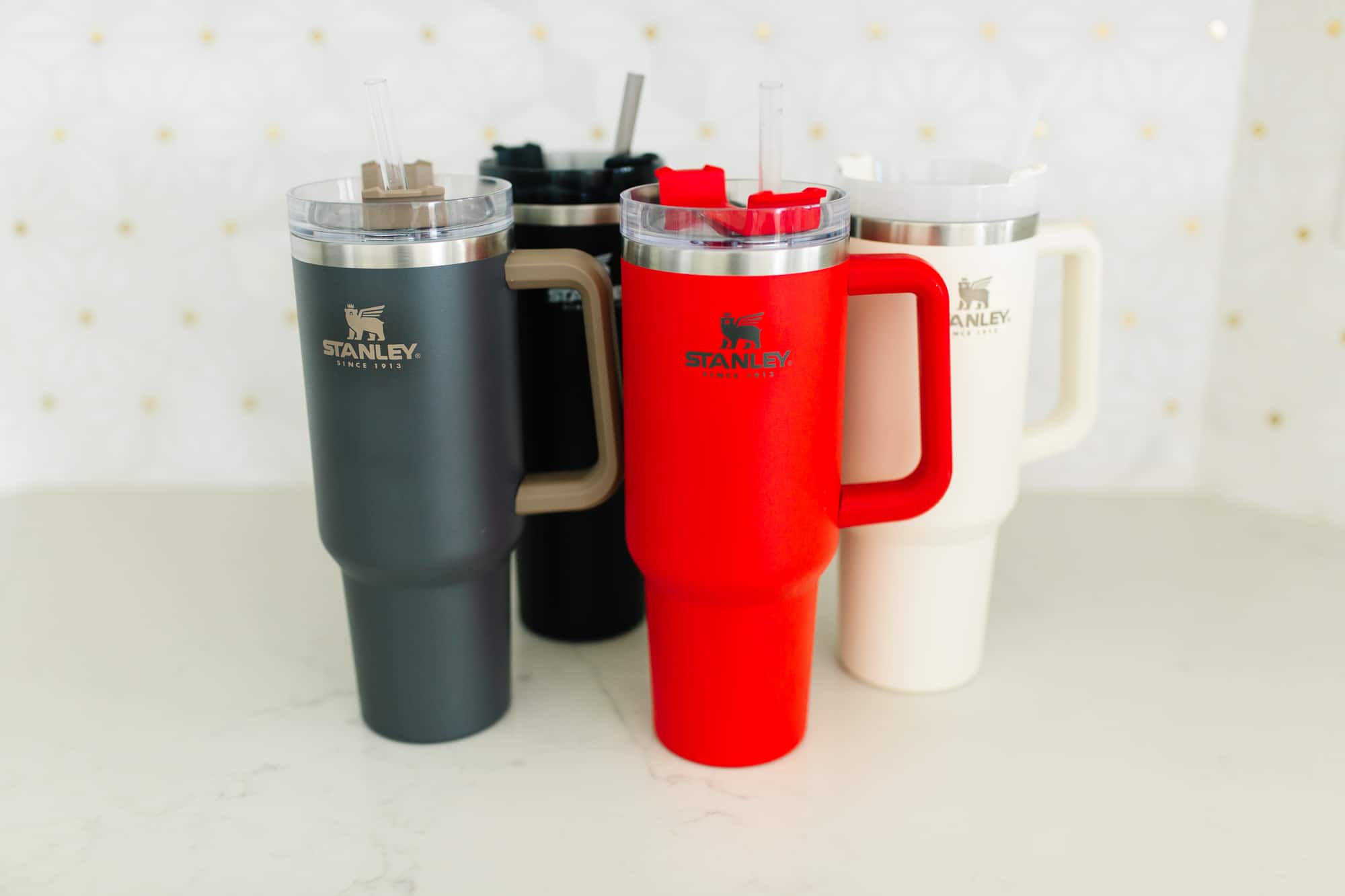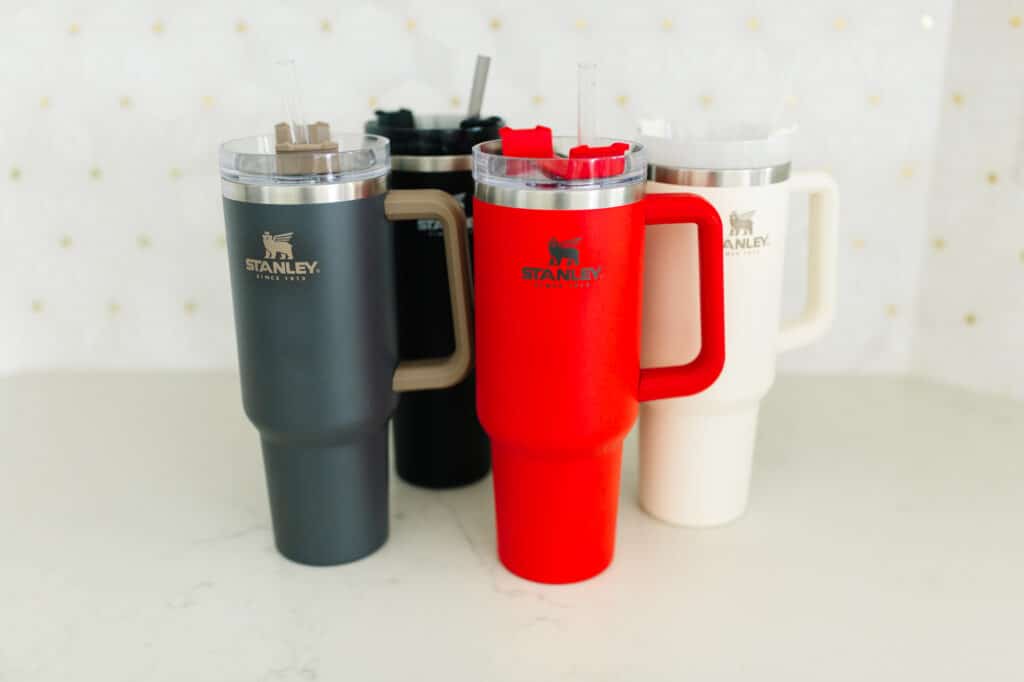 Yeti Stainless Steel Travel Mug
A Yeti mug is always a great choice too! We aren't even coffee drinkers, and we both use our Yeti mugs frequently! They're great for both hot and cold liquids. And if you're drinking anything other than water, it's about the perfect cup.
Comfortable Sneakers
There's something about a stylish pair of sneakers with a comfortable rubber sole they can look good and feel good in! My husband loves this pair, and this pair for all of our travel adventures and date nights.
If you have someone who loves the outdoors and wants a no-hassle water bottle, a Nalgene is a great option! It clips to backpacks so easily. They're lightweight and designed for those who love to get out and in nature. Before I upgraded to a Stanley, I carried a Nalgene for years and can attest, they last for years!
Socks
This basic gift is always a winner for so many reasons! Have an athletic man in your life? Get some new sporty socks. Have a professional? Get a fancy fun pair of dress socks. Have a guy who wears shoes? Chances are there's a pair of socks perfect for him and his needs, and hey, there's nothing like a pair of fresh socks!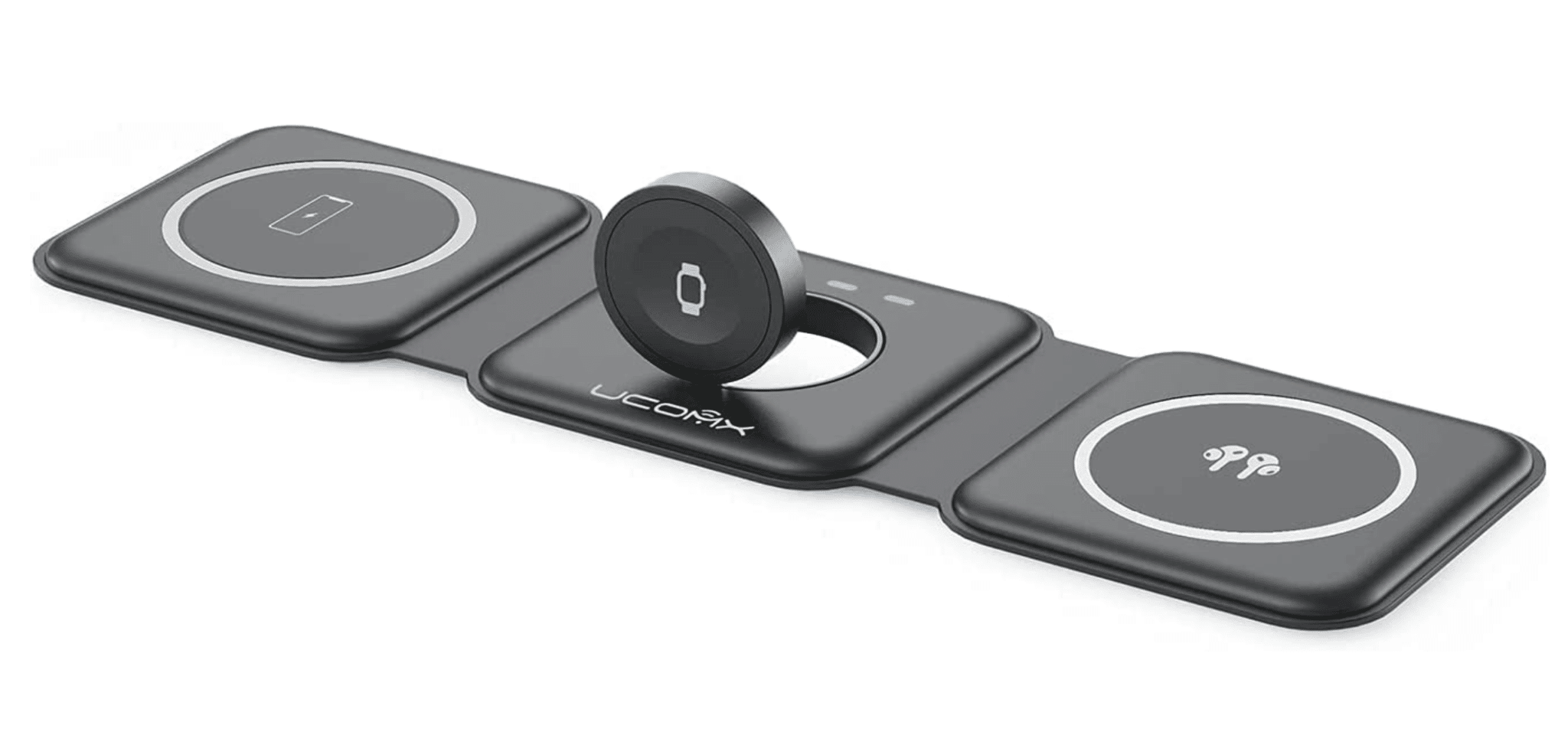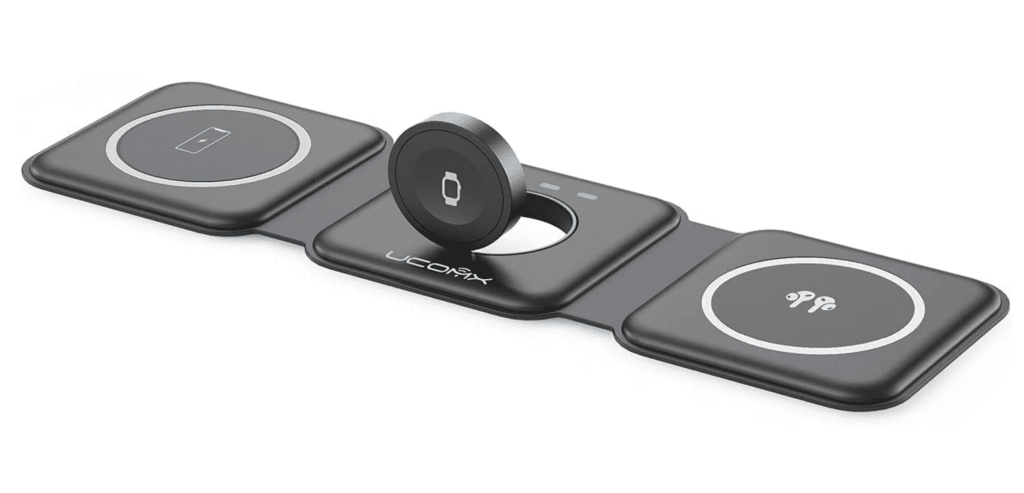 Travel Charger
My husband and I both gave cordless travel chargers to each other for Christmas. And let me tell you, it's in our top picks for the right gift for just about anyone! Everyone loves these for a good reason: they make life easier and if you own a phone, you're going to use one! They are so easy to pack when traveling and so easy to use at home with everyone in one place. After a long day, I love charging my Apple Watch, phone, and AirPods in one convenient location.
When rocking a beard, this is something he'll use and love! Get a highly rated and reviewed one like this model. His facial hair will thank you!
Because beard cream is just a Millennial need. Also, just in case he decides it's time for one and needs some grooming.
Even if he already has one, how often do those wear out? Often! I've found it's like jewelry to many women, and a money clip is a useful accessory they always carry. Get a stylish money clip so he has easy access to his cards without the bulk of a wallet.
Subscription
Does he have a newspaper or magazine he loves? A year subscription to The Wall Street Journal or Business Insider are gifts my mom often gave my father. Each man has his own interests, so come up with a source he'd really enjoy, and wrap up the first issue as a gift.
May you find the best Valentine's gift for the man in your life, and may you have a very happy day of love together!
Like these ideas? Check out these other gift guides for more inspiration!
Husband Gift Guide: What to Get Your Husband for Christmas
Valentine's Day Date Ideas for Any Budget
Get 365 Date Ideas!
We want to help you have the best date nights ever! Grab this FREE printable with 365 date ideas, a date for every day of the year so you never run out of ideas!