$20 Gift Ideas: $20-$30 Gifts You'll Love and Use
It's my birthday month. Hooray! But Christmas was just a few weeks ago. That means no one knows what to gift since they used their great ideas for Christmas. I'm usually feeling really loved and celebrated just after Christmas, so I have a hard time coming up with anything I'd like. Usually, I just tell people a Happy Birthday wish is plenty and no gifts are needed!
However, my mom, my husband, and sometimes siblings and friends are kind and feel the need to give something. I always appreciate the love, and I have to admit I kind of love how many just give a little cash since they are stumped.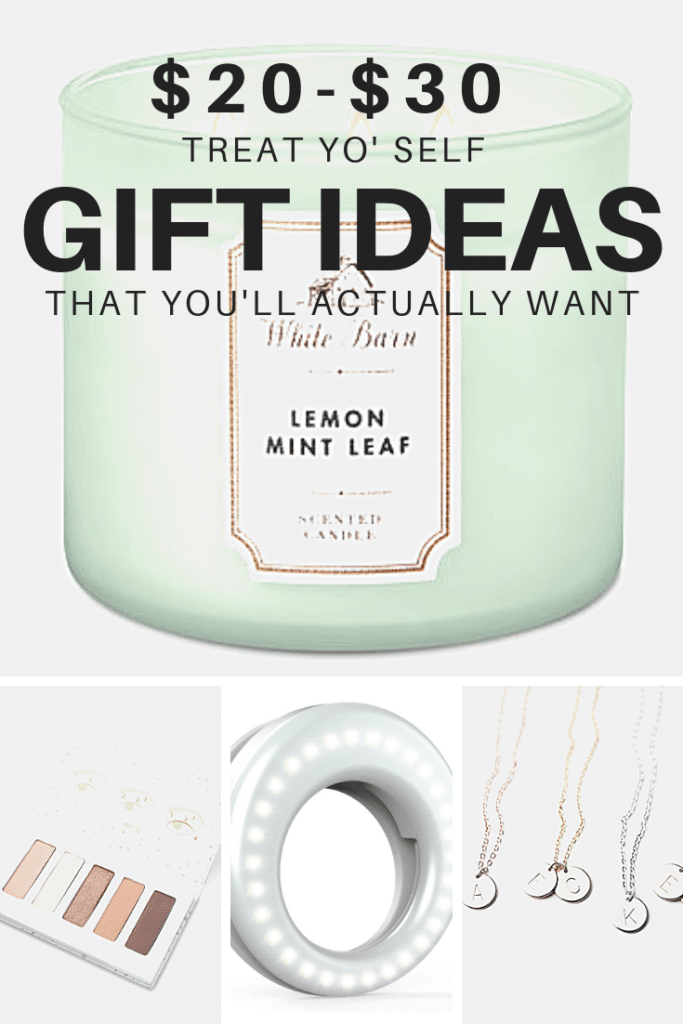 Inexpensive Gift Ideas for Her
Do you know those times someone gifts you about $20 and you're left a little stumped what to buy yourself? Quality $20 gift ideas can be about the hardest to come by. I often debate between adding it to a savings account for bigger items or stashing it for a bunch of small indulgences. I'm looking at you caffeinated beverages and dark chocolate covered raisins.
It's one of those amounts that's such a nice gift. But also kind of hard to know what you can buy for about that amount. That's why I'm always on the hunt for $20 gift ideas to give others.
$30 gifts aren't far off either, which is why I've been keeping track of my favorite things that fall in the $20 gift ideas to $30 gift price range.
This year I've actually planned ahead, and I've come up with a list of 10 items you'll actually want to buy for yourself (or a friend) that are about $30 or less.
$20 Gift Ideas
A new book to read. I love asking the gift giver the best book they've read this year and then going to buy it. I send a picture and they swoon knowing it went to good use! If I'm not into the book they purchased, I go ahead and find another bestseller I'm interested in. This works for a print or an audiobook you can listen to too.
A meal plan to make my life easier. My sister introduced me to this Crock Pot Freezer Meals Dump Recipes ebook a few years ago. I splurged and bought myself both the beef and chicken plans for $15 last year. It's the gift that keeps on giving and has honestly made my meal planning and dinner prep so much easier all year-long!
A new phone case. If you're like me your phone is with you more than it's not. I am a digital girl and live by my calendar, notes, and voice memos. I'm also always snapping kid pictures. Sometimes I think of how much my phone case is used and the germ accumulation. It's then that I realize a new one should happen more often than it does. It's a great time to grab a trendy case or ultra functional case without feeling bad about the price tag.

Monogrammed Necklace. I love this necklace with my kid's initials. It would be a cute gift to give someone with their own initial or their significant other's initials.
A new water bottle you love. You drink this stuff every day, and chances are you haven't replaced a water bottle in a while. I love to find a cute one that's incredibly functional. In attempts to be healthier and aid the endocrine issues that make me always thirsty, I keep one in my kitchen, my purse, my car, and my office. I love to use the money to get a new one for at least one of these locations.

Three-wick candle. You can almost always find a deal on these making them $12.50-$15.00 each. They make a room smell amazing and even non-candle lovers seem to love this kind. But even without a deal, $25 isn't too crazy for a really amazing candle!
A phone ring light. Mine is a gift from a conference that I didn't think much of at the time. Now, I adore this thing! Not only does it make Instagram stories something we can do at night, but it also makes pictures of my kids easier to capture too! This is one of my secret weapons to get better phone pictures. But even if you're not on Instagram for a living it's a great purchase. It works for a tablet, a computer, or just when you need to Facetime grandparents in a darker room. It's also something almost everyone can stash in a purse and appreciate.


$30 Gifts You'll Want to Gift Yourself

Photography Cheat Sheet Guides. I've been asked a lot how we learned photography for the blog and what we recommend. I can write a whole post about this, and I likely will! But the short answer is we practiced a lot. Jacob and I would take our camera to events that had all types of lighting situations and just play around with the settings. We read a bit, we practiced a lot, and slowly it came. If you're wanting to step up your photography game either on your phone, posing your kids/family/self, or you want to take your DSLR off manual mode, these guides are amazing! I feel like I know my way around my DSLR pretty well, and I still learned a lot with Snap Happy Meg's guides! Not a DSLR user? She has one for moms, and a guide to learn your phone camera better too. They fit right on your purse or diaper bag and are super high-quality materials that last. These cheat sheets that make learning easy and if it's been a goal to get better with photos, I highly recommend these!$30 Gifts You'll Love to Give Yourself

Pedicure. I'm all about the experience gifts. I really love my feet looking and feeling great. Also, you can count me in when a foot massage is included! If you haven't been to get a professional pedicure in a while, I'd highly recommend treating yourself.
Flekk Eye Shadow Pallete. I have sensitive skin and pretty limited time to get ready as a mom. I'm such a fan of my Flekk eye shadow! All the colors are used daily, and there's a paint by number guide so you actually know how to apply it. You can take a quiz to get a feel for the best one for you. Also, you send in a selfie and they recommend the best palette for you within 24 hours. It's like eye shadow 101 with quality stuff that stays on all day.
These run a little over the $30 range, but there's usually at least one sale a month that gets them down to about $30. The amazing brush set fits this range even without a sale!

Mini diffuser + Your Favorite scented oil. Whatever your stand on essential oils (love them or not really into them) it's hard to not appreciate a mist that makes an area smell amazing. Additionally, find a scent you love (hello lemon or lavender for me) and an area that you'd love to make smell like a clean dream.

A new shade of lipstick/lip gloss. I'm a bright lip enthusiast. Also, I'm a firm believer a confidence boost happens when the perfect shade of lipstick finds your lips. I really love Lipsense for staying put, I love Urban Decay or Buxom gloss, but these favorite affordable drugstore Lipsense alternatives I also highly recommend! It's a great time to try a new shade and treat yourself.
Korean Sunscreen
My friend gifted me this very bottle last year and I've used and loved it and am about to buy this gift for myself. American sunscreen is thick and greasy and often clogs pores. Korean sunscreen applies like a dream and gives all the coverage you need for daily wear. It's one of the best $25 beauty products everyone should have!
Do you have anything else you absolutely adore in the $20-$30 gift idea category? Let us know in the comments below!
Like these $20 gift ideas? You may like these gift guides too:
What to Get a Guy for Valentine's Day
5 Gifts For More Family Fun Time
Get 365 Date Ideas!
We want to help you have the best date nights ever! Grab this FREE printable with 365 date ideas, a date for every day of the year so you never run out of ideas!